The full form of MBA is Masters in Business Administration, which is a very popular and in-demand course nowadays. Not just in India, the course is also internationally valued and is recognized in other countries too. The demand for the course is high enough that every individual now thinks of having an MBA degree as an upgrade in their qualification.
What is the Full Meaning of An MBA? Details Of Duration, Eligibility, Fees, Admission 2023
MBA is a century-old program invented in the United States of America when the need for formal business education emerged and the full form of MBA was invented then only. The full form of MBA clearly shows that it is a program that imparts deep management skills of businesses.
What is an MBA?
MBA is a postgraduate degree that is 2 years long, consisting of 4 semesters that revolve around different aspects of business administration and management. MBA offers various specializations and each domain serves as a bridge towards an exceptionally bright future. The course helps a student to build a career in the fields of Marketing, Finance, HR, Operational Management and many more such areas.
It is being offered in both regular and distance modes of education. Many universities now offer online MBA programs, especially for the benefit of working individuals. The average fee of a regular MBA program is between INR 12 Lakhs and INR 22 Lakhs and the academic fee also varies as per the university/institute. However, the academic fee of an online or distance MBA varies between INR 50,000 and INR 2,00,000.
Now, the question is, does an MBA program give you enough ROI or the return on investment? The salary of an MBA graduate depends upon the department you are working in and the average salary that you will get after MBA is between Rs. 4 LPA and Rs. 12 LPA.
Types Of MBA
Types of MBA means that there are different modes through which you can pursue an MBA program and these are as follows: :
Full-time MBA – Full-time MBA is a general management program in the regular mode. This program helps students in gaining a detailed understanding of business management skills. However, students have to attend regular classes in this program and their admission will be based on entrance exams and university cut-offs. The advantage of this course is that you get to experience classroom lectures, more field exposure but this program is not suitable for working professionals.
Executive MBA – This is a part-time program designed for working professionals who are either willing to enhance their skills or looking forwards to a job change. This program requires working experience of at least 4-5 years but EMBA gives you advanced management and business knowledge. The duration of this program is also less than the actual MBA program.
Part-Time MBA – Part-time MBA is almost like an Executive MBA but an Executive MBA is for those working professionals who have more years of work experience. On the other hand, a part-time MBA is for those who have at least 2 years of work experience.
Online MBA – Online MBA is just like a regular program in terms of duration and job prospects. But in online MBA, students will attend classes entirely online and the exams will also be held in the online mode. This program is suitable for working professionals who cannot take out time to attend regular classes.
Distance MBA – Distance MBA is a management degree program that can be done while sitting at home. It is just like online MBA except for the fact that exams are not online in this mode.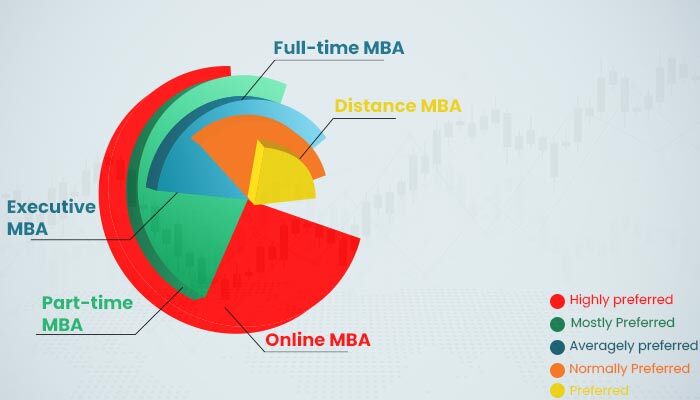 All these forms of MBA programs are valid and cater to your different needs and you can take admission in any of these MBA programs as per your preference.
| | | | | | |
| --- | --- | --- | --- | --- | --- |
| Types Of MBA | Duration | Eligibility | Mode Of Learning | Top Colleges | Entrance Exams |
| Full-time | 2 Years | Graduation + entrance marks | Offline | IIMs, NMIMS, Symbiosis, Xavier School of Management, etc. | CAT, MAT, XAT, NMAT, SNAP, ATMA, and GMAT |
| Executive/Part-Time MBA | 15-18 Months | Graduation +3-5 years of work experience | Online & Offline | IIM Ahmedabad, IIM Bangalore, IIM Calcutta, IIM Lucknow, NMIMS, etc. | GMAT, EMAT, and CAT |
| Online MBA | 2 Years | Graduation | Online | NMIMS, Jain Online, | No entrance |
| Distance MBA | 2 Years | Graduation | Online | NMIMSs, symbiosis, | No entrance |
What are the Eligibility Criteria for MBA Programs?
When an individual goes for a specific course, the requirements to be eligible for the course are also very necessary. Talking about MBA, the eligibility requirements for both regular and distance MBA differ a little. However, distance MBA has less complexity with eligibility requirements.
The students wanting to apply for an online or distance MBA program must adhere to these eligibility criteria:
Candidates should have a bachelor's degree in any of the relevant domains from a recognized university.
The students should also have scored a minimum aggregate percentile to be eligible for the course at any recognized university.
The eligibility requirements for the regular MBA programs require the score of CAT, XAT, GMAT, and so forth. Your admission in the university will depend upon the score you obtain in the entrance exam and cut-offs of the university.
Should I even pursue an MBA? Why MBA?
This often happens that the candidates who look forward to applying for MBA programs feel the constant dilemma of whether the course is going to be useful for them or not. Especially the ones who are already indulged in a working environment; they are the ones who are mostly found to be in confusion and dilemma.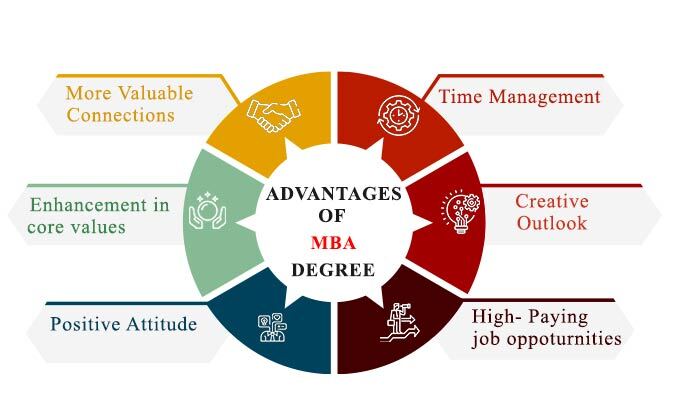 MBA is a degree that is a step towards a better future, it will help you in these arenas:
Creating more job options
Provides adequate management knowledge
Higher salary packages
Exposure to different specializations and so much more such things.
MBA is a step towards career transformation and career growth. Along with that, the demand for a degree in the corporate world has made it much more necessary to have in order to grow into a specific sector.
The MBA degree is always a benefit when it comes to the individuals:
who are working, considering it offers a really good career in the particular field that they are indulged in.
MBA offers bigger opportunities to those individuals who are willing to make a pathway towards a bright future in management.
The question about if the online mode of the degree will be worth it or not is pretty obvious. The candidates must keep in mind that an online MBA degree will have the same worth and value as a regular MBA degree if it qualifies from a certified university.
For working individuals, the online mode of an MBA degree is going to be the perfect choice considering how hectic their schedule already is. Moreover, the employers do not ask for the mode of education. What matters is the MBA degree and the skills of an individual.
Deadline Of MBA Admission 2023
Admissions in MBA programs have already been started for the batch of 2023. Candidates can apply to different management institutes and universities now. However, the candidates must consider the admission criteria before applying for MBA programs:
The score of entrances like CAT, GMAT and others will be considered for the entrance.
Must have skills are Aptitude Skills, leadership & problem-solving skills, interpersonal skills, personality fit, etc.
Apart from this, you can take admission in online & distance MBA without giving any entrance exams like CAT and GMAT. You can directly apply for an online MBA in the university and if you graduated with a good score from a recognized university then you can get admission there.
Does one require work experience to be eligible for an MBA Degree?
Talking about regular MBA programs, some universities do ask for work experience to apply for MBA. However, most of the time it is not necessary to have work experience to apply for an MBA degree. The work experience is a personal benefit, to be precise. The candidates with work experience will just know how to make their way clear towards their goal while they go on to study MBA.
In the case of an online MBA degree, there is no need to have experience in any work field. However, when one opts for a regular degree, there are some business schools that ask for work experience. But the online programs are not structured that way. Online programs do not ask for such qualifications or experiences.
Online MBA programs are specially made for the ones who have a working lifestyle and want to upgrade their qualifications by adding an MBA qualification to their degree. And also, for the ones who face difficulty in affording the regular on-campus classes. Hence, there is no requirement for any work experience in order to enrol yourself into an online MBA program.
Subjects of MBA 2023
MBA is a postgraduate program of 2 years and includes 4 semesters. The first 2 semesters include core subjects then subjects change in the last 2 semesters depending upon the specializations you take.
| | |
| --- | --- |
| Semester I | Semester II |
| Principles and Practice of Management | Production/Operation Management |
| Management Economics | Financial Management |
| Organizational Behaviour | Human Resource Management |
| Business Law | Marketing Management |
| Management Accounting | Marketing Management |
| – | Management Information system |
What is the average salary of an MBA graduate?
MBA aspirants will be well aware of how high the salary packages can go for them. MBA is a highly paid degree and offers an exceptionally shining future to individuals. However, your salary would increase with the experience you keep on having but, for instance, an MBA professional has a starting salary of Rs. 6-10 lakhs per annum. The higher the skills and experience go, the higher the salary keeps on getting. Average MBA Graduates Salary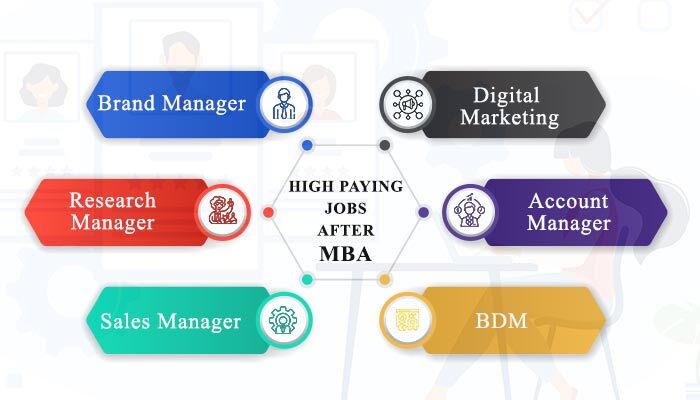 Do I need to give any entrance exams for MBA? Entrance Exams Of MBA
There are certain entrance exams that are required for the eligibility of an MBA, both in India and abroad. Some of these entrance competitive exams are CAT, GMAT, XAT, NMAT and so on. Most of the universities ask for a valid score in any of these entrance examinations. GRE is a general entrance examination, but if one wants to go for an MBA then they should consider taking the GMAT.
On the other hand, you can take direct admission in online MBA programs because most of the universities do not ask for CAT or GMAT scores for admission in an online MBA.
What are the different types of Specializations in MBA?
MBA offers a variety of specializations in the field of management. The different types of MBA specializations are:
| | | | | |
| --- | --- | --- | --- | --- |
| MBA in Marketing Management | MBA in Entrepreneurship | MBA in Operations Management | MBA in Health Care Management | MBA in Banking & Financial Services |
| MBA in Finance | MBA in Information Technology | MBA in Event Management | MBA in Logistics Management | MBA in Leadership |
| MBA in Human Resources (HR) | MBA in Business Management | MBA in Rural Management | MBA in International Business | – |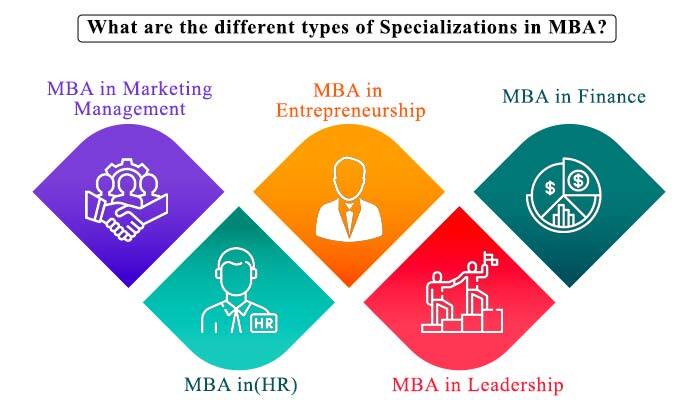 What are the best-known Specializations of MBA?
There are many specializations that come along with an MBA degree. All the domains offer a bright career with better job options and outstanding salary packages. There are some specializations that are highly in demand when it comes to MBA, such as:
Finance: MBA in Finance is one very famous specialization that revolves around the sector of finance in the corporate areas. It offers an excellent career in the field of financial sectors which involves a great connection with playing with numbers.
Marketing: MBA in Marketing is another very famous specialization of MBA. This specialization takes you into a world of marketing and business development skills. This is a really explorative field of MBA as it offers a bright career in too many areas of the corporate world. What it truly focuses on is a business development and working on different strategic planning to grow the sales and marketing of the organization.
Human Resources (HR): MBA in HR is yet another very in-demand course asked by the students. Human Resources Management is a specialization that takes care of the man force in the organizations. It deals with the interpersonal relations of the employees and employers and makes sure that everyone is heard. HR Management is a really wide field and has a scope that creates a lot of job opportunities with higher salary packages.
Entrepreneurship: MBA in Entrepreneurship is also a very known and highly asked course that revolves around the techniques of business growth and development. The course guides you to the area where your skills of business growth are enhanced and also develops a leadership quality in you. This course is made for those who wish to start their own initiation and lead the company.
How to get into the Top Universities for MBA?
The foremost thing to keep in mind while applying for MBA or online MBA in the top universities is to prioritise the eligibility criteria. The candidates should at least score an aggregate of minimum of 50% marks in the bachelor's degree. Once the scores are high, the universities will in any way consider you.
What are the famous Universities for MBA?
The topmost universities for MBA are:
Indian Institute of Management (IIM), Kozhikode
JBIMS, Mumbai
FORE School of Management, New Delhi
TAPMI, Manipal
Indian Institute of Management (IIM), Indore
IMI, New Delhi
MDI, Gurgaon
Tata Institute of Social Sciences, Mumbai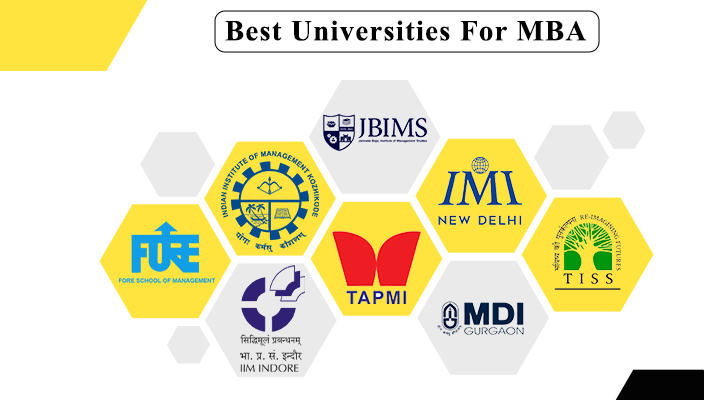 What are the Topmost Universities for an Online MBA?
Topmost universities that offer you an online MBA program at home are mentioned below:
Narsee Monjee Institute of Management Studies (NMIMS Online MBA)
Chandigarh University Online MBA Programs
University Of Petroleum & Energy Studies (UPES)
Jain Online
Amrita Online
Can I pursue an MBA after 30?
Yes, people can pursue an MBA after 30 as well. Age ain't a factor especially when one is pursuing it in distance mode. MBA is always a viable option for the candidates. There are even executive-level programs offered under MBA for working professionals. So, yes, age does not play a vital role. Anyone can pursue an MBA at any given age, it should just be sensible why it suits their interest.
What is the cost of an MBA course?
The cost of the MBA course may vary according to the college and the country where a candidate is going for. MBA abroad costs approximately 20 to 50 lakh in Indian rupees. Whereas, an MBA degree in India might just cost you around 7 to 25 lakhs. It depends on the choice of the individual.
However, the cost for the distance MBA programs might be quite less than the regular MBA programs. The distance programs have been introduced with a perspective to keep them reasonable for the ones who struggle to afford the regular and on-campus classes.
How can I get scholarships for MBA?
In India, there are scholarships that are offered by the institutes where the candidate will apply at. For example, the institutes such as IIMs do lay out scholarships for students. There are certain requirements that need to be fulfilled by the student in order to get the scholarship. The eligibility requirements for the scholarship may vary from type to type. There are also abroad scholarships that are laid down by the abroad universities for MBA courses.
What are the different types of learning Programs?
There are 4 types of different learning programs. Given below is a list stating what all the types mean:
Full-time learning programs: The full-time learning programs are generally the regular MBA programs that require face to face classes. The students have to visit the campus authorities for all the studying procedures. This is the traditional way of learning and requires time in the working days.
Part-time learning/Distance learning programs: The part-time mode of learning is made for the ones who have other things on their plate such as a job or any other course. Part-time programs are generally for the adults who have a worked up life along with personal life and still wish to study more. These programs are offered in correspondence mode.
Online learning programs: The online learning method is a new method that solely works on the basis of technology. The classes are conducted online and the whole process works through the internet. The online programs are beneficial for the ones who cannot afford the face to face classes and struggle with regular learning.
What is a Distance or Online MBA?
Distance or online MBA is a mode of education where the student gets to study MBA while he/she is sitting at home. Distance learning has been an advantage in different ways and offers a comfortable atmosphere to the students. Online MBA is an option that is provided by almost all the recognized universities with all the necessary facilities.
Distance or online MBA is the most suitable choice for the ones with a working lifestyle. The working individuals often go for an online MBA degree considering the demand and value of the degree. The degree is an upgrade in the qualification and because of that, it has been looked at as a necessary option for individuals.

How is Distance and Online MBA beneficial?
Distance MBA is a very reliable option for students nowadays. Distance MBA is structured especially for the ones who have other things on their plate as well, and still, they wish to have a better degree in their hand.
For individuals who already have a working environment and want to have an MBA degree, online learning of MBA will be the best-suited option for them. There are usually a lot of benefits of an online MBA degree but to keep the facts clear; the online way of learning gives flexibility to the individuals.
The individuals who are from a working environment and are already struggling to maintain a balance between their working life and their personal life; for such individuals the choice of an online MBA is perfect. It will not only give them a degree at a much more flexible atmosphere but also at a very reasonable rate.
The students are provided with online lectures even at weekends so that they do not have to manage too much hustle bustle in their schedule. Moreover, some universities also offer recorded lectures to the students which again becomes a very big advantage to the working professionals.
MBA Abroad
As per the data, more than 50% of Indian students prefer to study master abroad and the top countries that Indian students prefer for management programs are the USA, UK, Canada, Australia, New Zealand, etc. Also, candidates need a bachelor's degree with a minimum of 50% marks and 3-5 years of work experience.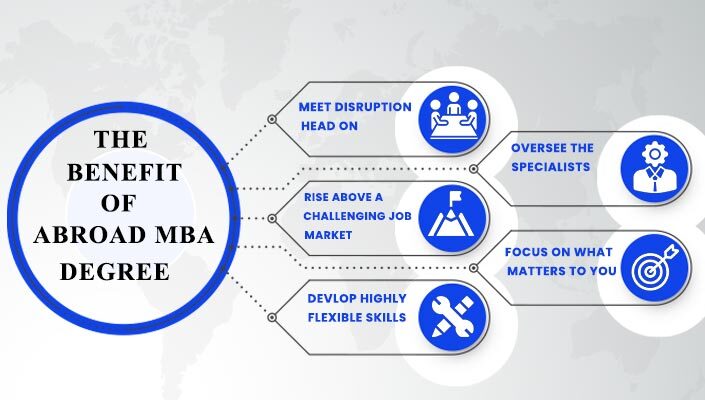 Is an Online MBA Degree easily affordable or not?
MBA is an expensive course if we are honest. The course is known to be a hot-selling cake and that is why the price for the course is higher than what the usual postgraduate courses have. But the higher cost is when you take up the regular mode of the degree. It might also be possible that many students are unable to afford a regular degree. And therefore, for such cases, the online mode of MBA takes a step in.
Online MBA is relatively much cheaper and much more affordable than the regular degree. It is made with the perspective that the students who face struggles and hurdles in being able to afford the regular degree, can go for the online mode of education and will have a similar benefit.
Top Hiring Firms For MBA Graduates
| | | | |
| --- | --- | --- | --- |
| Amazon | BCG | Wipro | Deloitte |
| JP Morgan | Microsoft | Cognizant | ICICI Bank |

MBA Full Form, Remember?
MBA is a course that is renowned and is an advantage to every person irrespective of whatever their background is. The course has made its demand so high over the years that right now every company asks for an MBA Professional in their environment. And even the course is worth all the appreciation considering the skills it provides. The demand makes the course a bit expensive too, but there are no hurdles now for the students. Online learning and MBA make a really good pair and offer a career that will have no look back. Hence, an online MBA degree is all in one, a perfect choice for any individual.