What is the full form of BBA?
The full form of BBA is Bachelor of Business Administration; it is one of the very known courses in the undergraduate field. BBA is well-known amongst the students who have passed 12th and are generally from a commerce background. The course involves basic management skills and the administration of business development and growth. The course is offered in both regular and distance mode.
BBA offers a very bright future to the students and therefore, it is a step towards one of the most selling degrees that is MBA. BBA covers statistics and mathematical understanding as well, considering it just enhances the technical skills of the students as well. The course trains the students in the areas of strategic planning and develops decision-making skills in them. It also plants the entrepreneurship skills in the students who wish to have their own business in the future.
There is a wide spectrum of sectors that the course covers, such as Sales & Marketing, Finance, Management, Entrepreneurship, Information Technology, and many more. The course also involves internship programs which trains the students with the practical knowledge of the corporate world.
BBA Overview – Quick Facts
| | |
| --- | --- |
| Degree Types | Bachelor |
| Full Form | Bachelor of Business Administration |
| Course Duration | Three Years Divided into Six Semesters |
| Major Specializations | Marketing, Finance, HR, Logistics, International Business |
| Course Average Fees | Rs. 1 lakhs – Rs. 2.5 lakhs |
| Similar Options | B Com, BMS, BBS, BBM |
| Average Salary Offered | Rs. 2 lakhs – Rs. 5 lakhs |
| Top Recruiters | HDFC Bank Pvt Ltd, Deutsche Bank, Deloitte, Private Banks, Accenture, EY (Ernst & Young) |
Why Should You Pursue BBA?
Management is one of the most successful fields in the corporate world and pursuing BBA is the first step in this journey. The course doesn't just provide numerous job opportunities but also helps the students develop some excellent management and leadership qualities. The course helps the students to have one remarkable career in different fields and has a great demand too.
BBA is a gateway towards the most successful degree named MBA. It is prominent that a person who has BBA will have the prior option of taking up MBA in the postgraduate which in itself becomes a staircase to an exceptional future.
Types of BBA
Bachelor of Business Administration is one of those undergraduate programs that is offered in different modes. Students have the options to choose the mode of BBA according to their convenience.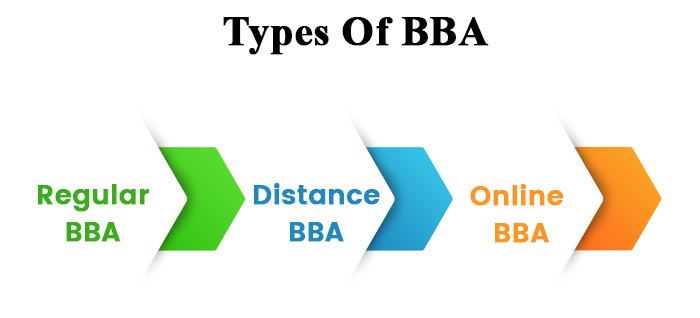 Regular BBA – Regular BBA is a full-time program and its classes are held in the offline mode. In this program, students are required to attend traditional classroom lectures and give offline exams.
Distance BBA or BBA in Correspondence – Distance BBA is also a full-time program but the only difference is that this program does not offer classroom lectures regularly. Some universities do offer weekend lectures and your books or self-learning material will be provided by the university. However, the exams are in the offline mode in classrooms.
Online BBA – Online BBA program is a specially designed program for both students and working professionals. In this mode of learning, students get the benefit of both online classes and online exams.
| | | | |
| --- | --- | --- | --- |
| Types of BBA | Eligibility | Admission Criteria | BBA Course Fees (INR) |
| Regular | 10+2 with 50% marks | Merit/Entrance Exam Based | INR 60,000- 1.8 Lakhs |
| Distance BBA | 10+2 | Merit Based | INR 25,000 |
| Online BBA | 10+2 | Merit Based | INR 50,000- INR 1,00,000 |
What are the eligibility criteria for BBA programs?
For regular Bachelor of Business Administration programs, the universities have set a small common eligibility criterion for every student. The criteria ask for three things, such as:
The candidate must have passed his 10+2 in any relevant stream from a recognized board.
The candidate must also have scored a minimum aggregate of 50% in his 12th to be eligible for the course.
Also, some of the universities have a certain merit list and provide a particular cut-off mark list for the students to be eligible with the appropriate marks.
However, on the other hand, the online programs of BBA do not put any kind of emphasis on the marks. Every student with a 12th passing certificate from a recognized board will be eligible to apply for online BBA programs in the universities that offer the same.
Does one require work experience to be eligible for BBA?
BBA is a bachelor's degree which is opted just after an individual completes his 12th and looks forward to taking a step in settling his career. Considering that, BBA does not require any sort of work experience. Neither the regular BBA degree nor the online or distance BBA degree asks for work experience in any way from the students. It is simple and not at all complex for the students to apply for BBA as their ultimate goal.
What is the average salary after the completion of the BBA?
With respect to how brilliant the BBA is for a person's future and for the job opportunities, the average salary for a fresh BBA graduate starts from 2-3 lakhs per annum. The salary can go up to Rs. 6-10 lakhs per annum with consistent work experience and skills enhancement. The degree holds a lot of job opportunities for the students and has a vast career in the field of management in the whole corporate world outside.
Apart from that, once a person starts consistently working in a field, there is a high chance of extreme growth and flourishment in future. Similar case goes when we study BBA as our primary career goal. Also Read | Career After BBA Course!
Some of the very known job opportunities for BBA graduates are Marketing Executive, Business Development Executive, Sales Executive, Human Resource Manager, Market Research Analyst, Management Trainee and many more such job areas. The stream offers a wide spectrum of opportunities lying in front of the graduates under the Sales & Marketing sector, Financial Sector, Human Resources Sector, Information Technology sector and so on.
Do I need to give any entrance exam for BBA?
IIMs conduct entrance exams for BBA known as IPMAT. IPMAT is a common entrance examf or the IIMs located all over India. Other than that, there are not many entrance exams that are conducted for BBA. Different universities have different procedures for examinations. Universities such as GGSIPU and Delhi University conduct their own entrance examinations for BBA.
What are the different types of Specializations in BBA?
BBA is a vast course and covers different areas of business administration and management. There are different types of specializations in BBA that are offered by various universities covering different sectors of the corporate world. Given below are the specializations: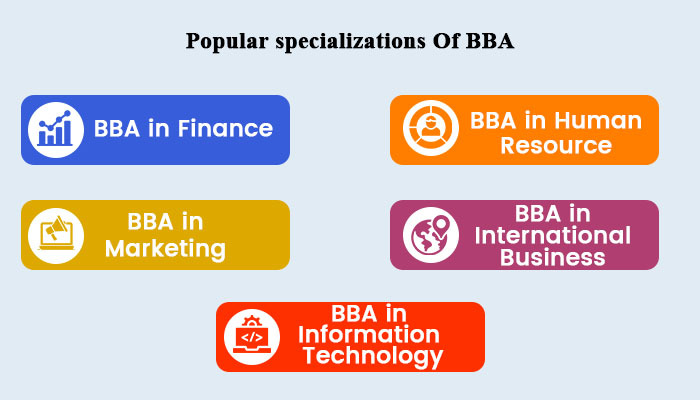 | | | |
| --- | --- | --- |
| BBA in Sports Management | BBA in Finance | BBA in Human Resources (HR) |
| BBA in International Business (IB) | BBA in Retail | BBA in Computer Application |
| BBA in Global Business | BBA in Marketing | BBA in Entrepreneurship |
| BBA in Information Systems | BBA in Tourism | BBA in Management |
| BBA in Hospitality | BBA in Accounting | BBA in Supply Chain |
What are the best-known specializations of BBA?
There are several specializations under BBA which a student can look forward to while going up for the course. BBA offers a field big enough with a variety of streams that can be taken into consideration and can be explored.
Some of the very known and famous specializations are:
Finance: Finance is a field made for those with a keen interest in playing with numbers. For the individuals who have a really profound interest in accounting and the financial sector of an organization are best suited for this specialization. Moreover, this specialization offers the highest paid jobs in the corporate world and has a very high demand in the market.
Human Resources: HR is a field that goes into the process of interpersonal management systems among the employees and the employers. This specialization focuses on the study of managing the decorum of the organization and resolving organizational disputes. Human Resources is known to be one of the highly paid jobs in the field of business administration and is also very high in demand.
Marketing: BBA in Marketing is yet another domain which is not just popular among the students but also offers a very bright career ahead. Marketing is mainly focused on sales and business development of the organization. It is a study of teaching the students about how to have strategic planning in growing the sales of the organization. It covers the parts of advertising and planning; and hence, it is one of the most opted for specializations amongst the students.
Information Technology: Information Technology is also another field of BBA that revolves around the management of technological aspects in an organization. The individuals who are interested in this course are known to be technical experts of the company and handle the digital management of the organization. IT is a specialization best suited for the ones who are from science background and offers a bright and great career field in future for them.
How to get into top universities for BBA?
To get into the top universities for BBA, one has to complete all the eligibility requirements laid out by the universities. Also, the candidates must have scored an aggregate of minimum 50% in their 10+2 from a recognized board. This will help the students make a place in the top universities. Moreover, the students should also prepare well for the entrance exams if there are any laid out by the university.
What are the famous Universities for BBA?
There are various universities that offer BBA programs, some of the universities are known to offer the best faculty for BBA programs. The famous universities for BBA are: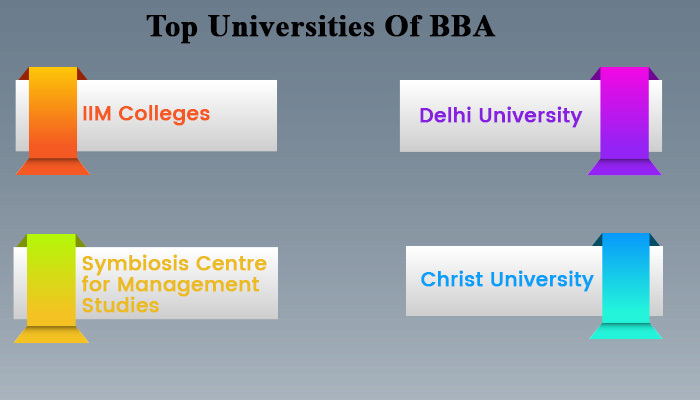 Indian Institute of Management (IIM), Indore
Shaheed Sukhdev College of Business University, Delhi University
Keshav Mahavidyalaya, Delhi University
Indian Institute of Management (IIM), Rohtak
Deen Dayal Upadhyaya College, Delhi University
Symbiosis Centre for Management Studies, Pune
Anil Surender Modi School of Commerce, NMIMS University, Mumbai
Christ University, Bangalore
Can I pursue BBA after 30?
Anyone above the age of 30 is eligible for an BBA. It doesn't matter how old you are, especially if you're following it from afar. For candidates, a BBA is always a realistic alternative. Working professionals can enroll in BBA programmes. Yes, the outcome is unaffected by age. Anyone can pursue an BBA at any age; the only requirement is that they have a compelling reason to do so and should have the appropriate eligibility requirements.
What is the fees of a BBA Course?
The fees of BBA programme vary by specialisation and university to which an individual applies. In Indian rupees, a BBA degree costs between 1 and 2.5 lakh rupees. Different price methods apply to various specialities. The choice is entirely up to the individual.
Distance BBA programmes, on the other hand, may be less expensive than traditional BBA programmes. The purpose of the remote learning programmes was to make them accessible to people who couldn't afford regular or on-campus classes.
How can I get scholarships for BBA?
In India, scholarships are accessible through the institutes to which you apply. Institutes such as the IIMs offer scholarships to students. The student must meet certain criteria in order to be considered for the award. The qualifications for each type of scholarship may differ. Additional overseas scholarships for BBA study are available from international colleges.
What is Distance and Online BBA?
Distance and Online learning are a process of learning where the students have all the resources available for them on their hand and they can access education at any given time. Distance learning is one best choice for the individuals who have other things on their plate as well.
It is a process of learning which is less hectic and of course, less time consuming. The process of distance learning is now available in almost all universities for most of the courses. There are also separate universities that just offer distance learning programs for the students.
Distance BBA is a good option for those who have other things to study and focus on. Distance BBA will have the same value as that of a regular BBA degree when it is obtained from a recognized university. Distance BBA is also a better choice for those who cannot afford regular on-campus classes, as distance learning is relatively cheaper and is much more affordable.
Moreover, distance BBA will cover all the necessary subjects and syllabus required for a BBA graduate; so, the students don't even have to worry about the material being covered or not.
Is Online BBA easily affordable or not?
Online courses are relatively much cheaper than regular courses. The students who suffer financial instability and struggle to keep up with the on-campus and offline courses, online learning has made a way for such scenarios towards the students.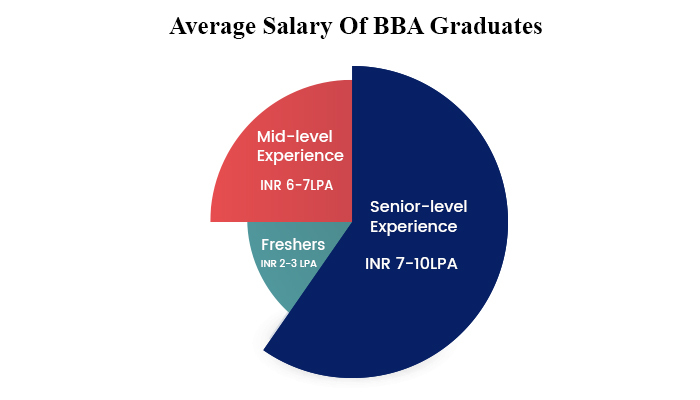 BBA is, in any way, an expensive course considering the demand of the course. The demand and value of the course have made it expensive and therefore, the distance mode of the same course has been offered at a much more reasonable rate to the students.
How Distance and Online BBA beneficial?
Distance learning is now becoming one reliable source of education, at present times. Distance learning has made brilliant growth in recent times and has made its place in the education system. With respect to that, talking about the benefits of distance learning is also very necessary.
BBA is, as we all know, a very well-known degree and is opted in high numbers by students. Even the distance mode of the same degree is highly asked for and is considered by many students. The students who are also working to prepare for other competitive exams, they can go on for distance BBA and will be able to ace it while continuing other things that they are involved with.
It is beneficial in many ways considering that the course is also very affordable to every student from any class. Moreover, distance BBA will guide the students to apply basic management in their lives as well. Taking into consideration that the course is about management understanding, the students will be able to understand and apply it into their own lives.
The students might also have a query if their degree would be considered worthy enough when received in distance mode of education. This is one question that is most common and is obvious to be asked by the students. On that note, we would like to make it clear that the degrees from distance mode have equal value at the present moment. The distance degrees are considered to be worthy at the time of job placements, keeping in mind that you complete your degree from a university that is recognized and certified.
Recognized universities are considered to be authentic and credible and the degree from there, be it a regular degree or a distance degree. Hence, it becomes another reason as to why the distance BBA is an advantage.
BBA full form, remember?
BBA is a really excellent career choice for the students from any of the relevant streams. However, the course is mainly in the commerce field, but the students from every stream will be flexibly fitted into the course and can excel really depending on their skills and interests. BBA by far has a lot of career options best suited for the students and offers a future which is bright and successful.