What Is Online BBA? : Online BBA (Bachelors of Business Administration) degree is a 3-year undergraduate program which is divided into 6 semesters of 6 months each. The program aims at giving the students the basics of Business Administration so that they can grow into great business leaders in the future. The online BBA course is equivalent to a regular BBA course as the online universities offer the same curriculum through excellent faculty through virtual learning platforms.
To learn about the online BBA program in detail, continue reading.
Online BBA Specialisations In Demand 2023
Business Administration is quite a diverse field with numerous dynamic specializations. The general BBA program gives a basic overview of all the specializations. However, if you wish to specialize in a particular field then you must opt for an online BBA in that particular specialization. Given below are the specializations offered in an online BBA program: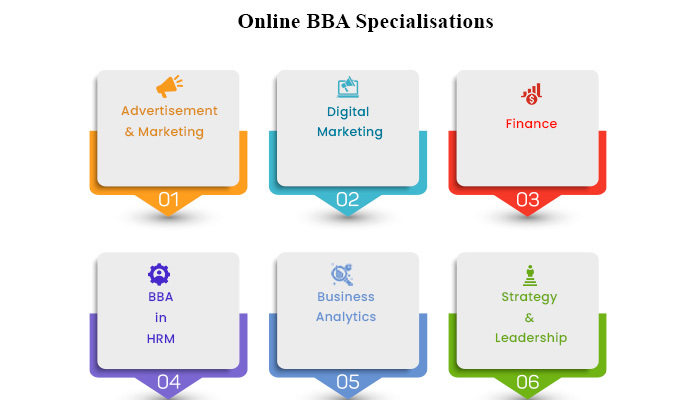 | | | |
| --- | --- | --- |
| BBA in Advertising & Branding | BBA in Data Science & Analytics | BBA in Logistics |
| BBA in Advertisement & Marketing | BBA in Digital Marketing | BBA in Marketing |
| BBA in Multimedia Management | BBA in Engineering & Project Management | BBA in Aviation |
| BBA in Banking & Finance | BBA in Travel & Tourism | BBA in HRM |
| BBA in Business Analytics | BBA in Strategy & Leadership | BBA in Finance |
Online BBA Eligibility 2023
The eligibility criteria for admission to online BBA are quite simple. Any student who has completed their 10+2 in any stream whether Commerce, Science or Humanities. The student must have studied from a recognized board of education and must secure at least 50% (might vary across universities) aggregate marks in 10+2.
Online BBA Admission Process 2023
The admission process for the online BBA program can be done entirely online. You do not need to come to the college for any document verification or fee submission. You can comfortably complete the entire procedure from your home. There might be slight differences in the admission process for different universities, however, the following listed basic steps are common to all universities:
Step 1- Go to the official website of the college and fill out the application form. Many universities have different official websites for their online programs. So you must visit the website for online programs of the particular college you take admission in.
Step 2- After filling up all your details in the application form, upload the required documents in their original form and then pay the application fee.
Step 3- Once your documents are verified and the application is approved, you will be notified about it via email or SMS. After which you will have to pay the program fee. The program fee can be paid either online or through the demand draft.
Step 4- After the program fee has been processed, your admission will be confirmed. You will also be given your credentials for login in to the virtual learning platform of the college.
Read: Online BBA Admission Procedure Step by Step Guide
Online BBA Colleges and Updated Fees 2023
There are a lot of colleges in India that offer the BBA course in the online mode. However, not all of these universities provide all of the necessary and needed support to their students. Also, there are many universities that do not have the right accreditation because of which their degrees stand invalid. Hence, you must choose a university with a better management system and the right approvals for your online BBA. Read: What is the Full Form of BBA?
We have listed some of the best online universities offering the online BBA program in various specializations.
Online BBA University
Total Program fee (in INR)
NMIMS- Narsee Monjee Institute of Management Studies, Global Access School for Continuing Education (NGA-SCE)
– 1,50,000 (if paid semester-wise)

– 1,41,000 (if paid year-wise)
– 1,31,000 (if paid at once)

Amity University Online
1,65,000
Chandigarh University Online
1,56,000
University of Petroleum and Energy Studies (UPES)
1,80,000
Jain Online
From 1,50,000 to 2,40,000 (different for different specialisations)
Manipal Online BBA
1,20,000
Online BBA Syllabus
The syllabus for the online BBA program is described in the table below semester-wise. Since it is quite a diverse course, sub-topics might vary for different universities. However, the subjects given below are major topics which you will have to study regardless of which university you go to.
Semester
Online BBA Subjects
Semester 1

Accounting Fundamentals
Business Communication
Business Statistics
Management Foundation
Principles of Marketing

Semester 2

Fundamentals of Financial Management
Fundamentals of Human Resource Management
IT Applications in Business
Individual Excellence and Social Dynamic

Semester 3

Cross Cultural Management
Essentials of Production and Operations Management
Financial Markets and Services
Principles of Organisational Behaviour
Research Methods for Managers

Semester 4

Fundamentals of Entrepreneurship
Fundamentals of Project Management
Operations Research
Principles of Consumer Behaviour
Sales and Distribution Management

Semester 5

Business Strategy
Financial Planning
Managing Customer Relationships
Marketing in Digital Age
Professional Ethics
Quality Management

Semester 6

Brand Management
Fundamentals of Retailing
This syllabus is for the general BBA program. If you opt for a specific specialisation program, then the syllabus is different. If you want to know the detailed syllabus of any particular specialisation, then you can go to College Vidya and find it. You will find all the other relevant information apart from the syllabus as well.
Online BBA Career Scope
Business administration is a great career choice in the current times, as almost each and every sector in the world is business-oriented now.
Whatever industry you can think of, be it medical, engineering, or education, they require Management graduates to manage their organisations better to render more profits. Given below are some of the job roles you can get after you complete your online BBA degree. Read: Career Options after BBA.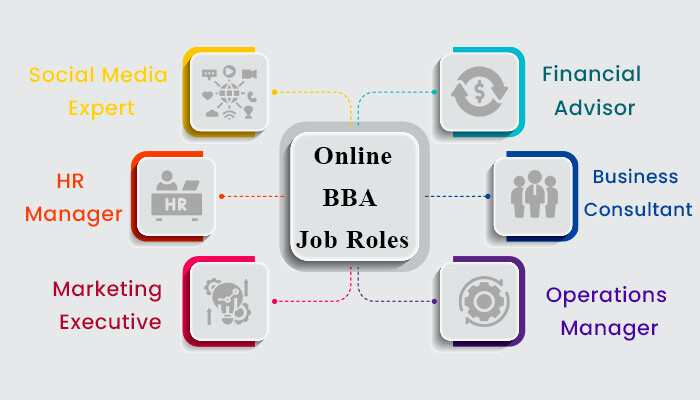 | | |
| --- | --- |
| HR Manager | Marketing Executive |
| Social Media Expert | Financial Advisor |
| Business Consultant | Operations Manager |
Online BBA Big Recruiters
The online BBA course has been quite a in demand recently. Many big companies hire BBA graduates every year, regardless of their degrees being online or offline. Some of the giants in the industry actively hiring BBA graduates are:
Dell Technologies
Max Life Insurance
Tech Mahindra
Policy Bazaar
Wipro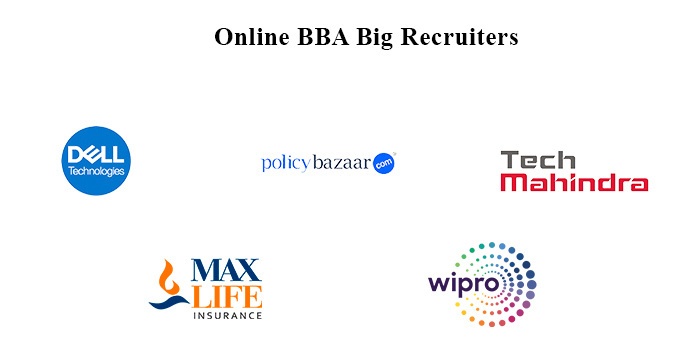 Conclusion
Online BBA is a great career move and you can pursue it even if you are from some other stream. The online mode gives you the flexibility to complete the course from home and at a much less cost. You have the time to even pursue a job while you're completing your degree. However, you must be careful in choosing the right university because it is an online course, so the university must have the right approvals and an excellent virtual learning platform. If you are looking for the right university to pursue an online BBA or any other course then you can click on the tab below and find an authentic university in just 2 minutes.