MCA or Master in Computer Applications is a postgraduate program that helps you delve into the core concepts related to software & technology. This 2-year-long degree course can be pursued in a distance mode that makes you gain on-job experience along with your master's degree program.
MCA distance education offers a great level of flexibility by providing weekend classes that help you continue your job even while studying. The learnings of computer applications & modern programming language will make you avail of a varied number of career opportunities in different sectors.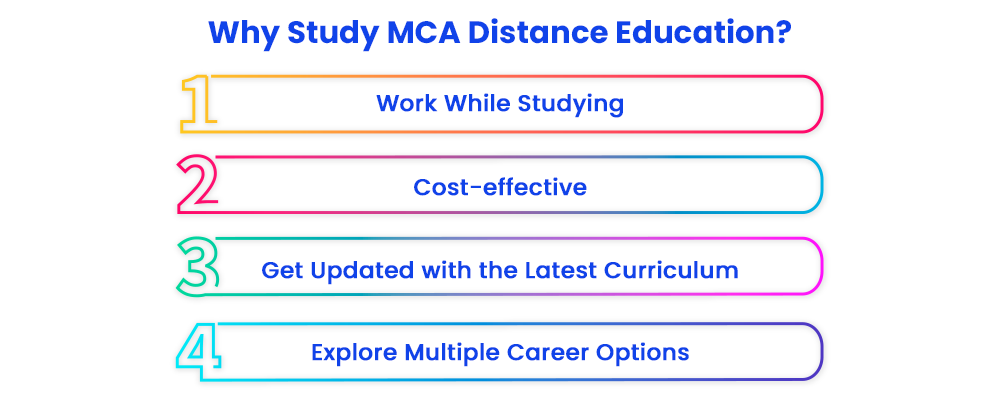 The skill-enhancing curriculum of MCA distance education prepared by highly experienced faculty members & industry experts will make you job-ready for this competitive IT industry. A highly accessible LMS portal that contains academic resources like recorded lectures, past projects, etc. will assist you in your self-paced learning journey.
Looking at the high demand for IT professionals, MCA is one of the best career choices for candidates aspiring to build their career in this line. A command over computer applications, software, programming languages, etc. will make you secure a reputed job at a big-fat payscale in the international market.
Highlights of the MCA Distance Education Program
Earn a postgraduate degree in computer applications without leaving your job.

Improvise your concepts by accessing the 24*7 digitized academic resources on the LMS portal.

Learn the latest technological concepts with an updated course curriculum.

Clear your doubts by interacting with highly experienced faculty members & industry experts to enhance your practical learning.

Improve your work efficiency by gaining hands-on training on tools & latest methodologies.

Develop closer industry insights by attending guest lectures & webinars delivered by eminent industrialists.

Bridge the gap between your theoretical knowledge & practical implementations by working on industry-relevant capstone projects & assignments.

Interact with peers & build a strong professional network to get clarity on the career prospects of MCA distance education.

Prepare for interviews by availing of some placement assistance services like mock interviews, skill-developing programs, etc.

Join top-notch firms after earning an industry-recognized degree at the end of this program.
Syllabus of the MCA Distance Education Program
The curriculum designed for distance MCA is a perfect blend of theoretical & practical topics. The choices of electives provided in this course content make you earn detailed knowledge on the specific major of your choice. Some of the generic subjects that will be studied in this distance education course are listed below:
| | |
| --- | --- |
| Software Engineering Practices | Object Oriented Programming using C++ |
| Data Communication and Networking | Data Warehousing and Data Mining |
| Linux and Shell Scripting | Programming in Java & Python |
| Introduction to Big Data | Cloud Computing |
| Mathematical Foundation for Computer Science | Web Technologies |
Top Specialisation for MCA Programs
Eligibility of MCA Distance Education Program
Universities offering distance MCA have a pre-decided list of eligibility requirements. This list differs in moving from university to university. However, there are some basic criteria, as listed below, that must be fulfilled to apply for this distance course.
BCA/B.Sc (IT)/B.Sc (CS) degree holders from a recognized university.

Graduates who have studied Mathematics/Statistics/QT/Business Math are eligible for this program.

Any graduate with Mathematics/Statistics/QT/Business Math as one of the subjects at the 10+2 level is also eligible for this distance course.
Duration of the MCA Distance Education
Distance MCA has the same course duration as that of an on-campus MCA. It comprises 2 years or 4 semesters. At some universities, you can get an extended period of additional 2 years which makes the maximum duration of the course to be 4 years.
Other Types of MCA Degree Courses
Admission Process of the MCA Distance Education Program
The admissions procedure for a distance MCA is based on the guidelines set by specific universities or institutions offering it. However, the following are some of the most general steps:
Step 1: Finalize your university or institution for pursuing distance MCA & look for its eligibility requirements to proceed further.
Step 2: After university selection, visit its official website & register by filling up the registration form to access the admission portal.
Step 3: Fill out the online admission application form & provide mandatory information as requested by the university. The documents that need to be uploaded may include personal information, educational background, and other relevant papers or certificates.
Step 4: After review of your application form, you will be notified by the university over the mail for further formalities.
Step 5: Some universities take an entrance exam or conduct interview sessions as part of the admissions process. In that case, you need to pass the screening test to pursue this distance program.
Step 6: After completing all the paper formalities, pay the fees & confirm your admission to the program. Download the confirmation slip or mail sent by the university for future reference.
Career Opportunities After Distance Education MCA
A distance MCA helps you explore a variety of career options in the IT domain. The skills learned in this program help you secure reputed job titles in the top MNCs. The application-based learning approach of this degree program trains you well to face the ground-level challenges of this industry.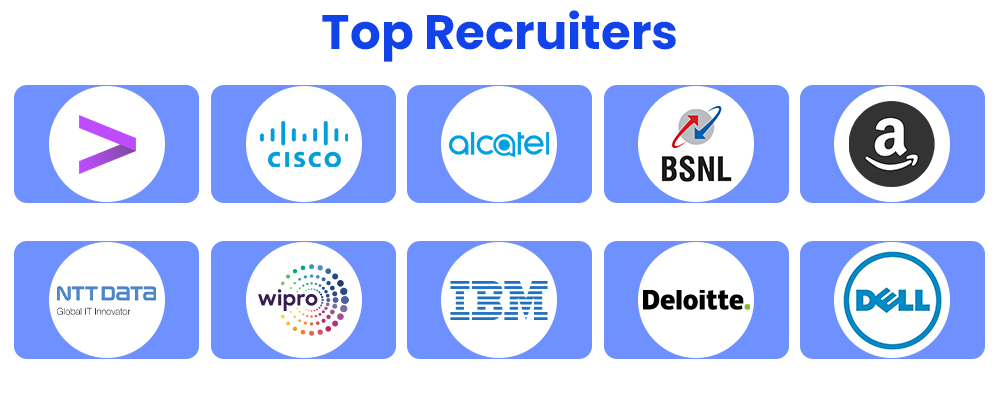 With the outgrowing demand of the IT industry, the number of job positions for skilled IT professionals is also increasing. In-depth knowledge of software & applications earned through this course can get you placed in some of the rewarding job positions mentioned below:
| | |
| --- | --- |
| IT Consultant | Database Engineer |
| Social Media Handler | Software Developer |
| Systems Analyst | IT Consultant |
| Network Engineer | Database Programmer / Designer |
Explore Top Colleges/Universities for MCA Distance Learning