The availability of an MBA program in distance learning mode is highly opted for by students or working executives who want to upgrade themselves in the business field. Distance MBA program is equivalent to the regular MBA program in terms of credibility & curriculum. This UGC-DEB-approved degree is best suited for you if you want to have a progressive career in the management-related work field or planning to start your own business.
This correspondence MBA program helps the student to easily pursue a management degree while managing other personal and professional commitments. These programs are intended to provide students with a thorough understanding of a variety of business management topics, such as finance, marketing, operations, human resources, and entrepreneurship. Also Available: One Year MBA Programs!
Top MBA Universities for Distance Learning Programs
MBA Distance Education is perfect for people who want to continue working on their current employment or other commitments while advancing their corporate careers or starting their own businesses. Except for the difference in program delivery mode, the regular and MBA distance programs have the same course curricula and duration. Due to technological developments, distance MBA programs now offer a learning environment that is just as interactive and interesting as traditional MBA programs that are taught in a classroom.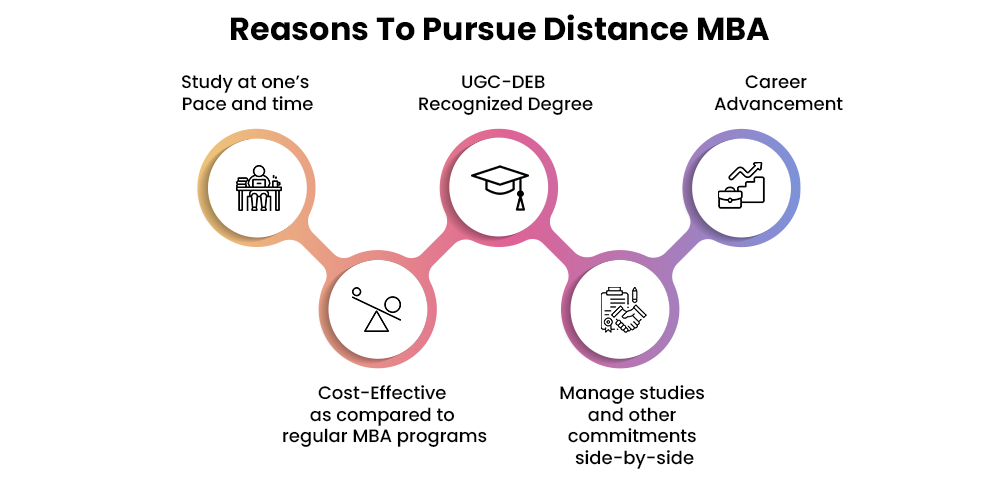 Key Highlights of MBA Distance Education In India
The course duration of the distance MBA program is around 2 years which is divided into 4 semesters of 6 months each. One can complete the MBA correspondence MBA program in an extended duration of 4 years.

The MBA distance education program is accredited and recognized by UGC-DEB and the degree awarded is valid around the globe.

The only requirement to pursue the distance MBA program is having a bachelor's degree from a recognized university with a minimum of 50% of marks.

The average fee for a distance MBA program ranges from Rs. 12,000 to Rs. 15,000 per semester.

Some of the best MBA distance specializations include Human Resource Management, Finance, Marketing Management, IT, etc.

The students get to learn the various facets of business management and principles.

Students post-completion of the MBA distance education program can take on various managerial positions in various sectors and companies.
Distance MBA Course Subjects
Here is the list of subjects that students get to study during the distance MBA course duration:
| | |
| --- | --- |
| Semester I | Semester II |
| Financial Reporting, Statements And Analysis | Corporate Finance |
| Managerial Economics | Operations Management and Research |
| International Business Environment | Business Analytics |
| Marketing Management | Research Methodology |
| Organizational Behaviour And Human Resource Dynamics | Legal aspects of Business |
| - | Communication for Leaders |
| Semester III | Semester IV |
| Discipline Specific Elective I | Discipline Specific Elective IV |
| Discipline Specific Elective II | Discipline Specific Elective V |
| Discipline Specific Elective III | Discipline Specific Elective VI |
| Corporate Strategy and Entrepreneurship | Generic Elective II |
| Generic elective I | Capstone Project |
| Seminar on Summer Training or Course from the GE basket 1 which is not chosen as Generic Elective (GE). | - |
Top Specialisation for MBA Programs
MBA Distance Learning Eligibility
To become eligible for the MBA distance education courses one must fulfill the following mentioned eligibility criteria:
Graduation Degree or Equivalent.

Bachelor's degree must be completed from a UGC-recognized university.

One must score a minimum of 50% marks in their graduation to apply for this program.

Some universities also require entrance exam scores like OPENMAT for admissions.

Working professionals are also encouraged to apply for the same.
MBA Distance Education Duration
One can complete the distance learning MBA program in a course duration of around 2 years which is sub-divided into 4 semesters.

Distance MBA programs can also be completed in an extended duration of 4 years as per one's own flexibility and time.
Other Types of MBA Degree Courses
Distance MBA Admission Procedure
While applying to universities for a distance learning MBA program, there are some standard processes you must take:
University Portal:

Visit the university's official website (the university to which you are willing to take admission).

Sign Up:

Become a new user by signing up and providing your information on the application form.

Application Form:

Along with the application form, submit the registration costs, and other documentation.

Fee Payment:

At the next step, submit your academic fee using any means of payment mentioned on the website, which in most cases includes capabilities for net banking, UPI payment, or demand draught facilities.

Admission Confirmation:

You will receive a confirmation email along with your student enrollment number or student number.

Distance MBA Academic Fees
The academic fee for the distance learning MBA program ranges from university to university. But the average fee for the distance MBA program lies between the range of Rs. 12,000 to Rs. 15,000 per semester. The distance MBA program is offered by both government and private universities in India.
Career Opportunities After ODL MBA Degree
A distance learning MBA degree can lead to a variety of professional prospects in a number of different industries. Graduates of this degree may be prepared for positions in management, marketing, finance, human resources, and other fields. Graduates can work as
| | |
| --- | --- |
| Business Analysts | Marketing Executives |
| Project Managers | Financial Analysts |
| Management Consultants | Operation Managers |
The degree can open up prospects for entrepreneurship and business ownership in addition to established roles.
Top Recruiters Hiring
There are various top companies present out there that are hiring MBA graduates. Some of the companies are listed here
| | |
| --- | --- |
| WNS Global Services | ICICI Bank |
| Hindustan Unilever | L & T |
| Tech Mahindra | Tata Consultancy Services |
| Wipro | Amazon |
Top Distance MBA Colleges Or Universities in India
There are various universities and colleges present out there in India that offer MBA in distance mode. Here is the list of some of the best distance MBA colleges and universities in India:
| | |
| --- | --- |
| IGNOU | Madras University |
| Chandigarh University | LPU Distance |
| Symbiosis Centre For Distance Learning Institute (SCDL) | Sri Venkateswara University |
| IMT Distance Learning | Amity University ODL |
Education Loan Options for Distance MBA in India
There are various education loan options available out there even for distance MBA programs. Through these education loan options, one can get financial aid in paying their academic fee and other study expenses. These education loans can be easily availed from the banks at very reasonable interest rates and through easy re-payment options like EMI monthly installments. A distance MBA is generally pursued by the working population of our country so they can earn a sense of self-pride by financing their own education.
Online MBA vs Distance MBA
Online MBA

Distance MBA

The minimum qualification needed is a bachelor's degree or equivalent

Eligibility criteria include a bachelor's degree or equivalent.

Some universities like IGNOU take entrance exams (OPENMNAT) for admission.

Interactive classroom sessions through LMS.

No student-teacher interaction at all.

Students can easily get expert guidance from the comfort of their homes.

For getting expert guidance students have to visit the study center for resolving their doubts.

100% Placement support is provided.

Career assistance programs purely depend upon the course structure of the university.

Students get great global exposure through industry experts-led online classes & training programs.

No global exposure

Exams and assignments can be given at a flexible schedule from the comfort of home.

Students have to visit the exam and regional centers to give exams and submit assignments.
Explore Top Colleges/Universities for MBA Distance Learning