Distance MSc is a 2 years postgraduate program specially designed for individuals who cannot attend regular on-campus sessions owing to employment responsibilities, geographical limits, or personal circumstances and might benefit from the program, which offers a flexible and comfortable learning experience. Students may receive high-quality education from famous colleges and institutes through online lectures, virtual conversations, and self-paced study resources.
Individuals can increase their education and job opportunities through the Distance MSc program without jeopardising their obligations. It eliminates time and distance restrictions, allowing students to get a great education from the comfort of their homes. Individuals can begin a transforming learning journey and emerge as experts in their chosen professions by enrolling in a respectable and authorised college.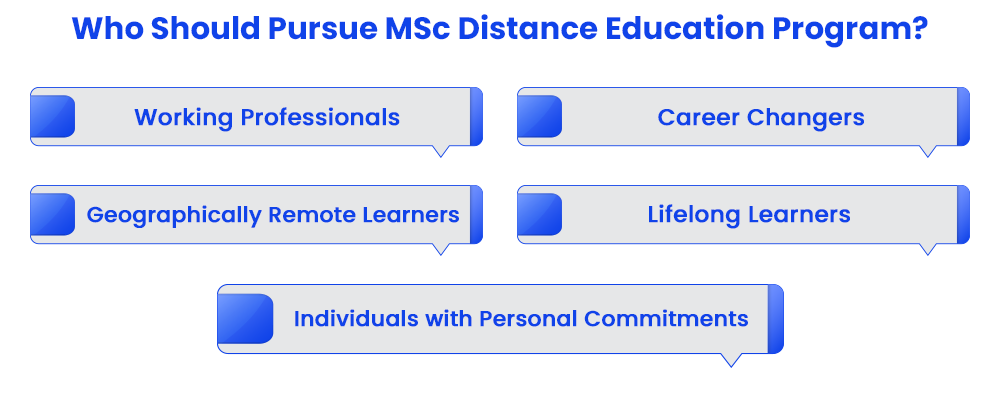 The Distance MSc or MSc Distance Education Program offers students a flexible and convenient way to gain specialised information, improve their abilities, and open doors to interesting professional prospects. With technological improvements and the rising acceptance of distance education, earning an MSc degree online has become a feasible and legitimate option for ambitious learners looking to make their mark in an ever-changing professional world.
Key Highlights of the MSc Distance Education Program
The MSc Distance Education Program has several key highlights and some of them are mentioned below:
The MSc Distance Education Program allows you to study at your speed and leisure, allowing you to balance your education with other obligations.

Respected educational institutions create the program to provide a high-quality curriculum, skilled teachers, and rigorous academic requirements.

You can pick from various specialised disciplines of study, such as computer science, environmental science, psychology, mathematics, and others.

You may access many digital resources through online platforms, such as e-books, journals, research papers, and multimedia elements.

The curriculum uses innovative technology to create an interactive virtual classroom environment where you may connect with instructors and students through discussions, webinars, and joint projects.

You will receive specialised help from academic advisers who will answer your questions, give direction, and ensure a positive learning experience.

The MSc Distance Education Program will provide specific information and abilities to help you advance in your chosen area and open doors to new possibilities.

Regardless of distance, virtual networking events, forums, and online communities allow you to interact with fellow students, graduates, and industry experts.

Appropriate educational bodies have recognised and approved the program, guaranteeing that your degree is valuable and widely acknowledged by businesses and institutions.

The MSc Distance Education Program promotes lifelong learning by offering a platform for ongoing personal and professional growth, allowing you to remain relevant in a constantly changing work market.
Syllabus of the MSc Distance Education Programs
MSc Distance Education Programs have different curricula based on the topic of study and the institution that offers the program. However, the following are some often discussed topics:
| | |
| --- | --- |
| Foundational topics | Core Subject |
| Specialisation Courses | Elective Courses |
| Research Methodology | Workshops and Project Works |
Top Specialisation for M.Sc Programs
Eligibility of Distance MSc Programs
The qualifying requirements for Distance MSc programs may differ based on the university or institution that offers the program. However, the following are some broad qualifying criteria:
Candidates must hold a Bachelor's degree from a recognised university or institution in a related discipline.

Many institutions have a minimum percentage of marks required in the qualifying degree, which normally ranges from 50% to 60%.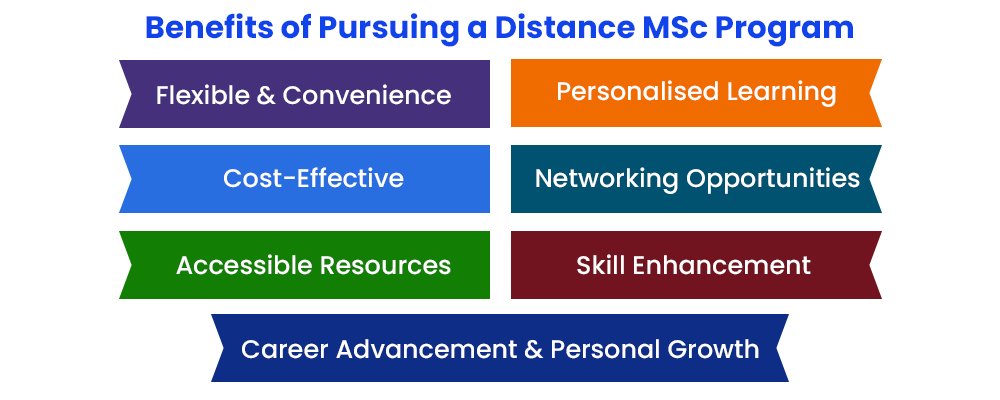 Work experience may be considered a plus point by some MSc programs. However, it should be noted that qualifying requirements differ between colleges and programs. It is strongly advised to review the precise qualifying criteria given by the university or institution delivering the desired Distance MSc program.
Duration of the Distance Education M.Sc
Distance MSc programs normally last 2 years, depending on the university and the curriculum. The program is meant to be completed part-time, enabling working professionals or those with other obligations flexibility.
Other Types of M.Sc Degree Courses
Admission Process of the Distance M.Sc Program
Step 1: Submit the online application form with all essential papers, including educational certificates, ID verification, and a photograph.
Step 2: The university or institution verifies the candidate's eligibility conditions and documentation.
Step 3: Some universities may administer an admission exam to measure a candidate's aptitude and topic knowledge.
Step 4: Shortlisted candidates may be contacted for counselling or interview rounds to determine their suitability for the program.
Step 5: Seats are assigned to candidates depending on their merit rating and the availability of seats in the requested specialism.
Step 6: Candidates must present original documents for admission verification and confirmation.
Step 7: Selected candidates must pay the relevant fees within the deadline specified to be admitted.
Step 8: After completing all the preceding processes, applicants will get an official confirmation of their acceptance.
Career Opportunities After Distance M.Sc
Individuals who want to improve their knowledge, abilities, and job prospects in a certain subject of study may benefit from pursuing a Distance MSc course. While course recognition varies by sector and organisation, a Distance MSc degree from a respected and approved university is valuable and dedicated to continuous learning and professional growth.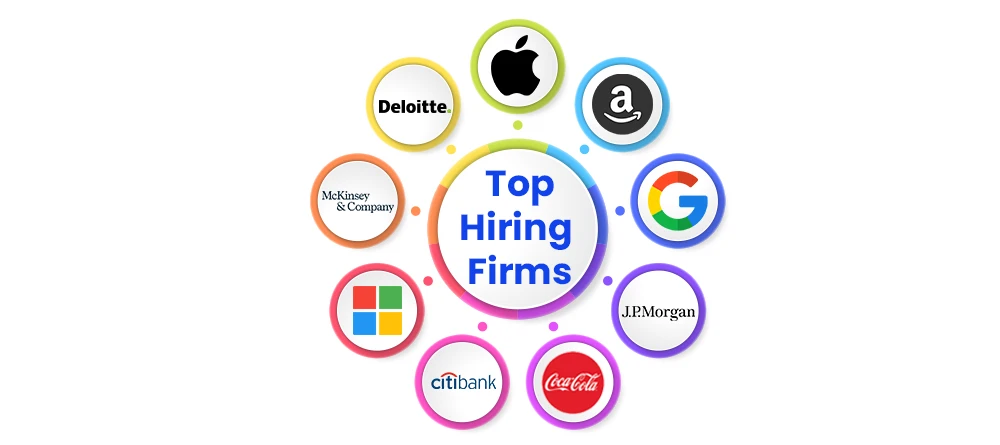 To increase your chances of being acknowledged by companies, research and select a renowned and reputed university or institution offering the Distance MSc program. Gaining appropriate job experience and demonstrating intellectual abilities through projects and certifications can also improve employability. Here are some of the job prospects after this course:
| | |
| --- | --- |
| Scientific Researcher | Data Analyst |
| Environmental Consultant | Project Manager |
| Healthcare Administrator | IT Consultant |
| Financial Analyst | Quality Control Manager |
| Education Administrator | Market Research Analyst |
Explore Top Colleges/Universities for M.Sc Distance Learning