IMT Ghaziabad Online is the esteemed Institute of Management Technology, Ghaziabad's (IMTG) online counterpart. To meet the educational demands of working professionals and aspirant students who choose the flexibility and convenience of distance learning, it provides a comprehensive choice of online programs. IMT Ghaziabad Online maintains the same dedication to academic rigor, innovation, and quality as the main campus.
About IMT Ghaziabad Online
The Institute of Management Technology, Ghaziabad (IMTG), which was founded in 1980, is the top business school in India and has been certified by the AACSB. It has a special emphasis on developing leaders via innovation, execution, and social responsibility. For more than 40 years, IMTG has provided highly sought-after postgraduate programs as an independent, non-profit university. Five AICTE-approved programs are being offered by IMTG: The Fellow Program in Management (FPM), the Two-Year PGDM programs, the PGDM Dual Country Program (DCP), the PGDM BFS (Banking & Financial Services), and the PGDM Dual Country program (BFS).
The Lajpat Rai Educational Organization (LES), an organization properly established under the Societies Act 1860, Government of India, oversees the operation of IMT Ghaziabad. IMTG has regularly been rated as one of the best management schools in the nation during its existence.
Over 1000 C-suite executives and several other professionals who occupy leadership positions in prestigious organizations in India and around the world have proudly graduated from it. The important company functions represented by these roles include sales, operations, human resources, consulting, information technology, marketing, finance, and more.
Factors one should consider while choosing an online university
The reputation, accreditation status, program offerings, faculty specialization, accessibility of the learning management system (LMS), evaluation procedures, student support systems, placement assistance, and overall fee structure are all important considerations when choosing an online university. These elements should be under your academic and professional objectives since they jointly affect the quality of the online learning experience.
These Factors consist of:
University Accreditation
Fee structure
Curriculum and faculty
Accessibility of LMS
Evaluation Method
Student Support System
Placement Assistance
Let's now look more closely at each of the mentioned ideas, specifically in the context of IMT Ghaziabad Online, to have a better understanding.
Accreditation of IMT Ghaziabad Online
IMT Ghaziabad Online continues to be accredited, guaranteeing that its programs adhere to strict academic requirements. The institution's academic programs and procedures have been thoroughly reviewed and found to fulfill established standards of excellence, which is why accreditation is such an important consideration for potential students.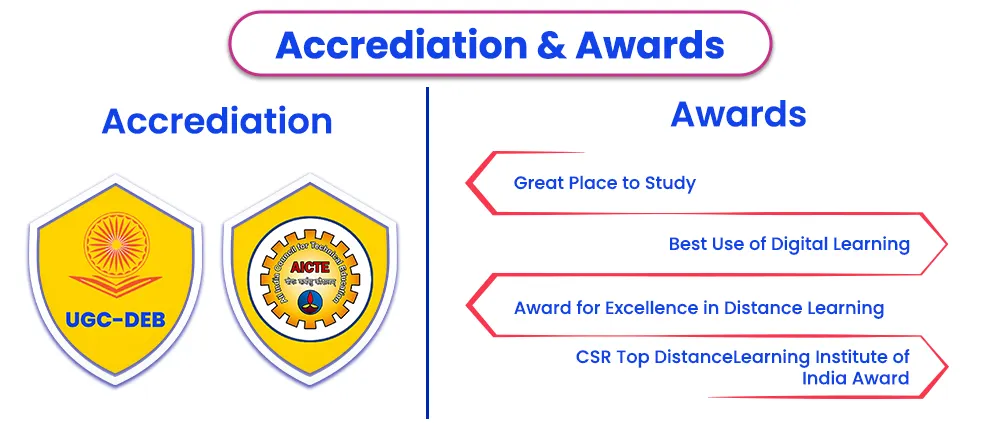 IMT Ghaziabad has accreditation from the University Grants Commission- Distance Education Bureau (UGC-DEB) and AICTE approved which provides validation to the certificates that you get by completing their online courses.
Fee Structure of IMT Ghaziabad Online
In contrast to the conventional PGDM courses, IMT CDL offers a wide range of online learning alternatives. IMT CDL provides five specializations in finance, operations, human resources, marketing, and business analytics as part of its post-graduate diploma in management program. Additionally, there is a shorter 15-month executive PGDM program that focuses on the same specializations.
IMT CDL furthermore provides the Post Graduate Certificate in Management, a thorough program created to disseminate fundamental information in General Management, Finance, Human Resources, Operations, and Marketing Management.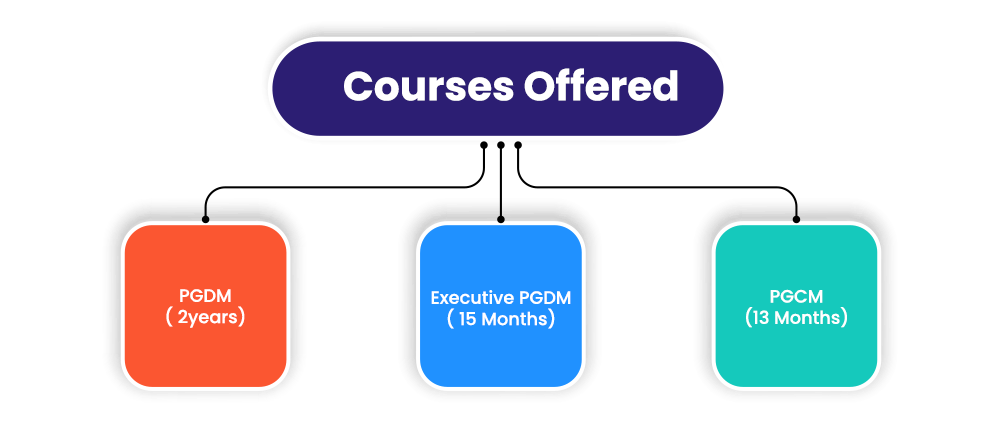 Depending on the program and specialization selected, IMT Ghaziabad Online's cost structure changes. To comprehend the cost of their education, including tuition fees, test fees, and any other costs, prospective students should carefully analyze the pricing structure. To assist with managing the financial component of enrollment, scholarships, financial aid, and payment plans could also be accessible.
Here is the list of programs that IMT Ghaziabad provides with fee range:
| | |
| --- | --- |
| Courses Offered | Fees |
| PGDM - 2 Year | 1,11,000 |
| PGDM EXECUTIVE | 66,000 |
| PGCM | 56,000 |
Curriculum and Faculty of IMT Ghaziabad Online
The educational experience is significantly influenced by the curriculum and the caliber of the instructors. The curriculum provided by IMT Ghaziabad Online is thoughtfully created, applicable to the field, and regularly revised to reflect emerging trends. The instructors are frequently seasoned academics and professionals who offer a lot of expertise and practical insights to the online classroom.
The curriculum for each course at IMT Ghaziabad Online is updated annually to reflect the most recent developments in the disciplines they are taught. The carefully crafted study materials, which were prepared by capable Subject Matter Experts (SMEs) with years of competence in respective industries, facilitate self-paced learning. You have the option to study whenever you choose because these learning tools are available in paper and digital formats.
These academic resources also feature real-world case studies, projects, and assignments that completely prepare you to meet market expectations. They go beyond merely theoretical concepts.
Accessibility of LMS of IMT Ghaziabad Online
The learning management system (LMS) is the channel via which students can gain access to course materials in various ways. Before the semester even begins, students have the opportunity to connect through reading materials, videos, PowerPoint presentations, discussion forums, and internal assessments. This structure makes learning following a predetermined curriculum simpler.
On the other side, the Enterprise Resource Planning (ERP) platform is utilized to plan final examinations, result announcements, grievance resolution, and feedback collection. Students can connect to the ERP system using the login credentials they obtained upon registering for it.
Evaluation Method of IMT Ghaziabad Online
IMT Ghaziabad Online evaluates students' comprehension and progress using a variety of assessment tools, including quizzes, assignments, projects, and exams. For students to flourish in their studies, they must understand the evaluation processes.
Many colleges provide online tests, and each has its unique grading process. However, they use a similar scoring methodology, with 30% of the scores coming from internal evaluations and 70% from external assessments. IMT Ghaziabad employs a variety of assessment techniques, including assignments, quizzes, practical exercises, projects, and end-of-term exams, to evaluate student progress following this pattern.
IMT Ghaziabad Online uses testing methods similar to those that may be used to take exams at home with online proctoring. These online exams offer the convenience of flexibility, allowing students to study at their own pace and take their time. To take an online test, all you need is a computer or smartphone with a working webcam and microphone.
Students Support System of IMT Ghaziabad Online
For online students, a strong student support system is crucial. Academic advisers, technological support, online libraries, and access to online forums are often provided by IMT Ghaziabad Online so that students may communicate and get help when they need it. A successful online learning experience depends on strong student support, and IMT Ghaziabad Online understands the value of giving its students all the help they need. Here is the list of the students support provided by the IMT Ghaziabad Online below: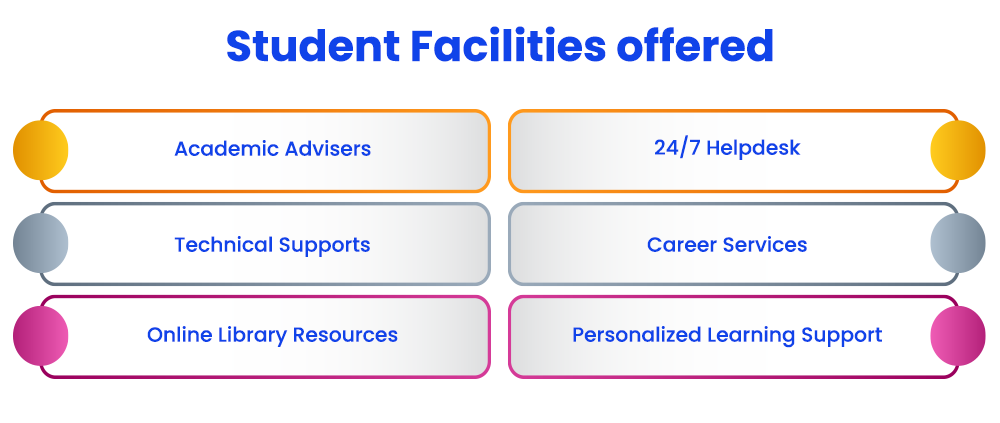 Academic advisers: IMT Ghaziabad Online designates committed academic advisers to assist students at every stage of their academic careers. These advisers support students with academic issues, program planning, and course choices. They are a great source of guidance on academic matters and program development.
Technical Support: Since online learning mainly relies on technology, technical difficulties may make it difficult to study effectively. To assist students in resolving problems with the Learning Management System (LMS), gaining access to course materials, and any other technology-related concerns, IMT Ghaziabad Online provides strong technical assistance.
Online Library Resources: For research and education, having access to a sizable digital library is essential. The comprehensive online library at IMT Ghaziabad Online gives students access to e-books, journals, research databases, and academic magazines, ensuring that they have the materials they need for their assignments and courses.
24/7 Helpdesk: IMT Ghaziabad Online often provides a 24/7 helpdesk or assistance line since it understands that learning may happen at any moment. This makes sure that students may ask for help even outside of regular business hours, quickly resolving any pressing issues.
Career Services: IMT Ghaziabad Online often offers career counseling, job placement services, and access to industry networks to students looking to enhance their careers. Career services assist students in balancing their academic success with their professional objectives.
Personalized Learning Support: Each kid has specific needs when it comes to learning support. IMT Ghaziabad Online intends to offer individualized help, including study counseling, time management suggestions, and learning materials catered to specific needs.
Placement Assistance of IMT Ghaziabad Online
Help with placement is a crucial factor to take into account for people looking to enhance their careers. To assist students in achieving their professional objectives, IMT Ghaziabad Online frequently offers support in the form of career counseling, job placement services, and industry collaborations. Examples of businesses that collaborate with IMT Ghaziabad for hiring and placements include: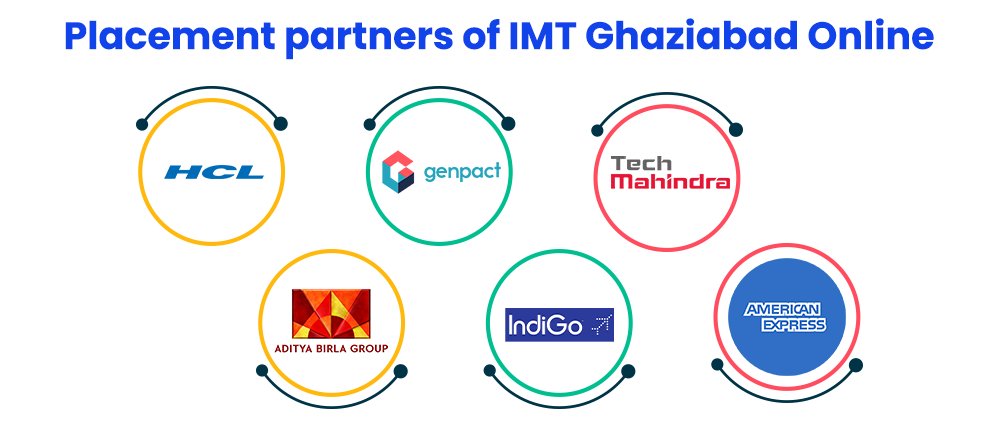 The university is committed to maximizing students' placement opportunities and promoting successful professional results by offering career counseling, skill development programs, and links with a variety of industries.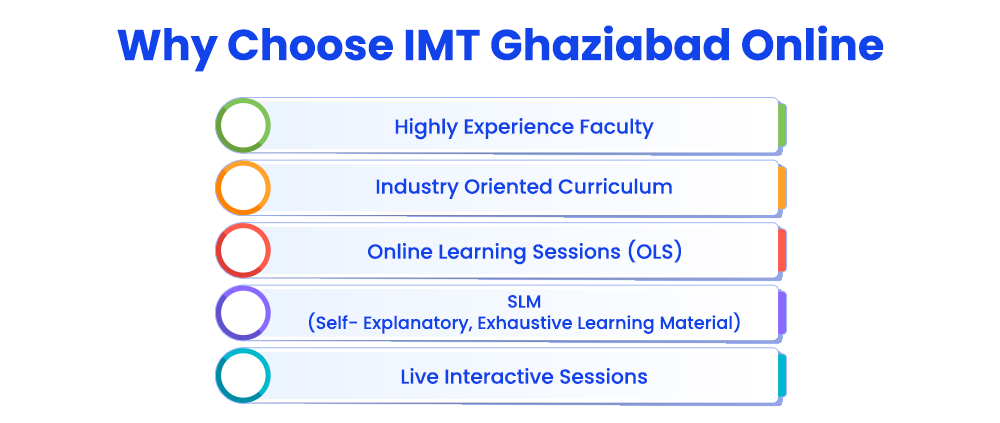 Some Other Online/Distance University
There are some of the different universities that offer the same courses in online mode. The list of those universities is given below:
| | | |
| --- | --- | --- |
| University Name | Location | Accreditations |
| Manav Rachna University | Haryana | UGC-DEB, NAAC A++, WES |
| CCE UPES Distance Learning | Dehradun | UGC-DEB, NAAC A, NIRF |
| DY Patil University | Pune | UGC-DEB, AICTE,AIU,ACU, ISO,WES |
| Amity University | Noida (Main Branch) | UGC, NAAC, AICTE, AIU, ACU |
| Lovely Professional University | Phagwara, Punjab | UGC-DEB, AICTE, NIRF, WES |
| DMIMS University | Maharashtra | UGC-DEB, NAAC A+, AICTE, NABH, AIU |
| Jain University | Bangalore | UGC, AICTE |
| Chandigarh University | Chandigarh | UGC-DEB, NAAC |
| Manipal University | Jaipur | UGC, AICTE, NAAC, WES, ACU |
Conclusion
IMT Ghaziabad is a shining example of excellence in India's management education landscape, to sum up. It has a lengthy history that dates back to 1980, and throughout that time it has continually provided top-notch academic programs that build leadership via creativity, efficiency, and social responsibility. Its extensive selection of programs, which includes PGDM, Executive PGDM, and Post Graduate Certificate in Management, serves a wide variety of ambitious professionals and provides specialization choices that are in line with market expectations. IMT Ghaziabad is a sought-after college for students wishing to start a successful management career because of its dedication to accreditation, extensive student support services, and stellar placement rates. Its track record for developing leaders who succeed in a variety of industries is evidence of its unrelenting commitment to academic achievement.