Lingaya's Vidyapeeth is a renowned private university recognized for its B.Tech for working professionals program, particularly valued by polytechnic graduates. The university holds accreditation from the National Assessment and Accreditation Council (NAAC) and is approved by both the University Grants Commission (UGC) and the All India Council for Technical Education (AICTE).
If you have completed your polytechnic diploma in engineering but haven't found an ideal job or are dissatisfied with your current job, pursuing a B.Tech degree after polytechnic diploma is a great choice. It allows you to deepen your knowledge, enhance technical proficiency, explore advanced concepts, and unlock new career prospects.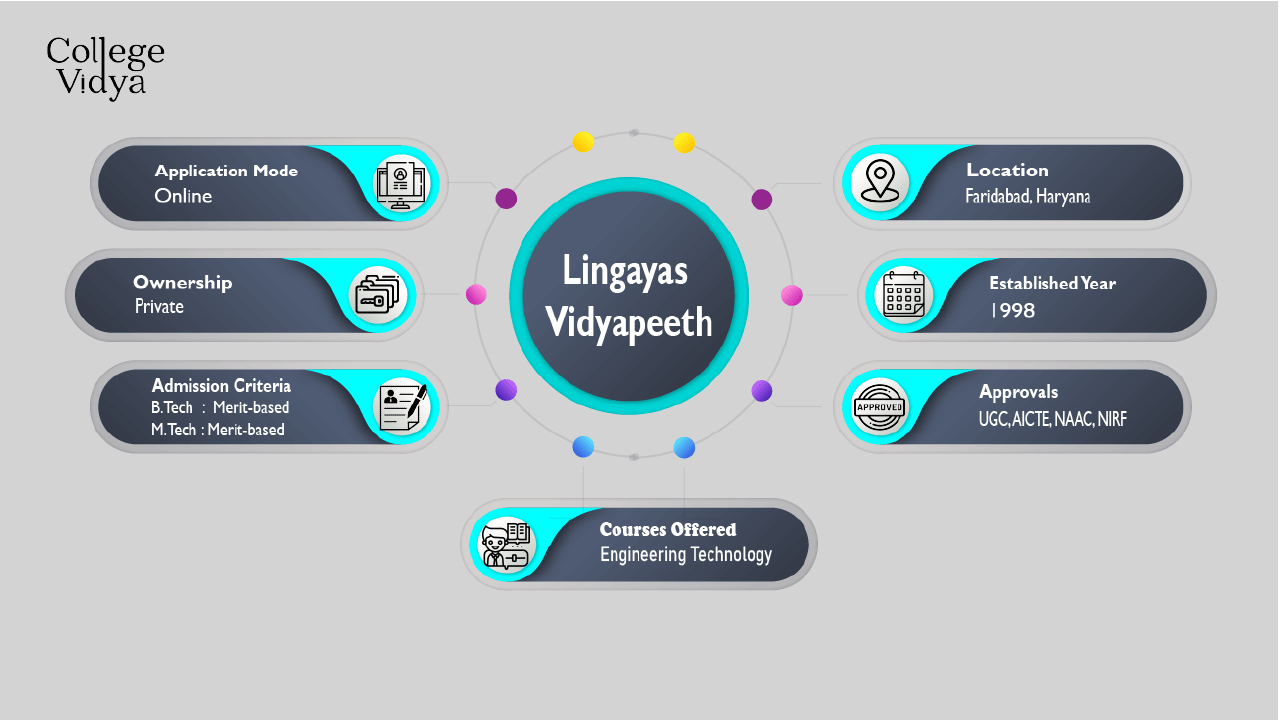 Lateral entry into a B.Tech program is available for polytechnic diploma holders, and enrolling in a B.Tech program for working professionals provides flexibility for both working and non-working individuals.
Lingaya's Vidyapeeth is a reputable university in India offering the B.Tech for working professionals course, providing career advancement opportunities for engineering professionals. The university is NAAC accredited, UGC and AICTE approved.
Completing this degree can lead to promotions and salary hikes for working professionals and advanced job opportunities for polytechnic diploma holders. Lingaya's Vidyapeeth offers five specializations in the B.Tech for working professionals course, and this blog provides detailed information on the course, fees, eligibility, admission procedure, and more.
​
Key highlights of Part-Time B.Tech from Lingaya's University
The B.Tech lateral entry program has a course duration of 3 years (6 semesters).

It follows a blended format, combining online and offline classes.

Classes are scheduled on weekends and holidays to accommodate the busy schedules and work commitments of working professionals.

Online learning is facilitated through the university's Learning Management System (LMS), granting 24/7 access to study materials and various learning resources, such as e-books, text materials, and audio/video lectures.

Students are regularly assessed through assignments, presentations, quizzes, exams, and other academic activities to ensure their continued engagement with the course.

In the final semester, students receive guidance from a mentor and supervisor to complete their major project work.

The university's strong industry connections and collaborations provide students with valuable exposure opportunities.
​Part-Time B.Tech Specialisations offered by Lingaya's University
The part-time B.Tech course at Lingaya's Vidyapeeth is a B.Tech lateral entry program. The university offers a total of 5 specialisations for its B.Tech for working professionals program. Depending on the specialization you pursued during your polytechnic diploma, you can select a corresponding specialization for your B.Tech degree. It is crucial to have a background in related subjects from your polytechnic course as this program is a lateral entry program. This foundational knowledge ensures your understanding of the course, as you will be entering directly into the second year of the program.
All these specialisations are popular and lead you to a successful and rewarding career path in engineering. Following are all these 5 specialisations:
​Admission Procedure at Lingaya's University
Applying for the B.Tech for working professionals program at Lingaya's Vidyapeeth is a convenient and hassle-free process, as it can be completed entirely online. There is no need to visit the campus for admission-related formalities. Here is a detailed step-by-step procedure for the admission process:
Visit the official website of Lingaya's Vidyapeeth for part-time technical courses.

Click on the "Apply Now" button located at the top of the page.

Register on the university's website by providing your basic contact details.

Log in to the portal using the credentials you received after registration.

Fill out all the sections of the application form, which include personal details, academic information, document uploads, and fee payment.

After successfully submitting the fee, make sure to print out the acknowledgment form for future reference.
By following these steps, you can easily complete the online application process for the B.Tech for working professionals program at Lingaya's Vidyapeeth.
​Part-Time B.Tech Fees at Lingaya's Vidyapeeth
A significant advantage of a B.Tech for working professionals program is its affordability. While a regular B.Tech program can be expensive, the B.Tech for working professionals program is considerably more cost-effective. Moreover, since students can continue working while pursuing the course, it further enhances the economic feasibility of the program.
Following is the detailed fee structure for the course:
Course Fees

Per Semester

INR 44,000

Registration Fees

One Time

INR 3,500

Exam Fees

Per Semester

INR 2,500

Total Fees (6 semesters)
INR 2,82,500
Also Read: All About Lingaya's University [LU] Faridabad – Courses, Admissions, Eligibility.
​Placements of Lingaya's Vidyapeeth
Lingaya's Vidyapeeth provides career guidance, counseling, and conducts professional development programs for students to pursue their career goals. Industrial visits, Workshops, Guest lectures are part of these development programs which help the students in their overall personality development which plays a key role in their future endeavors.
Lingaya's Vidyapeeth has close ties with Top-notch companies in the market as TCS, SAMSUNG, WIPRO, MAHINDRA, ICICI, INFOSYS, HDFC BANK, INDIAN OIL, KOTAK BANK, UT PUMPS, SYNTEL to name a few.
Also Read: Engineering (BE/ B.Tech) Admission Process.
​Eligibility & Duration
The B.Tech for working professionals program at Lingaya's Vidyapeeth has a total duration of 3 years (6 semesters). It is specifically designed as a lateral entry program to enhance the skills of polytechnic graduates and working professionals in the field of engineering.
To be eligible for admission into the B.Tech for working professionals program, candidates must fulfill one of the following conditions:
Possess a Polytechnic Diploma in a relevant stream with a minimum of 50% marks.

Have completed 12th grade along with a B.Sc degree in a relevant subject, securing at least 50% marks.

Have completed 12th grade along with a BCA (Bachelor of Computer Applications) degree, achieving a minimum of 50% marks (for computer science engineering).

Working professionals need to provide their NOC (No Objection Certificate)/Joining Letter/Experience Letter.

There is no specific age limit for applying to this course.
Career Scope After Part-Time B.Tech from Lingaya's University
A career in engineering offers a wide range of opportunities and a promising scope for growth. Here are some key aspects of the scope of a career in engineering:
Diverse Specializations: Engineering encompasses various fields such as mechanical, civil, electrical, chemical, computer science, aerospace, and more. This diversity allows individuals to choose a specialization that aligns with their interests and strengths.
Job Opportunities: Engineers are in high demand across industries such as manufacturing, construction, technology, energy, automotive, aerospace, and telecommunications. The scope extends to sectors like healthcare, finance, and environmental conservation, where engineers play a crucial role in innovation and problem-solving.
Global Relevance: Engineering is a globally recognized profession, offering opportunities to work in different countries and collaborate on international projects. Engineers are sought after worldwide for their technical expertise and problem-solving skills.
Innovation and Research: Engineering provides a platform for innovation and research, enabling engineers to develop groundbreaking technologies, improve existing systems, and drive advancements in various fields. This opens up opportunities for entrepreneurial ventures, patents, and intellectual property development.
Career Advancement: Engineering careers offer excellent potential for career advancement. With experience and specialization, engineers can progress to managerial and leadership roles, where they oversee projects, teams, and strategic decision-making.
Salary Potential: Engineering professions are generally well-compensated due to the high demand for technical expertise. Salaries can vary based on specialization, industry, experience, and location, but engineering careers often offer competitive remuneration.
Continuous Learning and Development: Engineering is a dynamic field that requires ongoing learning and upskilling. Engineers have opportunities for professional development, attending workshops, obtaining advanced degrees, and staying updated with emerging technologies and industry trends.
Also Read: B.Tech Evening Courses & Colleges.
Overall, a career in engineering provides a broad scope for personal and professional growth, global opportunities, impactful contributions, and a rewarding income potential. Given below are some of the top job roles in engineering and their respective average starting salary packages.
| | |
| --- | --- |
| Job Role | Average Base Salary |
| Software Engineer | INR 6-10 LPA |
| Data Scientist | INR 9-12 LPA |
| AI & ML Software Engineer | INR 8-12 LPA |
| Senior Civil Engineer | INR 6-10 LPA |
| Civil Design Engineer | INR 4-8 LPA |
| Senior Mechanical Engineer | INR 7-10 LPA |
| Construction Project Engineer | INR 9-12 LPA |
| Senior Electrical Engineer | INR 6-10 LPA |
| Senior Electronics Engineer | INR 5.5-7 LPA |