Are you looking to know about the details of the Online BCA (Bachelors of Computer Applications)? Then you are on the right page. Here in this blog, you will get to know about the LPU online BCA programme details, its eligibility criteria, admission procedure, fees structure, and much more. So, checkout and jump into the main goal of this blog and get a whole structure of the LPU Online BCA course.
Online Bachelor of Computer Application (BCA) at Lovely Professional University, is a 3-year undergraduate program that is divided into 6 semesters. The BCA imparts the study of computer applications, software, operating systems, and other technology at a basic UG level. BCA degree is considered to be at par with a B.Tech or B.E degree in information technology or computer science.
Read: What Is the Full form of BCA?
LPU Online BCA Overview
Recently Online University has boosted the myth of providing a quality of education that offers various different of specialization as per the course with the different career scope, pay scale, etc. However, it is a little difficult to find out the best online university to choose as per your career path to grow in the respective field. Before jumping check out this below-mentioned tabulate about the Online BCom programme.
| | |
| --- | --- |
| KEY FEATURES | DETAILS |
| Course | BCA (Bachelor of Computer Application) |
| Course Level | Undergraduate |
| Mode of Education | Online |
| Approvals | UGC, AIU, AICTE, NIRF |
| Eligibility | 10+2 (in any stream) |
| Duration | 3 years |
| System Methods | LMS, Mobile Application, Live Classes, Video Conferencing, Online Study Material, Guest Lectures, Experienced Faculty, Recorded Content. |
With the rapid growth of the IT sector, the demand for computer professionals is also increasing with time as well. This leading growth of the IT sector opens a wide and good range of career opportunities in the respective courses of online BCA or other computer graduates. Online BCA is one of the foremost and the most popular courses among students who want to build their career in the world of computers, technology, applications, and information technology. The degree helps and excites the keen students to set up their career into the advanced and updated career of technologies.
The academic course of BCA includes the study of database management, operating systems, web technology, website designing, software engineering, networking, computing languages, such as C, C++, Python, Java, or other software. The BCA course at LPU online provides a good range of career opportunities to the students who are focused on the computer field and desired to work in the IT sector as a programmer, software developer, web designer, etc. through this blog you will go through with the detail description of the BCA course at LPU Online.
Read: What Job After BCA

About LPU Online University
LPU Online is one of the three universities that made the position in the global list of universities according to Times Higher Education Impact Rankings 2021. Famous for its advanced and technological methods of teaching, LPU aims at providing education to students in such a way that they achieve their dream goals and grow to their full potential.

Why LPU Online Degree?
This online degree of LPU Online is highly approved or accredited with the notable tags of the university.

LPU Online is recognized, approved and it is chosen by the students since the year 2005.

All the Management, Science, Arts, Commerce, and other courses at the undergraduate or postgraduate level are AICTE recognized.

The University is approved by the University Grants Commission and entitled to other accelerations.

The LPU Online degree is fully entitled by the statutory bodies and it is treated at par with other regular degrees as well.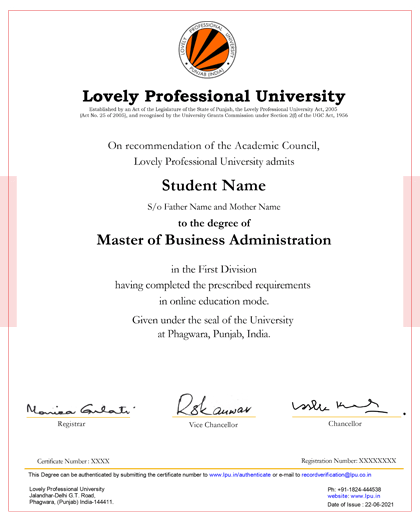 LPU Online BCA Course Eligibility
10+2 should be from a recognized board (CBSE, ICSE, or other state board).

Students with science or commerce-related subjects in their boards preferred.
Key Features of LPU Online BCA
Bachelors in Computer Application opens a good range of career opportunities in the sector computers or IT industry.

It aims to develop and focus to provide the certain knowledge of the computers or etc. that equip the keen learner to build the necessary skills to excel in the IT-based industries to work at the back end that manages the whole IT section.

BCA imparts the basic complete knowledge of the computer and essential elements to get success in the IT industry.

The medium of instruction in examinations, submission of assignments, paperwork, research work, project assessments, or other theory project work is only in the English language.

The LPU Online has opened an LPU e-connect feature for their students to ease their learnings into a comfortable zone.

A student can take classes according to his/her flexible schedules or timings due to LPU e-connect updated feature

Learning at LPU Online is fun plus interactive. Where a student has fun and adopts a new set of skills and knowledge of their specific field whether it's management, science, commerce, arts or another stream.

Easy access to e-learning material, video lectures, presentations, audios lectures, etc.
Read: What Is Online Career Counselling?
Online BCA Curriculum
The curriculum of online BCA is the study that gives you in-depth knowledge of computer applications, technology, database, user interface designing, etc. Online BCA covers the various aspects and concepts of computing history, theory, practical, language, programming, algorithm, designing, networks, mobile technologies, electronics, mathematics, and so on.
By this Online BCA course curriculum, a student builds up comprehensive knowledge with the equal ability of practical and theoretical study of computer applications at the bachelor's level. Below mentioned is the curriculum of the BCA at LPU Online.
Semester 1
| | | | |
| --- | --- | --- | --- |
| Fundamentals of Informational Technology | Programming Methodology | Discrete Structures | English Communication Skills |
| Environmental Sciences | – | – | – |
Semester 2
| | | | |
| --- | --- | --- | --- |
| Database Management Systems | Object-Oriented Programming | Computer Networks | Computer System Architecture |
| Advanced English Communicative Skills | – | – | – |
Semester 3
| | | | |
| --- | --- | --- | --- |
| Fundamentals of web Programming | Data Structures | Community Development Project | Operating Systems |
| Generic Elective -I | – | – | – |
Semester 4
| | | | |
| --- | --- | --- | --- |
| Software Engineering | Artificial Intelligence | Discipline Specific Elective I | Skill Enhancement Course I |
| Generic Elective II | – | – | – |
Semester 5
| | | | |
| --- | --- | --- | --- |
| Discipline-Specific Elective II | Discipline-Specific Elective III | Skill Enhancement Course II | Generic Elective III |
| Field Project | – | – | – |
Semester 6
Discipline-Specific Elective IV

Skill Enhancement Course III

Skill Enhancement Course IV

Generic Elective IV

Term Paper /

1 course from the Generic Elective Basket /

1 which is not chosen as Generic Elective (GE)

–

–

–
The course elective and generic program in each semester depends and changes according to the respective course. In the Online BCA course, you will get to study their respective subjects as per their selected management, science, commerce, or other courses. The whole course and the programs are being offered in the elective and universally understandable language only in the English medium. Except for the Hindi core or genetic elective subjects in the BCA course.
Read: Courses After Graduation
Fees Structure of LPU Online BCA Course
Details
Semester Fee
Lumpsum Amount

LPU Online Fee for Indian & International Applications (Sri Lanka, Nepal, Bhutan, and Bangladesh)

INR 29,000

Programme fee: 25,000

Examination fee: 4,000 (per sem)

Total fee: INR 1,74,000 (all semesters)

INR 1,06,000 (which comes out to be INR 26,500 per sems)
The above fee is exclusive of the Initial Registration Fee of ₹ 500/- (non-refundable).
LPU Online Mode Fee –

International Applicants (Other Countries)

Semester Fee

Total Fee, (in Lumpsum)

Fee

US$ 1350

Programme Fee: US$ 1200, Exam. Fee: US$ 150 (per sem.)

Total Fee: US$ 8100 (all sems.)

US$ 7380

(which comes out to be US$ 1230 per sem.)
The above fee is exclusive of the Initial Registration Fee of US$ 10 (non-refundable).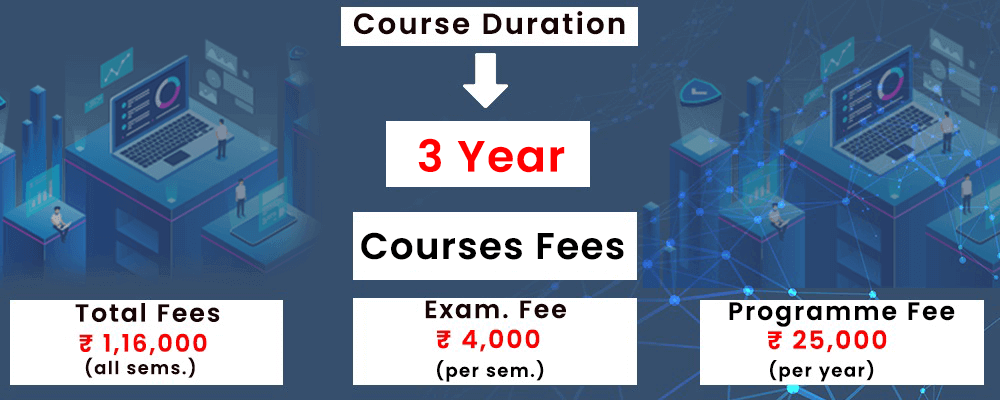 Admission Procedure at LPU Online for BCA
To take admission in the BCA course at LPU Online is quite simple and you can easily take admission in just four steps. All you need to do is follow these below-mentioned steps while filling out the admission form for BCA at LPU Online.
Step 1: Registration
Firstly candidates need to fill the registration form with required information: name, contact number, and active email id. After filling the required information candidates will have to pay the registration fees of 500 via netbanking or debit/credit card.
Step 2: Online Application Form
Second step after filling the registration form is uploading required documents : certificates, marksheets, provisionals, address proof. Along with the documents students are also required to upload their photograph and signature in the prescribed format and size.
Step 3: Document Verification By University
After the formalities only the verification process is left which is done by the university. The university verifies student applications and documents. Once the verification process is done students get a notification from the university via Email/SMS/Phone.
Step 4: Student Registration and LMS Activation
In the end candidates receive their LMS credentials over email. These credentials are for LPU e-connect account, this application/ website is an e-learning atmosphere where all the classes are conducted and assignments are submitted.
Read: Distance Education LPU
Payment Mode of Online BCA at LPU
Students can submit the fees and it could only be accepted online on the admission portal through Debit Card, Credit Card, UPI, Wallets, Net Banking, etc.

Students can pay the prescribed fees of their particular BCA specialization on the online portal at the time of filling out the application form of admission.

Students could be ensured and keep more care that the payments of a particular course and their specialization are not made to any unauthorized persons or on any unwanted/unauthorized website or link. The university and the admission portal of LPU Online could not be responsible for any of the lapses in this matter.
Placement Assistance of LPU Online University
Placement assistance is one of the key factors that attracts the students most. Lovely Professional University offers placement assistance to students so that they get opportunities and a head start for their future.
PEP:

In the placement assistance LPU focuses on enhancing students' skills with webinars, seminars, programs, learning activities etc.
Mock Interviews:

it is important to be confident in the hr round, which is why students are also given mock interviews to boost their confidence and prepare them with the best replies.
Job Profile & Average Salary in Online BCA at LPU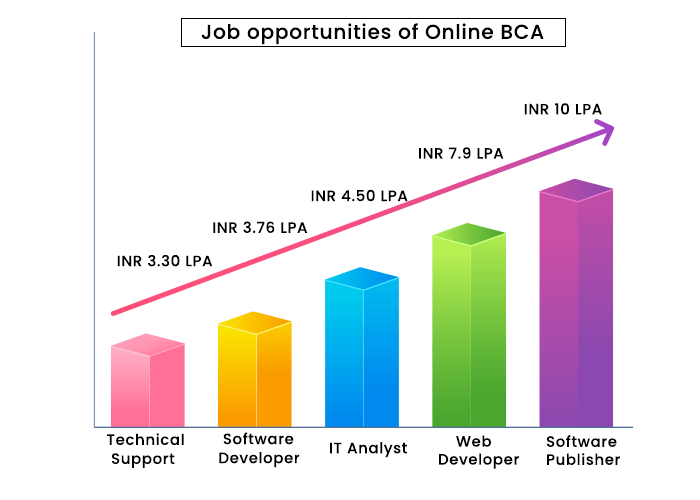 | | | |
| --- | --- | --- |
| Job Profile | Average Salary | Number Job Openings |
| Database Administrator | INR 5-7 LPA | 8,000+ |
| Software Developer | INR 5-7 LPA | 94,000+ |
| Applications Developer | INR 3-5 LPA | 45,000+ |
| Network Administrator | INR 3-5 LPA | 14,000+ |
| Multimedia Authoring-Specialist/Programmer | INR 2-5 LPA | 1,50,000+ |
| Computer Animation Experts | INR 5-10 LPA | 5,000+ |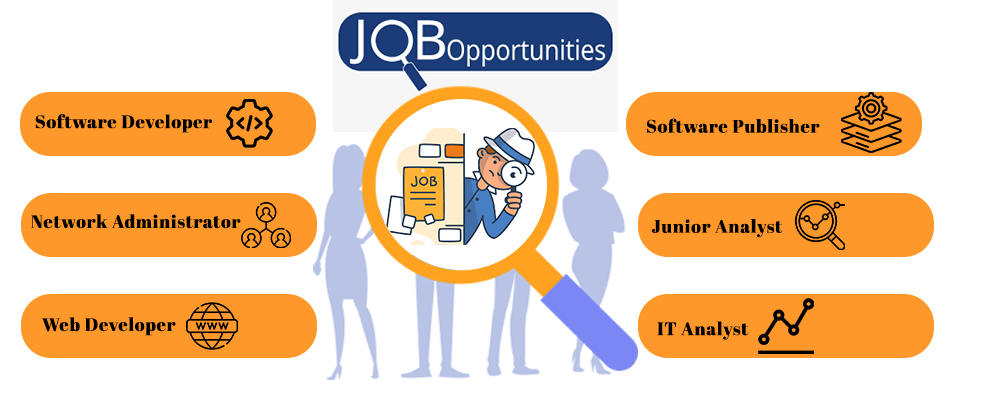 LPU Online BCA Top Recruiters
| | | | | |
| --- | --- | --- | --- | --- |
| Accenture | UBISOFT | Birlasoft | Capgemini | HCL |
| Wipro | TATA Consultancy Services | IBM | EMERSON | – |
| UnitedHealth Group | Reliance | Focus | BYJU's | – |

LPU Online University Reviews
Faculty: a good faculty is important in order to gain knowledge and LPU has just that, faculty at LPU are very trained and experts in their respective fields.
Placements: Placement in Lpu can be considered as good aa more than 650 companies visit the university every year. Though not many students get placed with CTC 10 lac but the average of at least 3-4 lac CTC.
LPU Online BCA Prospectus
LPU has all its information penned down in the form of a prospectus so that students get all the required information before taking admission in their specific program. To download the LPU's online BCA prospectus click here.
Similar Online Universities
| | | |
| --- | --- | --- |
| Universities | Year of Establishment | Approvals |
| NMIMS | 1981 | UGC-DEB, NAAC A+ |
| Manipal University | 1953 | UGC, AICTE, NIRF |
| UPES | 2007 | UGC-DEB, NAAC A, NIRF |
| Chandigarh Online University | 2012 | UGC, NAAC A+ |
| Amity Online University | 2005 | UGC-DEB, AICTE, NAAC A+ |