Online and Distance BCA is a course validated by UGC-DEB in the domain of computer applications, that has the same value as a regular BCA. BCA course through online and distance mode provides you with deep knowledge about computer language, programming, database management, networking, and others. This course is specially designed to enable the learners to grasp concepts and learn about softwares conveniently through digital or correspondence means.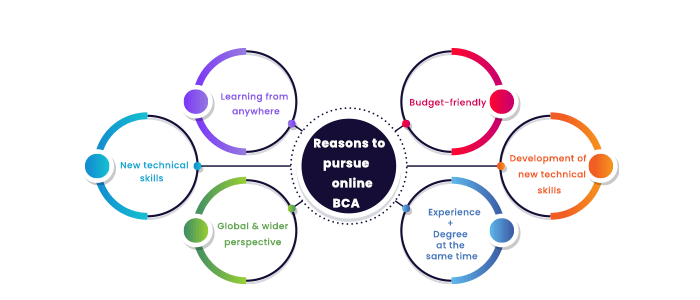 With the fast-paced growth of technology, there is always a requirement for BCA graduates. Distance/Online BCA is ruling the world of IT and will be ruling in the near future as well. Learn more about - BCA Distance Education - Ultimate Guide
Key Highlights Of Online/Distance BCA
The program helps students in developing technical skills related to computer programming, data visualization, cloud computing, etc.
The duration of online/distance BCA is 3 years and is divided into 6 semesters of 6 months each.
Online BCA is a suitable program for students who wish to complete the course remotely or those who are willing to pursue a job along with their studies.
The candidates are not even required to give entrance exams for admission to online BCA courses.
Eligibility Criteria Of Online/Distance BCA
To pursue BCA in online and distance mode you will have to meet very minimal requirements.
A student must be 10+2 qualified from a recognized board, with Mathematics as a compulsory subject.
There are no entrance exams in any university to take admission in the online and distance BCA program
Duration Of Online/Distance BCA
The duration of online BCA is 3 years and the curriculum is divided into 6 semesters of 6 months each. Online BCA is a flexible program and you can attend classes as per your time and convenience. The flexibility, ease, and scope make online and distance BCA a must-do program.
Admission Procedure Of Online/Distance BCA
The candidates who are willing to pursue online/distance BCA must read these steps to start the procedure of online admission:
Register yourself as a New User on the official website of the university by creating unique credentials.
Then fill in your details in the application form (contact details, prior qualifications etc.)
Upload the necessary documents on the portal.
Then submit the registration and your semester fee online.
After this process, the university will send you a confirmation message along with the enrollment number.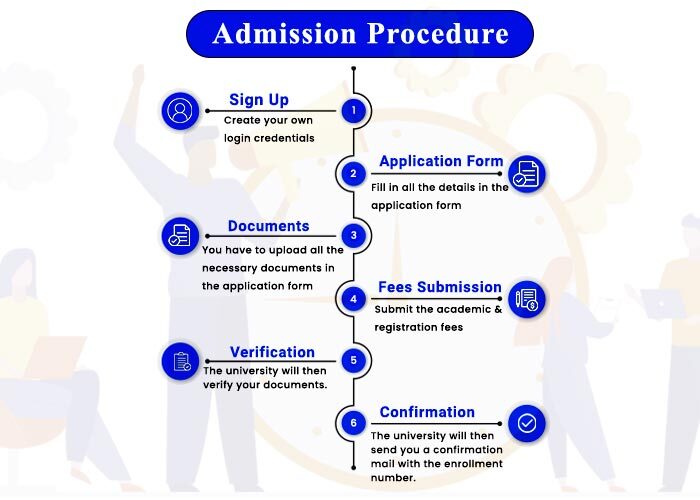 Career Opportunities After Online and Distance BCA
System Engineer
Software Tester
Programmer
Backend Developer
Web Developer
Software Developer
System Administrator
(University Course you may be interested JECRC Distance BCA Course )
Online and Distance BCA Scope, Top Companies & Salary
In India, the IT sector has grown to become a more than $ 250 billion industry currently. It is growing at a rate of 7.7% per year. India is a hub for various IT parks including Bangalore, Hyderabad, Pune, Noida, and Mumbai which are actively seeking for BCA graduates. A BCA graduate has various job opportunities such as:
Software Developer
Coder
System Analyst
Web Designer
Technical Associate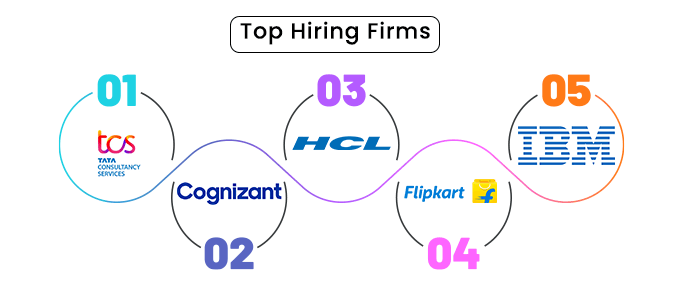 There are many MNCs that hire online and distance BCA graduates such as TCS, HCL, WIPRO, Infosys, Microsoft, Cisco, Cognizant, and many others. (Also university course available Chandigarh University Distance BCA )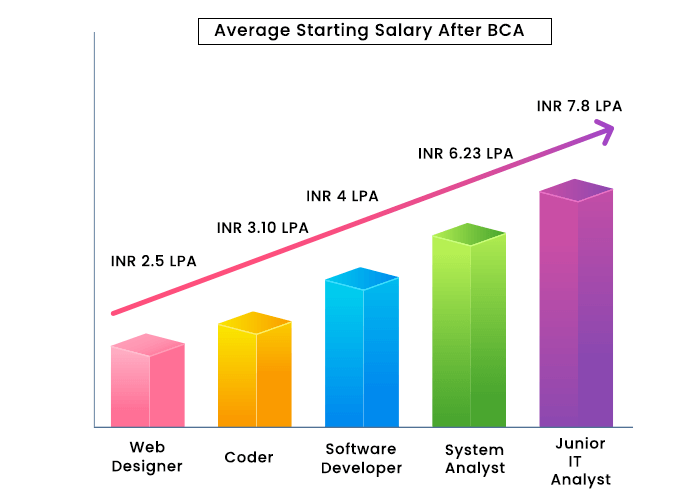 Is BCA Program eligible for an education loan?
The answer is yes the BCA program whether offered online or in regular mode is eligible for an education loan. Like any other course, this program is also eligible for an education loan. The minimum eligibility criteria for getting an education loan for the BCA program is the same as the other courses. That is one must be an Indian resident, must belong to the age bracket of 18-35 years, have a confirmed admission letter from a recognized university, etc. Meeting all these eligibility criteria anyone can apply for an education loan for any program whether offered in online or regular mode.