The Faculty of Management Studies (FMS) is a part of the prestigious University of Delhi and has emerged as a pillar of excellence in the management education sphere of India. FMS is more than an institution, it is an illustrious legacy where leaders are forged and a springboard to unparalleled career opportunities.
For nearly seven decades, FMS has been synonymous with pioneering education, producing not just managers, but visionaries who have left an indelible mark on the global business stage. Its rich heritage is a testament to a relentless pursuit of academic brilliance, a commitment to shaping the future of management, and an unwavering dedication to nurturing individuals into trailblazers of industry.
In this blog, we explore each and every detail regarding an MBA program from FMS. By the end of this blog you will have a fair idea of what an MBA course from FMS would look like and if you should pursue it or not. This blog will be a detailed guide for you, navigating you through every minute detail relevant to MBA from FMS.
The Legacy of FMS
The Faculty of Management Studies (FMS), established in 1954, stands as a beacon of excellence in the realm of management education. Its rich legacy is deeply rooted in a commitment to producing visionary leaders and entrepreneurs who have left an indelible mark on the business world.
History: Founded under the aegis of the University of Delhi, FMS has witnessed decades of transformative growth and has consistently evolved to meet the dynamic demands of the global business landscape. From its inception, FMS set out to redefine business education, pioneering innovative teaching methodologies and groundbreaking research.
Notable Alumni: One of the hallmarks of FMS is its distinguished alumni network. Graduates of FMS have not only excelled in the corporate sphere but have also made significant contributions to public policy, entrepreneurship, and academia. Names like N. R. Narayana Murthy, co-founder of Infosys, and Arvind Krishna, Chairman and CEO of IBM, are just a glimpse into the illustrious alumni who have carved their path to success through FMS. These luminaries serve as living testaments to the quality of education and the transformative experiences FMS imparts, showcasing how the institution has been instrumental in shaping the trajectories of some of the most influential figures in the business world.
A Heritage of Excellence: Throughout its history, FMS has consistently been at the forefront of management education, adapting to the changing paradigms of business. Its commitment to academic rigour, coupled with a forward-looking approach, has earned it a well-deserved reputation as a preeminent institution for management studies, not only in India but also on the global stage.
As we delve deeper into FMS, it becomes evident that this institution is not merely a school; it's a legacy, a tradition, and a crucible for forging leaders who are poised to make a meaningful impact in the world of business.
Academic Excellence of FMS
At the core of the Faculty of Management Studies (FMS) beats a heart of academic rigour and intellectual pursuit. FMS's commitment to delivering a world-class education is evident in every facet of its curriculum and teaching methodologies.
Rigorous Curriculum: The MBA program at FMS is meticulously designed to equip students with a holistic understanding of business and management. From foundational courses in finance, marketing, and operations, to specialised electives that cater to diverse interests, FMS leaves no stone unturned in ensuring that its graduates are not only well-versed in theory but also adept at practical application.
Specialisations Tailored to Your Aspirations: FMS recognizes that every student is unique, with distinct career aspirations. To this end, it offers a wide array of specialisations, ranging from Finance and Marketing to Operations and Strategy. This flexibility empowers students to delve deep into their areas of interest, honing their expertise in preparation for their future roles as industry leaders.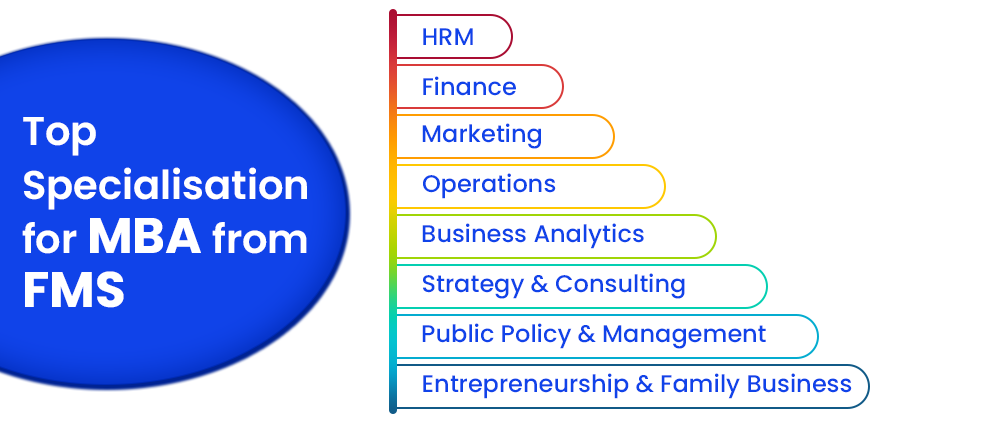 Innovative Teaching Methodologies: The pedagogical approach at FMS goes beyond traditional lectures. Here, learning is an interactive and collaborative endeavour. Professors, many of whom are stalwarts in their respective fields, employ a mix of lectures, workshops, group projects, and simulations to ensure that students are not just passive recipients of knowledge, but active participants in their own learning journey.
Furthermore, the continuous assessment model fosters a culture of critical thinking, creativity, and analytical prowess. Students are encouraged to question, to challenge, and to explore, laying the foundation for a well-rounded education that extends far beyond the classroom.
When you step into the classrooms of FMS, you're not just embarking on a learning journey; you're immersing yourself in an environment that thrives on intellectual curiosity and academic excellence.
Online MBA at FMS
The Faculty of Management Studies (FMS) at the University of Delhi primarily offers full-time, on-campus MBA programs. FMS does not offer an online MBA program yet. Only a select few universities in India offer a good online MBA program. IIM Raipur has also recently started offering a full 2-year online MBA program for working professionals.
So, if you are someone looking for a flexible online MBA program, then FMS is not the college for you. Instead, there are other options to go for. You can explore all these options at College Vidya. Here you can even compare different universities based on various factors and then select the one which is the best in all your desired categories.
Following are some of the top online universities in India renowned for their online MBA program. Visit College Vidya for more details on the same.
| | |
| --- | --- |
| Amity University University | Online Manipal University |
| IIM Raipur | Amrita University Online |
| LPU Online | Jain University Online |
| DY Patil University Online | GLA University Online |
Faculty
Behind every great institution lies a team of dedicated educators and industry experts who serve as the guiding beacons for aspiring students. At the Faculty of Management Studies (FMS), the faculty members are not just teachers; they are mentors, thought leaders, and practitioners in their own right.
The faculty at FMS represents a diverse tapestry of academic backgrounds and industry experiences. Many professors bring with them a wealth of knowledge gained from years of working in top-tier organisations, while others are esteemed scholars whose research contributions have shaped the field of management.
What truly sets FMS's faculty apart is their strong ties to industry. Many professors are actively involved in consulting, research collaborations, and executive education programs with leading companies. This direct engagement with the corporate world ensures that the curriculum remains aligned with industry trends and prepares students for the challenges and opportunities that await them in their professional journeys.
When you learn from the faculty at FMS, you're not just gaining knowledge; you're benefiting from the wisdom of seasoned professionals who are committed to your growth and success.
Student Life and Campus Culture
Beyond the classrooms and boardrooms, the Faculty of Management Studies (FMS) is a vibrant ecosystem that thrives on creativity, collaboration, and a spirit of camaraderie. Here, education extends beyond textbooks; it encompasses a holistic development of the individual.
A Mosaic of Activities: FMS is a hub of activity, with a plethora of student-run clubs and societies that cater to diverse interests. Whether you're inclined towards entrepreneurship, consulting, sports, or cultural pursuits, there's a club for you. These extracurricular activities not only provide a platform for like-minded individuals to connect but also offer invaluable opportunities to apply classroom knowledge in real-world scenarios.
Events that Ignite Minds: The FMS calendar is peppered with a multitude of events, seminars, and conclaves that bring together industry experts, thought leaders, and students. These platforms serve as incubators for ideas, where the exchange of knowledge transcends boundaries.
A Close-Knit Community: The campus culture at FMS is characterised by a sense of belonging and mutual support. Students, faculty, and staff come together to create an environment where everyone's voice is valued, and diversity is celebrated. This close-knit community fosters an atmosphere of collaboration and teamwork, essential skills for success in any professional setting.
Balancing Act: While the academic rigours of FMS are paramount, the institution recognizes the importance of work-life balance. Ample recreational facilities, wellness programs, and a plethora of dining options ensure that students have the tools they need to maintain a healthy equilibrium between their academic and personal lives.
At FMS, education isn't confined to lecture halls; it's a holistic experience that shapes not just careers, but well-rounded individuals poised to make a positive impact on the world.
Eligibility Criteria
For aspirants looking to embark on their MBA journey at the Faculty of Management Studies (FMS), understanding the eligibility criteria is the crucial first step towards securing a coveted seat in this esteemed institution.
Academic Requirements: Prospective candidates must hold a Bachelor's degree in any discipline with a minimum aggregate of 50%.
Entrance Examinations: In addition to academic qualifications, candidates are required to clear a national-level entrance examination. FMS primarily considers scores from examinations like the Common Admission Test (CAT) conducted by the Indian Institutes of Management (IIMs).
Work Experience (if applicable): While not mandatory, FMS does value prior work experience. Candidates with relevant professional experience bring a practical dimension to the classroom, enriching discussions and enhancing the overall learning experience.
Admission Procedure
Embarking on the journey towards an MBA at FMS requires a well-organised and strategic approach. If you are eligible to apply for the course as per the conditions mentioned above, then you must follow the admission procedure of FMS. Here's a step by step guide to the application process: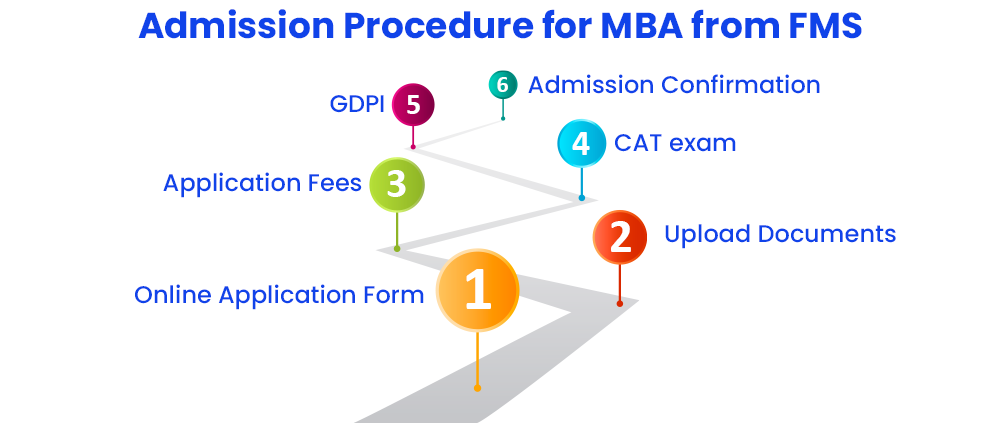 Step 1- Go to the FMS website and fill out the online application form. Ensure that all information provided is accurate.
Step 2- Upload the required documents. You should make sure that the information you fill up in the application form matches the supporting documents that you upload.
Step 3- Submit the required application fee, as specified by FMS. Keep a record of the payment receipt for future reference.
Step 4- Appear for the CAT entrance exam. Based on your result in the CAT exam, you will be called for further rounds.
Step 5- Craft a compelling personal statement or statement of purpose (SOP) that highlights your achievements, aspirations, and why you believe FMS is the right fit for your MBA journey.
Step 6- Request letters of recommendation (LOrs) from professors, employers, or other individuals who can speak to your qualifications and potential for success in the MBA program.
Step 7- If you clear the percentile cutoff of FMS and get shortlisted, then prepare for the group Discussion and Personal Interview (GDPI) rounds.
Step 8- After all the selection rounds, you will be evaluated and if you pass all the rounds, you will be informed about your admission status via mail along with all the further formalities.
Fee Structure
Understanding the financial investment required for pursuing an MBA at the Faculty of Management Studies (FMS) is an essential aspect of the decision-making process. Here, we break down the fee structure to provide prospective students with a clear understanding of the financial commitment involved.
Tuition Fees: The tuition fee for the MBA program at FMS is approximately INR 2 lakhs for the complete program. The tuition fees for the MBA program at FMS are competitive and offer excellent value for the quality of education provided. It's important to note that the fees may vary for different categories of students, including those in the general category, reserved categories, and international students.
Additional Costs: In addition to tuition fees, students should also consider other associated costs. These may include expenses for books, study materials, accommodation, meals, transportation, and personal expenses. It's advisable to budget for these additional costs to ensure a comfortable and enriching academic experience.
Scholarships and Financial Aid: FMS is committed to ensuring that financial constraints do not hinder deserving students from accessing quality education. The institution offers various scholarships and financial aid programs for eligible candidates. Prospective students are encouraged to explore these options and apply for any scholarships they may be eligible for.
Return on Investment (ROI): It's important to view the cost of education at FMS as an investment in one's future. The strong track record of placements and career progression for FMS graduates is a testament to the excellent ROI that the institution offers.
By providing transparency in the fee structure and offering avenues for financial support, FMS aims to make quality education accessible to a diverse and talented pool of students.
MBA Curriculum at FMS
What sets FMS apart is its dynamic curriculum that adapts to the evolving needs of the business world. Case studies, live projects, and experiential learning opportunities are seamlessly integrated, providing students with a hands-on approach to problem-solving and decision-making.
Semester

Subjects

Semester 1

Accounting for Managers
Business Communication
Data Analysis & Decision Tools
Organisational Behaviour
Managerial Economics
Marketing Management
Human Resource Management
Information Technology Management

Semester 2

Corporate Finance
Decision Modeling and Optimisation
Economic Environment of Business
Production & Operation Management
Organisation Effectiveness & Change
Management of Information System
Management Accounting
Marketing Research

Semester 3

Business Ethics & Sustainability
Strategic Analysis
Project Study

Semester 4

Legal Environment of Business
Strategic Management
Global Business Management

Elective Course Areas for Semester 3 & 4

Economics & Public Policy
Culture & Philosophy
Entrepreneurship
Marketing
Finance
Operations Management
Information Technology Management
Organisational Behaviour & Human Resource Management
Contemporary Issues
Strategic Management
Industry Connections & Placements
The mark of a truly exceptional business school lies in its ability to bridge the gap between academia and industry, preparing students for the challenges of the professional world. The Faculty of Management Studies (FMS) not only excels in this regard but sets new standards in forging lasting connections with the corporate sphere.
A Strong Network of Industry Partners: FMS boasts an extensive network of corporate partners, ranging from multinational conglomerates to dynamic startups. This network is not merely a list of companies; it's a testament to the trust that industry leaders place in FMS graduates. It's a validation of the calibre and potential that FMS students bring to the table.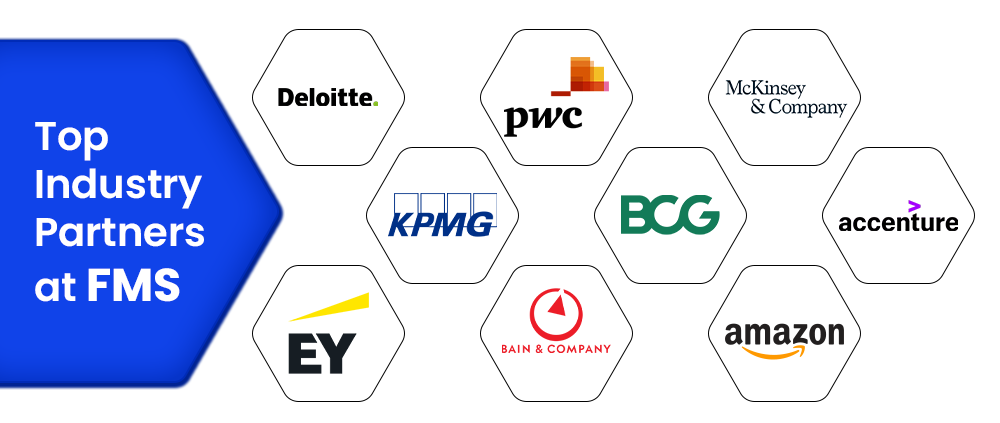 These partnerships manifest in various ways, from guest lectures by industry stalwarts to collaborative research projects and internships. The result is a learning experience that is enriched with real-world insights and a deep understanding of industry dynamics.
Placements: When it comes to placements, FMS stands head and shoulders above the rest. Year after year, FMS graduates find themselves at the forefront of coveted positions in a wide array of industries. The robust placement process, facilitated by a dedicated placement cell, ensures that students are not just employed, but are strategically matched with roles that align with their aspirations and strengths.
FMS registered 100% placements in the 2023 placement drives with an average CTC of INR 34.1 LPA and the highest domestic CTC was INR 1.23 Crore per Annum.
The impressive placement statistics are a testament to the trust that recruiters place in FMS graduates. Companies recognize the value of hiring individuals who have been nurtured in an environment that fosters critical thinking, problem-solving, and leadership skills.
A Launchpad for Careers: For FMS graduates, the journey doesn't end with securing a job; it's merely the beginning. Armed with a solid foundation in management and an extensive professional network, FMS alumni go on to become trailblazers in their respective fields. Many credit their success to the holistic education and industry exposure they received at FMS.
Choosing FMS isn't just a step towards a degree; it's a strategic move towards a thriving career in the dynamic world of business.
Job Opportunities & Salary
FMS has a proven track record of facilitating outstanding career opportunities for its graduates. The institution's strong industry connections, combined with the high calibre of its students, make FMS a fertile ground for lucrative career prospects.
Diverse Career Avenues: FMS alumni have made their mark in a wide spectrum of industries, including finance, consulting, marketing, operations, technology, and more. The institution's reputation for producing well-rounded and highly skilled professionals opens doors to a myriad of job roles and functions.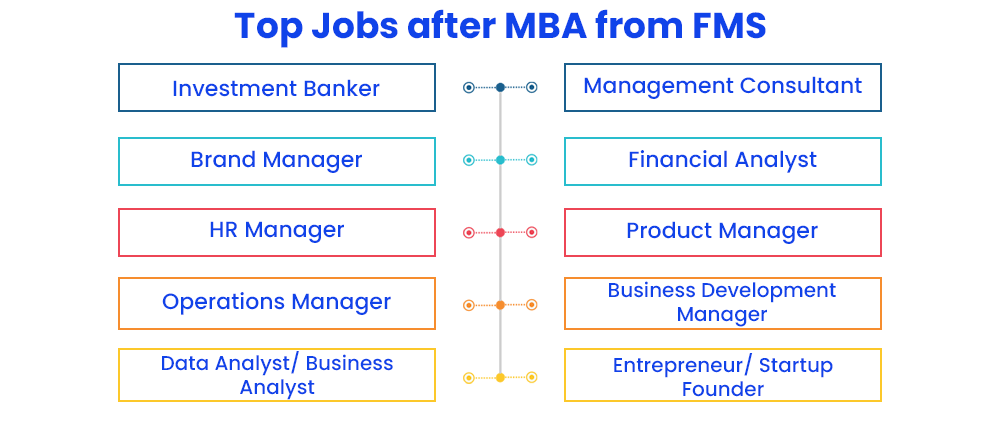 Placements: FMS's dedicated placement cell works tirelessly to ensure that students are not only placed but are strategically matched with roles that align with their skills and aspirations. The impressive placement statistics serve as a testament to the trust that recruiters place in FMS graduates.
Salary Packages: FMS graduates are consistently among the highest earners in the field of management. The average and median salary packages offered to FMS students reflect the institution's commitment to producing professionals who are in high demand in the job market.
Career Growth Trajectory: FMS alumni often experience accelerated career growth, progressing into leadership positions in a relatively short span of time. The institution's rigorous curriculum and emphasis on practical skills ensure that graduates are well-equipped to take on challenging roles early in their careers.
International Opportunities: FMS's global collaborations and exposure provide students with the potential for international career opportunities. Many FMS alumni have successfully pursued careers abroad, leveraging their education and experience gained at FMS.
Entrepreneurial Ventures: For those inclined towards entrepreneurship, FMS provides a supportive ecosystem for starting and scaling up businesses. Many FMS alumni have gone on to become successful entrepreneurs, leveraging the skills and networks acquired during their time at the institution.
Choosing FMS for your MBA is not just a step towards a degree; it's a strategic move towards a thriving career with abundant opportunities for growth and success.
Benefits of MBA from FMS
Pursuing an MBA from the Faculty of Management Studies (FMS) offers a multitude of advantages that extend far beyond the classroom. Here are some compelling reasons why choosing FMS for your MBA can be a transformative decision for your career:
Unparalleled Pedagogy: FMS employs a dynamic and innovative curriculum that equips students with a holistic understanding of business and management, combining theory with hands-on practical experience.
Exceptional Faculty Expertise: The faculty at FMS are not only accomplished educators but also industry experts and practitioners, ensuring that students are exposed to the latest trends and insights in their chosen field.
Robust Industry Connections: FMS's extensive network of corporate partners provides students with invaluable opportunities for internships, live projects, and placements, bridging the gap between academia and industry.
Diverse Specialisations: FMS offers a wide array of specialisations, allowing students to tailor their MBA experience to align with their career aspirations, whether in Finance, Marketing, Operations, or Strategy.
Holistic Development: Beyond academics, FMS fosters a culture of all-round development through a plethora of extracurricular activities, clubs, and events that enhance leadership, teamwork, and soft skills.
Global Exposure: FMS's collaborations with international universities and participation in global forums provide students with a global perspective, preparing them for careers in the interconnected world of business.
Strong Alumni Network: FMS's alumni community is a powerhouse of talent and expertise, offering a strong support system and invaluable networking opportunities for current students and fellow graduates.
Exponential Career Growth: FMS graduates are highly sought after by top companies, both in India and internationally. The institution's strong track record in placements ensures that students have a springboard to launch their careers.
Entrepreneurship Ecosystem: FMS nurtures an entrepreneurial spirit, providing resources and mentorship for students aspiring to start their own ventures, fostering a culture of innovation and enterprise.
Choosing FMS for your MBA isn't just a step towards a degree; it's a strategic move towards a thriving career, a global perspective, and a lifelong network of professionals who share your dedication to excellence.
Conclusion
From its rigorous curriculum and exceptional faculty to its strong industry connections and robust placement record, FMS offers a comprehensive education that extends beyond textbooks. It's a transformative journey that shapes not just careers, but well-rounded individuals poised to make a positive impact in the world.
So, if you are considering FMS as your institution for pursuing MBA, then it is a really great choice and will be worth your investment. However, if you are looking for a flexible MBA program, then an online MBA is your solution, FMS does not offer an online MBA course but many other renowned universities in India provide a complete online or blended online MBA program. You just need to go to College Vidya and you will get all the information that you need regarding online MBA or any other online education program. College Vidya will be your one stop solution to all online education queries and needs.