The Indira Gandhi National Open University (IGNOU) has extended the deadline for new admissions and re-registration for the January 2023 cycle for all programmes (excluding certificate and semester-based programmes) in both online and ODL modalities till March 27, 2023. The deadline is extended again because of the complaints from students who missed the original deadline.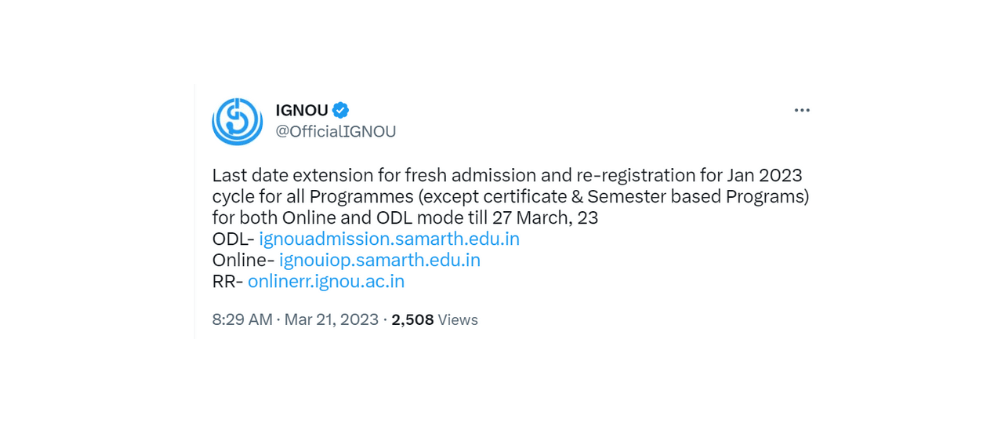 The online admission procedure for ODL mode is available at ignouadmission.samarth.edu.in, while the online admission process is available at ignouiop.samarth.edu.in.
Applicants who wish to re-register should go to onlinerr.ignou.ac.in.
IGNOU has established itself as a leader in online and distance learning, offering high-quality education to people around the globe. The university provides a variety of undergraduate, postgraduate, diploma and certificate courses in various streams such as arts, science and commerce.
If you missed the earlier deadlines, now you have the golden opportunity to apply and secure your seats for the January 2023 cycle since the deadline for admission and re-registration has been extended until March 27, 2023.
Working professionals and students studying other courses or preparing for competitive examinations have also benefited from extending the deadline for admission and re-registration. The extra time offered by the institution has allowed them to finish the application procedure at their leisure without jeopardising their other obligations.
It would be best to take advantage of this chance by completing the entrance or re-registration process before the revised deadline. To avoid problems during the verification process, you must verify that all relevant papers and information are uploaded appropriately.
Finally, IGNOU's decision to extend the deadline for admission and re-registration for the January 2023 cycle is a positive step that will assist thousands of students across the country. The institution has once again demonstrated its dedication to offering all students equal access to an excellent education, regardless of geographical location or socioeconomic background.
What is the IGNOU online admission process?
The IGNOU online admission procedure is a quick and easy way for students to apply for admission to the university's various programs. The following are the steps in the online admissions process:
Visit the IGNOU online admission portal
Click the "Register Yourself" button and fill in the required details.
Once registered, you will receive an email and SMS containing your username and password. After that, you must log in to the portal with that credentials.
Select the program you wish to apply for and fill in the application form with your details, academic qualifications, and other relevant information.
Upload the required documents and pay the application fees; Submit it.
You can check the progress of your application online after submitting it. The IGNOU administration will review your application and notify you of your admission decision by email and SMS.