Which Way to Go, Right, or Extreme Right!
Hey, I'm looking for distance education but still, there's confusion about which university to choose? Oh lord! The same doubt I have…. A conversation between two friends Rachel and Jonas. Till graduation, it's not as tough but when it comes to talking of a master's degree it's a very big decision.
Rachel- I finally step into a new and mature version of myself but the confusion of taking a decision is still walking hand in hand I feel. I'm planning to pursue a distance MBA or PGDM as I've already dived into the job market.
Jonas- wait wait wait….. Oh, I must say it's a good decision to look for a higher degree even when you're already settled. I am looking for it because for the same reason and yes regular courses are way costly.
Rachel- Thanks but it's mandatory to upgrade your skills and knowledge as technology changes with time and time can never be the same. So to make your time you need to upgrade your skills and degree. But Jonas I need the solution as I feel like standing in between the seesaw of which side is better distance MBA or PGDM or maybe the more important question is m I even standing on the right plank.
Jonas – Ha Ha… Man, you literally need help, or even I too. You know after deep online research I came across two of the universities which are NMIMS and Chandigarh University.
Rachel- Oh Really! So finally you've got the answer, temme which one to choose then and also how did you come to the conclusion of taking up two universities as the best out of all?
Jonas- Ahh…. this is what we're gonna find out today, Rachel. So let's discuss starting with what actually a good university looks like and which course is best for that particular university. Starting with NMIMS, College interrupting in between- Yeah as I also have searched the best university needs to have approvals from various educational higher authorities, their E-learning system as classes will be held online, fee structure, and what is there in the name of placement assistance.
Jonas- Oh yes time has changed and distance education also has its recognition in the field of education. So together we will find out what these top universities NMIMS and Chandigarh University have got in their bag.
What are the approvals needed by the universities? Asked by Rachel
To select a distance university one needs to look for the approvals that are very important as they show the validity of the university. NMIMS runs its distance education in the name of NGASCE which is NMIMS Global Access-School of Continuing Education. it's a university been in existence for the last 30 years and has its headquarters in Mumbai, it is now UGC-DEB approved with NAAC A+ accreditation.
If we talk of Chandigarh University, it has its headquarters in Punjab and working tremendously in the field of education for the past few years this university earn its position in the top universities offering distance education. The Chandigarh University Institute of distance and online learning program (CU-IDOL) is valid as it is also a UGC-DEB-approved university and accredited by NAAC with A+. Oh then it's ditto, but what is the meaning of UGC-NAAC, and why DEB is so important?
UGC means University Grant Commission has come into existence in India in the year 1953 and has become the statutory organization of Government under the Act in 1956. It regulates look into the standard of teaching, examination, maintenance, coordination, and research in the university and also provides colleges and universities the financial help per their performance, Similarly, curriculum quality and National Assessment and Accreditation Council are been made to see the quality of teaching, infrastructure, curriculum, student support, and other specifications that need to follow by universities and colleges to ensure the quality of learning and then it offers recognition to the universities in India.
Now, let's talk of the Distance Education Board (DEB) established in the year 2012, earlier it was Distance Education Council an organization that is regulating and responsible for distance learning and, now it has been replaced with DEB, so for any distance education DEB approval is mandatory so is to get a valid distance degree as there are only 33 DEB approved universities are there from 933 universities.
Are the Online classes effective and what is LMS means?
The online classes provided by NMIMS are interactive classes where you have the option of asking queries regarding any topic NMIMS also gives you the option of recorded video lectures so you can even watch the lectures as many times as you want and can mail the queries. The online classes of Chandigarh University have also provided you with live lectures with the option of video-recorded lectures. Queries can be asked in the comment section or by mail.
LMS means Learning Management System in which digital learning has made e-learning two-way education just like classrooms. It is a systematic panel that provides you easy and top-notch learning access. LMS includes online live lectures, webinars, recorded lectures, and also it has digital libraries that consist of e-books, course-related videos that can be accessed anywhere and anytime. There is one to one faculty interaction.
What is the Fee Structure and is there any EMI-Facility?
The fee structure of both of the universities NMIMS and Chandigarh University is Rs 86,000 for NMIMS and Rs 57,800 for MBA & PGDM. Also, the fee structure of other UG, PG courses of the NMIMS Universities lies between Rs 80,000 to Rs 1,31,000 for the complete course whereas in Chandigarh university the fee structure of all the UG.
PG programs vary from Rs 20,000 to Rs 1,00,000 for the complete program. Both the university offers you 0% EMI-facility. This complete fee structure of both universities shows that Chandigarh University is quite affordable and pocket-friendly as compare to NMIMS.
What are the other courses offered by NMIMS and Chandigarh University?
Both, NMIMS and Chandigarh University are offering top UG and PG programs, so let us have a look at the chart given below.
Chandigarh University Distance Education Program:-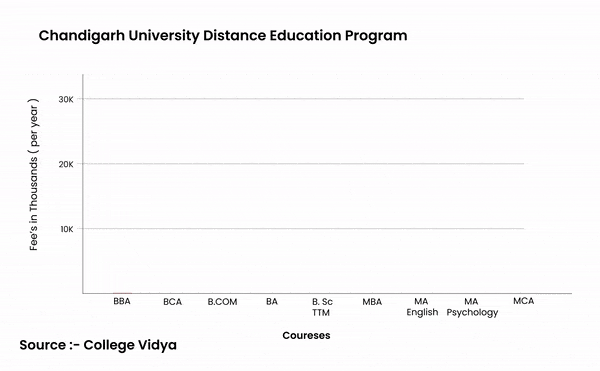 NMIMS Distance Education Program:-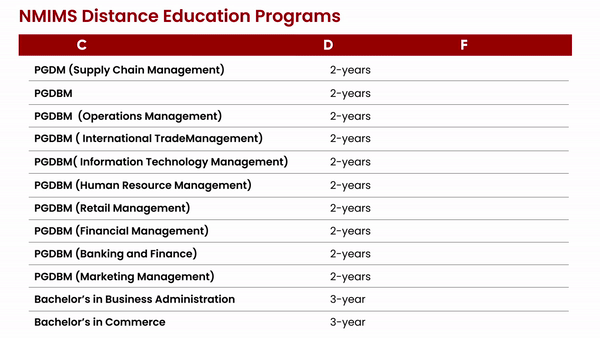 Also, what do you mean by placement assistance?
In Distance education, you'll be getting placement assistance that even they will prepare you for the placement by working on your skills such as communication skills and both verbal and non-verbal skills so that you can ace the interview also the highlighted part is that universities align interviews for you in top MNCs and will also inform about the latest job updates. There are universities whose distance MBA students can get an offer of up to 6-12 lac per annum.
the only drawback of doing PGDM is that by doing it ur not eligible to pursue Ph.D. and become a researcher so to enroll in the Ph.D. degree you need to have an MBA degree or any other master's degree.
The Placement assistance criteria in NMIMS is that it redirects you with the Alma Connect, the power of NMIMS where all the alumni connect and share their experience also their current job profiles. In Alma connect of NMIMS, you can get the best job options from all over the world.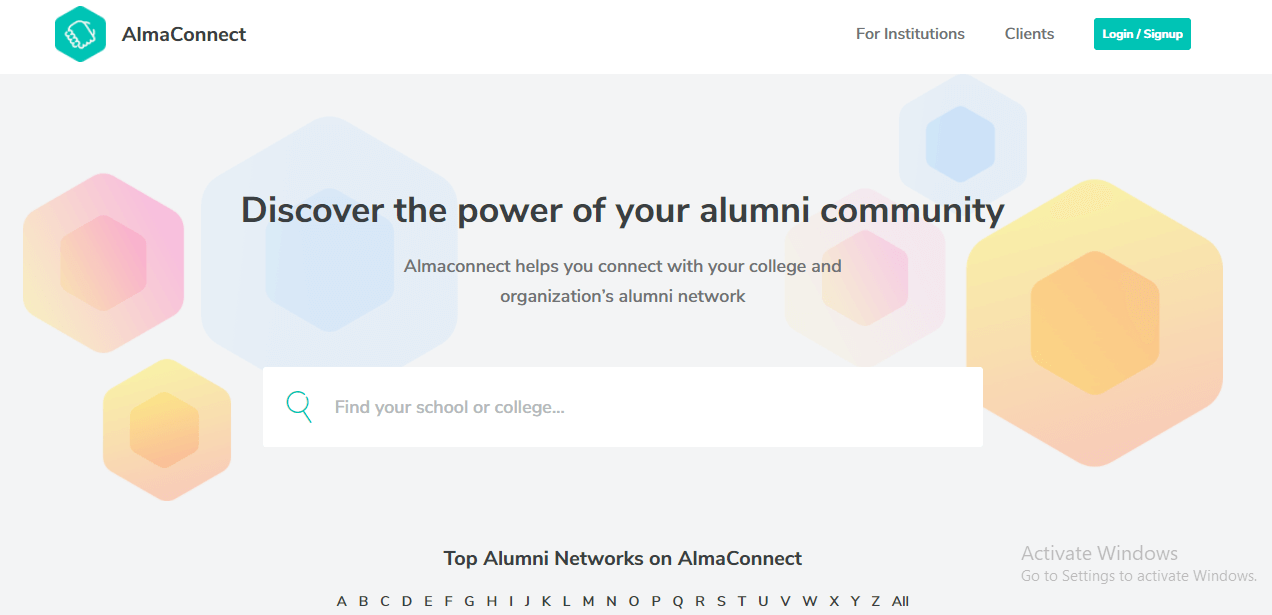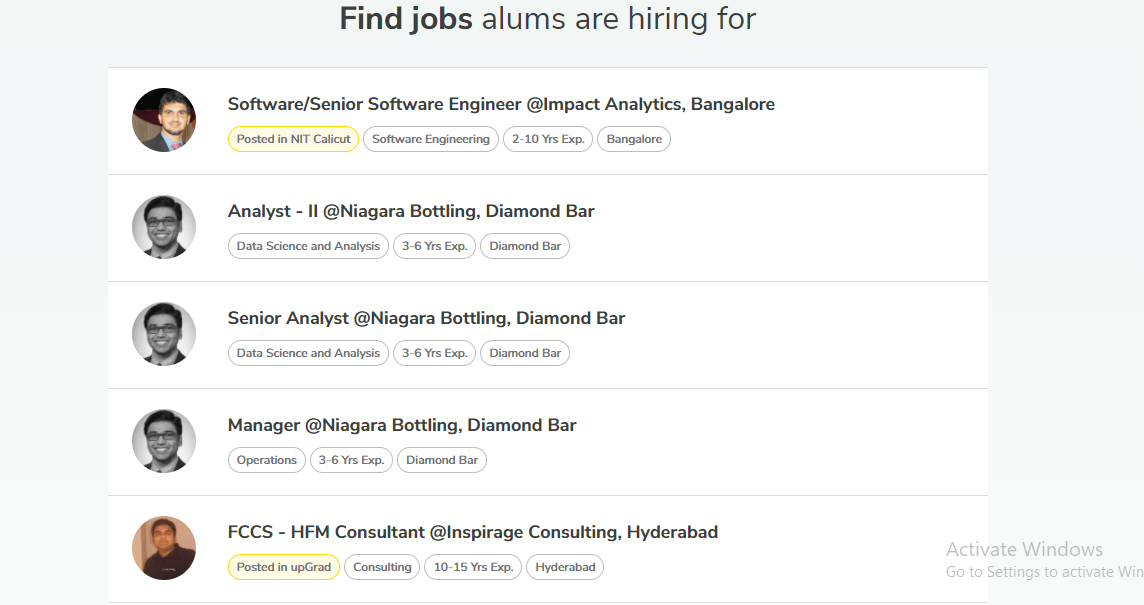 Chandigarh University Placement assistance
Chandigarh University helps you in working on your skills and knowledge. The placement cell of Chandigarh University works completely on preparing you for the job and provide you the best industry exposure. In placement assistance, it enhances your communication skills and the complete personality development of an individual.
The placement procedure is purely based on your performance. Chandigarh University CUIDOL is been came into existence in the year 2019, so it's a new university in the industry of distance education and offering distance MBA and other courses.
Conclusion
Through this blog, we tried to clear all the doubts when it comes to talking about university selection. You can get a complete detailed idea of the two best universities named NMIMS Distance Learning and Chandigarh University Distance Learning.
Be its fee structure, approvals, placement process, or the duration, we mentioned it all. But still, if you have more queries or confusion you can opt for the compare feature of College Vidya, where you can compare colleges and universities and get the genuine score.