BA (Bachelor of Arts) distance education is the study of all the subjects which affects the lives of individual and society on the whole. Be it the history or politics or the geography everything is covered under distance BA. The BA program is the oldest degree pursued by human scholars and is prevalent from the earliest starting of the universities. When the BA blended with the modern methods of distance and e-learning it gave rise to the distance mode Bachelor of Arts.
BA Distance Education Course In India 2023
BA distance education program is a 3-year undergraduate degree that provides the student with meticulous knowledge, skills, and training about the subject in which he chooses to major and minor. He can choose from various subjects ranging from languages such as English, Hindi, Psychology, Sociology, and Religion.

There is a sea of subjects from which a student can pursue a distance BA degree. As per the norms stated by UGC-DEB, a distance BA is equivalent to a regular BA so you don't have to worry about the value of your degree.
So, if you are willing to work after completing your school or due to personal reasons you cannot go to a regular college you can go the distance BA from your BA. If you are choosing to go for Civil Service Examinations and want to dedicate your whole time to your preparation. Don't want to waste time going to a regular college, you can go for distance BA programs.
Distance BA programs give you the flexibility of learning at your own pace and will. Distance BA is a really viable option for one who wants to keep studying after completing school. People who didn't have the chance to go to regular universities have a fair and easy chance to acquire knowledge, skill, and degree of BA through distance mode. Many housemakers and mothers can go distance BA and later decide to make a career of it.
Distance BA develops aptitude towards life skills and knowledge of society. Pursue the course Distance BA, the issues that drive society, and develop pillars for future thinking that will ultimately change society. So, if you have any interest in creative and critical thinking, communication, and language distance BA is the course you need to opt for.
Popular BA Distance Education Colleges In India 2023
In India, there are numerous universities that offer distance BA courses. Specialization in various distance learning BA courses differs from college to college. Look out for the best colleges that award the degree of BA in distance learning with your required specialization.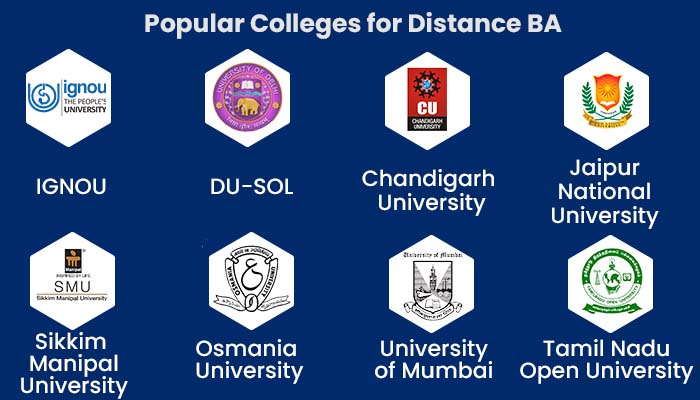 Here is the list of some of the best institutes that give you the degree of BA in distance education:-
BA Distance Education Fee Details 2023
The distance BA fees are lesser as compared to the regular BA fees. The fees for the BA programs depend on the specialization you are opting for. The fee also varies from institute to institute.
Generally, the fee of the program ranges between Rs. 4000 to Rs. 20,000. The private distance university tends to have higher fees as compared to the government university.
BA Distance Education Eligibility
As the whole distance education is based on flexibility and ease, eligibility of distance BA is flexible and easy too. To pursue a distance BA, a student must have cleared 10+2 from a recognized Education board in India. The stream of the student may be Science, Commerce, or Arts to opt for distance BA.
Some universities ask for 50% marks in 10+2 to grant admissions in distance BA programs. There is no such entrance exam to enrol in a distance BA course. Just complete your intermediate and you are ready to take admission in the distance BA program with your preferred choice of majors and minors.
Distance BA Specializations 2023
As BA is the study of humans as an individual and as a society there are various fields from which you can attain specialization.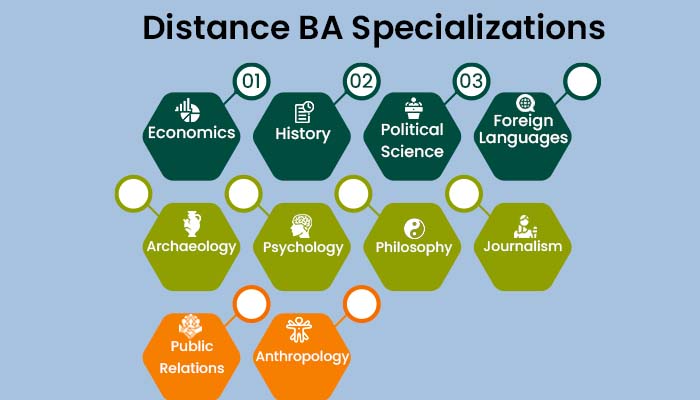 Here is the list of some most pursued specializations in BA in India. Before applying to the university, you make sure that the given distance university provides your specialization or not:-
Distance BA Curriculum and Subjects
The whole distance BA curriculum is divided into 3 years. A person seeking a distance BA studies 5 subjects depending on the major and minor he is pursuing. Distance BA provides the students to choose majors and minors in Psychology, Sociology, History, English, etc.
The course deals with all the topics and fields of subject for the students to pursue. The well-defined curriculum of distance BA prepares students for various exams such as civil services, other job-focused exams, or higher studies. Distance BA can be pursued between 3 and 5 years.
Here is the list of top subjects of various subjects in BA that will be taught according to the major you choose in distance BA:-
Distance BA Major Subjects
| | |
| --- | --- |
| Foundation Course in English | Foundation Course in Hindi |
| Understanding Prose and Poetry | Foundation Course in Humanities and Social Sciences |
| History of Urdu Language | History of Urdu Literature |
| Society and Religion | Administrative Theory |
| India: Earliest Times to 8th Century A.D. | Political Ideas and Ideologies |
| India from 8th to 15th Century A.D. | Government & Politics in India |
| India from 16th to Mid-18th Century A.D. | Modern Indian Political Thought |
| Modern Europe: Mid 18th to Mid-20th Century | Government and Politics in East |
| Economic Development | Government and Politics in Australia |
| The Study of Society | Society in India |
| Fundamentals of Economics | Agricultural Development in India |
| Social Problems in India | Indian Philosophy |
| Indian Economic Development: Issues and Perspectives | Ancient and Medieval Philosophy |
| Elementary Statistical Methods and Survey Techniques | Modern Western Philosophy |
| National Income | Contemporary Western Philosophy |
| Public Policy | Philosophy of Science and Cosmology |
| Religions of the World | Philosophy of Human Persons |
In distance BA course, a student has the option to choose his minor subjects as his interest. These are minor or elective subjects that a student can choose over the 3 years of distance BA:-
| | | |
| --- | --- | --- |
| Elements of Rural Development | Understanding Human Language | Archaeological Anthropology |
| Urban Geography | Economy and Society | Introductory Econometrics |
| Communication and Development | Ethics In Public Domain | Philosophy of mind |
| Developmental Psychology | Environmental Issues In India | Global Politics |
| Contemporary Literature | Public Policy and Administration in India | Ability Enhancement Course |
Key Benefits Of Distance BA​
Distance BA has various benefits that are hard not to see. As UGC has dictated that Distance Learning BA is equivalent to a regular BA, distance BA goes leaps and bounds in terms of key advantages. Here some key benefits of Distance:-
The BA for all: Distance BA can be pursued by anyone who is interested in going for higher studies and enhance their skill set. Be it a student, a working professional, or a mother who is on maternity leave. All you need to be a graduate.
Boost Your Skill Set: Distance BA adds another feather to your professional cap. Distance BA enhances your skillset, knowledge, and equips you with the latest tools to make you ahead in this competitive world. BA distance education programs help you to make yourself competent for various fields such as the educational field, other government or private sector and also enhances your personality inside out.​
Learn with Flexibility: Unlike a rigid class schedule, attendance, and physical presence in the regular BA, distance BA is tremendously flexible. You can attend the online class anywhere and anytime you want. So, you can easily manage the class timings of your distance BA courses according to your daily duties and responsibilities.
Cost-Effective BA: Distance BA is costs way less than the regular BA. The main reason for the cost-effectiveness of Distance BA is because it does not involve any classroom teaching and other overhead expenses that incur a regular BA. This BA is viable for students of every stratum of society.
Updated Curriculum: Distance learning BA is the BA for the working professionals; thus, the curriculum is regularly updated according to the changing global scenario. The various institutes and universities that provide Distance BA keep on modifying the syllabi according to the relevant industry needs and trends.
Distance BA Course Scope, Career, and Top Companies
As Distance BA is equivalent to regular BA, distance BA also opens the door the same as the regular BA.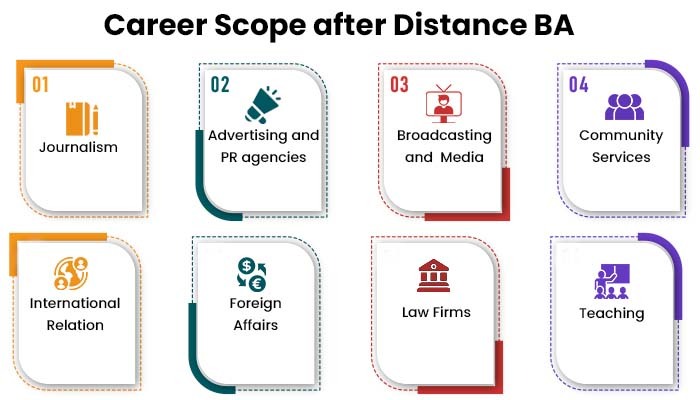 Students distance BA pursuing distance BA have opportunities in the following courses:-
| | |
| --- | --- |
| Business Processing Outsourcing Units | Community Services |
| Broadcasting and Media | International Relation |
| Advertising and PR agencies | Foreign Affairs |
| Journalism | Law Firms |
Let's see the job aspects in detail for freshly BA graduates: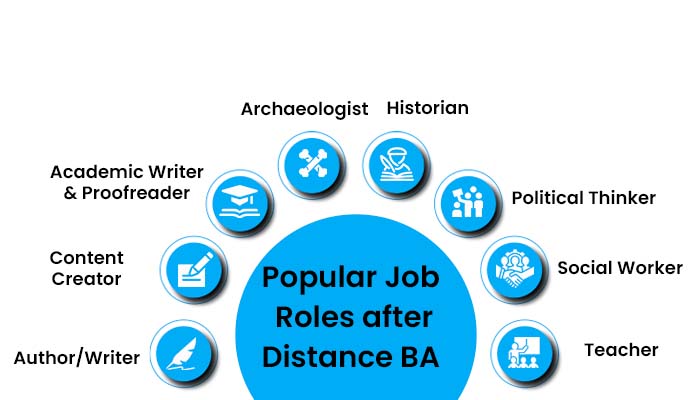 Content Creator: BA graduate is exposed to various subjects that are so prevalent in the life of the common populace. The knowledge of these subjects makes the BA graduates a perfect candidate for creating content. Content creators are required in the field of various industries such as travel, blogging, advertising, brands, and marketing.
Academic Writer and proofreader: BA graduates are paid well to write articles, research papers, and proofread the articles. This industry is emerging as one of the top paid industries as many foreign countries outsource their work in India.
Author/Writer: The graduates of BA can become writers/authors as the course of BA opens up their thinking and the way they perceive the world is changed. Many sorts of work such as short stories, novels, fiction, and non-fiction works are done by them.
Political Thinker: Many political parties are handled by individuals who have deep knowledge of political science. BA in political science has big opportunities in making a career.
Historian: The graduates of BA from history can become historians after going for higher studies. They can write and research on the current happening relating with the history of the geographical location, language, ethnicity, and cultures.
Archaeologist: BA graduates can become understudies of famous archaeologists and then perform and handle their own archaeology. They are hired by the Archaeological Survey of India.
Social Worker: BA graduates have deep knowledge about society and the problems that a society is facing. They can work as Social Workers by joining various NGOs working for the upliftment of society.
Teachers: The most preferred job after doing BA. Teachers in Various subjects such as History, Political Science, Geography, Economics, English, etc. are graduates from BA. Teachers are well reputed and respected as they shape the future of our country.
Also, students can apply for the government exams after completing distance including the Civil services, SSC, and various departments. Students who pursue distance BA can also opt for higher studies such as MA, Ph.D., and MBA.