Online Master of Technology (M.Tech) is a 2-year postgraduate program for engineering graduates. It is a technical course that requires mandatory practical knowledge. Hence, there are no online or distance M.Tech courses available in India. The government of India has not approved any online or distance M.Tech programs, so be careful of frauds that promise you an online M.Tech Degree because it is not valid in the eyes of law.
However, working professionals can still pursue M Tech for working professionals, and that too without quitting their jobs. The Government has permitted the Work Integrated Learning Programme (WILP). This is a blend of online as well as offline learning. This means that you can attend online classes for theoretical learning, while you have to attend in-person classes for practical learning.
This program is known as the online M.Tech program as the theoretical classes take place the online mode, however, it is different from other online programs as you have to attend compulsory weekend classes as well as there are offline practicals. Also both the theoretical as well practical exams take place offline. We have written this blog in the name of the Online M.Tech program just to make you aware of the reality of it. Read further to know other details.
How are the Classes Conducted?
The colleges provide an online Learning Management System (LMS) for their theoretical module. Through the LMS, students have the access to study material, and audio and video lectures that can be accessed any time and from anywhere. However, you must not delay these online lectures and must-see and study them in time because the colleges conduct offline (in-person) classes every weekend and sometimes on public holidays as well. Read: How Can I Do Part Time M.Tech in IIT while Doing A Job?
These classes are usually for practicals and take place in the labs on the university campus. So you must have theoretical knowledge so that you can attend and understand the practical classes. It is mandatory to attend these classes as M.Tech is a highly technical course and requires practical knowledge more than theoretical knowledge.
Read all about online M.Tech here and make an informed decision.
Online M Tech Specialisations 2023
Based on your stream and subjects the graduation, you can pursue one of the specialisations for your M.Tech degree. Given below are the most in-demand specialisations offered for the M.Tech program for working professionals.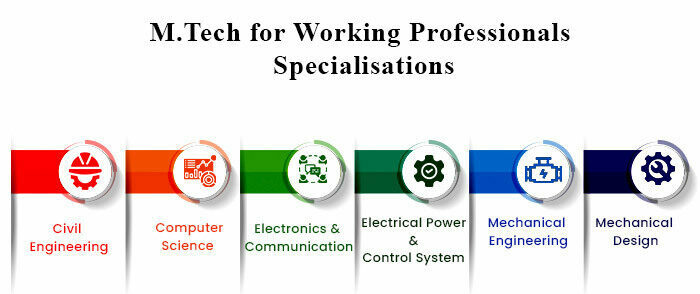 | | |
| --- | --- |
| Civil Engineering | Electrical Power & Control System |
| Computer Science | Mechanical Engineering |
| Electronics & Communication | Mechanical Design |
| Electronics VLSI | Mechanical Production |
Online M.Tech Eligibility 2023
M.Tech is a technical course that needs prior knowledge of the subject to be able to complete the program. Hence, there is a strict eligibility criteria for the applicants who wish to take admission to the online M.Tech course designed for working professionals. The eligibility requirement is as follows.
A 4-year B.Tech degree with at least 50% (might vary across colleges) marks in the related specialisation you wish to opt for in your M.tech, from a recognised institution/university.
OR
A Bachelor of Engineering (BE) degree with at least 50% (might vary across colleges) marks from a recognized institution/university.
Note- A few universities might conduct an entrance test for admission in the M.Tech (WILP) program. In such a case, the applicants will have to clear the specified cutoff to be eligible for admission. Read: List of M Tech Entrance Exams
Online M Tech Admission Process 2023
The admission process for the M.Tech (WILP) program is different from the regular M.Tech admission process. The entire procedure takes place online. In case there is an entrance test conducted by the university, then you must be present to take the test offline. Regardless, these are the steps you will need to follow for admission to M.Tech (WILP).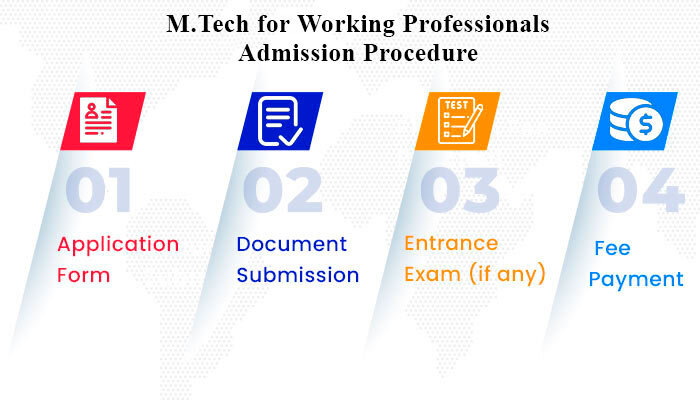 Step 1- Go to the official website of the college (WILP) and apply for M.Tech for Working Professionals in the specialisation of your choice. Be very careful of the correct website as the colleges have a different websites specifically for their WILP programs.
Step 2- Fill up the application form with the required necessary details including your personal as well as academic details.
Step 3- Submit the scanned copies of your original documents and then pay the application fee.
Step 4- The final step is to pay the program fee. You can pay it online or through the demand draft as well. In case there is an entrance exam, then you must first clear the cutoff for the exam to be eligible for admission and then pay the program fee. Read: M Tech Admission Procedure Step by Step
Online M Tech Colleges, Duration and Updated Fee 2023
Some of the top universities that offer the M.Tech course for Working professionals instead of online M Tech are listed in the table below along with their program fees and the specialisations that they offer.
University
Specialisations
Program Fee (in INR)
Duration
Lingayas University
Civil Engineering
Course Fee- 40,000 per semester

Exam Fee- 2500 per semester

2 years (4 semesters)
Computer Science Engineering
Mechanical Engineering
ECE Engineering
SV University
Civil Engineering
Course Fee- 36,000 per semester
2 years (4 semesters)
Computer Science Engineering
Electrical Engineering
Electrical & Communications Engineering
Mechanical Engineering
BITS Pilani
Automotive Electronics
Course Fee- 62,750 per semester
2 years (4 semesters)
Automotive Engineering
Computing Systems and Infrastructure
Data Science and Engineering
Design Engineering
Digital Engineering
Embedded Systems
Environmental Engineering
Manufacturing Management
Microelectronics
Pharmaceutical Operations and Management
Quality Management
Sanitation Science, Technology and Management
Software Engineering
Software Systems
Read: Which University Is Best for M.Tech Distance Education?
Online M Tech Syllabus 2023
Given below is the syllabus for some of the most popular M.Tech (WILP) specialisations.
Specialization
Subjects to Study
M.Tech in Civil Engineering

Advanced Engineering Mathematics
Civil Engineering Materials
Project Planning and Control
Quality Control and Safety in Construction
Research Process & Methodology
Construction Materials Lab
Advanced Concrete Technology
Advanced Design of Steel Structures
Construction Economics and Finance
Construction Materials
Design of Bridges
Advanced Engineering Geology
Construction & Maintenance Management

M.Tech in Computer Science Engineering

Advanced Data Structure & Algorithm
Big Data Analytics
Mathematical Foundation of Computer Science
Object Oriented Design and Analysis
Data Mining and Data Warehousing
Research Methodology and IPR
Trends in AI & Soft Computing
Data Science using python
Digital Image Processing
Machine Learning
Natural Language Processing and Text Managing

M.Tech in Electrical Power System

Advanced Engineering Mathematics
Advanced Power System Analysis
Advanced Power System Simulation Lab
Flexible AC Transmission systems
Protection for Power System
Power System Dynamics
Power system Operation and Control
Research Methodology
Restructured Power Systems
Mechatronics Systems
Multi-Level Inverters for High-Power Induction Motor Drives

M.Tech in Electronics VLSI Engineering

ASIC Design and FPGA
Advanced Digital Signal Processing
Design of Analogue / Mixed-Mode VLSI Circuits
Designing with FPGAs
Digital Signal Processing and Embedded Systems
Hardware Description Languages
Memory Design and Testing
Semiconductor Devices
Testing and Fault Tolerance
VLSI Design concepts
VLSI Technology
VLSI Design

M.Tech in Electronics & Communication Engineering

Advanced Microprocessor
Digital System Design
Embedded System and applications
Numerical Techniques
Advanced Embedded system
Embedded system for wireless and mobile communications
General and special purpose digital signal processors
Hardware software Co-design
Embedded control system
Microcontroller System Design and applications
Mixed Signal Embedded system

M.Tech in Mechanical Engineering

Advanced Engineering Mathematics
Advanced Heat & Mass Transfer
CAD/CAM
Research Process & Methodology
Simulation, Modelling & Analysis
Advanced Mechanics of Solids
Power Plant Engineering
Statistical Quality Control
Finite Element Method
Production Planning and Control
Smart Manufacturing Systems
Online M Tech Career Scope
After the M.Tech for working professional degree, you have scope in various sectors such as Mechanical, Electrical, Civil, Electronic, Technical, and other industries. Based on the specialisation you opt for in your M.Tech program, you can get the following job roles.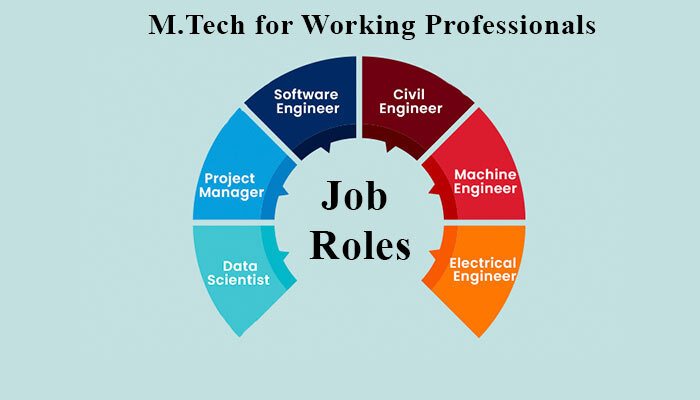 | | |
| --- | --- |
| Software Engineer | Mechanical Engineer |
| Machine Engineer | Data Scientist |
| Software Developer | Electrical Engineer |
| Civil Engineer | Research Analyst |
| Project Manager | Program Analyst |
It is a myth that you only get jobs in private companies after completing engineering. Following are some government organisations that hire M.Tech graduates.
DRDO- Defence Research and Development Organisation
HPCL- Hindustan Petroleum Corporation Limited
ONGC- Oil and Natural Gas Corporation Limited
Read: What Is M Tech?
Online M.Tech Big Recruiters
M.Tech is a highly in-demand course in today's times. There are numerous job opportunities and an excellent future scope. It is an extremely feasible job for people who are working after completing their B.Tech or BE degree. This is because the online mode gives you the opportunity to study without losing your job. This saves your time as well as money.
Many good companies actively recruit online M.Tech graduates. Some of these biggies are:
Aditya Birla Group
Tata Consultancy Services (TCS)
Reliance Industries Limited
IBM
Cognizant
Read: M Tech Future Scope?
Conclusion
To conclude, we would like to say again that the M.Tech degree is not imparted in the online mode by any university as it is not approved by the government of India. Only M.Tech for working professionals degree in the blended online and offline mode is approved by the government. So you must not fall into the trap of fraud at universities offering online M.Tech degrees. If you want to find some authentic and government-approved universities that offer M.Tech for working professionals in various specializations, then you can visit College Vidya and get the best and most approved colleges.