In a world marked by rapidity where productivity is a must-have to stay ahead of challenges blocking your path, the technologies powered by Artificial Intelligence or AI have indeed taken the world by the storm. Irrespective of whether you are a student, a working professional or an entrepreneur, you must have surely encountered situations when the pressures of managing your workload set you in a slump.
If this situation sounds familiar, then we have listed down 50 of the best AI-powered applications and softwares that can ease your academic or professional life manifold! Staying consistently productive is a challenging task, and we at College Vidya celebrate your efforts by providing you some excellent supporting tools to make your journey to success seamless.
Continue reading to find out about useful AI tools for various domains!
What are AI-enabled Tools and How Can They Help Boost Your Productivity?
Artificial Intelligence or AI has been defined by Britannica as the ability of a digital computer or computer-controlled robot to perform tasks commonly associated with intelligent beings.
Thus, an AI-powered tool is a software or an application for the web or remote use that can perform tasks that intelligent beings like humans can do, such as reasoning, learning from past experiences or commands, creativity, innovative thinking, tapping into emotional aspects of speech and so on.
Top Popular Programs In AI & Machine Learning
AI-powered tools can transform one's way of functioning in the personal, academic and professional domains by boosting their productivity and smartly assisting them in various important functions. Thus, AI and AI-enabled softwares can be a cornerstone to turning the way we function. While AI tools can certainly never replace the human quality of work [Also Read | Artificial Intelligence V/S Human Iintelligence], they are an excellent supportive means for assistance when managing one's workload seems insurmountable.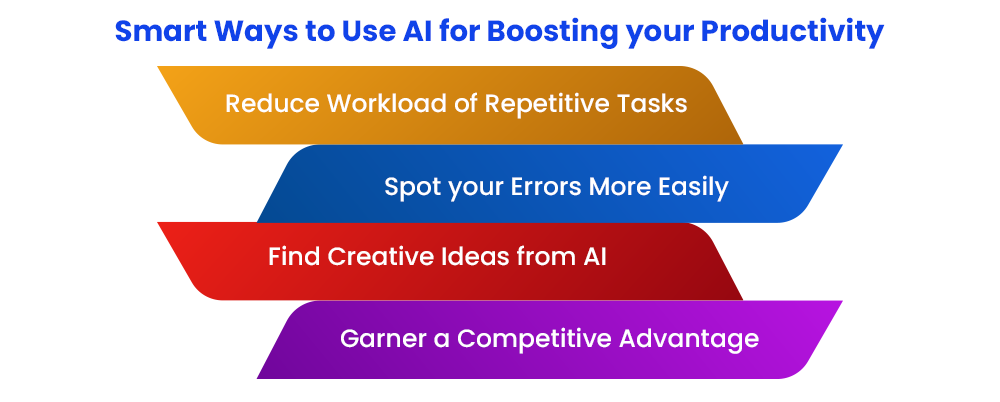 Here we have listed a few of the top benefits of effectively using AI tools for managing your tasks and workload.
One of the primary reasons for the huge upsurge in use and demand for a variety of AI tools is their effective quality to assist people in managing their workloads, both on the personal and academic/professional fronts. AI tools can be effectively put to use in a number of domains, whether it be managing one's devices and household tasks (through virtual assistants, internet of things and smart devices) or managing one's academic and professional commitments (using a variety of tools as discussed below). If you are short of time and energy and need to get a task done with quality outputs, AI tools can come to your rescue!
Can Simulate Original Ideas and Creativity in User
Experiencing set blocks and slumps when it comes to creativity is a very common problem faced by all today, especially when one is required to or expected to consistently come up with innovative and creative ideas consistently on a continued basis. Many jobs require the professional to think beyond conventional solutions and come up with unique solutions to problems. Although AI is still to catch up with human creativity and innovation, getting support through AI tools can spark creative thoughts and help you discover creative ideas, especially when experiencing a block. In this respect, using AI tools can be quite beneficial for coming up with original and creative ideas to solve common or unforeseen problems .
Can Enhance Work Quality by Detecting Errors
Another great advantage one tends to think of when working with AI tools is their ability to spot errors and detect mistakes in a person's work, thus allowing for correction and boosting the quality of work. Whether you are a student or a professional working on a specific piece, there are a number of tools that can effectively analyse your work in real time to provide meaningful insights such as the mistakes, small errors, the tone of your writing (in case you are working on a piece of writing), brand positioning and so on. This can greatly enhance the quality of your work, especially when the stakes of a project/endeavour are high.
A major advantage and switching to the use of assistive AI tools is that they can save you a lot of time when it comes to endeavours at the personal or academic or professional front. Managing heavy workload in limited time periods is a challenging task, and AI and automation tools can make this challenge manageable by saving you time especially in repetitive or tedious tasks to provide quick and mostly accurate insights and solutions.
Can Provide a Competitive Advantage
While a complete dependence on AI tools can raise many challenges related to data security, ethics, plagiarism etc., effectively using them for enhancing the quality of one's work can provide a competitive advantage by helping avoid errors and adding a unique value to one's work.
Thus, as is clear, using AI tools and smartly can pave a long way for a person to smartly manage their tasks and boost their productivity to stay up with the growing pace of work, a cornerstone to success in the modern landscape.
Top 50 AI-Powered Tools for Various Key Domains
Find key details about 50 of the best AI-enabled tools, softwares and applications for use in diverse domains like content creation, administrative functions, coding and programming, human resource management and academics.
AI Tools for Content Writing & Creation
Whether it is content writing or creation of content in the audio and/or video modes, coming up consistently with ideas that are error-free and creative and innovative at the same time can become challenging. Moreover, in many cases, writers and content creators can find themselves in a slump while making content. Also Read | Content Writing Explained
In such cases, there are a number of tools and softwares that can effectively support and help them come up with novel and creative ideas. To enhance the quality of work further, there are tools that can recognise mistakes and errors like grammatical errors, provide insights about one's tone and vocabulary acumen and more.

Here we have listed a few of the best free and paid AI-tools that can assist one when it comes to writing and content creation.
1. Chat GPT
Chat GPT, introduced around December 2022, has taken the world by storm ever since and has paved the way for the diverse uses of AI tools as we know today. In essence, Chat GPT is a generative chatbot that can provide well-researched answers to user commands and queries and simulate the human pattern of communication as well. While it can effectively perform a large variety of functions ranging from giving codes for programs to performing complex mathematical operations, its use as a tool for writing and content creation remains unbeaten. Also Read | How to use ChatGPT for Students?
Chat GPT can be used by content writer and content creators for a variety of purposes such as generating creative and novel ideas for writing when in a creative block, using it as a tool for paraphrasing, as a tool for copywriting ideas, as a grammar and spelling checking tool, for modification of the tone of a message, writing emails and applications and much more. As is evident, its usage can be as diverse as a content creator wishes.
Here we have enlisted a few of the key features of Chat GPT as a tool for content writers and creators:
This tool is free to use as of now and is also being developed for more advanced versions.
With an Open.AI account, a user can easily start using Chat GPT as a supportive tool for content writing and creation.
The tool has an easy-to-navigate user interface and its responses are in the textual format.
The responses generated by the tool are often based on information available on the internet.
2. Grammarly
Grammarlyis an AI-powered tool used for supporting organisations, professionals and students in endeavours related to writing of all kinds. The tool's extensive API allows it to not only be of utter help as spelling grammar and checker, but also as a linguistic supportive tool that can allow insights into aspects like the tone of a textual piece, its clarity, its primary emotional message as well as an integrated engagement score for the textual content. It can be used effectively by organisations and companies as well to manage their brand voices and get smart suggestions related to making the writing more attention-sustaining and impactful.
Here are some key features of Grammarly as a tool for use in content writing and content creation.
The free-to-use version of Grammarly can be a helpful tool for students, beginners and amateur content writers for assessing grammatical accuracy of their content, its engagement and tone.
Premium Grammarly packages are available for use by professionals as well as companies and organisations for more nuanced features like complete sentence rewrites, styling guides, brand tone detection, suggestions and so on.
In addition to assessing the language of writing, as a tool, Grammarly also has a built-in plagiarism standard tool that can check if your content is detected for plagiarism.
A major limitation of Grammarly as a tool is that it is currently providing all its services in English.
The tool may be highly useful for expressive writing but may not be completely reliable for technical writing.
3. Copy.AI
Similar to Chat GPT, but more specifically designed for creative writing purposes,Copy.AI is one of the best tools available at the disposal of writers, whether it be content writers, copywriters, fiction writers or students. Copy.AI is an artificially intelligent software embedded with machine learning technologies to enable it to write creative, engaging and unique content that can be used for social media postings, advertisement and other forms of copywriting as well as for longer pieces of writing as well.
Here are some of the prominent features of Copy.AI as a tool for writing.
Copy.AI can easily interpret complex and specific instructions from users to come up with quick, hooking and interesting content.
Copy.AI is much better than other AI writing tools for creative copywriting.
The tool is equipped with in-built grammatical APIs that allow it to track grammatical accuracy of the content alongside ensuring that it is engaging to read.
Copy.AI provides its "free forever" plan which can be used by individuals like students, beginners in content and copywriting etc. to get sufficient guidance and useful support from the tool.
Based upon the size of organisations as well as the diversity of features offered through the plans, there are premium paid plans for start-ups, small companies, scaling businesses and well-established organisations.
4. Jasper
Jasper is an AI-generative tool that is steadily growing in popularity in the professional domains for long-form writing. This AI-tool is designed to create long pieces like blogs, articles and detailed outline plans of pieces through simple commands. Jasper has features that allow it to effectively set and maintain the brand tone of a company and handle creation of unique pieces that are articulated specifically with respect to the particular company's brand tone or brand voice.
Some of the key features of Jasper as an AI-tool have been mentioned below.
Jasper provides a limited-time free period of using the application for first-time users.
Jasper offers flexible premium paid plans for organisational teams, individual professional writers, as well as large businesses to meet their streamlines needs.
This tool has an incorporated chat facility that allows the user to create specific changes in the content easily and quickly.
The user interface of Jasper is quite easy even for novices to effectively navigate.
5. Anyword
Anyword is a nuanced AI-based copywriting tool for support to companies and organisations for market-based writing. Designed to smartly analyse the voice or brand tone of a company, this tool can be used to create content for specific media campaigns, advertisements, articles etc. This tool has features that make it useful for various forms of writing, be it brand emails, ad campaigns, long-format pieces and so on.
The key features of Anyword AI have been listed below:
Anyword offers user plans in varying amounts such as those for starters, those for marketing teams, those for businesses and those for large enterprises.
This tool provides major services such as plagiarism checking, readymade template for use, integration of the feature with writing platforms like Google docs, Notion AI etc.
The tool uses analytics features to provide predictive scores for performance of specific pieces created using this software.
Moreover, for premium subscriptions such as those for enterprises and businesses, priority support services are also provided by the tool for quick access and query resolution.
6. Wordtune
Wordtuneis another AI tool that can be put to great use for the purpose of writing, whether commercial, for the internet or for educational purposes. Wordtune is a tool that can perform basic writing functions like AI response generation in addition to specific functions such as analysing content and information in a video format to create summaries and analytical content based on it. This unique feature is a major advantage of this tool as it allows seamless conversion of visual or audio-video data to content formats.
Find more about the key details of Wordtune here.
Wordtune can perform 4 main domains of functions which include rewriting already written content, summarising content in the form of audio and video, creation of new content and effective searching and data accumulation through its "AI searching" feature.
It offers a free program that can be used for an extended period by starters and novices.
There are paid premium packages available for professional writing and for businesses as well.
Premium plans of the tool also include prioritised support, services and customised solutions to the user's needs.
7. ProWritingAid
ProWritingAid is a one-stop tool that can be used for various types of writing by students and professional writers alike. This tool offers a multitude of services including not just writing support but also research-based information upon scouring the internet. This tool is effective for use due to its variety of services for varied needs of organisations and individuals. It provides supportive features for not only writing but also reading in the form of analytical reviews of written content, fact-checking of information and so on to make work easier and seamless.
Find more details about ProWritingAid here.
The tool provides specialised features and support to users based on their positionality in their academic or career journey.
It also provides specialised services to non-native speakers in English such as complex grammar support, usage of phrases and linguistics like native speakers etc.
It has specific features such as rewriting feature, idea expander feature, word explorer, goal tracker and so on.
The tool is very affordable for users with various needs as it provides two main packages–a free package for users without the need to pay and a premium package for all users at an affordable rate of INR 550 per month.
8. Mem
Mem is an AI tool that can be used to integrate personalised information from a variety of sources ranging from one's email, personal notes application, documents and so on into one spot to synthesise meaningful results. Since Mem is not just a writing application, it can also perform a variety of other functions like save links, import content from external sources and remember previously shared information (in audio, video or textual format) to produce pieces uniquely tailored to the needs of the user.
Here are a few of the key features of Mem:
Similar to other AI writing tools, Mem offers services for free as well as for professional users through its Memx, MemxTeam and MemxEnterprise packages.
The platform is suited for usage in android, web and iOS platforms.
It can integrate information from Notion, Google docs, emails etc. at one spot to create coherent summaries.
The platform can be used to access previously saved information and provide systematic insights into them and create pieces.
9. Airgram
Airgram, whilst not a writing-assistive tool using AI, is a platform that can effortlessly provide insights about meetings and virtual discussions. The tool is designed to transcribe and prepare minutes of meetings in the workplace or at a personal front, and identify its key action components. This tool can not only transcribe meetings in real-time but also capture the recording of the meeting itself on a permanent basis for future access. It can be effectively used at the professional front by teams and individuals to keep track of multiple important meetings.
Find more key features about this software given below.
Airgram is designed to work well with platforms like Google Meet, Microsoft Teams, Zoom and other online meeting platforms.
It is equipped with features for taking meeting notes, transcribing the entire meeting, preparing key insights including action-oriented insights and so on.
The tool can capture the meeting as a recording for further use, identify key snippets of the meeting and make them into shareable clips.
The tool is available for use in two pricing packages–the free version which is devoid of charges and the premium or plus version for professional users needing additional features for use.
10. Fireflies
Fireflies is also another AI-powered tool for generating meeting insights and reflections. The software is designed with the power of AI and ML technologies to provide solutions to enterprises, companies and teams for their transcription, analytical and summarisation needs. This tool can work wonders for teams functioning in the virtual mode or hybrid mode or frequently require communication in the audio and/or video modes.
A few of the key features of Fireflies has been enlisted here.
The software can not only transcribe meetings very easily, it can also work on isolated audio files to transcribe them and draw analytical insights.
It is equipped with video-conferencing features that allow it to autoconnect to your conference URLs.
It is available as an extension for Google Chrome to ease the integration and video-conferencing.
The tool is available for use in 4 pricing packages– free version, the Pro package (for small teams and individual professionals), Business package (for growing teams and organisations) and the Enterprise package (for larger organisations).
AI Tools for Image and Video Creation and Editing
Video creation or image/graphic creation is a thriving area of IT and computer studies that brings together technological acumen and creativity of artists. However, even for the most creative designers, regularly being on the top of their performance can be an unrealistic expectation. But creative AI image creators and video editing tools can be quite supportive in coming up with unique and creative graphical images and videos. Moreover, they can also be very useful for learners, amateurs and students of graphic designing and digital art to work and hone their skills of editing and creation.
Find details about the top 10 AI-powered tools that can come handy to you if you are a graphic designer.
11. DALL.E 2
DALL.E-2 is a graphical image generation tool that has been developed by OpenAI, the AI tool giant that is also credited with the creation of Chat GPT. This tool has a user interface that is quite easy to navigate and can enable even novices to come up with unique AI-generated images in various styles.
A few of the key features of this application include:
DALL.E 2 can take simple textual prompts from the user to understand it and come up with unique and artistic images.
Some of the formats in which it can create images include those like animated, realistic, oil painting styles and so on.
The application is designed to protect the users and prohibit creation of explicit or violent images.
The software can be used in its free version or in the paid version that allows 115 credit points to the user.
12. Midjourney
TheMidJourney software can be used to create images from the easy prompts or even basic vision or ideas provided by the user. The tool is capable of designing realistic and high quality images from minimal prompts and for a variety of functions. Thus, a user can use Midjourney not only for creation of images but also designs for one's presentations, websites and much more.
Key details about MidJourney software have been listed here.
The application is integrated with Discord and hence users can benefit much from the community of MidJourney users who use Discord for support and resources.
The user interface of this software is minimalistic and hence easy to navigate for beginners and professionals alike.
The quality of images that are created through this application are very high and of premium quality.
There are 4 packages available for users to choose from–the free package, the basic plan, standard plan and the pro plan.
13. Stability AI
Stability AIis an AI-application that can be used to create high quality images through prompts, as well as for creation of audios and as a writing tool. Stability is powered with AI technology that allows it to perform a number of functions that go beyond image creation to provide innovative, unique and creative results.
Find more details about this software given below.
Stable Diffusion offers three models–Stability Image, Stable Diffusion Language, Stable Diffusion Audio.
The image creation software of Stability can perform not only the basic functions like image creation from a prompt but also a host of other functions like image inpainting, image outpainting to come up with unique images having stunning quality and artistic appearance.
In addition to the feature of providing a textual prompt, this software provides the unique feature of taking an image as an input and then generating a new unique image based on similar contexts.
While there is a free use option available on the software, its full power and potential can be harnessed through the premium options for professionals and enterprises.
14. Descript
Descript is an excellent tool for graphic designers, animators and video/audio editors who wish to seamlessly edit their videos, do effective subtitling and transcription of videos or audios, as well as record one's screen for audio and video. The tool's AI-enabled features allow users to focus on enhancing their quality of work while devoting less time to the nitty-gritties of editing and subtitling.
Further essential features of Descript have been given below.
A few of the key features of Descript related to video editing include screen recording, quick video editing, remote recording, subtitling, transcribing etc.
A few of the key features of Descript related to audio editing include transcribing, subtitling, audio editing in the form of a podcast, filler word removal etc.
The application has AI-technology that powers transcribing effectively in over 23 languages.
The 4 available packages of Descript include those for a beginner (free), the creator version, the pro version and the enterprise version.
15. Lumen5
Lumen5 is not only an excellent application designed for usage by beginners or novices in video editing, but also a very useful resource for effective marketing. Its AI-technology has been developed and integrated into the program to effectively take commands from the user, either in the form of blog posts, large texts or existing videos to create or recreate them into engaging video clips.
Find the key features of Lumen5 listed here.
Lumen5's AI-features are programmed to tap into the marketing messaging and context of your blog or video to recreate videos that retain the essence of the video effectively.
The application can read blog posts through its AI and machine learning features and convert them into unique videos in a click.
High quality videos are created by the application, with a quality of up to 1080p.
This application is not available for free access, however, it has 4 flexible fee payment options–that for basic features, that for a starter, that for a professional and for an enterprise.
16. Synthesia
Synthesia, while not an image-creation application, is designed to tap into the power of AI and machine learning technologies to create unique, highly artistic and engaging videos from textual content, along with a host of other video editing features to support and enhance the quality of the output.
The key features of Synthesia have been enlisted here.
The software has a unique feature of creating human avatars for its video outputs that add to the engagement of the video.
The software is programmed to work well with over 120 languages, allowing for seamless and error-free voiceovers.
The application can be very useful for creating videos related to sales campaigns, informative and educational content as well as for social media content.
There are two modes of using this application–the personal package, with a fixed package of INR 1500 per month and the enterprise package with a customisable host of services.
17. Runway
Runway is a prominent video and audio editing tool that is powered with AI-technologies to facilitate its major functions and features. The tool can be used by graphic designers, animators, video editors as well as podcasters for developing outputs with quality results of professional stature.
Some of the major features of Runway that make it stand out from other AI editing tools have been enlisted below.
The tool can be used to work with static graphic images to edit them, generate 3d images and perform more functions.
It is also an excellent tool for video editing, 3d animation creation, video generation and much more. Audio editing is also possible through this application, making it useful for podcasters as well.
The tool's AI-programming makes it useful for both corporate professionals and for creators like social media influencers, entertainers etc.
There are 5 packages available for use in this software–the Basic package, the Standard package, the Pro package, the Unlimited package and the Enterprise package.
18. Wondershare
Wondershare is surely a standout application which can one-handedly perform a number of editing and creation functions on images, audios and videos. The application is powered with features and latest AI-technologies that can suit the needs of professionals, learners and amateurs equally well.
Find further key details about Wondershare given below.
A few of the key image-related functions include those like face swaps, portrait enhancement, background editing and removal, avatar creation, text to image generation etc.
A few of the key video-related functions on the software include those like background removal, sky changer, cartoonizing etc.
The primary audio related functions that can be performed through this software include audio compression, audio expansion, scaling, voice change, vocal removal etc.
19. Fliki
Fliki is an AI-powered application designed with the aim of providing an error-free platform for conversion of textual files into audio and/or video files, especially with respect to narration and voice-over. This tool is highly useful for those users and video creators who want to create narrations of written videos such as audio story creators, voiceover artists, dubbing artists and so on.
Some essential features of Fliki have been enlisted here for further reference.
The application can generate audios and narrations in over 75 languages, enhancing its reach and usability.
There is a choice of over 1000 AI-generated voices from which the user can select the one best-suited for their project.
The application's smart features allow it to analyse and understand more than one language within a piece and cater to bilingual users as well.
The 4 available pricing packages for this tool are the free version, the basic version, the standard version and the premium version of the application.
20. Pictory
Similar to the previous applications mentioned in the list,Pictory is another AI-powered solution for professionals and enterprises seeking for quick conversion of their textual content into video formats. Designed to effectively skim through written content and further create videos based on it, this application can be a game-changer for teams and professionals looking to boost their internet presence through videos of professional standards.
The key features of Pictory have been provided below.
This software can be used to convert long-text formats like blog posts, articles, scripts etc. into videos with voice overs, narrations, dialogues and visual content to suit the context.
It can also be used for analysing long videos to identify its highlights and further create impressive and impactful short clips for social media usage.
In addition to video generation, Pictory also has in-built features to enable video transcription and subtitling.
There are 4 packages for using the Pictory software–the free trial, the Standard package, the Premium package and the Teams package.
AI Tools for Human Resource Management (HRM) and Recruitment
Human resource management can often require the professional to perform a number of tedious and repetitive tasks like scouring through a pile of resumes or developing job descriptions for a variety of jobs. Moreover, the functions and work responsibilities of HR specialists often demand correspondence across all departments of any office, thus making the job demanding and challenging. The AI tools mentioned here can come as a rescue for HR specialists and professionals dealing with HR functions.

Given below are a few of the applications and softwares designed specifically for use in the HRM domains.
21. HiredScore
HiredScore is an application to support recruiting and hiring functions in an HR department. This tool is powered with AI and excellent automation technologies to allow the user/recruiting team to identify key needs and priorities of the team and the organisation at large and further work towards aligning the hiring strategies and needs of the organisation. The tool is designed to provide assistance in hiring on the basis of various factors like diversity and inclusion, experience and so on.
The major features of this tool have been provided here:
The tool has various scales and parameters to base its suggestions upon including the company needs and policies for diversity, the years of experience of the candidates etc.
It analyses data from various databases related to the CRMs, VMS, ATS etc. to provide suggestions.
The tool has the major features like recruiter productivity, internal talent mobility, diversity and inclusion, talent discovery etc.
The tool is designed keeping in mind the ethical considerations to be made during hiring and talent management to avoid biases and enhance transparency and fairness.
22. Paradox AI (or Olivia)
To address the tedious process of hiring and recruiting,Paradox AI provides a one-stop tool for management of HR needs related to recruiting, interviewing, screening and selections. To assist with the same, the AI-chatbot, Olivia has also been created by this platform that allows round the clock interaction with candidates to provide flexibility.
Some of the main features of the Paradox AI tool have been given here.
This tool can be used to communicate with candidates round the clock through the 4x7 available chatbot, Olivia.
The software can also conduct screening of resumes and applications to reduce the workload of the HR team and save time for greater attention to interviewing.
It can act as an effective scheduling application and planner to arrange interviews and schedule meetings with potential clients accordingly.
23. Effy
A performance management software,Effy uses AI-powered features to allow the users/teams to conduct all-round performance management of employees and their evaluation. Alongside, in addition to providing a platform for interactive performance evaluation, it also enhances the service by providing templates and models for organisational development activities and measures.
Key features of the Effy AI tool have been provided here.
Effy can streamline its services across domains of performance management like assessing probationary employees, evaluation for promotion or role change of an employee in the company, formal performance review etc.
It also includes various readymade templates and models for organisational development.
The tool can also be used for creating AI-generated prompts and answers for specific enquiries.
It can be integrated with platforms like Slack and Microsoft Teams for smoother operations.
24. People GPT (by Juicebox)
People GPT is an initiative by the AI-driven firm, Juicebox that can be used to work on solutions related to effective talent acquisition, talent identification and client discovery as well. The tool can be used to actually search for leads related to candidates for hiring, clients and customers as well through specifications about the needed criteria. Users can search through the People GPT software for the same, with an easy-to-navigate user interface adding on to the ease and efficiency of work.
Find more details about the features of People GPT here.
The tool is designed to tap into a number of factors such as the parameters for search, the geographical location of search, the competitors from which one can plan to source the search and so on.
The platform also provides options for AI-generated content in the form of professional emails and correspondence messages to be sent to located candidates and clients.
The platform can work integratedly with email and other formal messaging systems for the organisation and can send mails directly to customers, clients and candidates for hiring.
The application allows 4 packages, starting with the free package for beginners, the professional package, the team package and the enterprise package.
25. Attract
Attract is a talent search tool that is powered by AI technologies and enables companies, especially hirers and the HR team to search for candidates for job roles in the organisation. This application works by conducting searches through the databases of various professional social media platforms to identify the potential candidate profiles meeting the criteria for an organisation.
The key features of Attract AI have been enlisted herein.
Attract, as a platform, has been designed to use AI technologies to locate hidden profiles and connections that can enable a recruiter to add valuable members to their organisation.
The tool can also be used for global searches across countries, if the need arises for the particular company.
It can conduct searches effectively without the user having to create Boolean strings.
While the tool allows for free demo usage, it has specific packages for organisations and enterprises, the details for which can be procured by directly contacting the platform.
26. Leena AI
Leena AI is an AI-powered virtual assistant tool that can be used within an organisation to perform a variety of tasks related to various domains. For the HR department of a company, the use of the app can facilitate communication between teams, increase team-building, streamline communication, provide opportunities for onboarding of new members and so on. The assistant can be very helpful for the HR team to interact cross-departmentally with ease.
Find a few of the key features of Leena AI here.
The tool has facilities and features that allow for remote recruitment, hiring and onboarding of new employees.
The tool has an AI-powered feature of answering the FAQs raised by employees, thus saving time for HR personnel in answering repetitive queries.
Not only for onboarding, the tool is designed to support a variety of other functions like workflow automation, talent and knowledge management, action-planning etc.
AI Tools for Coding and Programming
While coding using any programming language, programmers can encounter a number of challenges like bugs, complex syntax and language, time constraints and so on. While experience can garner a professional capable of addressing these problems quite easily and effortlessly, amateur coders, students and freshers might find difficulty in dealing with these and hence get demotivated in their endeavours. However, there are a number of AI applications and supportive tools that can help programmers navigate through complex codes and development projects quite easily

Here we have listed 10 such AI tools, continue reading to find out more about them.
27. aiXcoder
aiXcoder is a game-changing AI-powered tool that has a detailed and nuanced database that allows the application to read the syntax and understand the code you are trying to write, and accordingly provide autocomplete suggestions to develop unique codes. The tool is designed with built-in features that ease the coding process and extend personalised support to the user.
Find a few of the key features of aiXcoder as a coding application here:
The application has in-built safety and protective features that help to safeguard the user's work and data from piracy or stealing.
The common programming languages for which aiXcoder provides support include Java, JavaScript, Go, Python, C++ etc.
The tool also has an integrated GitHub search feature that allows for unique code development and avoids repetitions.
It can effectively provide suggestions for completing single line and multiple line codes by analysing the syntax of the code.
28. Codium
Designed to provide a variety of services to coders and program developers, CodiumAI is a one-stop shop for needs such as suggestions for code development, corrections, testing of the code and so on. This tool has been created keeping in mind the diverse needs and best practices that a programmer needs to incorporate into their process of coding and development.
The major features of CodiumAI have been mentioned here.
Codium is designed to not only provide the user with the code or code suggestions but also a small explanation of a code or code snippet alongside.
It can generate tests for users to simultaneously test the code they are developing.
The tests are designed in this application to examine and understand a code's behaviour as its user is creating it.
For amateur developers, Codium provides a free package, a paid Teams package for the small teams and an Enterprise package for organisation-wide functions.
29. AskCodi
AskCodi is a coding application powered by AI that was developed by the creators of AskJarvis. This tool was created to provide 360-degree assistance to students regarding their codes, whether it's about the description or explanation of the code syntax, receiving suggestions for completion of the code or about the testing of a code snippet.
Find the key features of AskCodi here.
AskCodi consists of three constituent services–Codi Chats, Codi Projects and Codi Workbook.
The tool can be used to effectively create unique codes for programs as well as get information about describing them, explaining them and testing them.
The tool is available for use in languages like English, Spanish, German, Polish etc.
AskCodi is programmed to provide assistance in coding languages like Python, Java, C, HTML etc. It has over 50 languages preprogrammed to perform the various AI functions.
30. BlackBox
BlackBox is a tool for coders and developers that can be used for searching for specific codes based on the user query. Designed to aid developers in the process of research and development for coding without having to leave their coding platform, this tool helps to find researched and developed codes as responses to specific queries.
Find out more about BlackBox application here:
Blackbox has been designed to fully-function in a low-bandwidth internet as well, thus ensuring that the user's coding doesn't get hindered due to connectivity issues.
The tool is suitable for use with over 20 programming languages including those like Python, C++, Java, JavaScript and so on.
The tool is compatible for use with various IDEs, web browsers and database systems.
The software is available for use as a free tool, and there are 3 premium packages currently being offered for professionals–Good Developer Plan, the Awesome Developer Plan and the Legendary Developer Plan.
31. TabNine
TabNine is an AI-powered coding assistive tool that functions by providing suggestions for coding to developers in real time by combining its natural language processing (NLP) technologies with AI-features. It can be a pretty useful tool for developers looking to develop codes while saving time and indulging in reduced manual typing of the code.
Key details about the features of this application have been listed here.
The tool has the main function of providing code suggestions in real-time to complete the codes of the user.
It can also create blocks of code based on the natural language inputs and queries provided by the user.
Based on the function declaration provided by the user, it can complete the full code.
The software is available for use to starters (as a free package) and to professionals and enterprises (as paid premium packages).
32. Cody by SourceGraph
Cody, a special AI feature of the code-searching productivity tool, SourceGraph, is a tool that can read the complete codebase to come up with unique and innovative ideas for the full code. It can also effectively answer questions pertaining to the code and explain the code. Being an AI-enabled tool, Cody can read the entire database to grasp its meaning and context to further understand the context and enhance the accuracy of the code.
Find further key details about Cody AI here.
Cody is equipped with AI-powered conversational features in the form of a chatbot where users can quickly put in their queries and obtain answers and codes.
The application works in real-time, i.e. it analyses the code as the developer is working on it and can provide suggestions for completion alongside.
The tool can work on all major IDE platforms and is compatible with major programming languages.
Cody premium packages are provided in two modes–Cody Search and Cody Beta, both of which provide unique features and services to its users.
33. SpellBox
SpellBox is a tool designed to meet the needs of the modern, quick-paced programmers. The tool is a one-stop shop for all the coding use-cases for programmers whilst ensuring high quality results. Be it code generation through analysing the code or the simple prompt of the user, explanation of a code or bookmarking functions, SpellBox has got it covered. It can be a highly useful tool for programmers or organisations that wish to excel by tapping into the power of AI for coding and development.
Further key features of this application are listed here.
A few of the prominent features of SpellBox include its code generator feature, code explanation feature and the code bookmarking feature to save code snippets for further usage.
The software is suitable for use in both Mac iOS and Windows. It can also be used as a desktop application or an extension.
It is compatible with prominent coding languages such as Java, Python, JavaScript, HTML, CSS etc.
SpellBox provides a licence user package which allows the users to get access to premium features.
34. GitHub Copilot
GitHub Copilot is a coding support tool powered by AI features. This software was created by OpenAi Codex and works as a coding pair programmer. It is trained with machine learning and natural language processing (NLP) technologies. GitHub CoPilot functions by essentially through conversion of prompts from the user into codes.
More details about the GitHub Copilot have been provided below.
Some of the supported programming languages in GitHub Copilot include JavaScript, Java, C++, Go, Typescript etc.
Since it is programmed to work as a, AI pair programmer, it can create more comprehensive codes.
It not only works on major IDEs, it can also be integrated for functioning in applications like Visual Studio Code, Neovim etc.
The software is available for use for beginners for free, and for professionals and organisations on a paid basis.
35. Amazon CodeWhisperer
Amazon CodeWhisperer, the AI coding tool by Amazon, is a software that can effectively carry out functions related to providing code suggestions, writing codes based on user commands and prompts, complete functions and also provide explanation and related documentation to the user.
Find further details about Amazon CodeWhisperer here.
The supported coding languages for the tool include those like Python, C, C++, JavaScript, Kotlin, Rust etc.
The tool can perform functions like code generation, code suggestion, document generation, security planning and cybersafety and so on.
Some of the IDEs supported by this app include those like JetBrains IDE, VS Code, AWS Cloud 9, LambdaConsole, JupyterLab etc.
A number of free opportunities as well as paid opportunities suited to the needs of small teams and start-ups as well as well-established organisations are available on this platform.
36. Mutable AI
Writing code is made easy manifold by Mutable AIand its specifically designed and streamlined features that allow support to developers at various stages related to coding, autocompletion of codes, test generation or code generation based on prompts from users.
The features of MutableAI that help it stand out include:
The key features of MutableAI include its AI Autocomplete feature, Quality Code with One Click, Prompt Driven Development and Test Generation.
The compatible IDEs for this tool include those like VS Code, GitHub and JetBrains.
There are three packages or user modes available for software– the individual free package, the basic package, the CodeBase Pro package and the Enterprise package.
AI Tools for Sales and Customer Services
Sales and customer services are central to the growth of any business or company. With the digitization of the workspace, more and more customers and users prefer to work and communicate with businesses through digital means. Handling queries and attending to numerous customers can be quite tedious and require a huge sales task force as well. However, with the power of AI, a large number of specialised functions related to customer services and sales can be handled effectively through automation.

Find details about 10 of the most useful AI-applications for sales and customer services operations.
37. Kustomer
As the name of the software gives away,Kustomer is a tool that is designed to address the sales and customer care needs of enterprises and companies by harnessing the potential of AI to simulate human conversational patterns. The software provides AI-supported automation of aspects like answering FAQs, and other customer queries.
Certain specific features of Kustomer have been enlisted here for further reference:
This application makes use of custom bots that can analyse repeated requests and queries of users across the various platforms of a company to come up with automated answers for the same.
The application is integrated with NLP technologies that can analyse human conversation to provide more personalised responses to the users based on their specific needs and queries.
This software is equipped to identify the language the customer is using for their query and can effectively guide them to a native-speaking agent in that language based on a company's services.
There are two available versions of Kustomer for use by companies–Kustomer Enterprise and Kustomer Ultimate.
38. AutoResponder
AutoResponder is an application that works integratively with other messaging applications to provide automatic responses to queries and messages through its AI technologies. This can be a very useful tool for companies and marketing and sales teams to maximise their customer services on a round-the-clock basis.
Find further details about this application below:
The application is compatible to work with softwares like Chat GPT, GPT-4 and other AI-tools to provide effective automated responses to user queries with the touch of a personalised human conversation.
The application can provide unlimited automated responses to messages.
A few of the messaging applications that it can effectively work with include WhatsApp, Telegram, Viber, Facebook Messenger, Instagram DMs etc.
One of the best aspects of AutoResponder is that it is a free-to-use application and can be downloaded without any need for a payment.
39. MagicForm
Another tool for automation of responding to customer queries,MagicForm uses its AI features to provide seamless automated services to companies that address the user queries in a conversational manner akin to humans, thus adding a hint of a personal touch to solving the query of the user. This application has been programmed to understand the context of the query and answer accordingly in a personalised fashion.
The major features of MagicForm have been provided here:
The software can analyse and store important information about a company/organisation in its database to use it effectively in the conversations and query resolution as needed.
The application is compatible for use in over 30 languages.
The AI technology used in developing this software can go beyond the major GPT functions to analyse the context of the conversation with the customer and the company database information to provide the best resolution to the posed query.
The premium packages available for use in MagicForm include the Starter package, the Pro package and the Enterprise package.
40. Conversica
Conversica is an artificially intelligent tool that uses its technologies to drive important conversations with new or potential clients and customers to generate leads and contribute to the business development for a company. The application uses "revenue digital assistants" for the same, which are AI bots that can manage conversations in a personalised yet professional manner with customers and clients.
Find the key details related to Conversica given below.
The tool makes use of its AI features to create "revenue digital assistants", which are distinct digital personas that can handle crucial conversations in an efficient manner.
The tool also helps in lead generation by continuous follow-up on leads, addressing the key concerns of the potential customers and clients and so on.
The platform of Conversica can also provide visualised data about the analytics and rates of client onboarding and lead generation–thus providing important data-based support to the marketing and sales team of any company.
While a paid application to be used by professionals and enterprises, the pricing data of Conversica can be found from direct correspondence with the firm.
41. Second Nature
While not an application for direct interaction with the customers,Second Nature is an AI-based application that is used for sales training and customer service management for employees and interns in training. Programmed with AI and NLP technologies, this application simulates queries from a customer perspective to the trainee so as to provide practice of engaging with customers and resolving their queries.
Find the further details about Second Nature enlisted here.
The application can store the important company information, identify the key areas of concerns that customers are likely to face and consequently use it to create multiple scenarios and case studies as practice cases for the trainees.
To enhance the user engagement, this application uses gamification styles to provide scores, certifications and evaluation to the trainees as per their performance.
It can also display the summarised results of the evaluation to show the performance effectiveness of trainees.
Details about the pricing of the products and services of this application can be found upon directly contacting the platform.
42. Chatfuel AI
Chatfuel AI is a chatbot feature of the chat automation application, Chatfuel. The software is designed to automate the replies to common queries and frequently asked questions as well as general customer conversations to save time of the sales and customer relationship team and maximise business development rates.
Find further details about Chatfuel AI described below.
The tool has been created through the GPT-4 technology by OpenAI.
The tool is compatible for use with messaging platforms like Instagram, Facebook, Line, Telegram etc.
There are separate sections for display of replied inbox of chats and for requirement of live operators.
The 4 packages for the application use include the Start package, the Grow package, the Pro package and the Enterprise package.
43. WARMER.ai
WARMER.ai can be an extremely helpful tool for professionals and organisations where lead generation through email is one of the primary responsibilities. The tool is powered by AI-driven technologies that can generate automated emails for sales-driven and business purposes, thus helping the company to identify its niche audience and potential clients.
Some of the key features of WARMER.ai have been enlisted below.
This tool has been programmed to quickly analyse your prompts and provided information about your organisation/company to start crawling social media and other open access platforms for spotting potential clients.
It can quickly generate email messages that are personalised and can enable quicker and more efficient customer relationship management.
This tool can effectively crawl and read LinkedIn pages, websites and CSV pages to spot potential customers and clients and understand the details of their profile to send customised emails.
The tool is available for use in a number of paid packages for organisations, the details for which can be procured through direct contact with their official platform.
44. Candide
Candide is a customer relationship management (CRM) software that was formerly known as Looti AI. This application works by using its AI feature to identify potential leads and grow the pool of potential clients and customers for the brand. There are a number of unique features offered by this application, making it a valuable asset to the customer relations team.
The key features of the tool have been listed here.
To identify and generate leads quicker, Candide clusters data from the user's prompts and database to analyse it and match it with company needs and lead characteristics.
Not only for CRM purposes, the tool can also be used effectively to identify candidates for various job roles in the company.
Candide uses various filters to identify leads with the maximum chances of conversion.
The tool is offered through a free trial as well as an "Efficient" feature which is paid.
45. Drift
Drift is an AI-powered chat automation tool that enables sales and customer service teams to effectively tap on the potential customers and leads through personalised messages based on user needs. Through its assortment of services ranging from data analytics about customer and lead generation to the display of interests and needs of clients in summarised formats, Drift makes customer communication and lead generation easier.
Find further details about the Drift application here.
Drift can provide summarised results using data analytics to display a company's performance in real-time as well as to identify the potential leads for conversion.
Drift's integrated AI technology allows it to effectively tap into insights about customer needs and hence identify leads and high priority clients.
The application also provides chatbot services enabling automation of a large number of services related to customer communication.
The tool is not available for free usage, but there are 3 packages for users willing to take a paid package–Premium package, Advanced package and the Enterprise package.
46. Krisp
Krisp is a video and call assistance software that can be a life-saving AI tool for customer relations and sales executives. To rid professionals about the hassles of scheduling meetings, finding quiet places for getting on meetings and calls with potential leads and allowing them to actually focus on sealing leads and enhancing business development ideas.
Some of the key features available for use in Krisp include:
Krisp can effectively impact the quality of your calls and meetings by providing features like background noise cancellation, echo cancellation etc.
It also provides AI-chatbot assistance that allows it to prepare concise notes and summaries of meetings and prepare transcripts for the same.
Some of the specialised noise cancellation for which Krisp provides efficient services include crying baby noises, static noises, typic noises, background voices, sounds of pets etc.
The tool is available for use in 3 modes–the Free mode, the Pro mode and the Enterprise mode, the last being specially customised to meet the scalability needs of companies and large teams.
AI Tools for Students
Students today are required to multitask effectively in order to stay updated and put forth their best foot in academics. In this context, managing one's academic responsibilities along with various extracurricular activities and personal commitments is undoubtedly challenging. But with the help of certain AI tools that can effectively make the lives of students easier, this task becomes more achievable. Putting AI tools to use as a student can be tricky and must be done smartly to ensure that you can reap the most benefits and actually boost your performance and skills as a student.

Here we have enlisted and described the 5 most useful AI-enabled applications that can help a student excel in their academics.
47. Chat GPT
While we have delved into the purpose and use of Chat GPT as a supportive tool in writing and copywriting, for students, it can provide assistance across a more diverse range of tasks ranging from plagiarism checking, idea simulator for projects, application writing, management of time and schedules and so on. Here are some of the prominent uses of Chat GPT for students.
It can be used effectively by students as a summarisation tool–whether it is for reading long essays, revision needing effective summarization of class notes or for preparing a conclusion for a report.
It can be used for email management as it is a time-consuming aspect of student life. The tool can be used by a student to write emails after providing a summarised prompt about the basic premise of the email.
Chat GPT can be a treasure-trove of creative and unique ideas for students to draw inspiration from, whether it is related to topics for research, projects, assignment or writing essays.
A major usage of this software can be to generate practice questions for a particular topic for revision.
48. Canva
Canva is a graphic and multimedia editing tool that can be put to great creative usage by students for making their research proposals, presentations, assignments or projects more engaging and visually attractive. This tool is extremely easy-to-use and can not only be useful for creating visually appealing but can also help students boost their confidence when it comes to editing and graphic designing.
The top features of this application and uses for students include those like:
Most of the features of Canva are free to use, making it suitable for students. The Canva Pro feature is designed for professionals and enthusiasts of designing and editing to take their skills a notch up.
Students can create effective resumes, projects, informative visual graphics, edit videos or create detailed and appealing projects and presentations through this application.
It has a large number of ready-made templates for various projects, with assortments related to themes and topics to best suit the specific needs of the users.
49. SlidesGo
Similar to Canva but catering specifically to the needs of students regarding creation of presentations, this AI-powered tool provides support personalised for the specific project that the student is working on. SlidesGo provides numerous templates for students to choose from, and is compatible with major presentation slides platforms like the Microsoft PowerPoint or Google Slides.
Prominent features of SlidesGo and its uses include:
It contains a vast number of PPT templates based on a variety of factors such as the themes, subjects, colour assortments and so on.
This platform is suitable for use with Microsoft PowerPoint and Google Slides.
Readymade templates allow for more attention to the closer details of coming up with visually appealing presentations of high content quality.
50. Quillbot
Quillbot is a very effective writing assistance tool for students at all levels of education, especially higher education. This tool is designed to assist students with academic writing, helping them to create written pieces that are original, clear to read and engaging. This tool can be very helpful for providing a student with suggestions for writing and paraphrasing text snippets to enhance their clarity and appeal to the readers.
A few of the prominent features of Quillbot as a tool include:
It is highly efficient in paraphrasing a written piece into a unique piece whilst maintaining its core content and quality.
It can be used to assess the clarity of a textual snippet and enhance it based on the smart suggestions provided by the application.
It is ingrained with deep learning and AI technologies that allow it to effectively grasp the contextual meaning of the text and hence create paraphrases that can effectively tap into the essence of the original piece.
51. BONUS AI APPLICATION: Notion
Notion is a one-stop AI-enabled planner and knowledge storage application that can truly transform the experience of a student using AI tools. It has a vast variety of capacities and features and can be used effectively by students to plan their calendars, sort their to-do lists and deadlines, keep track of their schedules, expenses etc. through database-like storage options, accumulate knowledge in the Wiki section and so on. Not only is the app AI-enabled, it has a specialised AI assistant that can further ease the process of using this software.
The key features and uses of Notion AI include:
Notion AI can be used to effectively manage one's various engagements and their projects by tracking the progress made, the due date for the same as well as key accomplishments
Students can create their personalised Wikis on Notion wherein they can easily keep track of all their important information pertaining to their academics, personal details and endeavours, their schedule, their projects, their calendar and much more.
The tool also offers various editing features that allow the user to create and customise their own Wikis or personalised record keepers which match a certain theme, a certain colour palette and so on.
How to Effectively Manage Using AI Tools for Productivity?
While the use of tools enabled with AI technology can be quite beneficial for boosting one's productivity, we caution users against the indiscriminate usage of such tools which can create a dependence on such tools. Indiscriminate usage of tools powered with AI can lead to considerations and problems regarding plagiarism, ethical use of data and information, credit and copyright of artworks/graphic content etc.
Therefore to maximise productivity while ensuring the quality of the output generated, there are certain key dos and don'ts that users must keep in mind. Here we have enlisted them.
Always ensure that you personally conduct a quality assurance of the product/piece created using AI to ensure that requisite standards of creation are upheld in your work.
Fact checking is of utmost importance if you are fetching information using an AI tool since the results can sometimes have errors.
Use AI tools to derive creative ideas and inspiration rather than directly relying on the ideas generated/created by AI.
Do not copy any content from AI directly for any academic or professional purpose since it can raise concerns regarding plagiarism and the authenticity of your task.
Do not misuse AI tools to perform any unsecure tasks or those having legal implications such as copyright infringement, plagiarism, software piracy etc.
Use AI tools to perform tasks that are tedious and repetitive to prevent burnout.
Use AI tools to effectively detect errors in your work.
With this guide, a student or a professional can easily tap into the power of AI to maximise one's task productivity and quality.
Conclusion
It can be seen that the avenues and vistas being taken on by AI functioning are only broadening with each day as new AI-powered tools and softwares are coming up for specific functions and tasks. By combining one's human acumen and intuition with the consistency and versatility of AI technology, one can explore academic and professional fields effortlessly.