Content writing is often mistaken as an easy job- just simply writing down what one knows. But as this quote encapsulates, effective content writing needs a careful blend of strategy and putting down what one knows, which helps to add value to the readers' lives. Whether it be content written for the web, a blog you like or an adscript, content writing needs careful planning, engaging writing and information that is useful to the reader.
Are you seeking to start your own journey of content writing or a professional looking to grow your area of expertise? If so, you've landed at just the right spot! Continue reading, as we guide you through all you need to know about content writing and tips to improve your writing.
What is Content?
When it comes to what exactly is meant by "content", there can be a lot of confusion- is it the news article you read this morning while scrolling down the headlines? Or is it this blog that you are reading right now? Was it the social media story you swiped up on yesterday? Well, all of these, and many more forms of writing, comprise content writing.
Content is any form of digital information meant for consumption by a user. Going by this definition, content can be in a variety of formats-written, visual, audio or audio-video. When it comes to written content, it includes any written information packaged in a digital format to provide valuable knowledge to a reader. Often, content is prepared with a marketing aim in mind, while at the same time conveying useful information to readers.
Therefore, content in the modern world is:
Concise
Informative
Engaging
Useful from a Marketing Perspective
Well-researched
SEO-Optimised
What does a Content Writer Do?
The job of a content writer is, most obviously, to write and create content pieces, usually for the internet and having a business or marketing purpose. Content writers write content, proofread content, edit it as well as effectively strategize and plan the creation of content and assist in the creation of multimedia aids.
Types of Content- What We Find Online & More
Content writing, sometimes confused with creative writing, and sometimes with only writing blogs, moves much beyond these areas. Content writing is involved in virtually all domains of marketing a service or providing information to readers. It can be the social media content you write for a post, the script for an advertisement, the keynote speeches or newsletters, marketing emails sent out periodically to readers, or more conventionally, a blog or an article about a topic.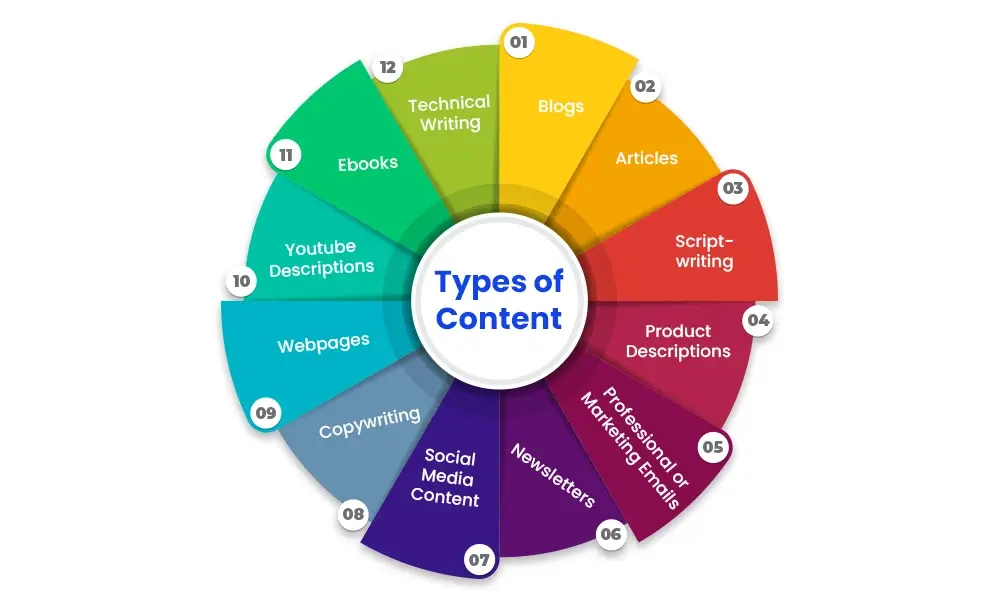 There can be a very large number of forms in which content is prepared. Here are some of the most common forms of content which you are likely to encounter when writing/reading:
1) Blogs
Blogs are one of the oldest and currently prevalent forms of content writing, and they can be in a variety of forms as well-
Blogs Written about currently Trending Issues
Blogs For Marketing Purposes
Informative Or Educational Blogs
Business Blogs
Personal Blogs
Lifestyle Blogs
News and Political Blogs etc.
In a marketing or professional setting, you might come most commonly across marketing, business, news, informative and educational blogs. Blogs usually have a free-flowing format, which can be tweaked as per need and preferences of the writer. They can have varying lengths, but should ideally be at least 1000 to 2000 words long.
Blogs that garner sufficient attention and readership today are often concise and to the point, with accurate and well-researched information.
2) Articles
Articles, closely related to blogs but more formally structured, are also pieces of writing aiming to provide useful information and perspectives to readers. They are also typically 500 to 1500 words long, although longer articles, approximately 1000 to 3000 words, are often written to provide more comprehensive information and rank higher for greater generation of traffic on websites.
Common types of articles written include:
Expository Articles (News Articles, Articles for Events etc.)
Narrative Articles (Event Covers etc.)
Descriptive Articles (Stories, Tutorial Articles, Informative Articles etc.)
Argumentative/Persuasive Articles (Editorials, Sociopolitical Articles etc.)
Articles are typically written in a more impersonal and formal format, with less space for providing personal information and opinions except in a few cases. Learn more about writing articles effectively here (insert link for article writing).
3) Script-writing
The scripts written for advertisements, podcasts, explainer videos etc. are also some of the common forms of content written from a marketing perspective. Script-writing requires deft skills in putting down words in the written format, but capturing the essence of information that can be conveyed through audio-video formats.
Ad scripts are engaging and can have a formal and professional or informal and creative format depending upon the nature of the ad or podcast. One of the key features of script-writing is that it is written to engage not a reader but a viewer/listener since the output is finally delivered in a audio-video format and not written words.
4) Product Descriptions
Product descriptions are specifically designed with a marketing purpose. Product descriptions are written to describe a product or a service to a customer, as well as provide information about its price, characteristics etc., explaining elaborately why it is worth choosing.
Product descriptions can be short and crisp, as seen in social media posts, or can be relatively more detailed-as seen in catalogues and user manuals. Product descriptions, being specifically for marketing purposes, must be engaging, persuasive and informative from a customer's perspective.
5) Professional or Marketing Emails
With the shift of businesses to the digital and online realm, professional emails and marketing emails are a key aspect of handling businesses, and a major strategic tool for advertising and marketing. Writing professional and marketing emails requires skills such as engaging and hooking the mail recipient, as in a fast-paced business world, emails are most likely to get lost in a sea of spam messages or junk mails. Thus, marketing emails and professional mails need to be written such that they articulate the central message quickly, in an engaging and concise manner.
6) Newsletters
Newsletters are periodical content pieces written to inform and update readers about a company or venture, its recent activities and events, and so on, in the form of short news pieces. Newsletters are shared commonly with the regular customers, subscribers or clients of a company, and are mainly written from a marketing and relationship-building aim with the customers.
Newsletters are written in a more formal, concise and informative manner- much like a news report. They are often similar in format to narrative news articles, but can be relatively shorter since they are often shared over emails or other digital platforms, thus needing to engage readers in a shorter span of time and attention.
7) Social Media Content
Social media content includes all types of content created to be shared over social media, ranging from post content, content for stories, tweets, longer posts on platforms like Quora, Reddit, Tumblr etc. In this regard, some content can be solely for reading, as in the case of social media threads, tweets, posts on Quora, Tumblr etc. or can be created as scripts to be finally delivered in the audio-video formats as per the requirement.
Social media content can have both formal and informal tones depending on the purpose of the post, and often requires the content writer to come up with creative, engaging and innovative content that is interesting and hooking to the viewer/reader on an online social media platform. In this regard, tweaking one's content to be entertaining and informative at the same time, and most importantly conveying useful information in a short span of time is needed.
8) Copywriting
Copywriting is a wide umbrella domain of content writing that requires written content for advertising and marketing purposes, and can be in a wide variety of formats such as short product descriptions, social media content, content for advertisements, websites, newsletters about the company, catalogues, scriptwriting, writing slogans and brand taglines etc.
Copywriting requires flexibility, creativity and ability to adapt one's content to convey the brand image and message while making the content interesting, entertaining and informative for the viewer/reader.
9) Webpages
Webpages are one of the most common formats in which content writers today are required to write. Since content writing is majorly concerned with the online and digital formats, a large amount of content may be created for websites, usually in the form of webpages. Content written for web pages can be of various types- ranging from website landing pages, testimonials, website guidelines and policies, product (or service) descriptions, homepage, contact information pages, About Us page etc. Depending upon the type of content being produced, the tone, format, length and content of the pieces would vary.
10) Youtube Descriptions
Although it may not be seen as content writing in conventional terms, writing description and testimonials for Youtube videos is another format in which content is written these days. Often, writing testimonials and Youtube descriptions for videos can be done by copywriters or content writers who work with other forms of writing as well. Youtube descriptions need to be informative and concise, and so the content writer should be able to articulate the information in a short word limit concisely.
11) Ebooks
This is a longer form of content writing, in which pieces are usually written with over 4000+ words, and they are helpful when the writer needs to present elaborate and comprehensive information to the reader. They can be written for informational and educational purposes, for detailed company descriptions and brand stories, user manuals, customer stories etc.
These forms of writing need to be detailed, informative, well-researched as well as able to hold the reader's attention in an interesting and engaging way, since the format is long for the pieces. Depending upon the purpose of writing the ebook, the tone and style of writing can be formal and structured, but even in cases of more informal pieces, a basic structure is needed to make the content readable and more comprehensible.
12) Technical Writing
Technical writing can involve various forms such as UX writing, writing researched pieces about a particular product or technical guides, press releases, business proposals and white papers etc. Technical writing requires the use of simple and concise language to make the content easily understandable and to-the-point. The tone, format and length of the pieces would accordingly vary as per whether one is writing a user manual, a technical guide, a press release or a UX piece.
Why Effective Content Writing is Important
Unique and engaging content is central to growing one's online presence today, and this is especially true in the case of businesses and professional ventures, whether at the personal or the organizational level. Content in various forms and formats are virtually required by all companies and organisations to convey their brand story, describe the company products and services as well as effectively engage with clients and customers through providing informative content.

Writing effective, unique and informative content for a variety of reasons such as:
It helps to create a strong brand image to the customers.
It is required to produce content in a variety of formats such as blogs, podcasts and advertisements, social media content, researched articles, emails, newsletters etc.
It helps to guide the customers about the company's products and services.
Effectively written content helps in engaging with clients and potential customers
Unique and informative content attracts more readers, helping in business growth.
Effective content writing is needed for professional business communication, as content writers are involved in writing emails, white papers, business proposals, brand stories etc.
Thus, content writing, especially informative and uniquely written content, is very helpful for growing businesses online and helping in customer engagement.
Top 10 tips for excelling in content writing
Here we have summarised some of the most important aspects to keep in mind while writing content for the web or business purposes. Keep these tips in mind while writing the next time for the internet or marketing purposes, to make your content a stronger contender for ranking and business growth.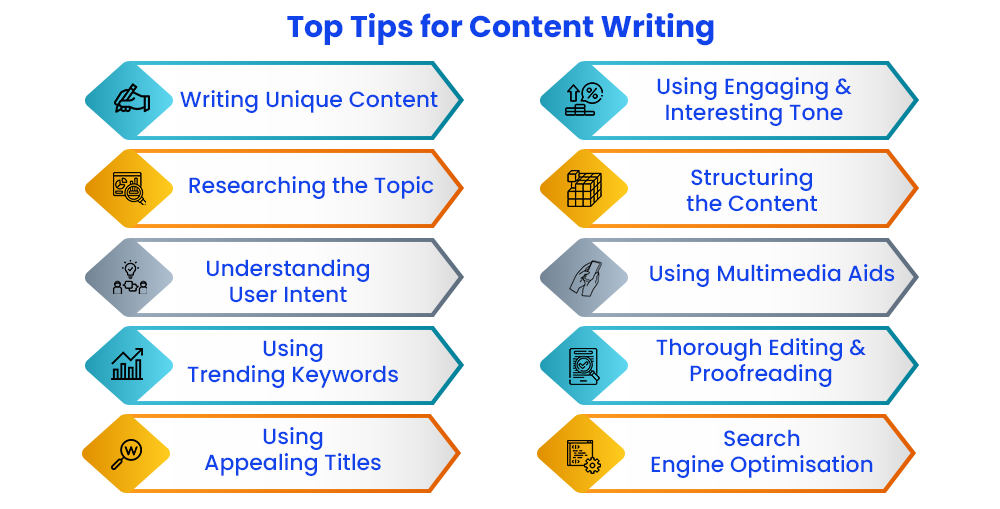 1) Create Original and Unique Content
The very first sermon to always follow while writing any form of content, be it the shorter or longer forms, is to ensure original and unique writing. One of the key reasons as to why many writers are not able to successfully write for the internet is the lack of original ideas.
Content writing for marketing and the internet needs to be unique and plagiarism free, i.e. it should not be copied or taken from any uncited source. Copied content, when scanned by the bots of search engines, is identified as plagiarised, and inevitably falls on the ranking of pages. So, the key to writing efficiently is ensuring your articles are original and not plagiarised from any source.
2) Research and Understand Your Area of Focus
Before you start to write content in any form, it is important to conduct thorough research on the topic. Having an in-depth understanding of the topic and knowing its basics is very important for being able to write effectively on the topic.
Initial research is also essential for providing correct information in your pieces. Providing incorrect factual information can lead to a significant loss of readers, as incorrect information creates a very negative impression about the brand/company or source of the information. This is also associated with loss of brand authority. So, researching about the topic before writing about it is extremely important.
3) Understand User Intent
Understanding the need and intent of search for the reader is key to having ranking content pieces. So, understanding the purpose of the search on a particular topic can help you to write a piece that answers all the questions of the reader.
So, while writing a content piece, you should ensure it provides answers to the readers' questions in a concise and factually accurate way. Moreover, understanding your target audience for a piece (e.g. a business group in case of a business proposal vs a seeker of infotainment in the case of social media audience) will help you write more effectively to meet the readers' requirements, mindsets and accordingly describe your brand and business to the target audience.
4) Research Keywords
Researching about the trending keywords for a given topic is essential from a search-engine optimisation perspective. Including the trending keywords and phrases in your piece of writing helps in increasing its search engine value as it is more likely to rank higher and get identified by the search engine bots as having relevant information sought by readers.
Identifying the relevant and trending keywords, phrases and terms related to a particular topic can be quite helpful in writing a ranking blog/article/webpage.
5) Use an Engaging Hook
The digital sphere and consumers of digital media are extremely fast-paced, leading to a lowered attention span. The average attention span of a reader on the internet is no more than 8 seconds! So, if you wish to have a good readership and engagement of customers with your content, you need to grab their attention right away from the beginning.
For this, you can use an innovative and curiosity-provoking hook at the beginning of your piece. This can be a thought-provoking quote, a line from a famous piece of media (with due citation), a question etc. A hook that ties the attention of the readers to the piece is helpful for increasing engagement with your content. Greater reader engagement translates to greater brand and website authority in the longer run.
6) Make your Content Engaging and Interesting
This is a basic aspect to keep in mind when writing for any format, but especially more so for content writing for business and marketing purposes, as the writer needs to capture the reader's attention about their brand and product in the limited period of attention of an average digital consumer.
So, a basic need to always meet is that your content is interesting and engaging to read, and not be unnecessarily elaborate but rather concise, to-the-point and informative. The linguistic tone should be comprehensible and not beyond the level of understanding of the intended target audience. So, if you are writing content aimed at targeting high school students, the language should not be as sophisticated as the level of comprehension of a professional teacher.
If your content piece can have an informal tone (for example, content for an advertisement, social media etc.) then you can use humorous, innovative and witty ways of writing to pique the curiosity of viewers/readers as well as create an impression on your target audience. Creating a brand impression in a sea of numerous companies and brands can help you set your venture apart from others, helping a viewer/reader recognise your brand and increase brand engagement.
7) Organise Content
Whenever you are writing content for the internet, making it quickly scannable and comprehensible helps the readers to find relevant answers to their questions quickly and effortlessly. With multiple sources of information available on the internet at the click of a mouse, having scannable and organised content helps to engage the reader with your piece without them exiting the page right away.
Some of the important strategies that can be used in this regard include:
Ensure that your content is not crammed with too much information and is quickly readable- use appropriate text spacing, font style, font size etc.
Organise the topics in your content in appropriate headings and subheadings to provide it a proper hierarchical structure.
Use tables, tabulations, bullet pointers, flowcharts and diagrams wherever possible as these are easier to read than prose and can be quickly scanned by readers.
8) Intersperse Content with Multimedia
Have you ever read a textbook extensively written with text but without a single graphical or schematic diagram? Or trying to scan through a blog without any graphics? The chances are that while going through such pieces, you experienced a loss of interest midway.
Similar is the case with readers when you try to put in extensively researched material solely through text. Effectively written content does not only include text but can also convey information through images, tabulations, graphs, diagrams and audio-video representations. These make your content piece interesting and provide a good chance to readers from simply reading to developing understanding through images and audio-visual aids. With the digital sphere shifting more and more towards multimedia, interspersing written content with multimedia aids helps in the better ranking of your pages on search engines as well as readers tend to engage with content having diverse media cues.
9) Always Edit your First Drafts
One cannot emphasise the importance of editing enough. The very first draft you prepare for any piece of content, be it a brief ad script or a longer blog or article, is often crude and exemplifies your initial ideas. It is advisable to read the piece at least twice thoroughly.
With thorough editing and proofreading, you can not only identify mistakes and errors to correct in your piece, you can also develop new and unique ideas along the way which you can include in your piece. Rereading and editing your pieces helps in recognising your voice and tone, seeing if it fits your main message of the content and adjusting it accordingly.
10) Make your Content SEO-Friendly
Since content writing is primarily concerned with writing for the internet and for marketing and business purposes, making it SEO-friendly is very important to ensure ranking and engagement in search engines. SEO or search engine optimization, includes making content appropriately adjusted and modified to yield a higher engagement with users on search engines like Google, Yahoo etc. In essence, the tips that we have been discussing so far help to make your content SEO-friendly. We have listed some more aspects to make your content appropriate for higher ranking on search engines.
SEO-friendly content writing:
Is Grammatically Accurate
Is Plagiarism-Free and Unique
Is Useful and Well-Researched
Is Organised in Headings, Subheadings etc.
Includes Tables, Pointers etc.
Includes Trending and Important Keywords but Not Stuffed with Them
Has Backlinks and Efficient Interlinking with Other Pages
Is At Least 1500+ Words long, Answering the Main Queries of the Reader
Includes Multimedia Content Along with Text
Top Skills for Content Writers
While content writing abilities can be effectively improved through practice, there are certain basic skills that a content writer needs to have and work on further. Here we have listed some of the key skills needed to excel in career domains related to content writing.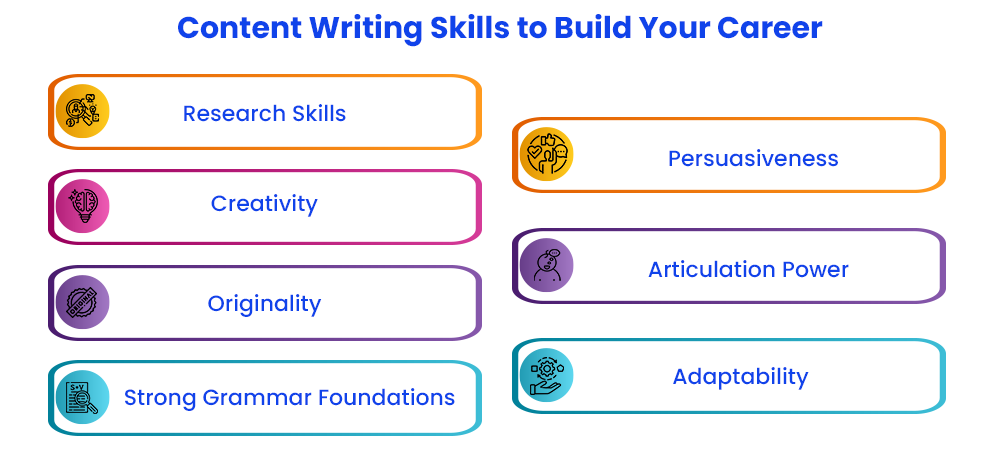 1) Research Skills
Since researching and developing a sufficient understanding of the topic of concern is preliminary to content writing, a content writer should possess good research skills, which includes studying multiple sources of information, understanding and identifying key aspects of the problem and further using this understanding to write the content in an informative, factually well-researched and engaging manner.
2) Creative Writing Skills
Since content writing requires writing original content consistently and in an engaging manner, creativity is very important for this domain. Moreover, for copywriting and script writing, one needs to develop content that is catchy, appealing, unique, informative and entertaining simultaneously. Thus, creativity is central to writing innovatively and increasing the reader's engagement with your content.
3) Grammatical Knowledge and a Good Vocabulary
This is a central aspect of content writing, since writing effectively requires that the piece is error-free, both grammatically and spelling-wise. For this, a thorough and strong base in grammar and diction is needed. Hence, grammatical knowledge and a vast vocabulary is a mandatory skill area that a content writer must possess.
4) Convincing Power and Persuasiveness
Since content writing often has a marketing and business growth objective, a content writer should be able to convince and persuade the reader/viewer about the usefulness of their product/service without sounding compelling. This is especially needed for copywriting, ad script writing, business proposals, marketing emails etc. So, the ability to write persuasively without sounding biased, is a skill a content writer must possess to write impactful pieces.
5) Originality
Being original in your writing is an irreplaceable skill that can take you places in the field of content writing. While adapting your tone and writing style as per the purpose of writing is needed, maintaining an originality in your way of writing, whether it's about your vocabulary, style of articulation or overall appeal of a piece, being original and having unique ideas of writing are central to increasing the impact of a piece you write. Moreover, maintaining originality in writing is also important to avoid any plagiarism threats. Writing original and unique content that provides meaningful and concise answers to reader queries is the key to top ranking pieces published on the internet.
6) Ability to Articulate Ideas
One could write extensively but be unable to convey the exact intended message to the reader. As a content writer, you should be able to provide answers to the readers' questions while also conveying the intended message of your piece (i.e. the business appeal or the marketing pitch) effectively. Being able to articulate your ideas and messages through your reading is even more essential for copywriting, ad script writing or white papers and marketing mails. For such types of content, the writer should be able to create an impact and articulate the message of the brand or advertisement through limited words. Hence articulation capabilities become central to the impact that the piece has on the minds of its readers and viewers.
7) Editing and Proofreading Skills
This skill can improve further with more practice. The practice of editing and carefully proofreading the pieces you write is especially important in the case of longer pieces such as blogs and articles. Whether it is identifying the errors or areas needing improvement, proofreading and editing can help produce a final piece free of language errors, aligned with your initial message and intended purpose of writing. Editing and proofreading does not only involve skimming through a document/written piece for grammar or spelling error, it also includes:
Checking if the tone of your piece matches the intended tone (e.g. formal vs informal, witty and entertaining vs informative etc.)
Checking if the piece conveys the brand message or marketing aim properly
Checking if your piece covers all the important topics well
Ensuring that the content is not repetitive or monotonous
Checking the factual accuracy of a piece (e.g. while writing informative pieces or blogs and articles)
Checking if the content is properly structured and organised in headings, subheadings etc., and if that organisation makes logical sense
Checking your content for plagiarism or for violation of any copyright issues etc.
So effective proofreading and editing is not simply a task but also a skill you should actively develop and practise while writing content of all types.
8) Adaptability
The last skill we mention here on a concluding note is being adaptable. As a professional or freelancing content writer, you may not have the chance to specialise in only one type of content throughout your career or even in your current job (e.g only writing blogs or only writing ad scripts). The field requires a diverse set of skills for writing in various formats and hence one of the skills needed to thrive in this field is being adaptable and flexible. One should be able to effectively shift one's focus and perspective of writing, set the tone of the piece and adjust the sophistication level of the language of the piece as per the requirement and purpose of writing that particular piece. Hence being adaptable and flexible is extremely essential for excelling as a content writer.
Courses in Content Writing for Skill Development
While content writing skills and developing them depends on practice to a large extent, you can also take up some basic or advanced courses in content writing to improve your skills of content writing. If you want to start content writing or learn more about professional content writing, there are a number of courses in the online (or offline) mode that can be taken up.
There are professional content writing courses as well as content writing courses for beginners which are available across a large number of online learning platforms. There are short-term certification courses which can be pursued comfortably from home or any location of your choice. Some of these courses can be free of cost whereas some courses may be paid.
Here we have listed some of the top popular and well-regarded courses on content writing available to pursue through the online mode.
| | | | |
| --- | --- | --- | --- |
| Course | Platform | Cost/Fee | Course Duration |
| The Content Writing Course | Udemy | INR 649 | 16 Hours |
| Complete Web Content Writing Masterclass | Udemy | INR 649 | 4.5 Hours |
| Content Writing Master Course | IIM Skills | INR 14,900 | 30 Hours |
| Content is King: Writing Killer Content for Web & Marketing | Udemy | INR 649 | 3 Hours |
| The Strategy of Content Marketing | Coursera | INR 2152 | 20 Hours |
| Content Marketing Basics | Great Learning | Free of Cost | 2 Hours |
| Copywriting for Digital Marketing | edX Learning | – | 6 Weeks |
| HubSpot High Impact Writing Course | Hubspot Academy | Free of Cost | Self-Paced |
| Content Writing Course | Henry Harvin | – | 36 Hours |
| Content Marketing 101: Your Guide to Effective Blogging | Udemy | INR 649 | 22 Hours |
How to Start Content Writing from Home?
If you are a beginner in content writing, there are certain key requirements that you must consider to start learning about content writing:
You should have a basic knowledge of the language you want to write in (e.g. English, Hindi, regional languages etc.)
You should have access to an electronic device for typing
You should have access to the internet to start researching and exploring your options
You should have a preliminary understanding about SEO friendly writing.
If you want to start content writing from home, then you need to first develop your basic skills of content writing. Here we have provided a list of the basic ways in which you can start your content writing journey from home:
Start educating yourself and developing your skills of content writing through taking up various online courses on content writing. Such short-term online courses can help you form a strong base before you start writing.
Many of these online courses are free of cost to pursue as well as provide shareable certificates as well, which you can include in your qualification profile in the future when you start looking for professional content writing opportunities.
After you have developed some basic understanding of the field of content writing, you can start writing itself. For this, you can choose a specific niche or choose to focus on general, broader and diverse areas.
The main aim at this point is to start practising writing for the web.
Once you have selected the topics you want to write about, you can set-up your own personalised blog. There are a large number of websites and blogging sites which allow you to create your own blog for free such as Wordpress, Wix, Blogger, LinkedIn, Medium, Weebly etc.
When you create your own blog, you can start writing pieces, in the shorter or longer format as per your intended audience. You can create pieces with consideration of SEO, research, marketing/persuasive appeal etc.
You can also create your portfolio of writing based on your pieces as well as highlight their reader engagement.
Once you have gained sufficient experience and knowledge base in content writing for the web, you can start exploring your professional opportunities in content writing.
If you want to work as a content writer from home, then you can either look for work-from-home job opportunities in organisations or go for freelancing.
You can create accounts on freelancing platforms such as Fiverr or Upwork as well as on professional social media platforms like LinkedIn and others to expose yourself to the available job domains in these fields.
You can start working as a freelancer for organisations or third-party agencies which hire content writers to work on a diversity of topics.
You can simultaneously explore job opportunities in the work-from-home mode and apply to firms and organisations that have openings for content writing.
You can participate in writing engagement activities organised over the internet to increase reader engagement, reach a larger audience and grow your business or personal brand image.
How to Optimise your Content for the Web?
Writing for the internet and web may be new to many writers and as a result, one may not be aware of the nuances of the field of web optimisation. However, making your content optimised for the internet is very important if one wants their piece to rank higher in search engines and generate reader engagement. This is needed for gathering more leads for one's business or marketing venture, and eventually converting those leads to grow the business.
For this, effective SEO editing is needed on the content before it is uploaded on the internet. There are a few practices to engage in to ensure that your content is SEO-friendly. Doing this will be helpful in garnering more readers and leads to your page. Here are a few useful tips for optimising your content for the web
Include important keywords. Research about the main keywords, along with related keywords which have high search volume pertaining to your niche topic. Use such keywords in your content but do not stuff it excessively with keywords, as it isn't an ideal practice for higher ranking in search engines.
Organise your content in headings, subheadings as already discussed. This will help search engine bots to skim through your content and make sense of it, helping it to show your content to the appropriate target audience.
Use multimedia aids, in the form of graphic images, informative creative images, graphs, audio-video aids etc. to make your content more engaging and optimised for meeting readers' needs and queries.
Use effective interlinking and backlinking, that is, provide hyperlinks to other pages on your website to increase reader engagement with your website.
Optimise the length of your piece. If you are writing content in the form of blog posts, articles or news reports for your website, try to ensure that your content is at least 1500+ words long or more- the key to generating more traffic on your website today is not short content posted frequently but longer, well-researched and elaborate content posted on an intermediate basis.
Write unique and plagiarism-free content, as plagiarising content leads to rapid lowering of the rankings of a page on the internet and search engine as well as diminishes the brand authority and user engagement. Writing unique and non-plagiarised content is the key to SEO-friendly writing.
Additionally, keep the tips for effective content writing in mind for better performing pages and pieces, with enhanced user engagement.
Best tools for content writing
Content writing for the internet or for business purposes can be aided by a number of tools that can be helpful in making your content better-suited for performing efficiently on internet platforms. Some of these tools are free to use, while some can be subscribed to.
Here we have mentioned some of the applications and tools that can be used by novice to expert content writers for optimising and improving the quality of the content they write.
1) Grammarly
Grammarly is a writing assistance tool with a diverse number of features, and being free to use (with a subscription-based version available for advanced features), it is one of the most useful tools available to improve the quality of your content. Grammarly is an easy-to-use AI-supported tool that provides suggestions for improving the content simultaneously as you write. Some of its top features include:
Identifying spelling errors
Identifying grammatical errors
Identifying the tone of your writing and suggesting changes as per the customisations provided.
Identifying plagiarism in your content
Suggest changes in your content for enhanced clarity, engagement, delivery etc.
2) Thesaurus
The thesaurus tool can be very helpful in developing a strong vocabulary and diction to use in content writing. This tool provides a number of synonyms, antonyms, and grammar suggestions as well as writing suggestions to the readers for making the content more impactful and engaging for readers. Thesaurus tool is available to use free of cost on the internet at https://www.thesaurus.com/
3) Chat GPT
Chat GPT is a free to use AI chatbot that has been developed by Open AI that can be effectively and strategically used for developing content ideas, finding unique niche topics to write about as well as use as a grammar and linguistic suggestions tool. However, the tool also has potential to be misused, and there are a number of aspects to keep in mind while using Chat GPT for supporting your content writing.
Some of the best uses of Chat GPT for a content writer include:
Using Chat GPT as a grammar and spelling correction tool
Using Chat GPT to find unique topics to write about
Using Chat GPT to generate ideas and important facts about any given topic
Using Chat GPT to gather important information about any topic quickly
Using Chat GPT to generate conclusions for a given topic.
Using Chat GPT to summarise large articles to develop a concise understanding about a topic
Using Chat GPT to get suggestions for social media captions, titles for blogs and articles etc.
There are some aspects while using Chat GPT for content writing that should be strictly avoided:
Copying Any Content Created by Chat GPT directly.
Relying Completely on Chat GPT for facts and information without cross-checking
Do not rely solely on Chat GPT for grammatical and spelling correction as sometimes it cannot spot errors.
Do not become excessively dependent upon Chat GPT for generating ideas as it can hamper your own creativity of writing.
Is Chat GPT a Boon or a Bane? Due to the extreme power and rapidly evolving capabilities of Chat GPT, many content writers are worried that their job and occupation of writing is soon to be replaced by automation and AI-driven writing tools. In this regard, it is important to remember that Chat GPT cannot completely develop the human ability to write irrespective of how advanced it becomes. The human understanding of writing content tweaked specifically to meet the demands of the reader, with nuanced refinements of tone, business appeal, creativity and uniqueness is hard to emulate by an AI software.
Rather, Chat GPT is a highly useful assistive tool for content writing, as it can become your one-stop assistant for planning out your content, structuring it, checking grammar and spelling errors, suggesting corrections and giving new ideas for writing when you run out of them!! Find out detailed guidelines and information about how you can use Chat GPT here.
4) Copyscape
Copyscape is a tool for checking the plagiarism of any written piece published on the internet. The tool is available to use over the internet free of cost and with a subscription as well. The tool's main features include:
Checking the plagiarism of any content published by you by simply providing the URL of the page.
Identifying if copies of your published content are present on the internet.
Provide protection against sources trying to copy your content
5) HubSpot's Blog Ideas Generator
Hubspot's Blog Ideas Generator can be your saviour when going through writer's block. This free-to-use tool suggests blog ideas and ideas about catchy and appealing titles of blogs to drive traffic to your piece and generate leads. This tool is helpful for developing detailed ideas about pieces you want to write when you only have a preliminary idea about the topic or domain of your choice. The premium version of the app also provides features such as blog editing, SEO and keyword analysis, suggestions etc.
6) SEO Ranking Content Marketing Tool
This is a holistic and all-round SEO tool that will be helpful in creating an SEO-friendly piece for the internet. The tool is available to use for subscribers of SEO Ranking and has features such as suggesting ideas and trending topics for your pieces to provide higher reader engagement, SEO-optimising your content, checking the overall quality of a content piece, guiding keyword usage, evaluation of written content against competitors etc. This tool is suitable for intermediate to advanced content writers.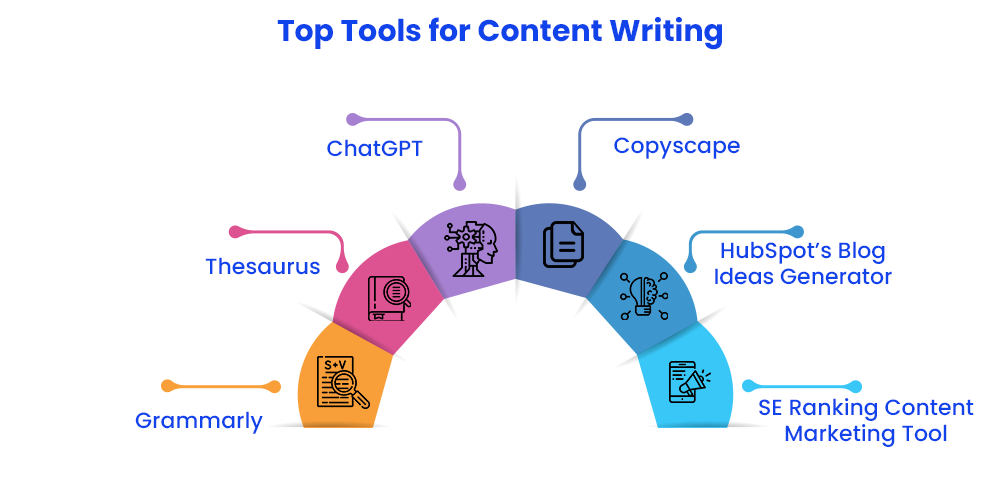 Content writing careers in India
There are a considerably large number of career options one can choose to pursue in the field of content writing in India. One of the added advantages of pursuing a career in the field of content writing is that one can start very early on-while pursuing one's study and alongside full-time jobs as well.
Content writing is currently one of the most accessible job domains in the professional spheres, and simultaneously one of the most demanded ones, since all types of business ventures require some form of online presence and hence unique content to create an impression in the minds of readers and viewers.
Here we have listed some of the appealing job roles in the field of content writing along with the average salaries offered in India for the same.
| | |
| --- | --- |
| Job Roles | Average Salary in India (per annum) |
| News Writer | INR 4,00,000 |
| Social Media Writer | INR 3,00,000 |
| Copywriter | INR 4,50,000 |
| Blogger | INR 3,00,000 |
| Research Writer | INR 2,50,000 |
| Script Writer | INR 12,00,000 |
| Technical Writer | INR 6,50,000 |
| Freelancer | INR 4,50,000 |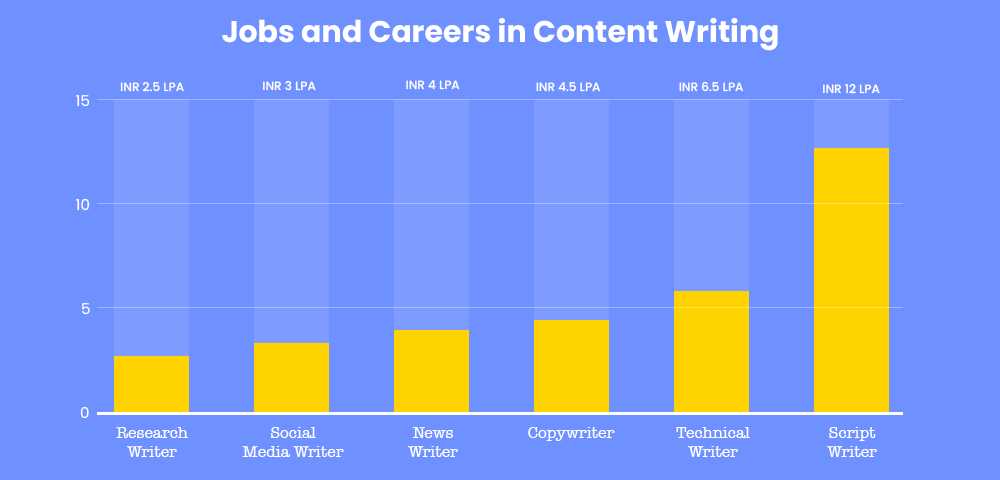 The salaries mentioned above are average salaries offered at entry level to mid-level positions. With increasing experience and specialisation, the salaries are subject to substantial rise. Another advantage of this field is that you can start working remotely or in the physical mode as a content writer from college years itself. There are a number of institutions and companies that hire students as intern content writers as well, and can hence serve as a good source of side income.
Future Scope of Content Writing
As automation and AI takes over the major job sectors, reducing the need for human efforts in performing job tasks, many content writers are worried about the future scope of the field. Many fear that the sector will be taken over by automated text generators and AI driven writing robots that can effectively produce unique pieces of writing like humans.
However, it is not to be feared that AI systems will completely take over human efforts of writing. If that were to be the case, then the need for humans to write would have declined with the advent of the computer itself. The style of human writing can only be mimicked to an extent, but not exhaustively emulated to replace human writers with robots.
Rather, with the growing shift of businesses from the physical to digital environment, the need for content writers to effectively describe businesses as well as indulge in marketing products and businesses is only to rise further.
So the scope of this field is growing and prosperous. In the future, the scope of content writing is to grow through
Increased diversity of freelancing opportunities of content writing for organisations
Diverse job roles for content writers
More opportunities available globally, as connectivity will be boosted with technological advancements
The growth of practices like ghostwriting etc.
The career options in the industry are rising, and by integrating the use of machine-driven technologies like AI tools, content writers can write pieces that are tailored to the unique needs of the readers and grow a successful, high-paying and satisfying career.
Top Trending Article