When selecting which course to pursue, the major factor that one keeps in mind is their future career and its scope. There are various preferred and popular courses individuals select to pursue as their bachelor's, one such popular course is the Bachelor of Commerce.

B.Com Program pursuing can help students to have decent jobs and accordingly, salary can be obtained. A student invests their 3 years to choose a suitable career option for their professional beginning. The jobs and the variant job profiles have been introduced for the B.Com Graduates. The basic pay scale for the B.Com program is around 2LPA to 5LPA. Also, the pay scale depends on the profile and job designation, an increment with years of experience can be gained for career betterment.
To secure a high-paying job in today's competitive world, B.Com is not enough. Students must take further courses to establish a great career in this field. Keeping this in mind we have mentioned the 7 best career options and courses to establish a good career in them after B.Com.
So let's get started.
#1 Online Master of Commerce (M.Com)
Online M.Com is a postgraduate course specially designed for B.Com pass out to give them more tools and in-depth knowledge. This post-graduation course is for 2 years, best for students who wish to polish their skills more and get insight on how to apply their theoretical knowledge correctly in the professional world.
This postgraduate course deals with subjects like banking, finance, taxation, business management, etc. M.Com is suitable for those individuals who wish to work in the taxation, accounting, or BFSI ( banking financial service, and insurance ) sectors.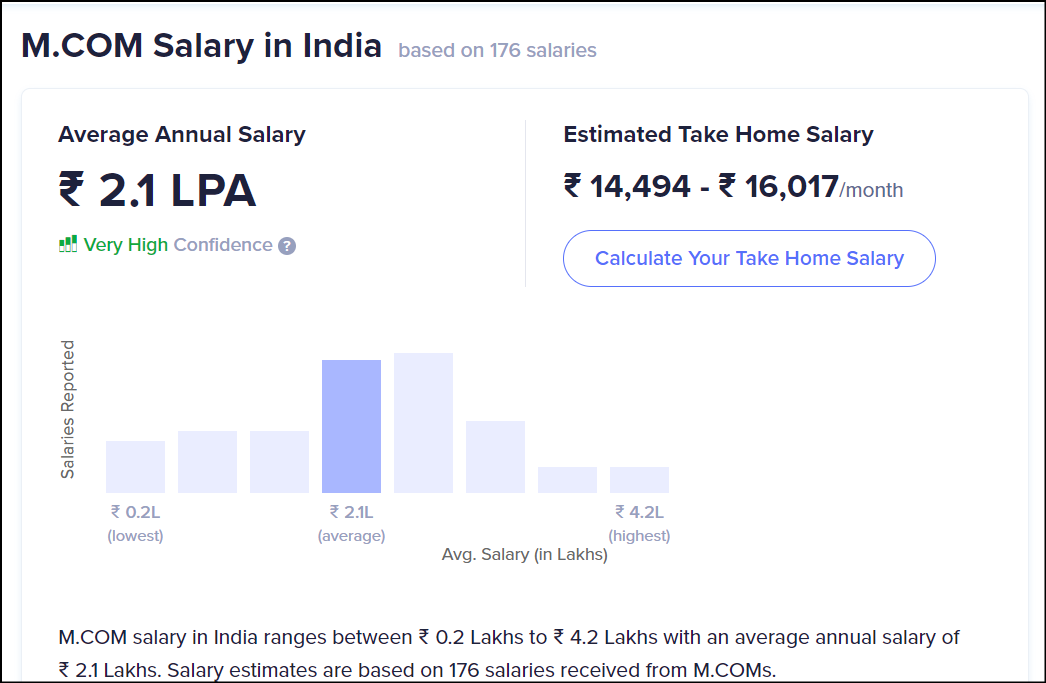 This post-graduation course prepares students for roles like Accountant, Accountant Executive, Finance Manager, etc. Some top recruiters for M.Com passouts include Accenture, TATA Consultancy Service Ltd, Infosys BPO, etc.
#2 Chartered Accountancy
One thought that comes across every student who pursues B.Com is that he/she should become a CA. CA is one of the most reputed career options after B.Com. To become a CA one must excel in the 3 stages involved in being a Chartered Accountant and get an internship of at least 2.5 years.
The course is 3 years long. Individuals who complete this course are eligible to secure a position in companies like Deloitte. Some other top recruiters for Chartered Accountants consist of ICICI Bank, McKinsey, Company, Inc, KPMG Consulting, etc.
Chartered Accountant is one of the leading profiles where a student is attracted towards. CA has been in demand for the last 3-4 decades and still holds a dominating position.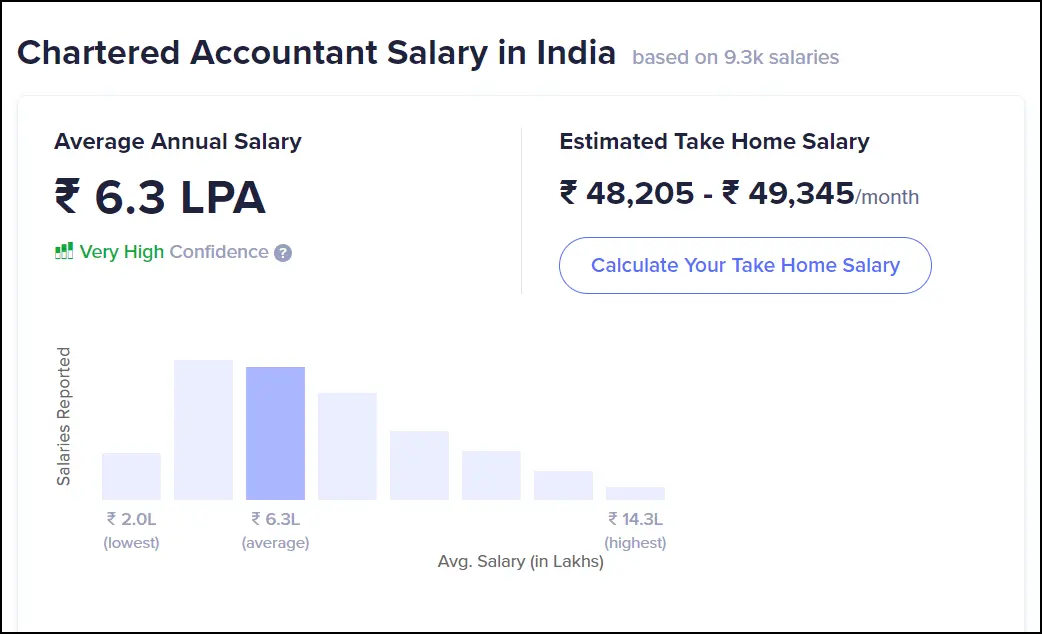 An Individual who has completed their CA Educational Journey can look forward to some fantastic job positions and also the salary packages are excellent. Fresher, Practising and experienced is the process of a designation takes place. For the figures of amount students can get 6 LPA to 14 LPA. The Hike can be expected according to the experience gained after being a CA.
#3 CFA (Chartered Financial Analyst)
This 2.5-year course is one of the best options for those who are looking to secure good and high-paying jobs. CFA is offered by the CFA institute and the position itself is globally recognized.
This course includes a variety of subjects like investment analysis, economics, statistics, portfolio management, etc. To become a CFA individuals are required to clear a 3-tier examination. CFAs are swooped away by big brands like JP Morgan, BlackRock, Morgan Stanley, etc.
Chartered Finance Accountant Profile is a popular profile which majority of the students are thinking of starting their career. The best part is that CFA has a very good pay scale which can be effective for the student's successful career.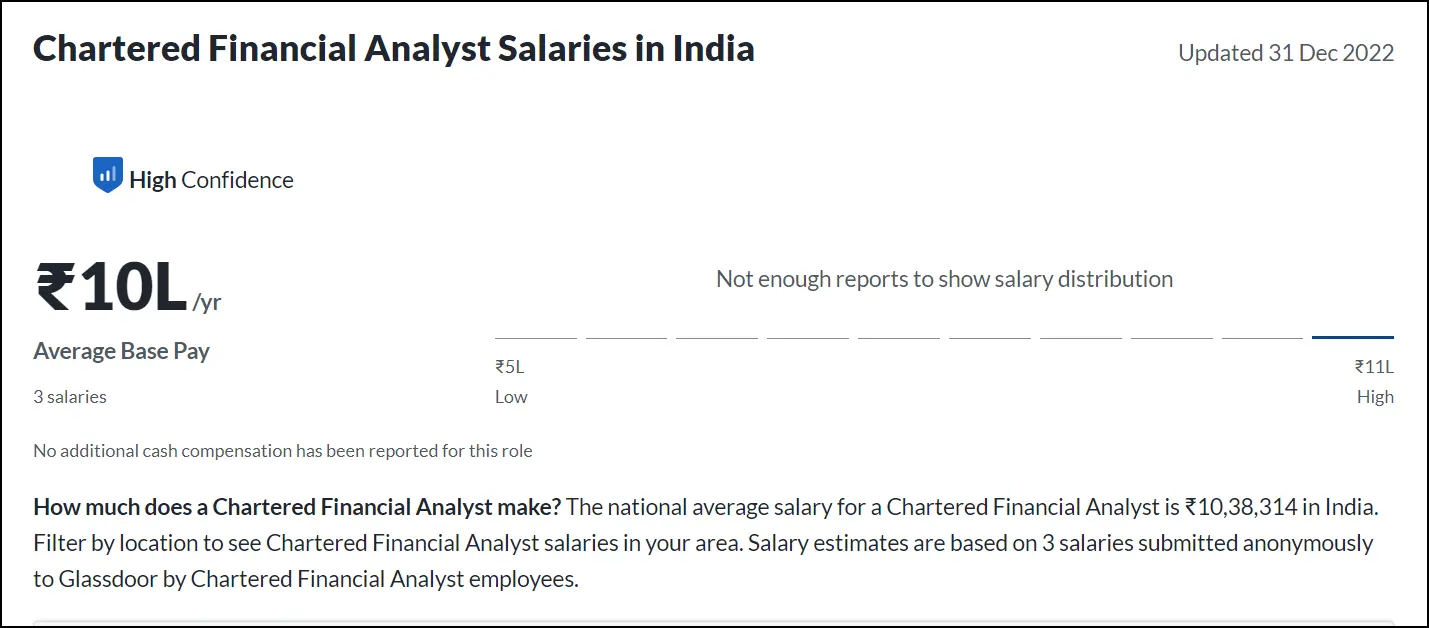 The demand is increasing rapidly and it is also its a new area that is expanding its requirements and in coming years it will be among the highest-paying profiles in India. The initial students can expect 5 LPA and it can increase the pay scale up to 16 LPA.
#4 BAT Business Accounting and Taxation (Business Accounting and Taxation)
Another course to look at after B.Com is Business Accounting and Taxation. This course prepares students for their future roles in accounting and taxation. Carefully designed by industry experts this program equips students with the needed tools and knowledge for the industry.
The course consists of topics like goods and service tax (GST), direct taxation, payroll components ESIC, payroll components, etc. After completing this program one can easily secure a job as a tax consultant, corporate legal assistant, company law assistant, and many such promising profiles in the industry. Top recruiters include Accenture, eClerx, and HDFC Bank.
Business Accounting & Taxation offered at top institutes can assist with very exciting salary packages. The educational learning is designed in a way where students can learn from scratch till the core topics about the course.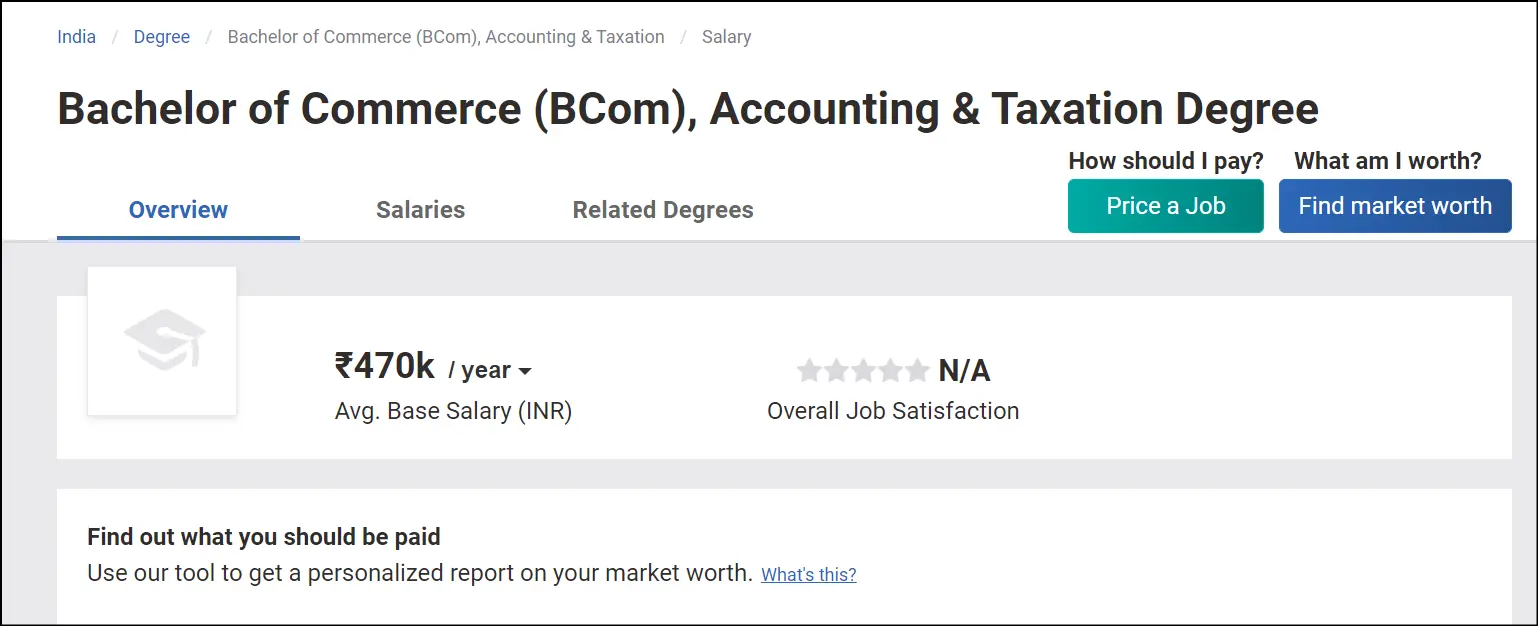 Accountant, Financial Analyst, Financial Manager, Account Executive, Account Manager, HR Manager, Internal Auditors. Students can expect from 4 LPA to 6 LPA with various job profiles. The profile comes with the variety of field and job options once they have completed their BAT program.
#5 FRM (Financial Risk Manager)
Financial Risk Management is the right choice for those who are looking to get a recognized degree in banking and finance This short 9-month course shows your potential and knowledge of risk management concepts. To become a Financial Risk Manager one needs to complete GARP's Financial Risk Management program
The role and duty of a Financial Risk Manager include identifying and analyzing potential threats and tracking their success in the market. A Financial Risk Manager can work in various sectors like sales, private banking, trading, and marketing.
Financial Risk Managers are the popular profile for the students who are good in calculation and evaluation of organisation financial improvement. It is considered to be one of the most reputed and indulges essential roles and responsibilities.
According to the task the salary also is satisfying enough for an individual. An average pay scale one can get is 3 LPA to 24LPA.The high ratio is awesome and in a few years of experience one can get this amount, as the experience and knowledge can give a convenient salary hike.
#6 MBA (Master of Business Administration)
For those with a knack for business, what can be better than an MBA? Master of Business Administration is a 2-year post-graduation course that equips students with the right tools and in-depth knowledge to excel in their preferred specialization
To enroll in an MBA program students need to clear the CAT, an aptitude test that determines which college the candidate will get into.
An MBA pass-out can work as a Marketing Manager, Operations Manager, and much more in big organizations like TATA Consultancy, Infosys, and Accenture.
Masters in Business Administration is a 2 years program that involves the business strategies and management tactics is a highest paying job in recent times. The demand is still on urge and will have more hikes in similar fields.
The starting salary an individual can expect is around 7 LPA to 12 LPA. The organization always welcomes MBA graduates to improve business management and the functioning of the working method. The salary can be above the mentioned numbers as it depends on an individual's calibre.
#7 CS (Company Secretary)
If you like managing then CS might sound about right. A Company Secretary holds great importance in any organization and is responsible for a lot from managing legal aspects of the firm to maintaining the tax records
To secure your position as a CS in any organization you must have a corporate law degree. This is a 3-year course that comprises 3 stages: Foundation, Intermediate, and Finals.
Company Secretary is a inbetween profile which an individual chooses for the substitute of CA. Corporate, Organisational Management, rules, policies are the elements one needs to work for once they have studied CS program.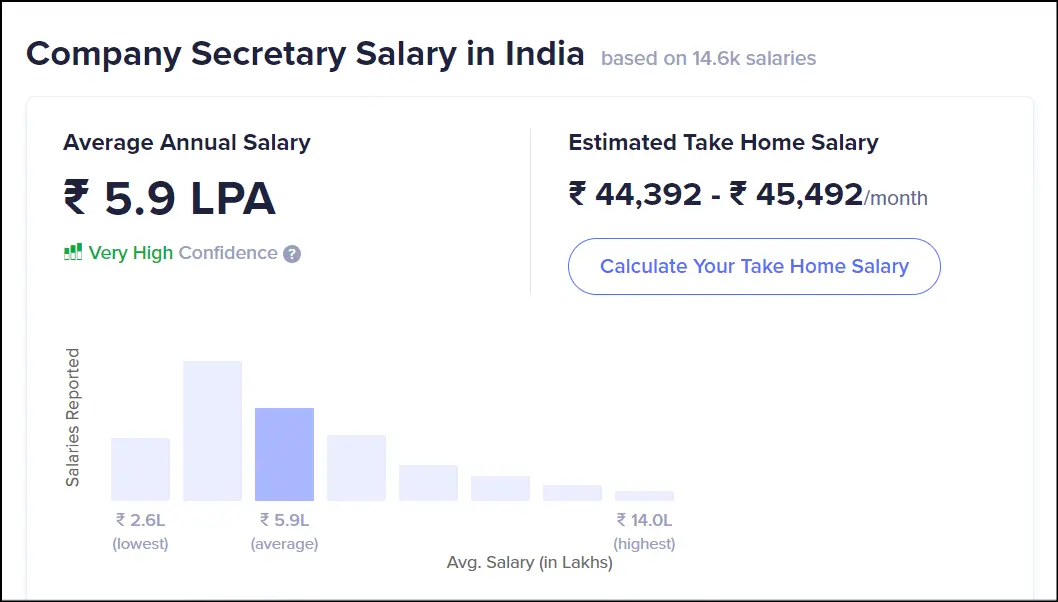 For the CA alternative and a little easy path CS is considered to have a good job prospects as well as salary is pretty lucrative. One can expect 5 LPA to 14 LPA. Pay scales commonly can have an increment if the functioning and the job profile is in continuous mode as the experience count will give a good salary hike.
#8 Banking
The government sector has immense career opportunities at different levels from the root to becoming an officer in a government bank, or firm in the finance, accounting, and management department of a commerce field. If a candidate wants to build or step into the government department for them this is the best career opportunity after they compile a B.Com degree from any recognized university that is UGC-DEB approved.
The Government banking sector has a good range of opportunities. Let's dive into the govt exam career opportunities of the monetary world. Where a candidate can apply for different govt based banking exams:
| | |
| --- | --- |
| SBI PO | RRB NTPC |
| CWE | SEBI Grade A |
| IBPS PO | RBI Grade B |
| RBI Assistant | LIC AAO |
Other government exams where a B.Com degree holder can apply for it. To work at the state, central or domestic level of the job. These below mentioned are the other foremost opportunities that a b.com degree must try for:
| | | | |
| --- | --- | --- | --- |
| SSC CGL | SSC IDM | Railway Ticket Checker Examination | RRB JE |
| SSC CPO | SSC FCI | Assistant Loco Pilot Examination (RRB ALP) | RRB NTPC |
| SSC JE | RRB | RRB Paramedical Examination | RPF SI, and so forth |
To secure a position in a government department, a candidate must have a B.Com or other related degree from a recognized university that must have 55% or above aggregate marks in their bachelor's.
An Individual always dreams to work in a bank, as the banking jobs are considered to be one of the popular and the enjoyable jobs. Any individual who has completed their banking courses and is looking for a good option then yes there are some fantastic options which are offered and the pay is also good.
For the banking job the initial pay amount is around 3LPA to 6LPA..The initial salary can be minimum as the benefits and the flexibility can be experienced in this job profile.
#9 CMA (Certified Management Accountant)
Always dreamt to work in reputed MNCs or big firms then this certificate course after your completion of your B.Com degree is the best course to provide a certificate in managing financial accounting, strategic management, or handling the accounts of an individual, organization of a government, or private sector. CMA demonstrates the study of financial planning, budgeting, forecasting, financial reporting decisions, cost management, corporate finances, risk management, investment banking, professional law, ethics, and much more.
The course duration of this course is 6 to 8 months depending upon the institutes of different universities. If you possess this certification of CMA, you can open a bunch of career opportunities for yourself in the finance and management world from public, public or non-government experts.
Certified Management accountant deals with the organisational financial plannings and strategy creation. The need and demand for this course is increasing with an excellent salary amount offered to the individual.
Students who opt for this program get to learn effective topics related to management and account handling tasks. The salary package can be 7LPA to 15 LPA. The package offering depends on the company and the candidate's ability to gain a certain package.
#10 CIB (Certificate in Investment Banking)
CIB course is one of the demanding courses that is done after the completion of a B.Com degree course or another related course. This certificate course is designed to assess all the banking, finance, or other monetary sectors of banking and investment professionals.
The course of CIB focuses on these respective key areas of banking, finance, investment banking, financial analysis, banking, corporate actions, restructurings, listing, fundraising, IPO, acquisitions, transactions, LBO, and so on. The duration of the course starts is 6 months and it's up to 1 year, the duration of the course depends upon the colleges to universities to impart the knowledge of banking and their respective sectors.
After completing the CIB certificate course, a candidate can build their career in investment banking, equity research, private equity, hedge funds, private wealth management, asset management, corporate finance, strategy, and government departments as well.
Certificate in Investment Banking is one of the rising program and job profiles, as the investment knowledge and facility has become an essential need of a common man and to guide and help the profile of Investment Banker Executive is preferred with important roles and responsibilities.
The minimum salary package a student can experience is 2.9LPA to 18 LPA. The amount can have incremented and accordingly the position can be transformed from beginner to the experienced.
#11 Digital Marketing
In recent times digital marketing has boosted the level of digital platforms such as E-commerce, products, goods, services, or even digital media platforms as well to promote their product. If you are looking for a creative field then becoming a digital marketer is the best and foremost career option for you.
After completing a B.Com degree you can even start your new venture, or business or continue with the family business in helping them to work in commerce-based policies, and services to take your business to the top in a strategic, managing, way of the finances and accounting. Through this course, you can also learn the importance and benefit of taking your business to the digital platform in this digital world.
You can get multinational as well as native career opportunities in digital marketing. The digital marketing course duration is of 3 months to 1 year depending upon the institute or university from which you are planning to pursue.
The course study of digital marketing studies SEO, SMM, SEM, PPC, Email Marketing, Web Designing, Content Marketing, and so on. This digital marketing course is one the foremost and most demanding courses not only for the B.Com degree holder but also for almost every field student who starts their career in a creative and his/her way.
Digital Marketing is on the boom and the rapid increase of the particular program study was just recognized in a few years. Existence of the Digital Marketing field got attention and the era of digital functioning is creating exciting job opportunities in a vast field.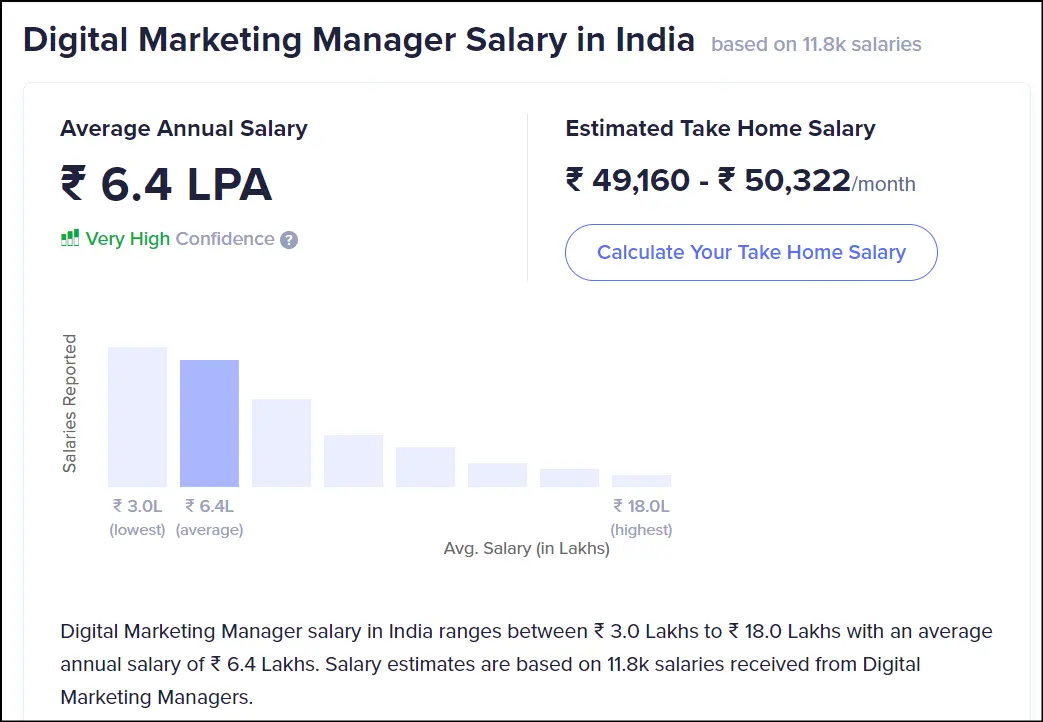 The field is helping to boost business and enhance social presence. It has attractive roles and good salary packages. One after gaining deep knowledge and working can have 6 LPA to 18 LPA.
#12 B.Ed (Bachelor of Education)
After completion of your bachelor's degree in B.Com, you can opt to pursue a B.Ed degree course. It is the best career for candidates who are keen on teaching or lecturing professionals. B.Ed is a two-year degree teaching program that is explicitly designed to allow students into an academic profession.
If you have scored 55% or above aggregate marks in your b.com degree or other specialization. You can pursue a career in education. After completion of your B.Ed, you can apply to different schools, institutes, colleges, or universities to teach as per your selected B.Ed specializations.
Usually, the B.ed program inclined the study pedagogy, education and child psychology, education policy, leadership, instructional technology, special education, lesson planning, curriculum designing, etc. choosing a career in education is the best and securing field to teach or shape the future of young minds.
Bachelors of Education is a formal and regulated profile which a candidate can opt after completing their educational journey. The teaching methods, tactics, subject experts and other key roles are assigned to a B.Ed graduate.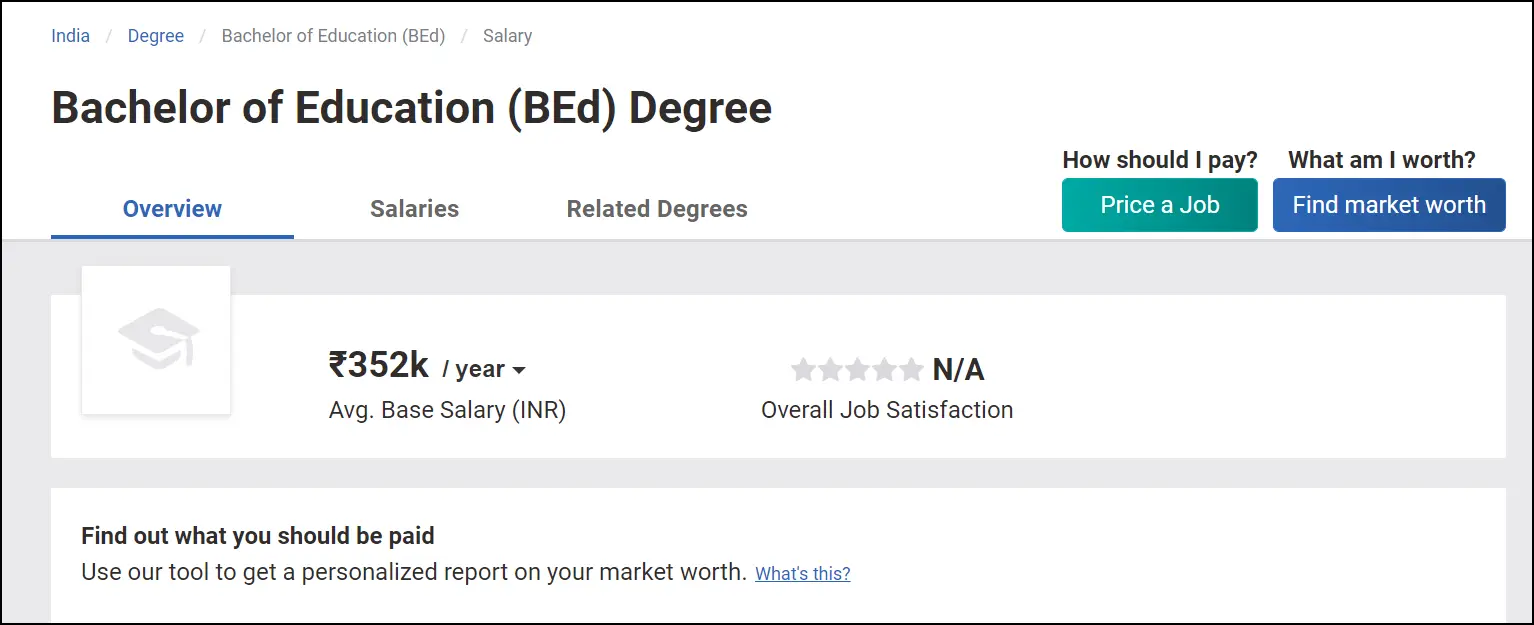 The job is priceless as the education providers are the helping workers for the students future. The salary package of 2 LPA to 10 LPA can be achieved.
Conclusion:
Hope this detailed blog on 12 career options after completion of a B.com degree has opened your mind. In which field do you want to pursue your career? We have covered the best and top-rated career fields after a bachelor in commerce. Determine your career choice based on the interest in which you start your profession likely to pursue after your graduation.
These careers do wonders in your life. Just you need to build greater knowledge for your better future to face this competitive world in the present scenario. If you are inclined towards accounting, you can check out the list of 12 best career options after a b.com degree.
Though, you can check more related blogs on career guidance to clear all your doubts and get the best of the best career option suggestions as per your respective fields such as Arts, Commerce, and Science stream. Happy reading!