Online/Distance Education MBA is one of the courses that students can take up after graduation to work towards career growth in management. This distance/online MBA course amplifies the career of the student manifold as it equips them with the skills needed to thrive in the field of management. The MBA course in India can be done in 3 modes - Regular mode, Distance Learning mode, and Online mode. An MBA degree in the Online/Distance mode has been gaining popularity recently due to the many advantages it brings along like you can take up a job while simultaneously pursuing your degree. This helps you get an edge over others who just have the degree and no work experience, as work experience has quite a worth when it comes to an MBA.
The online/distance MBA course is all about business management. In this course, the student gains knowledge regarding business, for example- How to manage a business? How to organize the business? What strategies can be used to start a business? etc. After MBA, students can apply for various job roles such as Business Administrator, Business Analyst, Digital Marketing Manager, etc. in any company. Students also have the option of starting their own business after an Online or Distance MBA.
There are various MBA online colleges in India that provide the best online/distance learning. MBA is an advantageous course for students who prefer to learn at their own pace, indulge in self-study, cannot indulge in relocation, or want to pursue further education alongside their jobs. The fee of an online/distance MBA is also a bit lower than the regular MBA courses. An MBA course in the online/distance mode comes with a wide range of specializations to choose from. These specializations are unique and in accordance with the current job and industry trends. The student can choose any of the courses according to their interest. An online/distance MBA will boost your career and can give you career opportunities in many dynamic fields.
Key Highlights of Online/Distance MBA In India
Online MBA focuses on different areas of business administration like business ethics, business communication, human resource management, risk analysis, etc.
MBA is one of the most popular post-graduation degrees among students. Most of the students pursue this course even after completing graduation in different streams.
An online/distance MBA course is best suited for students and working professionals who want to upgrade their knowledge and seek career escalation in management.
The MBA course in online and distance education gives appropriate knowledge of business management and administration to students.
For applying to this course students must have a bachelor's degree in any stream from a recognized university.
Online/Distance MBA Subjects
The course is divided into four semesters. Online and Distance MBA syllabus comprises core subjects and elective subjects that differ as per the specializations. The first two semesters focus on core subjects while in the third and fourth semesters students need to choose elective subjects.
| | |
| --- | --- |
| Semester I | Semester II |
| Principles and Practice of Management | Production/Operation Management |
| Management Economics | Financial Management |
| Organizational Behaviour | Human Resource Management |
| Business Law | Marketing Management |
| Management Accounting | Management Information system |
Online/Distance MBA Eligibility
Any aspirant who has completed their graduation in any stream is eligible to enroll in the Online/Distance MBA program. For admission in this program, there are some universities that take entrance examinations while some others provide direct admissions on the basis of their eligibility criteria. The aspirants having 2-3-years of work experience in a relevant industry are preferable.
The basic admission criterion is that you complete your Bachelor's education from a recognized university/institution
Read: Detailed Guide to Online MBA Programs
Online/Distance MBA Duration
The minimum duration of an online/distance MBA is 2 years and the maximum duration is 4 years. The candidates get extra 2 years to pass all the exams of their degree course. The curriculum of the program is divided into 4 different semesters of 6 months each.
Online/Distance MBA Admission Procedure
There are some common steps that you need to follow to take admission to universities in an online/distance MBA program:
Go to the official website of the university (the university to which you are willing to take admission).
Register yourself as a new user and fill out the application form with your details.
Submit the required documents with the application form and the registration fees.
In the next step, submit your academic fee via any mode of payment mentioned on the website, which in most cases includes facilities for net banking, UPI payment, or demand draft facilities.
In the end, you will get a confirmation mail along with your student enrollment number/student number.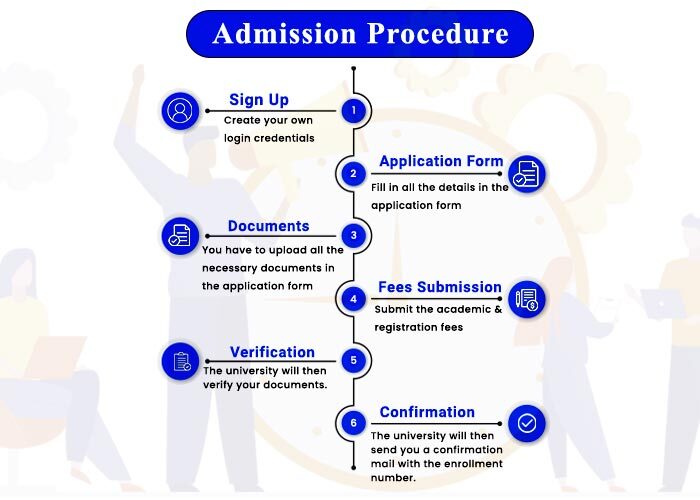 Online/Distance MBA Academic Fees
The academic fee of the online/distance MBA ranges from INR 30,000 to INR 3,00,000. The academic fee of the course varies as per the university, for instance, if you pursue your online MBA degree from a government university then the fee will be around INR 30,000- INR 80,000 and if you go for a private management institute then the fee will be around INR 2,00,000 to INR 3,00,000 for the full course. At College Vidya, you can check the fees of most of the universities that are offering your course. For this, you need to fill in your basic information and course requirements and then you can easily compare the online/distance MBA courses provided by a large number of universities.
Top Online/Distance MBA Course Specializations
Job Opportunities For Online/Distance MBA Degree
The online/distance learning MBA course is a PG course in management with great career scope. Completing graduation may allow you to venture into entry-level jobs but higher education helps students escalate to mid-level and top-level management posts swiftly. The MBA course is essential in this regard as it provides appropriate knowledge of business management and administration to the students, which will be helpful to understand the field of management more intensely and manage the company's algorithms and grow a career in management.

Source: payscale
The online/distance MBA course will surely help you gear up your career to heights. You can go into the field of business management, economics, financial management, human resource management, and other fields like consultancy, and risk analysis after completing this course. Online Degree Course You May Be Interested - Online MCA In India
There are many specific posts where students can apply after completing the online and distance MBA course and a few of them are listed below, besides that students can start their own businesses by applying the strategies and can thrive in the path of careers like-
| | | |
| --- | --- | --- |
| Marketing Manager | Brand Manager or Risk Manager | Sales Manager |
| Equity Research Analyst | Digital Marketing Manager | HR Manager |
| Management Consultant | Account Manager | Project Manager |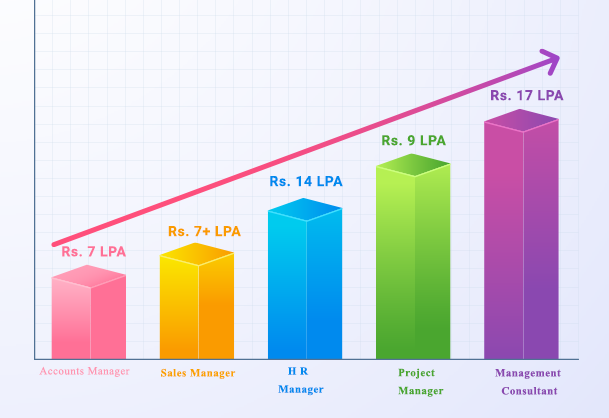 Top Hiring Firms For MBA Graduates
| | | | |
| --- | --- | --- | --- |
| Amazon | BCG | Wipro | Deloitte |
| JP Morgan | Microsoft | Cognizant | ICICI Bank |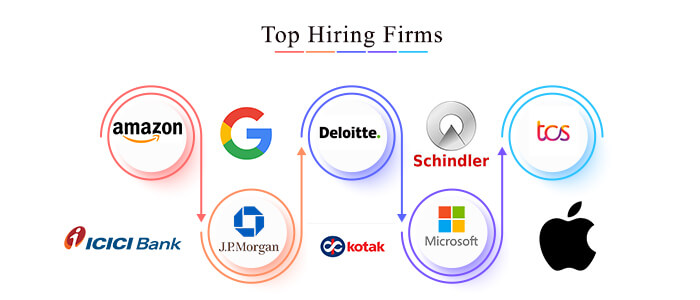 Popular Online MBA Colleges Or Universities in India
| | |
| --- | --- |
| Online MBA Universities | Mode of Education |
| Narsee Monjee Institute of Management Studies (NMIMS), Global Access School for Continuing Education (NGA-SCE) | Open Distance Learning (ODL) |
| Chandigarh University | Online & ODL |
| Jain Online University | Online |
| Lovely Professional University (LPU) Online | Online |
| Manipal University Jaipur | Online |
| UPES | Online |
| Amrita University | Online |
| Amity University (Online Learning) | Online |
| ICFAI University | Online |
| Dr. D. Y. Patil Vidyapeeth, Pune | Online |
| Hindustan Institute of Technology and Science | Online |
| Manav Rachna University Online | Online |