Scoring high in CAT is not the only road if MBA is your destination. If your CAT exam did not go well, the first thing you need to stop is panicking. There are many top B-Schools that offer admission to students based on not just their CAT entrance exam but on the basis of many other factors. CAT is only one of the many entrance exams conducted for admission to B-Schools. There are many other entrance exams as well that can help you get into top B-Schools in India.
You need not worry if you do not score well in CAT. Here's what you must do next.
What Next If Your CAT Score is Low?
The Common Admission Test (CAT) is the entrance examination for the MBA program which is conducted by the prestigious Indian Institute of Management (IIM) every year.
IIM has several campuses in different states; most of these are the best Management institutions in the country. According to NIRF rankings, IIM Ahmedabad is the best Business School in the country.
This is why the final acceptance cutoff for IIM Ahmedabad reaches up to 99 percentile. However, IIM Ahmedabad is not the only college out there. There are several other IIMs in the country as well whose cutoff is far less in comparison to IIM Ahmedabad.
The new IIMs, also popularly called the 'Baby IIMs' are doing exceptionally well in the field of Management studies backed by the brand IIM. The best part is that the cutoff for these Baby IIMs is very less in comparison to the top IIMs like Ahmedabad, Bengaluru, Calcutta, etc.
But why only the IIMs?
There are many private and public Business Schools in India that offer outstanding MBA programs and are at par with some of the IIMs. Some of the top ones like XLRI Jamshedpur, MDI Gurgaon, SPJIMR Mumbai, SIBM Pune, and NMIMS Mumbai are some of the top Business schools in India apart from the IIMs according to the NIRF rankings.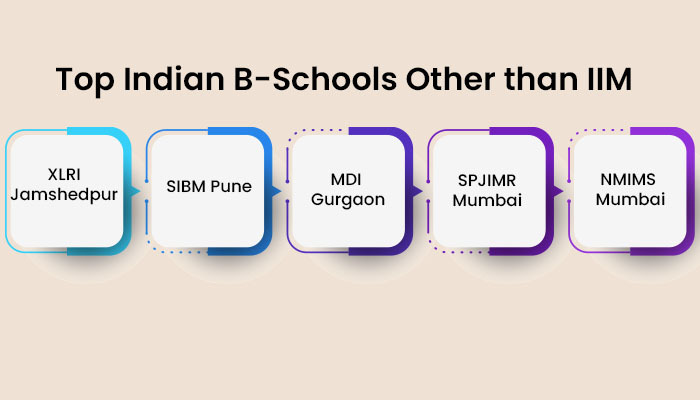 The IIM conducts the CAT exam but CAT scores are valid for admission into other B-Schools as well. In fact, maximum of the B-Schools in the country consider CAT scores as the eligibility criteria for entrance into their Management programs.
And of course, the CAT cutoff for these colleges is quite less than the IIMs. Different colleges have different cutoffs and also different admission procedures. The CAT written examination is just the first step of the admission procedure. After qualifying CAT cutoff, there are other examinations like Written Ability Test (WAT), Group Discussions (GD), Personal Interview (PI), etc.
It depends upon the college which admission procedure they would follow to admit students to their MBA programs. Some institutions might directly go for a personal interview while others might conduct several rounds like WAT, GD, etc.
For selection, the students must perform well both on the CAT exam as well these other rounds. There is decent weightage in the selection process for these rounds.
Having said that, even if you score less on your CAT exam, you are eligible for further rounds of selection. Therefore, you must not lose hope and prepare yourself to ace the other rounds.
If you ace these following rounds of selection, then you have a pretty good chance of getting admission into these prestigious MBA colleges. This is because most colleges prefer students who are multitalented and not just bookworms. This is why the Personal Interview (PI) plays a big role in the admission process of top B-Schools.
The academic profile and background of the student are what the interviewers are most interested in. It is because MBA is that one degree which is more about practical learning, networking, making connections, etc which is why interviewers look for students who are capable of doing much more than studying. This is where a dynamic profile/resume helps MBA aspirants the most.
Therefore, more than worrying about your low CAT score you must start preparing for further rounds, interviews, and profile building so that you can still target good colleges based on your profile and performance in the final rounds of selection.
CAT is essentially the most glorious Management entrance exam but not the only one.
Let's see what other options you have instead of CAT.
Alternatives for CAT Examination
Apart from the prestigious IIMs, there are many other great MBA colleges in India like ISB, Symbiosis, NMIMS, XIMB, SPJIMR, and many more.

Some of these institutions conduct their own entrance examination like IIM conducts CAT every year. Again, just like CAT, the scores from these Management exams are valid for many other B-Schools in the country.
It is a fact that these other Management entrance tests are not as difficult as the CAT. So if you have prepared well for the CAT exam and even then did not score well, then you need to stop worrying and start preparing for these entrances.
Since you have already been preparing for the CAT, it will not be much of a hassle to prepare for the other entrances. This is because there is not much difference in the syllabus for these entrance exams.
The most important thing, however, is that you must be aware of the exam pattern for these exams because each exam has its unique pattern.
For instance, the duration of the exam is different, the sections/subjects in the exam may be different, the number of questions is different, and the type of questions might also be different.
The following table lists some of the other top Management Entrance Tests that are conducted in India apart from CAT
| | |
| --- | --- |
| Conducting Body | Management Entrance Exam Name |
| Symbiosis International University | (SNAP) Symbiosis National Aptitude Test |
| Narsee Monjee Institute of Management Studies (NMIMS) | (NMAT) NMIMS Management Admission Test |
| Xavier School of Management (formerly XLRI) | (XAT) Xavier Aptitude Test |
| National Testing Agency | CMAT (Common Management Admission Test) |
| Indian Institute of Foreign Trade | IIFT |
| Graduate Management Admission Council (GMAC) | (GMAT) Graduate Management Admission Test |
Online MBA
An online MBA is another alternative to the regular MBA program. Online education has picked up rapid pace in recent years and online MBA is no exception.
Many prestigious institutions have started giving online as well as hybrid (online + offline) Management programs. The biggest advantage is that you do not need to give an entrance examination for admission in online MBA courses.
Some of the best online MBA colleges in India are:
NMIMS

Amity University Online

Jain Online University

Online Manipal University

Manav Rachna Centre for Distance and Online Education

LPU Online

Chandigarh Online University

UPES Online
These were just some of the top ones, there are many other great online universities that offer online MBA programs and many other Management programs as well.
So, even if you scored really bad on your CAT exam and couldn't not even score good on any of the other Management entrance exams, you still have the chance to pursue an MBA using the online mode of education.
Although anybody with a bachelor's degree can apply to these colleges for the online MBA program, it is more of an advantage to the working professionals.
Online MBA is a perfect opportunity for those people who have started working immediately after completing their graduation and did not get a chance to pursue higher education.
An online MBA for working professionals is a very practical approach towards learning and skill building. Since these professionals are already working, they gain industry experience and exposure and are more aware of how businesses run and about the Management practices.
Therefore, working professionals who study MBA make for better Management graduates in comparison to the non-working professionals.
Additionally, an online MBA is much more affordable than a regular MBA program and since the working professionals can continue their jobs, it becomes a really cost-effective option. And not to forget, the time an online MBA saves you is extremely valuable. You will not have a gap on your CV since you do not have to quit your job.
Since an online MBA is quite a feasible option, even some of the top IIMs have started offering Postgraduate Management programs to the working professionals.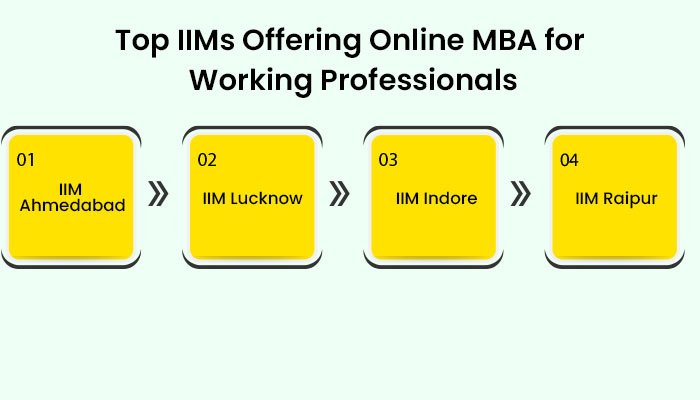 Following are the IIMs that offer postgraduate online Management programs for working professionals:
IIM Ahmedabad

IIM Lucknow

IIM Indore

IIM Raipur
Conclusion
There is nothing at all to worry about if you can not score well on your CAT exam. Hope this blog was able to help you understand that CAT is not the last option you have if it is MBA that you aspire for.
And if you are thinking about pursuing an online MBA but are not sure which online college to go for. Then you must visit College Vidya for any query regarding an online MBA. At College Vidya, you can easily compare several online universities at the same time based on several characteristics and then you can choose the one that suits you the best!