MBA after BBA, often known as "Master of Business Administration", is a 2 years postgraduate degree program designed for students who have already graduated from BBA. It is a specialized and advanced degree that builds on the core information and abilities obtained throughout the BBA program at the undergraduate level.
MBA after BBA provides a more in-depth grasp of business management principles, strategic decision-making, leadership development, and numerous business disciplines. It gives students the knowledge and expertise they need to flourish in leadership roles, create organizational development, and make sound business decisions.
This one-of-a-kind combination of a BBA and an MBA gives individuals a complete and competitive advantage in the fast-paced business world, as well as numerous prospects for professional growth and success. The emphasis on leadership and management development is one of the key benefits of pursuing an MBA after BBA. MBA programs develop critical thinking, communication, and decision-making abilities in students, preparing them to lead teams and drive corporate success.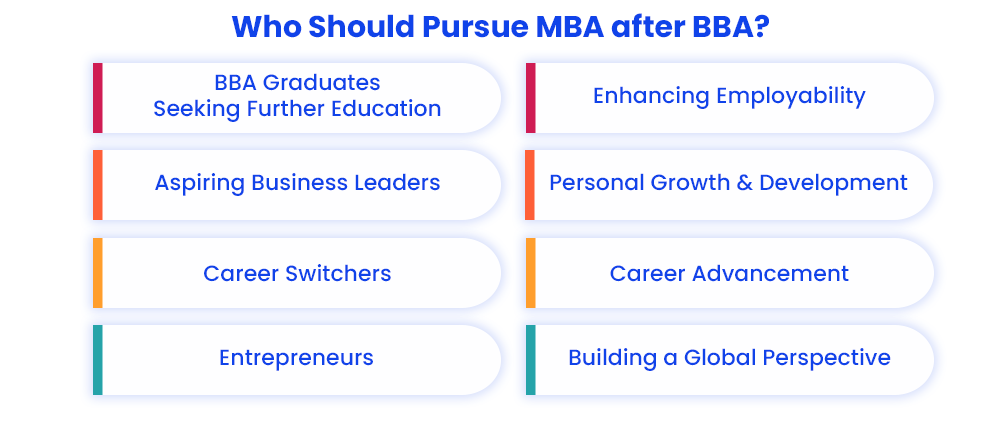 Students gain the capacity to assess business challenges strategically and execute successful solutions via case studies, simulations, and experiential learning. These abilities are required for management jobs and entrepreneurship, allowing graduates to flourish in various leadership roles.
Choosing an Online MBA after BBA provides numerous significant benefits over a regular on-campus MBA. Online MBA programs provide more flexibility, allowing working individuals to balance their studies and employment responsibilities. They remove geographical constraints, allowing students to pick from a wider choice of prestigious universities without having to relocate.
Furthermore, online platforms frequently use new teaching approaches, such as real-world case studies and interactive homework. Overall, an Online MBA after BBA offers a more comfortable, accessible, and efficient alternative to pursue further business education while boosting their professions.
BBA graduates seeking an MBA can choose from various specializations based on their interests and professional objectives. Finance, marketing, human resources, operations management, entrepreneurship, business analytics, international business, and information technology are all popular specialties. These specialties allow students to build knowledge in certain business areas while increasing their employability in various sectors.