Are you someone juggling between the choice of whether to pursue an MBA after B.Tech or not? Well, the answer to this question can be answered by looking at the outcomes of this PG program. In the B.Tech, you learn numerous technical topics based on your choice of specialization but after that, you might be interested in pursuing a master's program (generally M.Tech) or can take up a decent job in some STEM-related organization.
If you go for a job, after spending 2-3 years in the field you will feel the necessity to upgrade yourself with some managerial & business skills. In that direction, an MBA is quite vital for you as it can help you earn those management skills by making use of your prior knowledge of the technical field. Thinking how? Here comes another highlight of an MBA, i.e., specialization range. An MBA not only helps you upskill with the required management skills but it helps you make use of your prior work experience & technical knowledge by providing you with some choices of specializations related to it.
Another obstacle in the path of pursuing an MBA is the time commitment of 2 years for which you need to leave your job. This reason is big enough to step back from the decision of pursuing this course as not everyone is in favor of quitting their job due to their financial constraints. Well, this issue is not going to last for long in the industry as universities have felt the necessity of this PG program for working professionals & have launched online MBA programs that can be easily opted for even with your job.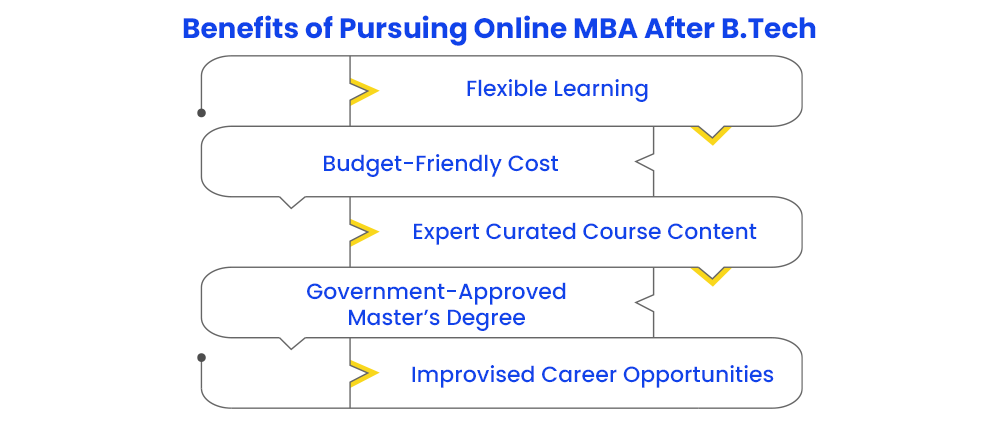 An online MBA after B.Tech is not only an upskilling option but it's the program that is going to rebuild your professional journey. With a flexible learning schedule, affordable fee packages, government approvals, & improvised career prospects, this program is leaving the typical mode of an MBA behind.
In an online MBA, you get to learn the same topics & concepts as incorporated in the regular MBA, thus, the outcomes of this online program are not different from the regular mode in any respect. Even the specialization range offered in online mode is almost similar to the one you get in the conventional mode.
There are a lot of myths spreading about an online MBA in the industry. To help you get clarity on that, a table is given below which concludes the major point of differences between an online & regular MBA.
| | |
| --- | --- |
| Online MBA | Regular MBA |
| Flexible learning format via online classes | Conventional classroom-based learning mode |
| Study at your convenience at any time from anywhere | Visit the campus to attend classes & other purposes |
| Weekend online classes & 24*7 access to digital course content for self-study | Fixed class timings & self-prepared notes to study |
| Can be completed along with your job | No time for other obligations for at least 2 years |
| Get your course duration stretched to 4 years | Complete the course within 2 years |
| Simple & direct admission process | Entrance exam-based admission process |
| Budget-friendly fee structure | Quite high fee packages when done from a reputed institution |
| Enrich your practical knowledge with on-job experience while pursuing the program | Get the on-field experience only after completion of the program |
Apart from the above points, the other aspects like course curriculum, career options, industry recognition, etc. all are similar to an MBA degree earned either online or in regular mode.