MBA after BA program is a 2 years postgraduate degree that focuses on equipping students with broad knowledge and abilities in various business and management areas. It is a popular alternative for people looking to enhance their careers, obtain specialized knowledge, and take on leadership responsibilities in various sectors. Finance, marketing, human resources, operations, entrepreneurship, and strategic management are common subjects in MBA programs. Graduates who pursue an MBA after BA can improve their employability, increase their pay potential, and take on managing jobs with better confidence and competence.
An MBA enables BA graduates to specialize in areas such as marketing, finance, healthcare management, and international business. This specialization gives you a competitive advantage in the job market since companies frequently prefer people with specialised skills. Graduates can match their MBA focus to their professional interests and aspirations, establishing themselves as subject matter experts in their chosen fields.
Earning an MBA after BA can significantly influence professional advancement and earning possibilities. Individuals with advanced management skills and industry-specific knowledge are better prepared to take on leadership responsibilities inside firms. Compared to individuals with merely a BA degree, MBA graduates frequently see faster professional growth and higher earning potential.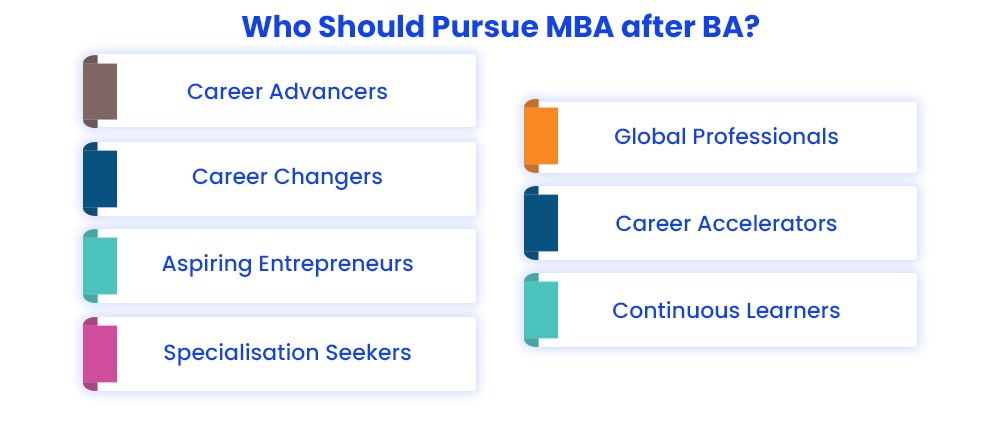 When it comes to getting an MBA after BA, there are two basic options: online MBA and traditional on-campus MBA. While both options have merits, online MBA programs have grown in popularity for various convincing reasons. Online MBAs provide flexibility and convenience by allowing students to study from anywhere and quickly, making them perfect for working people looking to further their careers without taking time away from their employment.
Furthermore, online MBA programs are frequently cost-effective because they eliminate the need for relocation or commute fees. The programs' digital nature allows for access to worldwide professors, different cohorts, and a wide variety of digital learning materials, resulting in an immersive and dynamic learning environment.
Furthermore, possibilities for online networking and technology integration guarantee that students are well-prepared for the ever-changing corporate scene. Overall, the ease, personalization, and variety of learning experiences make Online MBA a more appealing choice for many people seeking higher education while juggling employment and home responsibilities.