If you are prioritising affordability and flexibility over in-person interactions with your peers and educators, then an online MBA might be worth it. An online MBA essentially gives you a splendid return on your investments if you're a working professional who is working while acquiring the prestigious MBA degree through online mode of learning. In such a case, you earn both money and a degree at the same time. You save money as well as time and so it is a win-win!
You must be aware of how so many prestigious B-Schools in India including IIMs have been offering an online MBA degree but do they offer the same value as their full-time programs? Let us check it out with the help of actual facts and figures.
Online MBA Program Fee 2023
An MBA degree in India is as expensive as it is prestigious. There are only a few good Government colleges that offer an MBA, all the other good ones are private B-schools with enormous program fees.
However, these prestigious business schools have been offering an affordable solution by introducing an online MBA degree at an extremely feasible cost. Some of the best universities that offer an affordable online MBA in India are mentioned below with their total program fee.
University Name
Total Fee (in INR)

Narsee Monjee Institute of Management Studies (NMIMS)

1,44,000/-

Lovely Professional University (LPU)

1,56,000/-

1,42,000/- (if paid lump sum)

Amity University

2,64,000/-

2,55,000/- (if paid lump sum)

UPES

1,45,000/-

Chandigarh University

2,00,000/-
Now the question is whether paying this much fee is worth it!? The answer to this question totally depends on the salary that you expect after graduating from an online MBA Course. So let us see the salaries offered to online MBA graduates.
Online MBA Salary: Return on your Investment
It is true that the salary offered to online MBA graduates is a little less than that offered to full time MBA graduates. But then why is it said that an online MBA gives you a better Return On Investment (ROI)? This is because you pay a much lesser program fee for an online MBA than what you pay for a full-time MBA.
There is a huge gap in the program fee of online MBA v/s regular MBA but not that much gap when it comes to the salaries offered. You get high salary packages ranging from INR 10-20 lakhs, after a traditional full-time MBA but you first have to pay a humongous fee ranging from INR 18-20 lakhs as well.
And this is only the tuition fee. For a full-time MBA, there are other factors that affect the cost like relocation to a new city, living and commuting expenses.
While in the case of an online MBA, you have to pay less than 3 lakhs rupees to get salary packages ranging from INR 7-10 lakhs. In this case, you do not have to relocate or travel to the college everyday. You can comfortably attend classes from anywhere on earth. Refer to the table below for a clearer understanding.
University Name
Online MBA
Full-time MBA

Total Fee

(in INR)

Average Salary (CTC in INR)
Total Fee

(in INR)

Average Salary (CTC in INR)

Narsee Monjee Institute of Management Studies (NMIMS)

1,44,000/-

7,00,000/-

21,90,000/-

23,00,000/-

Lovely Professional University (LPU)

1,56,000/-

1,42,000/- (if paid lump sum)

5,00,000/-

7,60,000/-

7,00,000/-

Amity University

2,64,000/-

2,55,000/- (if paid lump sum)

5,00,000/-

12,16,000/-

7,00,000/-

UPES

1,45,000/-

4,00,000/-

15,26,000/-

5,66,000/-

Chandigarh University

26,400/-

3,50,000/-

6,08,000/-

5,00,000/-
Online MBA vs Full-time MBA: Pros & Cons
Both online and full-time MBA programs have their own pros and cons. Which is the better option? That is totally subjective because everybody has different requirements and needs. Hence you must know what you are looking for specifically before you choose any one. The following points will help you come to a decision.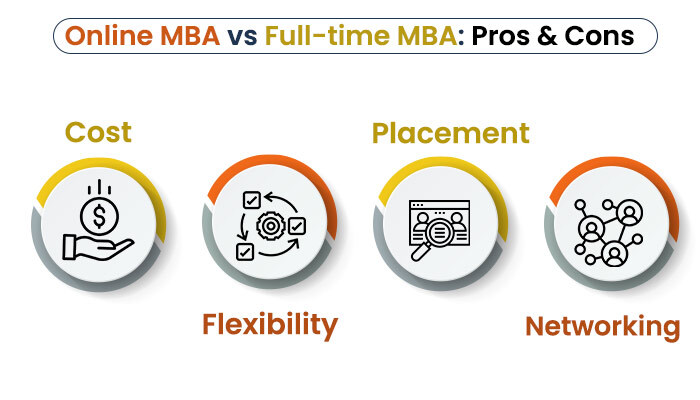 Cost- An online MBA will get you an MBA degree in less than 3 lakh rupees in comparison to an offline MBA which might cost you over 18 lakh rupees.
Flexibility- You can attend your classes remotely which saves you time, money, and effort. You have the leverage of attending out-of-state colleges without having to relocate. You have access to video lectures so you can learn at your own pace. All of this is a great advantage to especially for the working professionals.
Placement- A full-time MBA has an edge over this aspect as it offers better placement opportunities with greater salary packages. However, an online MBA also offers decent salary packages even after lower tuition fees. Hence the ROI is better. For working professionals, an online MBA is a great way to boost their salary and designation without having to leave the job.
Networking- Building a network is a crucial aspect of any MBA. A full-time MBA definitely has an edge here as it is easy to network and interact with people in person. Online MBA on the other hand offers a more diverse networking opportunity with people joining you virtually from all over the country/globe.
How To Choose an Ideal Online MBA?
MBA Online is valuable when done from an appropriate college. Now that you are ready to pursue an online MBA, here are a few factors that you must consider before choosing an online college.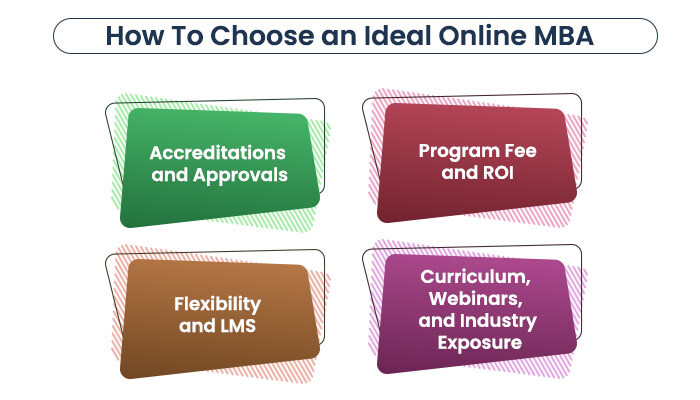 Accreditations and Approvals
This is the foremost factor to verify when you are looking for an online university. An online MBA degree is valid only if the college has the right accreditations and approvals.
As online education has been prospering in the last few years, a few colleges have emerged that make fake promises of providing an MBA degree. You must be vary of such fake colleges. To find a legitimate college, you must check if the college/university has any of the following accreditations or approvals.
If the college you are planning to study in has any of the above accreditations, then you can be rest assured. You can also check the ranking of the college at the National Institutional Ranking Framework (NIRF) to check how well the college is doing among all the other institutions.
Program Fee and ROI
Since affordability is one of the main reasons why students choose to go for an online MBA, it is crucial that you check the entire fee structure before applying to the college. Sometimes there are some hidden fees apart from the tuition fee that most students miss out on. So it is important to thoroughly go through the fee structure of the college.
After checking the program fee, you should also check the placement reports of the college from previous years. In these placement reports, you must check for the average packages received by the students in the particular program you will be enrolling in. These reports also showcase the list of recruiters. Such information will give you an idea about the ROI the college has provided to its students over the years.
Flexibility and LMS
Flexibility in learning is another major cause why students are preferring an online MBA. So it is a must to know in advance about the Learning Management System (LMS) of the college. LMS includes the online platform that the college will provide to teach its students. You must verify the technicalities of the platform and also if it is available to use at any hour of the day. Another aspect of consideration is whether the learning environment is synchronous or asynchronous.
Synchronous classes mean that the students will have to attend live online classes at a scheduled time. There is an advantage of live interactions in such classes. These classes are recorded for those who miss the live classes so that they can access them later.
Asynchronous classes mean that there will be no live classes but only recorded lectures available for all. These videos will be accessible to students at any time and can be watched as many times as the students want. The interactions in such classes take place through discussion forums where you can interact with your teachers and classmates whenever you want.
Curriculum, Webinars, and Industry Exposure
A successful career after an MBA totally depends on the curriculum of the program and the industry exposure you get while pursuing the course. Since the online mode of education limits in-person interactions, it is important that the college provides direct industry exposure to the students with the help of regular webinars, live online interactions with industry experts, an established alumni network to reach out the alumnus in the industry, live projects, seminars with industry specific veterans, and more. Don't miss these 10 important factors before choosing an online university!
Is Online MBA Really Worth It In India? The Verdict
An MBA degree essentially helps you grow professionally and financially but it is also a degree that helps you boost your confidence to grow as an individual. However, the question is if these benefits will carry if your MBA is online?
So to answer the question- Is an online MBA really worth it? Well YES! It definitely is worth it if you look at the additional benefits like cost-effectiveness, ROI, and the flexibility it comes with. You get the same curriculum, experience, and exposure at a much lesser price and without having to halt any of your other life activities.
Online MBA Review 2023– What Students say about Online MBA Programs
See what students have to say about the online MBA program they have enrolled in the year 2022.
Sanjana from Jain University (online) is currently pursuing an online MBA in Digital Marketing. Her experience so far has been great with everything going smooth and in a systematic manner. She says that there is a good blend of live classes and recorded sessions. "I have been assigned a program manager who is just like a class teacher at school. He is very enthusiastic and clears all our doubts regarding classes, assignment submission, and exams. The student dashboard is also very easy to use. Overall the experience has been very good so far."
Another student Maheshwar is currently pursuing an online MBA degree from Manipal University (online). He describes his experience to be good so far. The online study platform works really well according to him. "My mentor Dr. Sunishtha and all the other mentors are really supportive and I hope this great learning program continues till the end of my term."
Yash is a software engineer at an IT firm and is also pursuing his online MBA from the NMIMS. He is extremely satisfied with the learning management system as well as the career services that the university provides. "I was worried that I might have to leave my job to pursue an MBA degree. I was not in a situation to lose my source of income for an entire year. Hence, I enrolled in the online Executive MBA program at NMIMS. There are several career services packages as well to help you with interviews during placements. The learning environment is great and I am hoping for a boost in my career at the end of this year!"
Top Online MBA Colleges with Best ROI
With all of the above factors in mind, it is now time for you to select an ideal online MBA college. You can consider the following colleges that are providing the best online MBA curriculum in India with the most pocket-friendly program fee.
Conclusion
To conclude, do not be afraid to go for an online MBA. You just need to be wise while selecting the right B-school that offers a good return on your investments so that you are able to get the right value for your money. If you are confused about which B-school to select for your online MBA, then you can use the Compare Feature at College Vidya to select the best among all the universities.