Is an online MBA possible? Is an online MBA degree worth it? Is an online MBA degree the same as a full-time MBA degree? Which is better- an online MBA or a part-time MBA? What is the fee for an online MBA?
If you also have all these questions in mind, then you are at the right place. In this blog, you will learn all about an online MBA degree. In this blog, we will cover everything about an online MBA degree in India including- eligibility, admission procedure, colleges, approvals, fee structure, placements, future scope and much more! So without further ado, let's get into it.
Online MBA Degree Overview 2023
In this day and age, being technologically advanced is one of the most important assets to our society. With the world moving towards virtual reality, education too has made a big leap into the online mode of learning. Online MBA, especially, has created a buzz in the past few years with people wondering if an MBA online is the same as a regular MBA.
The answer is YES! An online MBA degree is the same as a regular degree with a similar curriculum, duration, projects, and quality of education. Online education may have been introduced in India because of the pandemic, but an online MBA is an exception.
Online MBA degree was introduced not solely because of the pandemic but as a long-term online learning facility with an aim to extend support to working professionals with uncompromising work ethics. People who are working and wish to hone their management skills but do not have the time to attend regular college can pursue an MBA for working professionals degree to advance their careers.
An online MBA degree means you will be able to attend classes from your home or anywhere you wish. Different universities and colleges have different criteria for online teaching. You will either have the option to learn from recorded video lectures or from live online classes. In most cases, there is a blend of both live online classes and video recorded lectures.
Most colleges provide a Learning Management System (LMS) for seamless online interaction between the students and educators. The quality of LMS varies for different universities. Continue reading to know the best colleges for online MBA degrees with the best LMS and other facilities.
Online MBA Degree Advantages
There are multiple advantages of pursuing an online MBA degree. An online degree might sound like a risk to many, however, when pursued by the right University with all the approvals is more advantageous than you believe. If still not convinced then check the following benefits.

Money becomes one of the biggest deciding factors while choosing to pursue MBA as a regular MBA is among the most expensive courses in India. The total fee for an online MBA degree is far less than that of a regular MBA degree. Therefore, an online MBA degree has an edge in this aspect as it is affordable and teaches a similar curriculum within the same time framework of 2 years.
Uncompromising Work Ethic
An online MBA degree is a big sigh of relief for those young working professionals who can not afford to take a break in their career to pursue a full-time 2 year MBA course. An online MBA degree helps them in many ways. They do not have to leave their jobs, which helps them with a constant source of income. There is no break in their career which gives them an edge over those individuals who have to take a 2 year break to pursue a regular MBA.
There is another advantage of pursuing an online MBA. Many companies and organisations pay the program fee of their employees who are working as well as studying to upskill themselves. Since, an MBA graduate would be a great asset to their organisation, they pay either partial or complete tuition fee.
Another important advantage of an online MBA degree is that it is a flexible learning system. You can study from anywhere and at any time of the day. You will have the access to study material and the recorded lectures to be able to study at any time. You even have the advantage of giving your projects and exams online. In many universities, you can even schedule your project submissions and exam dates within a certain period. This is extremely advantageous as you can give the exams at your own time in case of any emergencies.
The MBA online In India has been approved by the Distance Education Board (UGC-DEB), NIRF and given equal degree as the regular MBA programs. The online MBA degree is as much valid as is the full-time regular MBA degree.
MBA Online Degree Eligibility 2023
There are two types of online MBA degrees. One is the general 2 years online MBA. The other is the 1 year online Executive MBA, which is designed specifically for working professionals. The eligibility criteria for them are as follows.
2 Year Online MBA Eligibility
To be eligible for admission to an online MBA in any university, you must have passed graduation or equivalent from any board of education that is recognised by the government of India. You must score a particular minimum aggregate in graduation to be eligible. This minimum aggregate marks criteria is different for different universities. Most of universities consider students with at least 50% aggregate marks in graduation.
1 Year Online Executive MBA Eligibility
For an online executive MBA, apart from passing graduation from a recognised institution, the candidates must also have a minimum work experience as specified by the university they take admission in. Most of the universities require at least 2-4 years of work experience preferably in the corporate sector.
Read: What Is A Part-Time MBA?
MBA Online Degree Admission Procedure Step by Step 2023
Since it is an online program, most of the admission procedure takes place in online mode. Although the admission procedure may differ in some aspects depending upon the University, the basic procedure remains the same. Given below is the basic admission procedure for an online MBA degree: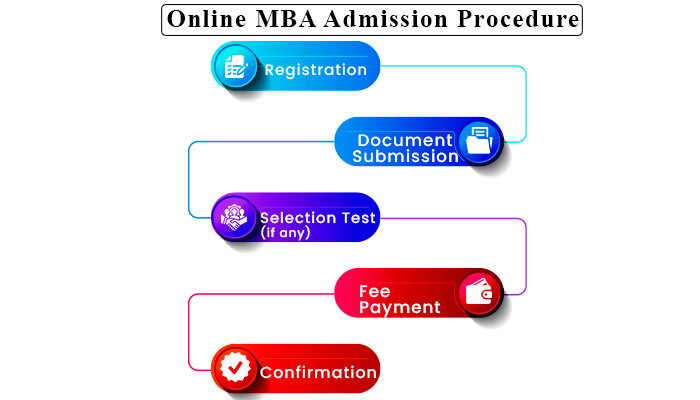 Step 1- For admission to any university for an online MBA degree, you will first have to register yourself with that particular university. The registration is usually through a registration or application form wherein you have to fill basic details about yourself. These include your personal details, academic and professional details. You will also have to pay an application/registration fee at this stage. The registration fee might range between INR 1000-2000/-.
Step 2- After applying/registering to the university/college, now you will have to submit your documents to the administration for verification. These include all your academic documents like your school and college mark sheets, photo identity proof like Pan Card/Aadhar Card etc, work experience certificates in case of online Executive MBA, passport size photos, and any other document or certificate as specified by the university.
Step 3- The third step in the admission process varies greatly across Universities. This step includes a selection test or a personal interview. Some universities might consider any one of them, some others might consider both of them, while some do not consider any of them at all.
In case there is a selection test or a personal interview, then the information regarding the same is conveyed to the students via email. The selection test and the personal interview are both conducted in the online format in most cases.
If the university does not conduct any test or interview then you can directly jump to Step 4.
Step 4- This is the step where you pay the program fee. A maximum of the colleges provide the facility to pay the fee by both online and offline methods. Loan facilities are also given by some colleges. In case of a selection test or personal interview, only those who pass the entrance will have to pay the fee, as only they will be eligible for admission.
Step 5- This is the final step of the admission procedure. After all your documents have been verified and the fee that you submit has been approved, your admission will be processed and you will be given your student Ids or enrolment number as per the University guidelines.
Online MBA Degree Approvals, Colleges & Fees Structure 2023
While selecting a University for your online MBA degree, it is very crucial to choose the right university. By right university, what we mean is you must choose a university whose degree is valid.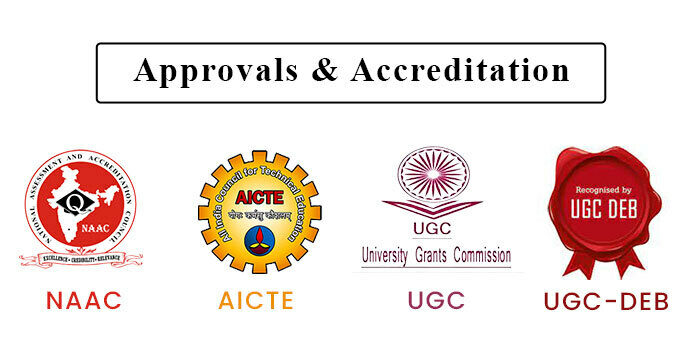 The university must have the right accreditations and approvals so that the online degree that it offers holds validation. The university must be approved and accredited by any of the following:
University Grants Commission (UGC)

Distance Education Bureau (DEB)

National Assessment and Accreditation Council (NAAC)

All India Council for Technical Education (AICTE)
Online MBA Degree Fee Structure 2023
One of the best advantages of an online MBA degree is that it is much more affordable in comparison to the regular MBA programs in India. The fee structure of an online MBA makes it a very pocket-friendly course. Hence, the online MBA degree is a blessing for all those talented individuals who drop their dreams of becoming great managers and administrators because of the skyhigh fee structure of the regular MBA degree.
The fee structure of some of the best universities for online MBA degrees is given below.
University Name
Total Fee (in INR)

Narsee Monjee Institute of Management Studies (NMIMS)

1,44,000/-

Lovely Professional University (LPU)

1,56,000/-

1,42,000/- (if paid lump sum)

Amity University

2,64,000/-

2,55,000/- (if paid lump sum)

UPES

1,45,000/-

Chandigarh University

26,400/-

Jain Online University

1,20,000/- to 2,00,000/-

Online Manipal University

1,50,000/-
MBA Online Degree Placement and Future Scope
After completing your MBA, you are eligible to get jobs at big firms irrespective of the type of degree, whether a regular MBA degree or an online MBA degree. Both regular, as well as online MBA degrees, hold equal weightage. The placements that you get are based on the disciplines you specialise in.
Prestigious colleges provide placement assistance to both their regular as well as online learners. The university assists you in your Resume/CV building, Interview Processes, Internship opportunities, and virtual job fairs as well. Some universities assist you at all stages of your career even after you pass out from college.
Read: After MBA Job Opportunities
Some prestigious colleges that offer career and placement assistance services for online MBA students are:
Narsee Monjee Institute of Management Studies (NMIMS)

Lovely Professional University (LPU)

Amity University

Jain Online University
Online MBA degree is now provided by numerous colleges in India. However, it is very important to choose the correct college that best suits your particular needs and requirements. You can check out the College Vidya compare feature where you can compare universities based on many important different factors. This is a single stop where you will find accredited and approved universities only and you will not have to open multiple tabs or worry about fake universities. So compare and choose the best!
Top Colleges Abroad for Online MBA Degree
Following are some of the top colleges abroad to pursue an online MBA degree. These colleges offer a hybrid mode of study in which some part of the program is studied online and for the rest of the program, the students have to go to the college for in-campus studies.
| | |
| --- | --- |
| University Name | Country |
| Johnson & Wales University | USA |
| Dundalk Institute of Technology | Ireland |
| University of Canada West | Canada |
| International University of Applied Sciences, (IU) | Germany |
| University of Bridgeport | USA |
| Edgewood College | USA |