When it comes to choosing a career field, management emerges among the top 5 options students and working professionals prefer. Management is among the most popular career choices in India, especially for a long-term career vision. But within this field, there are a myriad of specific job options as well. But what makes management such an appealing career domain? How to identify the career option that suits your career needs the best? Which management career domain provides chances of promotions and career escalation? What is the compensation of these fields?
If these are a few of the questions that perplex you, then this blog will help you find all the answers right in this one-stop. Continue reading to find out some of the best reasons to take up a career in management as well as the top 10 career options in this field.
Why Go For a Career in Management?
Research suggests that management is one of the most sought career fields in India despite the limited percentage of professionals who are able to escalate to such levels and job positions. Nonetheless, both students and working professionals at various stages of their career aspire to pursue careers in management or eventually escalate to management positions. As can be seen, the appeal of management jobs and a career field is massive.
But what makes management worth pursuing? Why do professionals from various fields aspire to form careers in management? Here we have listed down a few of the factors that increase the appeal of management as a career manifold to students and professionals.
Prestige and Respect Associated with Position
Foremost, the factor that comes up as a prime reason for choosing management as a career field is the respect, reverence and prestige that such positions entail for the job holder. Management positions are reflective of a person's expertise and prowess at executive roles and hence aspired for by individuals working in companies and organisations. Management positions often require certain interpersonal and leadership roles for the manager to occasionally fulfil which may make it even more appealing as a job domain.
Golden Route to Career Escalation
When entering a job domain as a fresher, one expects to slowly grow in their career and escalate up the corporate ladder with experience. Most of the job domains today stagger off or reach a critical point beyond which promotions may become unhelpful, unless they have certain management skills. Management careers help you to effectively progress up the career ladder and emerge on top management positions with a few years of experience and performance.
While automation is taking over multiple job sectors and significantly affecting the future of many technical jobs, the field of management seems to have a stable future since human intelligence still continues to beat the artificially intelligent technologies affecting the professional landscape. The contribution and soft skills contributed to by humans remains invaluable to management. As a result, management sector jobs are not only valued for their shein and prestige but also because of the stable future they ensure in terms of career development.
Fair Compensation in the Field
The pay and compensation is a significant aspect of any job role, whether at the entry level or at the executive levels. Management jobs are among the most well-paid jobs provided a professional has the requisite skills, qualifications and competencies to thrive well in the sector. The perks and benefits of management jobs are also quite appealing, leading to them becoming a popular career choice amongst professionals.
Management is not a homogenous professional domain. It consists of many subdomains which offer a vast variety of careers to choose from. Depending upon one's primary area of interest, aptitude and experience, there are a number of specialisations of management that one can decide to venture into. Some prominent examples include management of finances, marketing of a company, the human resources, particular projects and operations, logistics, IT systems and so on. Find more about the various sectors of management you can venture into further in the blog.
Host of Transferable Skills
Another primary reason for the widespread popularity of management as a professional field is its cross-industry relevance. The fundamental principles of management are concerned with a similar basis and hence the skills and experience in one industry can very well be transferred and applied in other industries. Although the exact implementation of management principles should understandably be sensitive to the context and situational demands, the experience gained in the operations in one industry can surely be useful in another industry as well.

As can be seen, venturing for a career in management confers many appealing benefits ranging from fair compensation, prestige, respect to the opportunity of gaining invaluable experience that is conducive to career escalation in the longer run. Hence, it continues to remain one of the most popular and demanded job sectors in India.
Top 10 Career Options in Management to Pursue
Here we have elaborated upon 10 of the most valued and demanded career options in management that can land you in excellent professional environments.
1. Marketing Manager
A marketing management job is one of the most popular career options in the field of management studies and confers the opportunity to the professional for effectively designing, creating, implementing and evaluating various marketing projects and campaigns. This job role involves regular appraisal of a company's market performance, and accordingly streamlining the marketing strategies and campaigns to maximise business growth.
Some of the key details about this job role have been given below.
Key Skills Needed: Some of the common skills needed by a

marketing manager

to prosper include creativity and innovative thinking, effective organisation and coordination between various stakeholders, strategizing skills, communication skills, supervision to team members etc.
Average Salary Package: The average pay package that a marketing manager can earn in India is nearly INR 7.9 LPA with around 4-5 years of professional experience.
Top Hiring Companies: Some of the top hirers of marketing managers include companies and firms like Google, Flipkart, Amazon, Mahindra and Mahindra, HCL etc.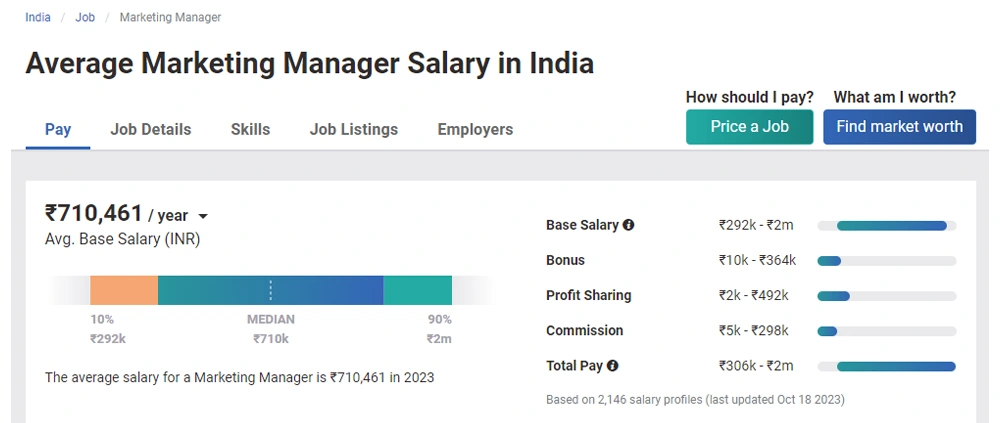 2. Financial Manager
A financial manager is concerned with the supervision of the operations and management of financial services, including those like budgeting or various departments, offices, operations etc., managing the expenditures of the organisation, the accounting functions and so on. Among management profiles, financial management is one of the most lucrative and appealing job profiles in India. The domain is well-established for a career and students and professionals having financial, analytical and computational aptitude can explore a career in financial management for effective career escalation over the years.
Find further details about the profile of a financial manager here.
Key Skills Needed: Some of the essential skills that a finance manager must possess in order to thrive in their job include those like analytical skills, critical skills, vigilance and care to detail, effective coordination and collaboration skills, computational skills, communication skills etc.
Average Salary Package: The average salary package that one can earn as a

finance manager

in India is around INR 10.5 LPA to INR 10.7 LPA, with nearly 5 to 9 years of professional experience.
Top Hiring Companies: Financial managers are hired regularly by finance firms, banks and other commercial ventures such as HDFC Bank, ICICI Bank, the State Bank of India (SBI), Goldman Sachs, JP Morgan and Chase etc.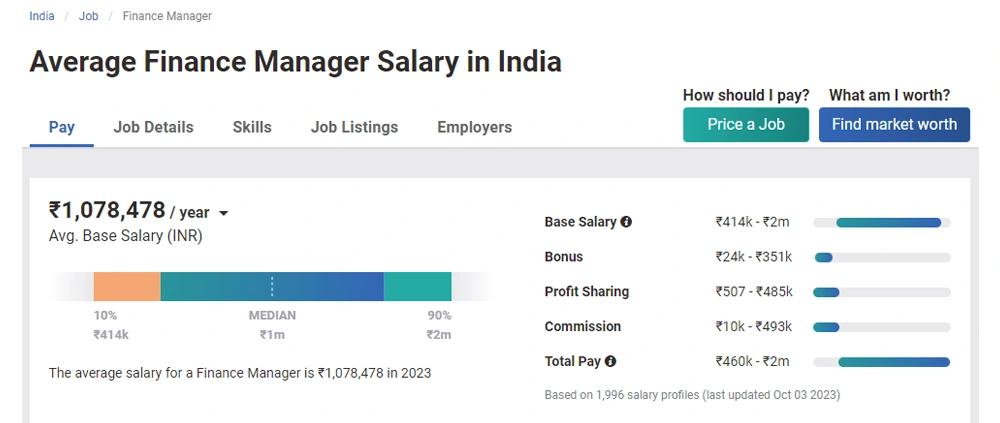 3. Human Resource (HR) Manager
Human resource management or HRM is a domain of management concerned with the effective management of the human resources, i.e.the employees of the organisation, and addressing their key concerns, ensuring their well-being, optimising their performance, ensuring their upskilling and maximising their potential for the organisation's growth as well. Specific domains that an HR manager is expected to pay attention to include recruitment and hiring processes, training and development, grievance redressal, talent acquisition, managing interpersonal relations etc. The job role of an HR manager can be quite rewarding, both in terms of the compensation and diversity of experiences it offers.
Certain key details about the HR management job profile have been provided below.
Average Salary Package: On an average, an HR manager can earn anywhere between INR 7.6 LPA to INR 7.9 LPA, provided they have around 4 to 5 years of professional experience.
Top Hiring Companies: Any organisation requires HR personnel for its smooth functioning, and among the most appealing hirers of HR personnel include Amazon, HCL, IBM, Wipro, Tata Consultancy Services, Ernst and Young, Capgemini, Wipro etc.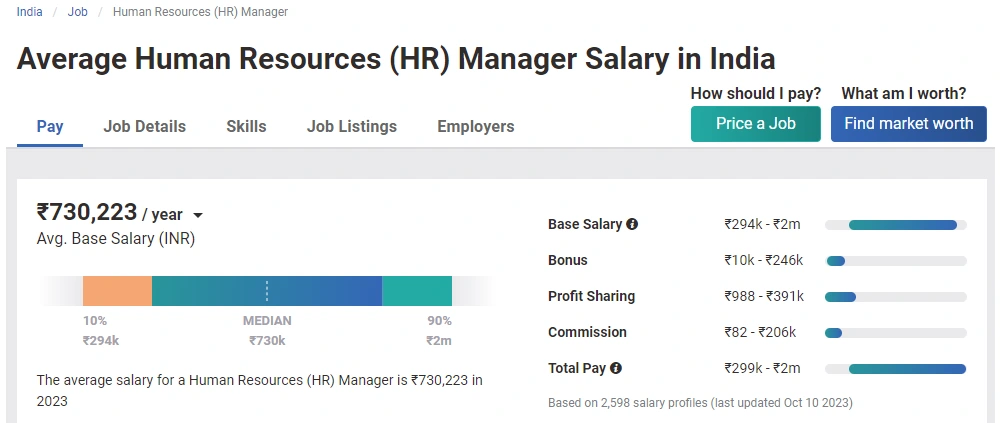 4. Sales Manager
Marketing and sales being a very well-established career domain in India, sales managers can enjoy a successful and rewarding career journey. The job profile of sales management is related to both the management of sales and services and the customer relations for maximising growth. At the ground level, sales managers are involved in the management of the performance and tasks of the sales executives, the overall sales campaigns, targets, management of the customer interactions, the customer relations etc. as well as the effective strategizing and planning to streamline the sale activities to meet the larger business growth targets.
The details about the job role of a sales manager have been given below.
Key Skills Needed: Some of the most important skills that sales managers must possess include soft skills like communication skills, persuasive ability, strategizing skills, team management etc. and technical skills like business development, customer relationship management, strategic sales etc.
Average Salary Package: With around 3 to 4 years of professional experience, a

sales manager

can earn anywhere between INR 5.5 LPA to INR 5.9 LPA. The salary growth rate is often subject to the manager's abilities and tangible team performances.
Top Hiring Companies: Hiring companies of sales managers include those like Amway, Tata Capital, Muthoot Finance, Airtel, Flipkart, Apple etc.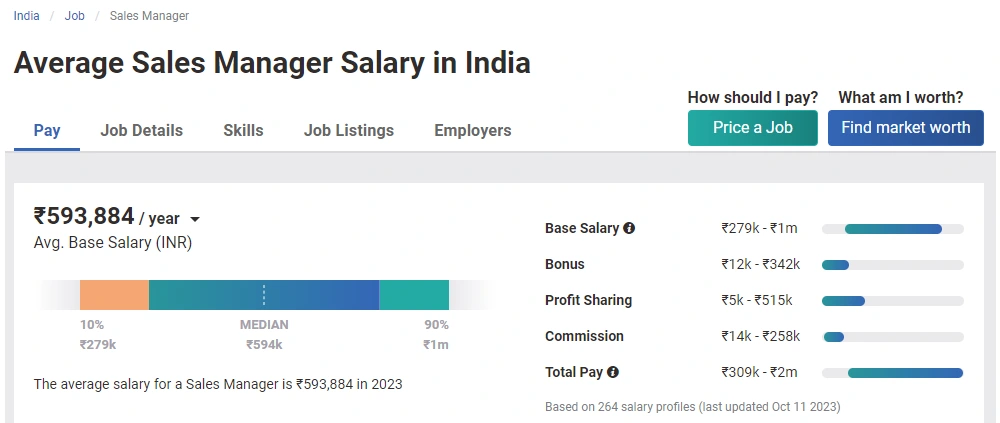 5. General Manager
A general manager is a middle-level manager who is involved with the overall functioning and ensuring the optimal performance of the organisational operations. The job role of a general manager is quite diverse and flexible. It involves attention to various aspects like the effective management of the employee performances and concerns, hiring in the organisation, effective budgeting and expenditure, effective coordination between departments and so on. The coordination and collaboration between the various departments of the organisation is also another aspect a general manager is expected to supervise.
Find more important details about the profile of a general manager here.
Key Skills Needed: With skills like budget management, project management, supervisory and leadership capacity, business management, entrepreneurial capacity etc. professionals can really thrive in the field of general management. Soft skills are also important to manage the job tasks well in this domain.
Average Salary Package: On an average, general managers with 5-6 years of experience can earn anywhere between INR 23 LPA to INR 23.67 LPA.
Top Hiring Companies: Accenture, Deloitte, Tata Motors, ICICI Bank, KPMG, Capgemini etc. are among the top companies that hire general manager

general manager

with lucrative packages.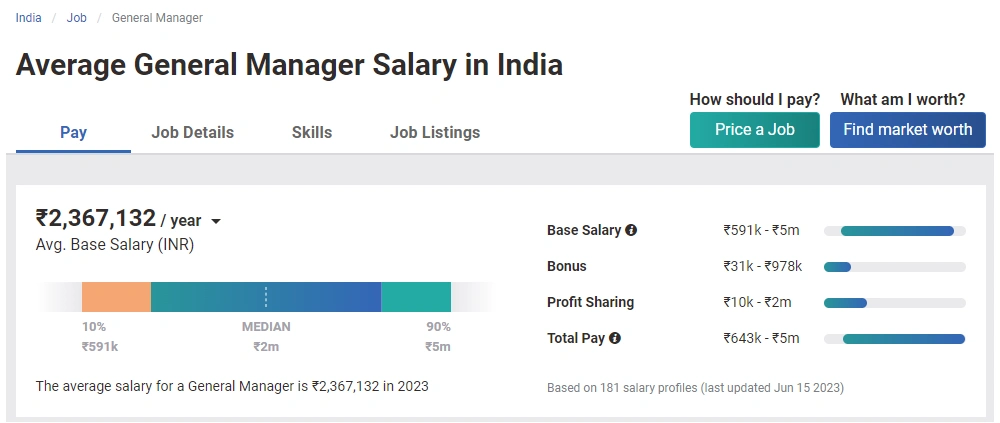 6. Project Manager
Project management is one of the top 10 most well-compensated career fields in India at the moment. Project managers are concerned with the overall management and overseeing of various projects, which could be in various functional domains of the organisation, although it is conventionally concerned with operational projects and IT projects. Project managers are closely involved with the initiation, designing, implementation, evaluation and management of various projects in the organisation. Key responsibilities include planning the project by breaking it down into component objectives, effective implementation of the tasks, managing deadlines and progress of members, ensuring customer satisfaction, coordinating with the top management etc. The scope of career growth in the field is quite high and it is currently in its growing stages as a profession in India.
Find more details about the profile of project management given below.
Key Skills Needed: To thrive as a

project manager

, skills like project coordination, supervision, client interaction, coordination, strategic skills, communication abilities etc.have been consistently rated important by professionals in the field.
Average Salary Package: Packages can range anywhere between INR 13 LPA to INR 13.91 LPA in this field for professionals with around 3 to 4 years of professional experience.
Top Hiring Companies: Infosys, Accenture, Cognizant, Tata Consultancy Services, IBM, Wipro, Capgemini, HCL, Ernst & Young etc.are among a few of the top MNCs that hire project managers for their large projects.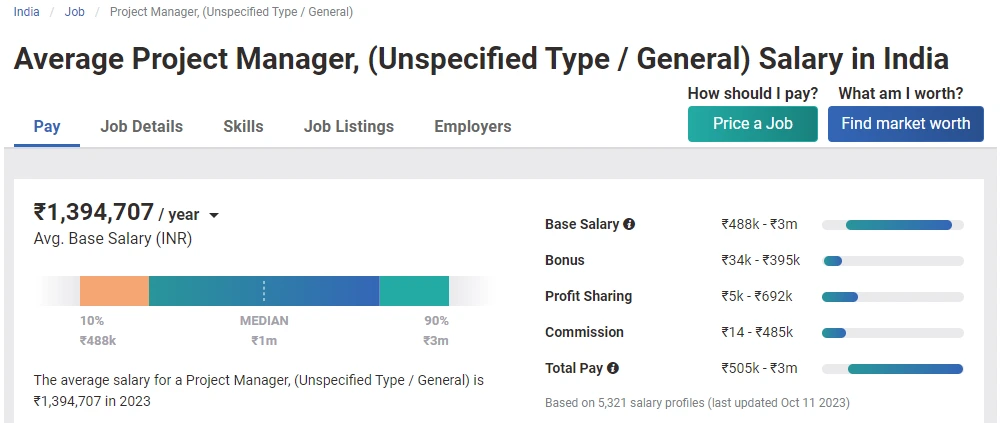 7. Public Relations Manager
Public relations management or PR management is concerned with the creation of one's media image, presence and voice as well as the strategic presentation of oneself and information to influence the perception of the general population and stakeholders. PR managers work in collaboration with the clients to create strategies for marketing, brand presentation, budgeting and information presentation. PR management is a developing career domain in India and is one of the most appealing ones due to its scope for effective networking and skill building.
More details about the profile of a PR manager have been listed below.
Key Skills Needed: Marketing communications, strategic planning, communication skills, articulation skills, effective networking skills, brand management, self-branding etc.are a few of the important skills and competencies to thrive as a

Public relations manager

.
Average Salary Package: PR jobs offer a decently high salary in the initial years of experience, within a range of nearly INR 5 LPA to INR 5.71 LPA. With experience, a professional can earn much fairer packages.
Top Hiring Companies: Companies such as XEAM Professionals, ABC, Flipkart, Genesis Burson-Marsteller, Waggner Edstrom etc. are among a few of the top PR companies to work in India.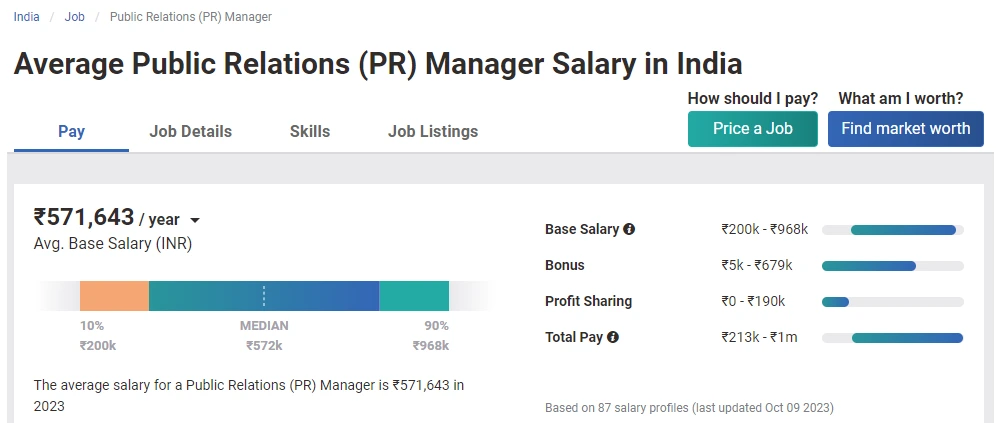 8. Computer and Information Systems Manager
A computer and information systems manager is a professional at the middle level of management involved with facilitating an organisation to use its IT infrastructure and informational resources in the most efficient manner to maximise company outputs and performance. Ground responsibilities of a computer and information systems manager include those like maintenance of company hardware and software needs and supplies, maintenance of information systems for the various departments and ensuring their safety and privacy, providing training for enabling staff to use the technology and so on.
Further key details about this job profile have been provided below for quick reference.
Key Skills Needed: To thrive in this professional domain, skills related to IT support, information system management, MS Office, Internet Information Server (IIS) etc. are quite essential. A few of the requisite soft skills include strategic skills, supervisory and management skills, people management etc.
Average Salary Package: This field is quite fairly compensated as professionals with 3 to 4 years of professional experience can earn nearly INR 9.72 LPA as a computer and information systems manager.
Top Hiring Companies: Companies like Accenture, IBM, Dell, HCL, HP, Wipro, Google, Microsoft etc. are among some of the hirers of this job profile.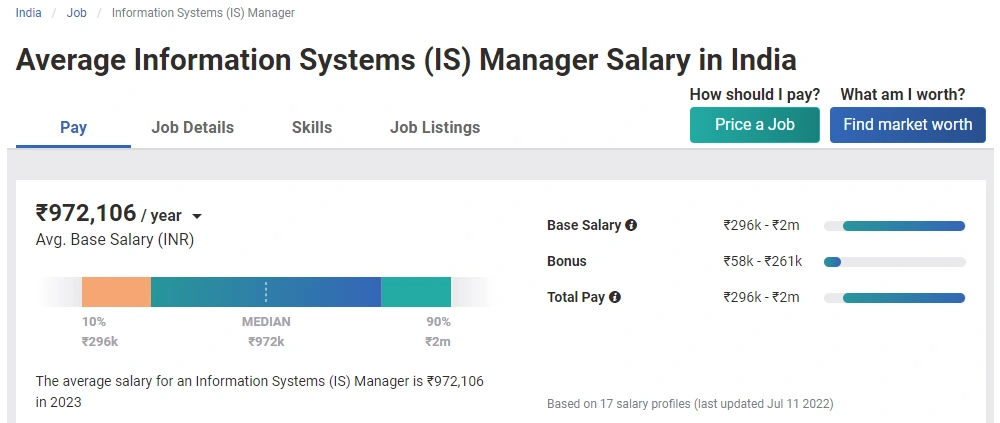 9. Business Analyst
Business analysis is one of the booming sectors of management education in the current industrial landscape of India. Business analysts enable companies to effectively analyse their data from various sources to draw insights to further guide business decisions. Business analysts have a crucial strategic role to play in affecting the business trajectory in organisations with respect to PR relations, customer relations, marketing strategies and so on. The scope of this field of management is quite high since it is currently prospering, and with a few years of experience, professionals can escalate to major managerial positions.
Find more details about the job role of business analysts.
Key Skills Needed: A few of the hard skills needed to thrive in business analysis include data analysis, business intelligence tools, process management, systems analysis, CRM knowledge, data visualisation, communication skills etc. while soft skills like, analytical and critical thinking, cost-benefit analysis, decision-making skills etc.are also important
Average Salary Package: The average salary package that business analysts can earn in India is around INR 6 LPA to INR 6.20 LPA
Top Hiring Companies: A few of the companies and firms that hire

business analyst

include Accenture, Deloitte, KPMG, Tata Consultancy Services (TCS), Wipro, Capgemini etc.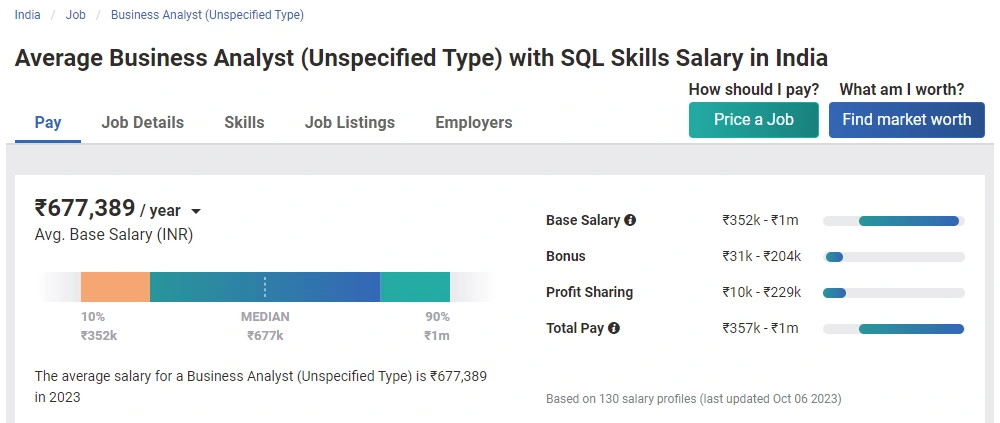 10. Management Consultant
A management consultant is an expert or mentor who provides clients with consultancy and advice about the effective management of a certain or multiple domains. Clients of management consultants can include leaders and managers, the entire organisations, some departments within an organisation and so on. Moreover, management consultants can be hired by organisations on a full-time basis for more engagement or may be hired or collaborated with as a third-party client. In either case, it is a quite well-compensated field with a great scope of career growth due to the networking opportunities available.
Further details about this job domain have been provided below.
Key Skills Needed: This field requires a mix of both technical and soft skills like process improvement, business communication, analytical skills, critical skills, problem-solving skills, data analysis, project management, business knowledge, communication and interpersonal abilities etc.
Average Salary Package: The average salary package that a

management consultancy

firm can offer with 2-3 years of experience in INR 12.77 LPA.
Top Hiring Companies: Top MNCs like Google, Tata Consultancy Services (TCS), Wipro, IBM, HCL, HP, Deloitte, Accenture, Boston Consulting Group (BCG), Bain & Company, Ernst & Young etc. are among a few of the top hirers of management consultants.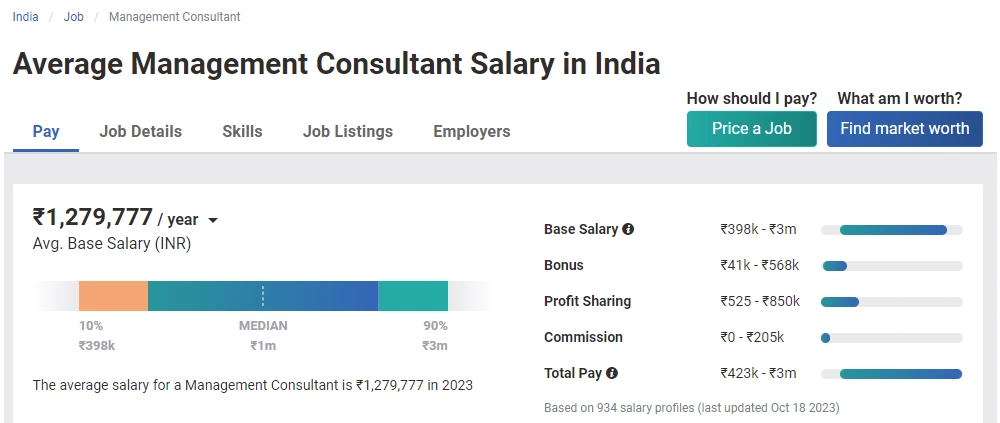 Top Courses and Specialisations in Management Education to Pursue
In order to grab an appealing job option in management, just professional experience is not enough. Gone are the days where career escalation was a seamless journey based on your professional experience. Today, in addition to your skill sets, companies and international firms demand that you have the requisite formal education and training in management to guide your professional actions and decisions. Constant upskilling is also highly appreciated and conducive to success in managerial job positions as it enables you to stay relevant to your job.
Courses that students of management can consider taking up include degrees, diplomas and certification courses. Professionals who already have some experience in a managerial field can also consider taking up executive courses that allow for learning and upskilling tweaked for working professionals. The prominent courses useful for upskilling in formal education and upskilling in management include:
| | |
| --- | --- |
| Bachelor of Business Administration (BBA) | Master of Business Administration (MBA) |
| Post Graduate Diploma in Management (PGDM) | Executive MBA Program (EMBA) |
| Global MBA Program | Doctor of Business Administration |
| Professional Certificate Program in Management (Based on Specialisations) | Advanced Diploma in Management (Based on Specialisations) |
There are a number of specialisations within management that students can specifically decide to venture into such as:
Marketing Management
Finance Management
Human Resource Management (HRM)
Operations Management
International Business (IB) Management
Logistics and Supply Chain Management
Information Technology (IT) Management
Data Science
Business Analytics
Healthcare Management
Retail Management
Banking, Financial Services and Insurance (BFSI)
Fintech Management
Oil and Gas Management
Power Management
Blockchain Management
Wealth Management
HR Analytics
Sports Management
Leadership and Entrepreneurship Management

With formal education in management, whether in the form of a degree course, a diploma, a certificate or an executive program, you would be better equipped with foundational knowledge at handling problems and workplace situations related to effective management.
Conclusion
Thus, there are a number of specific domains related to management that can be quite useful for career growth and fair compensation since they are highly industrially valued. Each job domain in management requires its own specific skills, knowledge and competencies, all of which come more easily to professionals who are not only well-qualified but also have field experience. This blog has enumerated the top 10 management job profiles that a professional or aspiring manager can venture into, along with listing out the major benefits associated with those professional domains. A few of the top demanded courses in management for effective career development have also been listed.