About Distance BBA of Chandigarh University
The Bachelor's degree in Business Administration is denoted as BBA. It is a 3 years undergraduate course that consists of 6 semesters. The course can be pursued through distance mode of education or regular mode of education. Most of the students who are looking to make their career in the business and management field will pursue the BBA course through distance learning.
This course is one of the most popular courses as most of the students pursue the BBA course after completing 10+2. Being the most admired course many universities took the initiative to provide the BBA course through distance learning at their premises. Chandigarh University is one of the best distance universities located in India that offers the Distance BBA course to the students.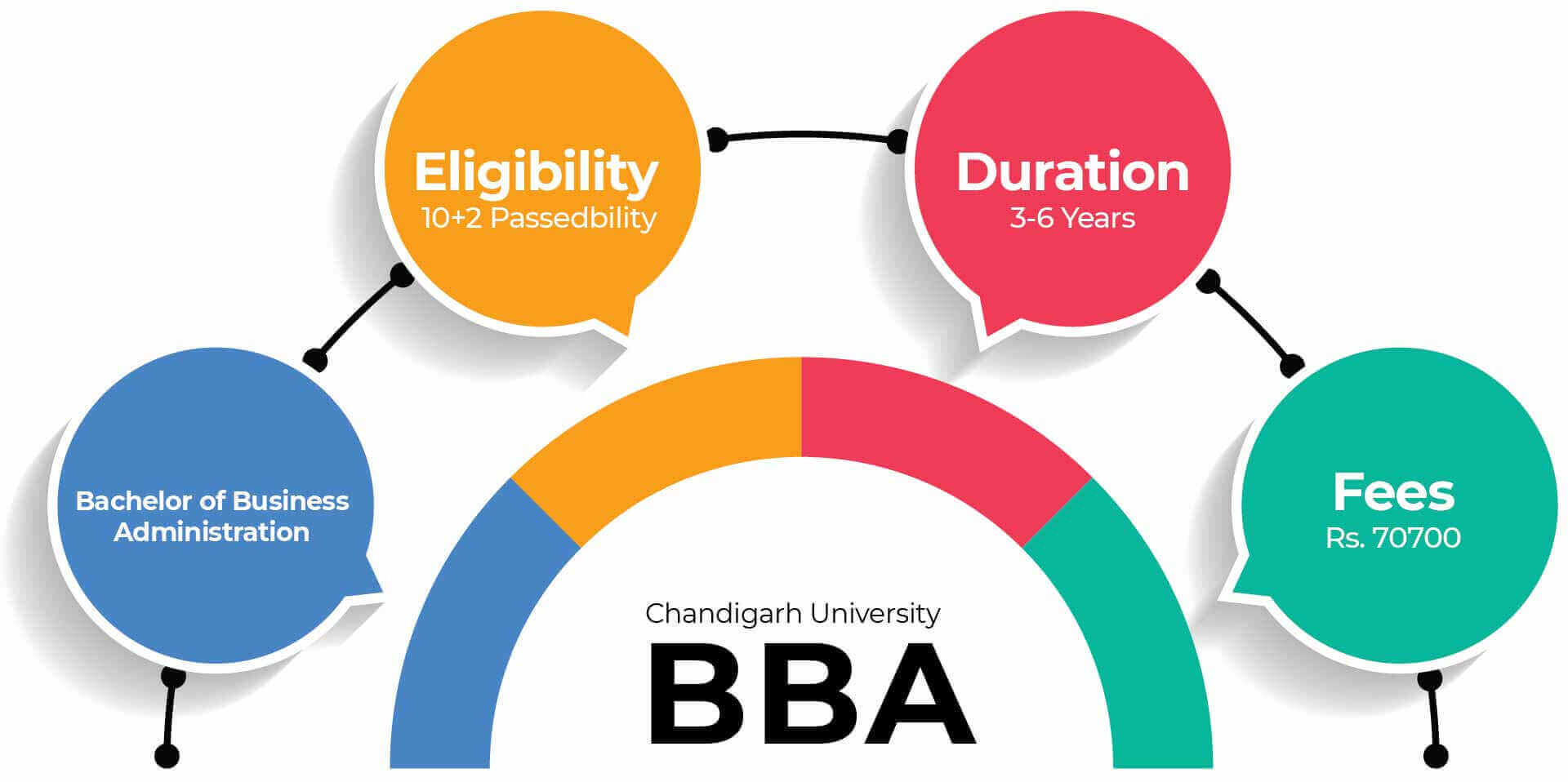 ​A Bachelor of Business Administration is a highly valued professional degree designed to develop the skills required for upgrading careers in business and management. Chandigarh University's Distance BBA course is a Career-oriented BBA program that prepares students in such a way so that they can apply for a variety of management jobs. The distance BBA degree from Chandigarh University is valid and approved by the University Grant Commission – Distance Education Board.
Distance BBA Course is specially created to impart a basic understanding of management education and to instruct the students in effective communication skills, which inculcate entrepreneurship skills and decision-making skills, etc. These skills are considered essential to learn as when you are working in any organization you must know these skills to manage everything more efficiently.
Chandigarh University has designed the Distance BBA course, especially for the students who are willing to pursue a higher degree to upgrade their career but are not able to conduct regular classes so that they can get the quality education during the distance mode of learning.
About Chandigarh University
Chandigarh Distance University is a well-established and one of the popular distance universities that are offering distance education for the last many years. Chandigarh University was established in the year 2012 and is located in Punjab. There are many undergraduate and postgraduate courses offered by the university through distance mode of education.
All the distance education programs are approved by the University Grants Commission Distance Education Board (UGC-DEB). The university is also accredited by NAAC with A+ Grade Estimation. Chandigarh University has been also awarded the title 'Asia's fastest-growing private institution'.
The best thing about Chandigarh University is that the university also provides the best placements to the students and also, the name of Chandigarh University is recorded in 'Limca book of records' for inviting the maximum number of companies in a single year for a college placement program.
Chandigarh University has also ranked 3rd amongst the best private universities in India today, NIRF, and many more. Chandigarh University has also been awarded by Star and also by WCRC for best placement.
Chandigarh Distance BBA – Course Details
| | |
| --- | --- |
| University | Chandigarh University |
| Degree | Bachelors |
| Full-Form | Distance Bachelor of Business Administration |
| Duration | Course Duration of Distance BBA is 3 Years. |
| Age | No age limit |
| Minimum Percentage | 50% |
| Subjects Required | Students from any stream can apply for the course |
| Fees Incurred | INR 80700 total |
| Average Salary Offered | INR 5-8 Lakhs per annum |
| Employment Roles | Marketing Manager, Marketing Executive, Operations Manager, HR Manager, Financial Analyst |
| Placement Opportunities | Banks, Multinational Companies, Educational Institutes, Export Companies, Industrial Houses, Business Consultancies, Marketing Organizations |

​Eligibility Criteria for Chandigarh Distance BBA
There are certain eligibility criteria that every student needs to follow who are looking to take admission in Chandigarh University to pursue the Distance BBA course. These criteria are mentioned below.
Candidates must have completed their intermediate level of education or have passed the exams of 10 + 2 schooling or equivalent with a minimum of 50% marks.
Candidates also need to make sure that they have completed their 12th from a recognized board.
The students from any stream can apply for the distance BBA at Chandigarh University.
Syllabus of Chandigarh Distance BBA
Semester – 1

Semester – 2
Semester – 3
Codes
Subject Title
Codes
Subject Title
Codes

Subject Title

BBA101
Basic Accounting
BBA106
Human Resource Management
BBA111
Banking
BBA102
Business Mathematics and Statistics
BBA107
Marketing Management
BBA112
Logistics and Supply Chain Management
BBA103
Micro Economics
BBA108
Financial and Management Accounting
BBA113
Indian Economy
BBA104
Computer Fundamentals
BBA109
Principles of Management
BBA114
Rural Marketing
BBA105
Communication skills
BBA110
Advance Accounting
BBA 2**
Elective- 1 Group (A/B/C/D)

BMS101
Environmental, Waste and Disaster Management

Semester – 4

Semester – 5
Semester – 6
Codes
Subject Title
Codes
Subject Title
Codes

Subject Title

BBA 115
Research Methodology
BBA119
Entrepreneurship Development
BBA123
Corporate Strategy
BBA116
Compensation Management
BBA120
Business Environment
BBA124
Financial Services and Markets
BBA117
Digital Marketing
BBA121
Retail Management
BBA125
Industrial Relations and Labour Laws
BBA118
Commercial & Company Law
BBA122
Operations Research
BBA126
Final Project
BBA 2**
Elective- 2 Group (A/B/C/D)
BBA2**
Elective-3 Group (A/B/C/D)
BBA2**
Elective-4 Group (A/B/C/D)

BMS102
Gender Equality and Women Empowerment
​Duration of Chandigarh Distance BBA
The distance BBA is an undergraduate course and all the undergraduate courses are almost the same duration. The duration of the distance BBA course is 3 years that consists of 6 semesters and each semester will be completed in the time period of 6 months.
Examinations of the courses will be held each semester which will be taken online. Also, the students have the option to complete the course in 5 years.
Fee Structure – Chandigarh Distance BBA
Generally, the fee of the distance courses is comparatively less than the regular courses. Most of the students who cannot pay the expensive amount in private colleges for regulars will go for the distance courses as they are not from a financially strong background.
The fee of the course of Distance BBA at Chandigarh University is Rs. 8950 per semester. Also, an enrolment fee of Rs.500 has to be submitted at the time of admission. And, the separate exam fee is charged for the examination fees for each semester. However, an overall course fee is affordable to every student.
Career Aspects for Distance BBA
After getting the degree of Distance BBA, the students can have a vast scope of job opportunities in different sectors such as Finance, Marketing, Insurance, Banking, Accounting, Human resources, and others.
Distance BBA degree will allow the students to uphold the roles of Managers, analysts, and executives market researcher brand manager digital media manager and many more. Financial Analyst, HR Manager, Corporate Executives, Sales Managers are some of the top job profiles to which a distance BBA degree holder can apply.
Conclusion
So, here we have mentioned all the appropriate details about the distance BBA course provided by Chandigarh University. The degree will help you to get great job opportunities in the job market and you can upgrade your career after getting the degree in your hand. Hope, this blog will help you to make a better decision.