About Distance Masters of Computer Applications
Distance Masters of Computer Applications is a PG program offered to students who have completed their bachelor's and willing to work in the IT domain. Chandigarh University offers distance MCA via semester mode instead of the yearly mode.
Hence, students will get to study for different semesters in 2 years and examinations will be held as per this curriculum. This degree program from Chandigarh University is valid in every part of the world as the university has gained approval from UGC-DEB.
​Candidates who are interested in careers like Software Development, Data Science, Business Analysis, and Data Analysis should consider courses like MCA. Distance MCA of the Chandigarh University offers subjects like Python Programming, Mobile Applications Development, Machine Learning, Web Optimization, and others.
Chandigarh University is one of the famous universities and in this university, even distant students get the opportunity of campus placements. The university is famous for inviting the highest number of companies for placements
. Apart from this, candidates who are already working somewhere and interested in shifting to a higher profile in the IT domain can easily opt for this degree program. Distance MCA gives you an edge over others because you can learn at your own pace and manage your other commitments along with your studies.
About Chandigarh University
Chandigarh University is a destination for most distance learners who are willing to pursue higher education along with their work. The university was established to become a globalized center of research, innovation, and academics.
Chandigarh University is among India's top 5% institutes to receive A+ Grade from NAAC. Chandigarh University established the center of distance and open learning (CU-IDOL) to disseminate distance education in different parts of the world.
The university provides varied distance and online learning courses in disciplines like Management, Commerce, and Humanities.
Chandigarh University has also gained recognition and approval from the University Grants Commission (UGC) and its distance education has been approved by the Distance Education Bureau (DEB).
Students can easily take admission in any course of the university just by visiting the official site of CU-IDOL to fill the application form. Apart from varied courses, the university gives distance students leverage for online lectures and other assessments.
Also, there are plenty of rewards and recognition earned by this university of Punjab, for instance, Limca Book of Records for inviting the highest number of companies for placements, ranked 3rd amongst top private universities of India by India Today, and the university is amongst the top universities of India according to the NIRF ranking.
Course Details Of Chandigarh University Distance MCA
| | |
| --- | --- |
| University Name | Chandigarh University |
| Degree | Masters |
| Full-Form of the course | Masters of Computer Applications |
| Duration | 2 years |
| Age limit | No age limit |
| Disciplines required | Bachelor's in Computer Science or in any discipline with Mathematics |
| Minimum percentage | 50% |
| Fees of the program | INR 28,900 |
| Job Opportunities | Data Analysis, Data Science, Software Development, Technical Writing, etc. |
| Average salary offered | INR 4 lakhs – INR 6 lakhs |
Syllabus of Chandigarh Distance MCA
Semester 1

Semester 2
Codes
Subject Title
Codes

Subject Title

MCA631
Advanced Internet Programming
MCA641
Software Project Management
MCA632
Design and Analysis of Algorithms
MCA642
Advanced Database Management System
MCA633
Operational Research
MCA643
Cloud Computing
MCA634
Advanced Computer Networks
MCA644
Network Security & Cryptography
MCA635
Parallel and Distributed Computing
MCA645
Statistical and Numerical Methods
MCA636
Advanced Internet Programming Practical
MCA646
Linux Administration Practical
MCA637
Design and Analysis of Algorithms Practical
MCA647
Advanced Database Management System Practical
Semester 3

Semester 4
Codes
Subject Title
Codes

Subject Title

MCA651
Python Programming
MCA661
Advanced Mobile Applications Development
MCA652
Mobile Applications Development
MCA662
Web Optimization
MCA653
Software Testing & Quality Assurance
MCA663
Major Project
MCA654
Introduction to Machine Learning
MCA664
Advanced Mobile Applications Development Practical
MCA655
Minor Project
—
—
MCA656
Python Programming Practical
—
—
MCA657
Mobile Applications Development Practical
—
—
Eligibility Criteria for Chandigarh Distance MCA
Candidates who have completed Bachelor's in Computer Applications/Computer Science Engineering or B.Sc/B.Com./B.A. with Mathematics as one of the subjects either in graduation or in 10 + 2. Also, candidates are required to score at least 50% in their qualifying examinations to be eligible for distance MCA of the Chandigarh University.
Duration Of Chandigarh University Distance MCA
Distance MCA is a postgraduate course and the duration of all the PG courses are similar in almost every university. The duration of the distance and online MCA from CU-IDOL is 2 years and the duration of 2 years is divided into 4 semesters, dedicating 6 months to each semester.
The duration of distance MCA can be extended to more than 2 years for distance learners. Hence, if students are unable to pass the examinations of distance MCA within 2 years then they will get the extra time.
Admission Procedure Of Chandigarh Distance MCA
First of all, visit the official site of the Institute of Distance and Open Learning of the Chandigarh University (CU-IDOL)
After this, candidates are required to register themselves on the site by filling in their details like Full Name, Email ID, Mobile Number, DOB, etc.).
After registering themselves candidates are required to log in on the portal to fill the application with the help of User ID and Password.
Then, buy the prospectus to move forward with the application process.
Then complete the application by submitting your personal details.
After the completion of the application, submit your program fees via any available digital method.
Then, upload all the necessary documents and your recent passport-sized photograph.
In the end, candidates will receive a confirmation message after the successful admission.
Chandigarh Distance MCA: Job Opportunities
| | | | |
| --- | --- | --- | --- |
| ​Project Manager | ​Information Security Analyst | ​IT Consultant | ​Network Administrator |
| ​Web Developer | ​Systems Support Administrator | ​C++ and Java Software Engineer | ​Software Engineer |
| ​Computer Programmer | ​Interface Engineer | ​Java Developer | ​IT Manager |
| ​Security Agencies | ​Security Expert, Tracker | — | — |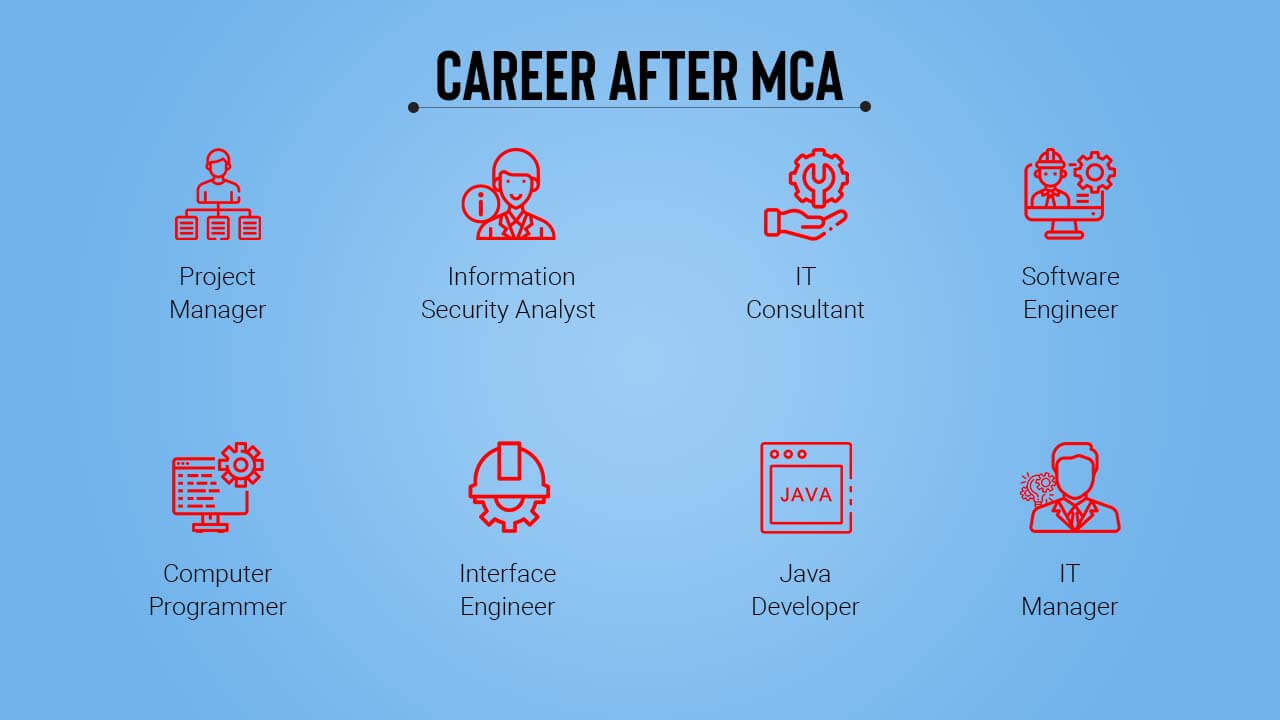 Conclusion
Distance and Online MCA is one of the best courses at Chandigarh University, recognized by UGC-DEB. In this blog, students can find all the necessary details related to the Masters of Computer Applications offered by the Institute of Distance and Open Learning-Chandigarh University.