M com distance education is a Master's in Commerce stream through distance learning. To get specialized in a particular field or subject one needs to enroll with the Masters's degree after a bachelor's degree in the same domain.
Always wanted to become a Banker or like to know about finances? Shares and Stock market exchange is an area of interest, then why not become the master in this field. Wants to do shares trading and ace in the stock market then you should have done at least specialization in a particular topic.
Even if you're planning to do a doctorate or Ph.D. in the commerce field a Masters's degree is a must. Many students join jobs after a B.com degree with some of the MNCs or private banks or in the education field.
MCom Distance Education Course In India 2023
M com distance education is a 2-year postgraduate degree course that provides you with the flexibility of doing a job as well as higher studies at the same time as there are no full-time classes. But with just being a graduate you will get limited opportunities in terms of job promotion and salary increment. For that, at least you need to get a Masters's degree.
One can take classes anytime they want. Now the education field is divided into two modes of education deliverance one is online which means distance or correspondence education and offline is regular-based learning where you need to attend regular classes as per minimum percentile attendance criteria varying from university to university.
Both Distance M.com and regular M.com have similar subjects. Distance M.com is the best for aspirants who are preparing for chartered accountant (CA), Company Secretary(CS) or ICWA, etc. they can do distance M.com side by side without getting disturbed and it also helps with the preparation and subject matter.
Distance M.com is also beneficial for the aspirants who somehow left their studies in between, and after a few years again like to pursue higher education can easily opt for distance M.com.
Mostly women face such issues due to some personal or family problems and then after a few years, they wanted to pursue it again. Pursuing distance M.com after doing B.com opens the door for more opportunities in getting jobs and to get promotions in your current job profile. You can easily get a job in finance-related companies and later on can start up your own business. Also, you could be a trade king.
Best Colleges/Universities for M Com Distance Education course
A large number of universities are providing distance education both government and private.
Here are some of the best universities for your reference:-
| | | |
| --- | --- | --- |
| S.No. | Top Colleges For Distance M.Com | Location |
| 1. | Jaipur National University | Rajasthan |
| 2. | NMIMS Global Access for Continuing Education | Mumbai |
| 3. | Karnataka State Open University | Karnataka |
| 4. | Amity University | Uttar Pradesh |
| 5. | University of Mumbai | Mumbai |
| 6. | Alagappa University | Tamil Nadu |
| 7. | Madurai Kamaraj University | Tamil Nadu |
| 8. | Tamil Nadu Open University | Tamil Nadu |
| 9. | Punjab University | Panjab |
| 10. | Dr. BR Ambedkar Open University | Ghaziabad |
| 11. | Kurukshetra University | Haryana |
| 12. | Gujarat University | Gujrat |
| 13. | Delhi University | Delhi |
| 14. | Bharathiar University | Tamil Nadu |
M Com Distance Education Fees 2023
M Com Distance Program is a 2-year postgraduate degree program. The fee for the course varies depending upon the college you take admission to. The variation may depend upon the type of course and study material or any other additional facility that the college offers.
However, these variations in the total fee are very minute, hence the average fee can be determined. The average total fee for the Distance M.Com program is approximately ₹18,000. There might be other types of fee payments as well like the one-time registration fee or the exam fee etc.
Eligibility Criteria for Distance M.Com & Entrance Exam
The candidate needs to score a minimum of 50% aggregate in B.com or B.com Hons or equivalent from a recognized university. Some of the universities even consider students who have done their bachelor's in Economics and Statistics, BFIA, BBS, and BBE with a minimum 60% aggregate from a recognized university Entrance examination for distance M.com varies from university to university, some take exams Or some have direct admissions.
​Distance M.Com Specialization In India 2023
M.com is a professional master's course where you select a particular subject of your choice to get specialization. There are plenty of choices in terms of the subject to opt for a master's degree.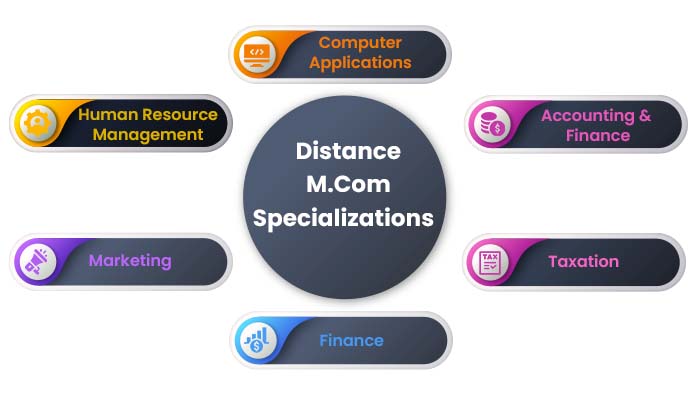 The options for the courses vary from university to university so for that you need to look into the topics and enroll with the best university which provides a similar course of your interest.
M.Com in Computer Applications
M.Com in Accounting & Finance
M.Com in Taxation
M.Com in Finance
M.Com in Human Resource Management
M.Com in Marketing
M Com Distance Education Subjects/Syllabus 2023
The curriculum of distance M.com is divided into 4 semesters in 2 years. Both distance M.com and regular M.com have similar subjects. You will get the vast knowledge of subjects that you had studied in B.Com. This vast knowledge will help you to step up your career. The main subjects are Accounting, Management, and Financial concepts.
For applying to distance M.Com the student must have a bachelorette degree of commerce with minimum marks of 50% from any recognized university that will provide you with the basic knowledge of commerce. Mention below the subjects which you'll be learning during the distance M.com course. Give it a read and get the idea of the subjects.
First Year Subjects
Second Year Subjects
Accounting for Managerial Decision
Strategic Management
Corporate Tax Planning
International Finance
Commercial Bank Management
Management Concept
Economics of Global Trade & Finance
Investment Management
Corporate legal Environment
Financial Markets
Statistical Analysis
Marketing Management
E-Commerce
International Finance
Corporate Financial Accounting
Computer Application in Business
Organizational Behavior
—
Research Methodology in Commerce
—
​The fee structure for Distance M.com The fee for distance M.com varies from 6000 to 12,000 per annum into different universities accordingly. Similarly, the fee structure of government universities is a bit different from private universities.
​Distance M.Com Scope, Top Companies & Salary
The distance learning universities not only provide knowledge, but they will also give you placement options. You need to get connected with your universities. As M.com is a master's degree, it provides you a specialization in the particular role of the subject.
So after getting specialized in a domain you received great job opportunities with big names in the industry. Holding solely a bachelor's degree will put a stopper to your career as you can't apply to the higher posts.
Getting a Master's degree will remove that stopper and gear up your career at a high. As the syllabus of distance M.com is similar to regular M.com so you'll be getting the same job assistance.
You can upgrade your current job or can apply for higher posts in other companies. Job opportunities like banking professionals, Accounting, Consumer durable industry, telecom industry, Insurance, Automobile media, and Retail industry, etc.
Some of the top recruiting companies mention below:-
Many top companies are looking for MCom degree holders. Some of them are listed here:-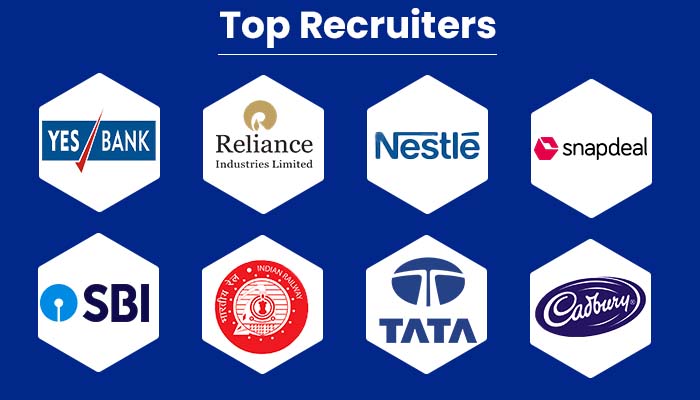 | | |
| --- | --- |
| Yes Bank | Tata |
| Reliance | Railway Recruitment board |
| Nestle India | State Bank of India |
| Snapdeal | Cadbury India |
The average package of M.com graduates ranges from Rs3lakh to Rs 7lakh per annum. It varies from university to university and over the caliber and capabilities of a student to crack the interview of big companies.
​Some of the Top Job Opportunities After M Com Distance Programs
There are many job opportunities in which a Master's degree in commerce holder can apply. Some of the popular job posts are mentioned here.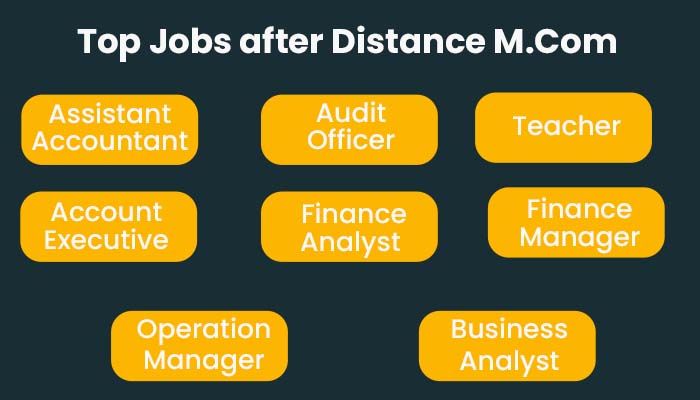 Assistant Accountant – The role of an Assistant Accountant is to assist the senior accountant and cooperate with the team. They have to perform reconciliation of accounts. They are in charge of collecting payments and invoices properly.
Audit officer- The role of the audit officer is to implement the audit directions that are approved by the audit committee by boards of directors. They have to check the work of the company according to that directories and leadership to implement whole procedures to the company.
Teacher- The teachers holding the degree of M.Com can teach the subjects that they learn during their course. They can become the PGT at recognized schools or professors of the colleges based on their knowledge. They can apply for government jobs as a teacher after finishing the distance M.Com Course.
Account Executive- The job of Account Executive is to handle the accounts. They are the interlink between the advertiser's agency and the clients of the company. Their role is to understand the client's behavior and help the advertising agencies to make the relatable campaigns.
Finance Analyst- The role of finance analyst to give financial advice to the organizations or the individuals. They can open their agencies. They analyze the financial accounts of the organizations for which they get paid.
Finance Manager- Financial managers have to manage all the financial transactions of the organizations. They execute the executive team by giving financial advice so that they can make the best decisions for the company.
Operation Manager- The role of the operation manager is to enact the right processes and policies for the organization. Their job is to make strategies, rules to improve the performance of the company.
Business Analyst- The business analyst analyzes the business aspects and advises the organization to improve its performance. They can open their agency to give business advice to individuals.
There are more job opportunities with the course distance M.com related to your skills and knowledge where you can apply.
Key Benefits of Distance M.Com Programs
You can upgrade your profile and resume with a master's degree while doing a job.
The distance M. Com degree is pocket-friendly as compared to the same regular course.
You can pursue other exams such as CA, CWA, CSS while you will have a degree of M.Com.
While pursuing distance M.Com from open learning, one can pursue other courses too at the same time.
A Master's degree gives you a boost in your career.
Study at your convenient time and place.
The students don't need to attend regular classes for completing the distance M.Com course.
The students can secure a master's degree and get intensified knowledge without leaving their job or any activity that they are doing to enhance their careers.
The distance M.Com degree will help you to get good salary packages.
The student will get great Job Opportunities after finishing the distance M.Com.