IMT Ghaziabad offers an online distance PGDM course or Post Graduate Diploma in Management, which is an equivalent course to a distance online MBA and conducted over a period of 2 years. So, the master's level management course in IMT Ghaziabad is called PGDM instead of MBA. MBA online Specializations are offered in five areas, namely finance, operations, human resource management, business analytics, and marketing. The courses are all approved by AICTE and hence are credible.

Does IMT Ghaziabad Provide a Fully Online MBA Course?
IMT Ghaziabad does not offer an MBA course in the fully online mode, but it offers a blended (online-distance) PGDM course which is the equivalent of a distance MBA degree. However, in recent years, with technological developments, the gap between online and distance education is blurring, with both modes providing students with full access to an LMS, live and recorded course lectures, digital or printed learning materials, and so on.
The main difference lies in the mode of examinations in which online courses generally have online proctored examinations while distance courses have offline physical examinations at designated examination centres. Other than that, there is no major difference, as more and more universities now go for a blended mode of education (online distance learning mode: ODL)
Online MBA Course at IMT Ghaziabad 2022
The equivalent course of a distance MBA that IMT Ghaziabad offers to students in the two-year-long Post Graduate Diploma in Management i.e. PGDM.
Similar to MBA courses online, it is a postgraduate level course in online blended mode offered to the students over a period of 2 years after graduation. The specializations offered by the university include finance management, marketing management, human resource management, business analytics and operations management. The course is offered in the online distance learning mode, i.e. as a blend of online and distance learning frameworks.
The university is an AICTE-approved educational institution and is very well-known in academic and professional circles for its top-quality educational services in management. The degree in PGDM is well-recognized and valid in India as well as abroad. The university has an especially designed learning management system (LMS) called EduGenie specially created for delivering high-quality education using the virtual technological facilities in a smooth and convenient manner to students.
The course is affordable for students from all sections of society and there are additional facilities for scholarship and fee concessions for defence background, reserved categories etc.
Overview of Online MBA (PGDM) Course at IMT Ghaziabad
The basic details of the PGDM online distance course offered by IMT Ghaziabad equivalent to the MBA online course are described below:
IMT Ghaziabad Online MBA Course 2022
Course

Post Graduate Diploma in Management (PGDM)

Level of Course

Post Graduation

Approvals and Accreditations

All India Council of Technical Education (AICTE)

Duration

2 Years

Mode

Online Distance Learning (ODL) Mode

Specializations

Finance Management

Marketing Management

Human Resource Management

Operations Management

Business Analytics

No. of Semesters

4

Course Structure

20 Courses along with a Project in Semester IV

Eligibility

Bachelor's in any stream from a recognized university OR

Course Degree equivalent to a Bachelor's from an AIU-recognized university

Fee Structure

Total INR 1,11,000 for the full Course (INR 28,500 for sem I and INR 27,500 for all other semesters)

Scholarships and Fee Concessions

Scholarship for Defence Personnel

Scholarship for Reserved Categories (SC and ST)

Scholarship for War Widows

Scholarship for Differently-Abled, Handicapped Individuals

Learning Management System (LMS)

Learning Materials, Schedules and Academic Planners, Recorded Lectures, Feedback System for Student Self-Evaluation, Peer Interactive Facilities, Assessment Systems etc.

Placement Assistance

Available
The PGDM course is an equivalent course and of equal value to a conventional online-distance MBA degree course. It has similar specializations like an MBA course and a student with a PGDM degree can explore and see a similar career growth as an MBA Graduate.
Why Choose the MBA/PGDM Online Course at IMT Ghaziabad
?
The PGDM online course offered by IMT Ghaziabad is an equivalent degree course for an MBA online program, and can be a useful choice for you if you intend to grow a career in the field of management or business administration.
There are a few universities in India that offer a PGD course in management instead of an MBA and it is important that you make the choice of a university or educational institute carefully, ensuring that the university's credentials, student support, course curriculum etc. match with your career goals and aspirations.
Here are a few factors that make IMT Ghaziabad a good choice for pursuing your PGDM course:
1. Well-Recognized Educational Institute
IMT Ghaziabad is a distinguished name in educational institutes offering quality higher education to students. In its new venture, it has sought to extend this educational support to students who cannot afford to pursue a full-time regular course in the physical mode, by providing online and distance courses. The institute has recognition from AICTE, which makes all its degrees and courses completely accredited and valid. A degree from IMT is a prestigious addition to your educational qualification, as it is a renowned educational institute.
2. Affordable and Purposive Higher Education
The PGDM course's curriculum at IMT Ghaziabad has been designed to make the course useful for expanding the student's knowledge and conceptions about the functionalities and nuances of business management, irrespective of the mode of education. The specializations offered for the PGDM course have also been selected keeping in mind these concerns as well as the needs and demands of skills in the professional domain. Moreover, the courses are very affordable, thus extending the opportunities to pursue their higher education to all students.
3. Presence of Innovative Learning Technology
The LMS at IMT Ghaziabad is a unique software developed by the university itself for delivering higher education to students through various virtual media without hampering the quality of education. The aim is to provide content of educational value to students through multiple media and frameworks to ensure that students have a holistic understanding as well as are able to apply the concepts in actual professional settings. The LMS has various features such as online lectures, recorded lectures, peer discussion forums, self-assessments, academic planners and schedules along with many more, enabling an engaging learning experience for the students.
4.
Completely Self-Paced Learning
The facilities of the LMS and a cooperative faculty make it possible for the students to learn and familiarize themselves with the course content at their own pace as well as practise and evaluate their progress on a regular basis. This helps students to pursue their education while continuing other personal and professional concerns, without taking a break. Moreover, in case a student misses some live lectures, they can refer to them later as all lectures are recorded and uploaded on the EduGenie LMS. All such facilities give ease and convenience of learning.
5. Focus on Experiential Learning
The institute lays an emphasis on the ability of students to gain valuable practical insights from the course, which would help them to effectively apply the concepts to actual business and management settings. To further this goal, students are also required to complete a full-term project in their last semester.
As can be seen, the institute offers an efficient and robust student support system, and has useful specializations for the curriculum of the PGDM course. The institute also has the recognition and approval of AICTE for all its courses and degrees, making the degree valid and credible. IMT Ghaziabad can be a good choice if you are looking for an affordable PGDM course.
Also Read | Does IMT Ghaziabad provide distance MBA?
Key Features of the MBA Online Course at IMT Ghaziabad
Some of the major features of the online MBA/PGDM Course offered by IMT Ghaziabad include:
The course is offered to students at the postgraduate level

The course duration is 2 years, covered through 4 semesters.

IMT Ghaziabad offers 5 specializations to students.

It is offered in the blended online mode, i.e. a combination of offline and online learning.

There is the LMS- EduGenie, the university's own software to allow efficient delivery of education to the students.

The total course fee is INR 1,11,000 and the university offers semester-wise payment options to the students.
Specializations offered In Online MBA/PGDM Course at IMT Ghaziabad
The Online MBA/PGDM course at IMTG has five specializations, all of which are highly demanded by companies and corporate organizations today.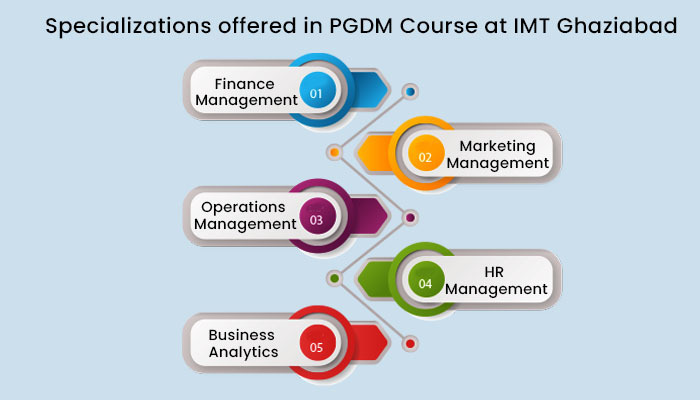 The specializations are mentioned below:
| | |
| --- | --- |
| Finance Management | Marketing Management |
| Operations Management | Human Resource Management |
| Business Analytics | |
IMT Ghaziabad Online PGDM Curriculum/Syllabus 2022
The syllabus for this course is covered in 4 semesters. Specialization courses are offered in the fourth semester. The syllabus for the other semesters are common irrespective of the specializations.
Semester I
| | |
| --- | --- |
| Principle of Economics | Management Accounting |
| Marketing Management | Business Statistics |
| Managerial Communication | |
2. Semester II
| | |
| --- | --- |
| Financial Management | Business Environment |
| Organisational Behaviour | Operations and Supply Chain Management |
| Introduction to Information Systems | |
3. Semester III
| | |
| --- | --- |
| Legal & Regulatory Environment of Business | Strategic Management |
| Managing New Ventures | Human Resource Management |
| Ethics & Corporate Governance | |
4. Semester IV
| | |
| --- | --- |
| Elective I | Elective II |
| Elective III | Elective IV |
| Elective V | Project |
Since this semester has specialization-specific electives, there are separate electives that the students can choose from, which are mentioned below:
1. Specializations for Finance Management
| | |
| --- | --- |
| Financial Risk Management | Management of Financial Services |
| Financial Analysis & Business Valuation | Security Analysis & Portfolio Management |
| Fixed Income Securities | Banking Services & Practices |
| Mergers, Acquisitions & Corporate Restructuring | |
2. Specializations for Marketing Management
| | |
| --- | --- |
| Digital Marketing | Retail Management |
| Marketing of Services | Consumer Behaviour |
| Sales and Distribution Management | Integrated Marketing Communications |
| Marketing Research | |
3. Specializations for Operations Management
| | |
| --- | --- |
| Project Management | Operations Strategy |
| Advanced Supply Chain Management | Quality Management |
| Service Operations Management | Technology Management |
4. Specializations for Human Resource Management
| | |
| --- | --- |
| Employees Relation Management | Performance Management |
| Organisational Development & Intervention | Strategic Human Resource Management |
| Compensation & Reward Management | Training & Development |
5. Specializations for Business Analytics
| | |
| --- | --- |
| Data Mining for Business Analytics | Marketing Analytics |
| Risk Analytics | HR Analytics |
| Predictive Modelling | Business Simulation |
One can refer to the official website and brochure of the university to get a detailed understanding of the course structure and curriculum.
Eligibility Criteria for Admission to Online MBA/PGDM at IMT Ghaziabad
The online MBA/PGDM is a degree course of the postgraduate level, and has been designed for students who have at least completed their graduations. Individuals who are graduates and are working in professional fields and are interested in pursuing educational courses and careers in the field of business and management can also pursue this course.
Being a PGD course in management rather than MBA, this course is more application-oriented rather than theoretical in nature and can be especially useful for working professionals seeking to grow a career in management spheres.
The major eligibility criteria for the course has been described below:
The candidate should hold a Bachelors' level degree or an Equivalent degree

The candidate can have any educational stream or disciplinary background.

The degree should be completed from a recognized university or a university registered with the Association of Indian University (AIU).
Fee Structure of the Online MBA/PGDM at IMT Ghaziabad
The online MBA/PGDM course at IMT Ghaziabad is a very affordable course offered in the online distance mode, which makes it accessible to a larger proportion of individuals interested in business management.
The total course fee is INR 1,11,000 and can be paid in the semester mode, through online or demand draft payment channels.
The admission and application fee for the course is INR 1100. The semester-wise payment breakup has been given below:
Semester
Payment Amount

I

Total INR 28,500

INR 27,500 (Tuition Fee)

INR 1000 (Alumni Fee)

II

III

IV
The details for the payment modes are given below:
Payment Mode
Details

Online Payment

Credit Card

Debit Card

Net Banking

Payment Through Demand Draft

DD Drawn in favor of "

IMT-CDL payable at Delhi"

Student details at the back of the DD
Scholarships and Fee Concessions
The institute also has facilities for scholarships and fee concessions for certain special cases, which have been tabulated below:
Scholarship for Students with Defence Service Record

Scholarship for Students from the Reserved Category

Scheduled Caste (SC)

Scheduled Tribes (ST)

Scholarship for War Widows

Scholarship for Differently-Abled or Handicapped Students
The details for the concession or scholarship percentage can be enquired from the official university authorities.
Admission Procedure at IMT Ghaziabad for the Online MBA/PGDM Course
The admissions are conducted in IMT CDL Ghaziabad in two sessions- in the January session and in the July session. The admission procedure can be completed online or offline depending on the convenience of the candidate.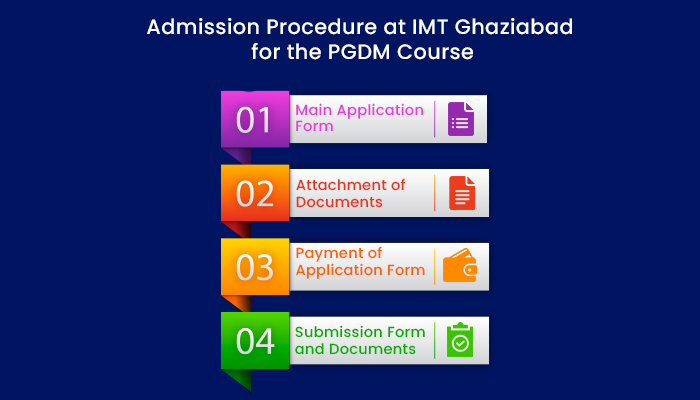 The basic procedure for the Online MBA/PGDM course is given below:
Main Application Form:

The admission procedure is simple and begins with either the candidate filling in the application form online or offline. The candidate can fill the application form online by clicking on the "Apply" tab on the official website of the institute (

https://www.imtcdl.ac.in/

). The application will need student details such as their name, contact details (email ID, contact number etc.), residence details (including state, country of residence), personal details like gender, caste category, age, date of birth etc. and lastly, educational details of the students including status of completion of graduation, years of professional experience etc. The application form can also be submitted offline by mail or by submission in person.

Attachment of Documents:

The next step is for the candidate to attach or submit the self-attested copies of all the required documents for admission. These include:
| | |
| --- | --- |
| Senior School Certificate, i.e. SSC(Class 10) | Higher Secondary Certificate , i.e. HSC (Class 12) |
| Graduation Certificate/ Degree/Final Year Consolidated Marksheet | Government Photo ID Proof: Aadhar Card/ Driver's License/ passport |
| Verified Certificate for Defence Personnel/ War Widows/ SC/ ST/ Person with Disabilities | Certificate of Professional Experience if Applicable |
| Passport Size Photographs (2) | |
Payment of Application Form
After the application form has been filled and the necessary documents' self-attested copies have been attached, the next step is to make the payment for the application fee, an amount of INR 1100. This can be done through the online payment methods or as a demand draft drawn in favor of the institute.
Submission of Form and Documents
After the above mentioned steps have been performed, the applicant is to submit these forms and documents along with the paid application fee. The application form can be submitted
By directly making an online payment

By mailing the forms and document copies to the IMT Ghaziabad Campus.

By Visiting the IMT Ghaziabad Campus in person and submitting the form and document copies.
After reviewing all the submitted documents and application for admission by the candidate, the institute confirms the admission status through mail. A 10-digit enrollment number is also shared with the applicant once their admission is confirmed.
Learning Pedagogy and Academic Support for PGDM
IMT Ghaziabad has developed innovative technologies and supportive virtual frameworks for students to use, enabling easy and participative learning through an easy user interface.
Blended Mode of Course Delivery
The education mode is blended distance, so the institute holds both online and offline classes for the students. The core courses are conducted in the offline mode while the electives are held virtually through online live lectures. So, the students experience the double benefit of having classroom exposure as well as facilities for online lectures and self–paced learning
IMTG has its own unique LMS, called EduGenie, and it has various assistive learning tools and frameworks, that enable the students to learn at their own pace as well as track their progress, through self-assessment and practice tools. The main features of the LMS EduGenie are:
| | |
| --- | --- |
| Recorded Lectures | Academic Planners |
| Course Learning Materials | Feedback Facilities |
| Discussion Session with Peers | Practice Exercises |
Student Information System (SIS)
In addition to the LMS and student redressal support offered by most online or distance universities, IMT CDL also offers an additional facility to students called the Student Information System (SIS) which is the portal that provides students with all the information about their academic progress, goals etc. such as assignments, projects, upcoming exams, academic records, fee details and status etc. This is the platform where a student can get access to all types of information content related to their course and enrollment with the educational institute.
Unbiased Committees for Student Support
In addition to redressal committees there are also a number of unbiased committees formed by the university (e.g. anti-ragging committee, student grievance redressal committee, SC/ST Committee, Internal Complaint Committee) that ensures that students have a comfortable educational experience and any concerns and complaints are met with attention and prompt action.
Examination and Evaluation for the MBA/PGDM Online Programs
The assessment at IMT Ghaziabad is conducted in two phases, namely the formative assessment and summative assessment.
The basic details of the examination and evaluation system have been listed below:
Assessment Type
Details

Formative Assessment

Done in the form of assignments

Carries 30 Marks

Details and Status of Assignments available on SIS

Summative Assessment

In the form of End-Term Examinations (ETE)

Carries 70 marks

Includes objective questions (MCQs) and Problem Solving Exercises
The qualification criteria of the evaluation process is that the student should score at least 40% aggregate marks, and those scoring between 60%-75% get a 1st Division and those scoring 75% and above get a distinction.
Placement Assistance
IMT Ghaziabad has a placement assistance facility and helps students and graduates from the institute to get placed in top corporate firms and organizations such as HCL, American Express, Infosys etc.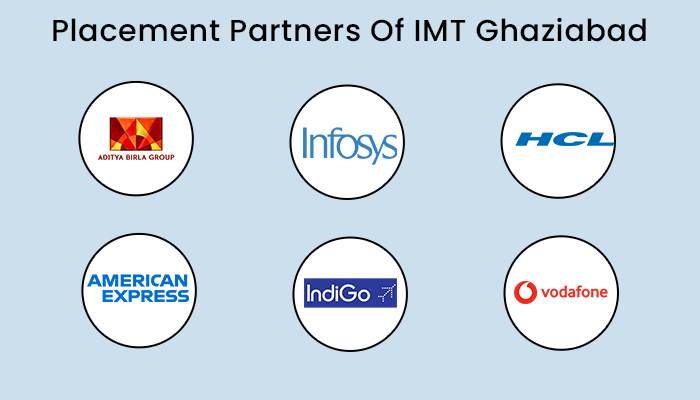 Some of the major placement clients of the institute include:
| | |
| --- | --- |
| American Express | Infosys |
| HCL | Aditya Birla Group |
| IndiGo | Tech Mahindra |
| Vodafone | Delmonte |
Careers and Job Prospects after Online MBA/PGDM Course from IMT Ghaziabad
There are a number of job sectors that an online MBA/PGDM course graduate can explore, and the degree is equally valid and valued in Professional spheres. So students and graduates can cultivate careers in the same domains as MBA graduates.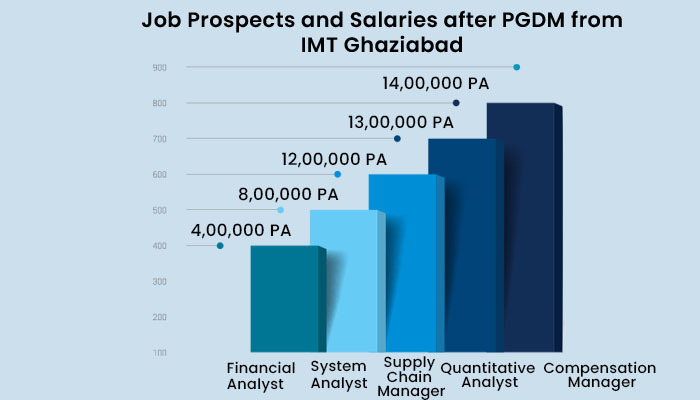 Some of the top career options based on the specializations, that an online MBA/PGDM graduate can explore include:
Specializations
Jobs and Average Salary in INR

Finance Management

Financial Analyst: 4,00,000 PA

Financial Executive: 4,00,000 PA

Equity Analyst: 6,00,000 PA

Finance Consultant: 7,00,000 PA

Investment Banker: 12,00,000 PA

Marketing Management

SEO Manager: 7,00,000 PA

Digital Marketing Manager: 7,00,000 PA

Brand Manager: 12,00,000 PA

Public Relations Manager: 5,00,000 PA

Sales Manager: 5,00,000 PA

Human Resource Management

Technical Recruiter: 3,00,000 PA

Compensation Manager: 14,00,000 PA

HR Generalist: 4,00,000 PA

Employee Relations Manager: 7,00,000 PA

Staffing Manager: 8,50,000 PA

Operations Management

Operations Analyst: 4,00,000 PA

Purchase Manager: 7,00,000 PA

Supply Chain Manager: 12,00,000 PA

Materials Manager: 9,00,000 PA

Technical Operations Manager: 14,00,000 PA

Business Analytics

Market Research Analyst: 4,00,000 PA

Quantitative Analyst: 13,00,000 PA

Logistician: 3,00,000 PA

System Analyst: 8,00,000 PA

Business Consultant: 10,50,000 PA
About IMT Ghaziabad
IMT Ghaziabad was started in 1980 and is one of the AICTE-recognized educational institutes that specializes in providing management education and courses to students. It is a well-known institution and has now started the Centre for Distance Learning or CDL which is an initiative to provide higher management education to students through distance and online modes.
The faculty here is well-qualified and equipped to provide and assist distance learning to the students. Moreover, there is EduGenie, which is the university's own LMS software for distance education. The institute has years of experience in imparting knowledge and valued educational lessons to management and business enthusiasts. It is an accredited business school and its online and distance degrees are completely credible.
IMT CDL Ghaziabad Online MBA /PGDM Course Review
Course Review: the course for Online MBA/PGDM course has been designed carefully to meet the industry needs and cover relevant areas of management education. The course is covered through 2 years in 4 semesters, with core courses and ample choice for electives. In addition there is also an experiential project that gives a scope to students to apply the learnt principles in actual practical situations. The curriculum is manageable and covers all important areas of each specialization.
LMS and Student Support Review: the institute has its own unique LMS, EduGenie, which has facilities for peer discussions, and self-evaluations,. Exercises, recorded lectures, etc. There is also a Student-Information-System (SIS) that is a one-stop dashboard for all important student info related to academics, admission, enrollment, fee payment etc. Apart from the Learning Management System, there is also a provision for offline classroom interactions with the faculty.
University Review: The Educational Institution is approved by AICTE and provides credible and valid degrees to students. It also has facilities for distance and online learning students to visit the campus for classroom learning and admission procedures. There are a number of committees which handle various student concerns, complaints and grievances. The student support system and academic pedagogy at IMT Ghaziabad is good and convenient for online and distance learning.
Also Read | Which is the best college for MBA online?
Similar Online & Distance MBA and PGDM Universities
Some other Universities that offer PGDM and MBA courses through online mode and distance mode are: