LMS stands for Learning Management System, which is a widely used term in the online education sphere. However, not many know what exactly is an LMS, why is it used, what are the features, and how is it used, etc. Well, in brief, LMS is like a virtual classroom, an online platform where you study the online course you pursue. Read the blog to understand LMS in detail.
What Is A Learning Management System?
The Learning Management System or LMS is a software application that offers a complete educational framework for students with several learning resources like online content and videos, documents, and several courses. With a learning management system, an organization can easily set up a learning process using appropriate content, and distribute, track, and manage the entire delivery procedure of educational content very quickly and efficiently.
You can think of a learning management system as an app that allows you to study online. It is like a virtual classroom. This means that by using an LMS you attend live online lectures with two-way audio-video communication so that you can interact with the faculty just like in an actual classroom. You also have the option of the chatbox, where you can interact with your classmates as well.
Other than the live classes and interaction, you will also find all the learning material related to your course stored on the LMS. There are e-books, readings, case studies, recorded audio and video lectures, PDFs, assignments, and any other course-related learning material.
There are many other features of an e-learning management system as well like the scheduling of classes, assignments, quizzes, exams, or any other event. Some types of LMS even have the facility of organizing auto-graded assignments.
The e-Learning Management system can be easily hosted as a stand-alone product on the company server or it can be also used as a cloud-based program hosted by the particular software company. It helps the organizations or the persons engaged in the same to enhance the quality of the teaching-learning process and cut many costs and other expenditures etc.
Why Students Must Know About e-Learning Management Systems?
A Learning Management System (LMS) is something that is not known to a lot of people because it plays no role in traditional offline education. However, since we are talking about online education, here e-learning management systems play the most important role.
Why?
It is because there are so many factors that come to play for online education which are not needed for offline education. LMS is the platform where your entire course will be offered.
Online education when offered through an LMS is as good as offline education because of all the modern features and advanced technologies.
You must not confuse an LMS with video calling apps like Zoom or Google Meet. An LMS has much more to offer. Audio-video calls for attending live lectures are just one feature of an LMS.
Apart from this, an LMS stores all the e-learning material related to the course you have enrolled in, like e-books, research papers, etc. Even the assignments, tests, and quizzes that you have during your course will be conducted on the LMS itself.
You will be given your assignment on the LMS and then you can complete and submit it on LMS itself. The quizzes are also conducted on the LMS and are auto-graded as well. You have the benefit of attending the quiz anytime before the deadline according to your own schedule.
Anything that is related to the course, you can find on the learning management system. There is an option for chatting through a discussion forum. You can discuss anything related to the course on that forum and interact with your peers through it. You can connect exclusively with your professors as well to clear doubts or share anything related to any problem that you face.
The learning management system also consists of a student support feature that helps students connect with authorities to guide them if they face any sort of technical or any other problem with the app.
Some of the learning management systems are customized in a way that even semester exams can be conducted through them using proctor software.
In short, an LMS is like a classroom in your school/college, just the difference being that everything happens virtually.
There are still many online colleges that use platforms like Zoom to conduct their classes instead of an LMS which lacks in many ways. You can interact with one another only during the live lectures and once the live lecture ends there's no way to interact. So, if you fail to attend the live lecture, you're at a loss. However, with an LMS, the discussion forum is active 24*7 and you can connect and interact at any time.
There are many more features of an LMS discussed in detail further in the blog. Read them all to understand the importance of LMS and why you must choose a university that offers LMS facilities for all their courses.
Online Colleges Offering LMS Facilities
Following are the colleges/universities that offer LMS facilities for all their diploma, certificate, undergraduate, and postgraduate courses:
| | |
| --- | --- |
| Manipal Online University | Lovely Professional University (LPU) |
| Amity University Online | NMIMS |
| Chandigarh Online University | Manav Rachna Centre for Distance and Online Education |
| UPES | DY Patil Vidyapeeth |
| Jain Online University | GLA University Online |
Concept Of Learning Management System
The concept of virtual learning was not only thought to be beneficial for the education sector but also for the professional workforce as there are many training and induction programs needed to train new working professionals or trainees. Therefore, the concept of virtual learning led to the emergence of Learning Management Systems (LMS).
The Covid-19 pandemic of 2020 played a major role in making us realise the need of virtual learning platforms especially in the education sector. The lack of proper Learning Management Systems had a major negative impact on the education of students, both in the primary and higher education sector.
At first, schools and institutions used online communication platforms like Zoom, Microsoft Teams, Google Meet, etc. These platforms were excellent in terms of audio-video communication, however, they still lacked in many ways. This is because education is not just about communicating, there are other factors to be kept in mind.
In order to make virtual learning as similar, easy, and fruitful as classroom learning, Learning Management Systems (LMS) were developed.
An LMS consists of a detailed schedule of your course and the course offerings. There are discussion forums where a student can post their query at any time unlike platforms like Zoom where you can discuss topics only during the live sessions. These discussion forums allow communication not just between faculty and students but also among peers.
The LMS also stores all the learning material related to your course. All the live lectures are recorded and stored within the LMS so that the student can view it as many times as needed. This feature is something that even surpasses traditional classroom education. This is because in classroom education if you miss school/college one day, you will not be able to attend any of the classes of that day ever again. However, in online education, you can re-watch the classes that you have missed as all the classes are recorded and saved in the LMS.
A secure login procedure is needed to operate and manage a web-based LMS program. It offers all the instructors and learners to continue and track their process on the go. The progress of every student can be easily monitored by respective administrators using LMS software.
How Does LMS of Online Universities Works?
Online education emerged as a necessity during the pandemic times, however, the benefits of online education were more than enough to continue the trend of online education even after the pandemic was over. There are many advantages of online education over offline education and so many universities have started online degree courses which are offered through the LMS.
Given below are some example snaps to explain how an LMS works and what is usually included in a Learning Management System.
A Dashboard is the most important feature of an LMS as all the links of your course are displayed there. For instance, your account details, the study material, e-library and other major tabs are displayed on a dashboard. The picture below is an example.

When you pursue a degree course, then there are many different subjects that you study in a single semester. Every detail regarding each of these subjects is mentioned on the LMS. You can refer to the image below.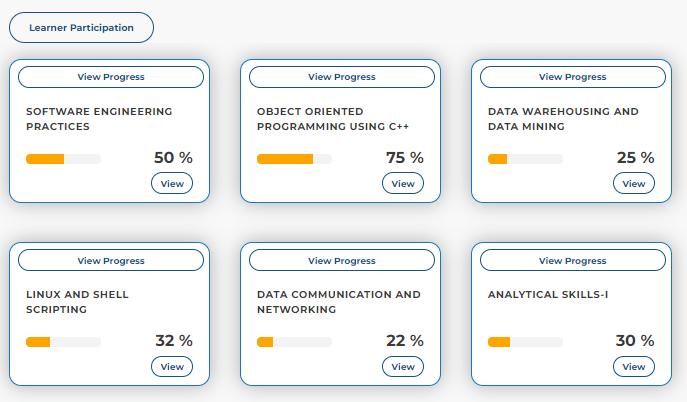 Your daily schedule based on your course and specialisation is also mentioned on the LMS so that you do not miss anything. If there are any events scheduled for the day, they are also displayed on the LMS so that you can attend them in time.

Monthly Schedule & Progress Report
A monthly calendar is also provided on the LMS so that you can plan your schedule accordingly.
Some LMSs also give you the progress report according to your performance in the assignments and class participation.

The important messages and notifications that are urgent are displayed on the LMS, including your assignment deadline, your appointments, or message regarding any extra curricular.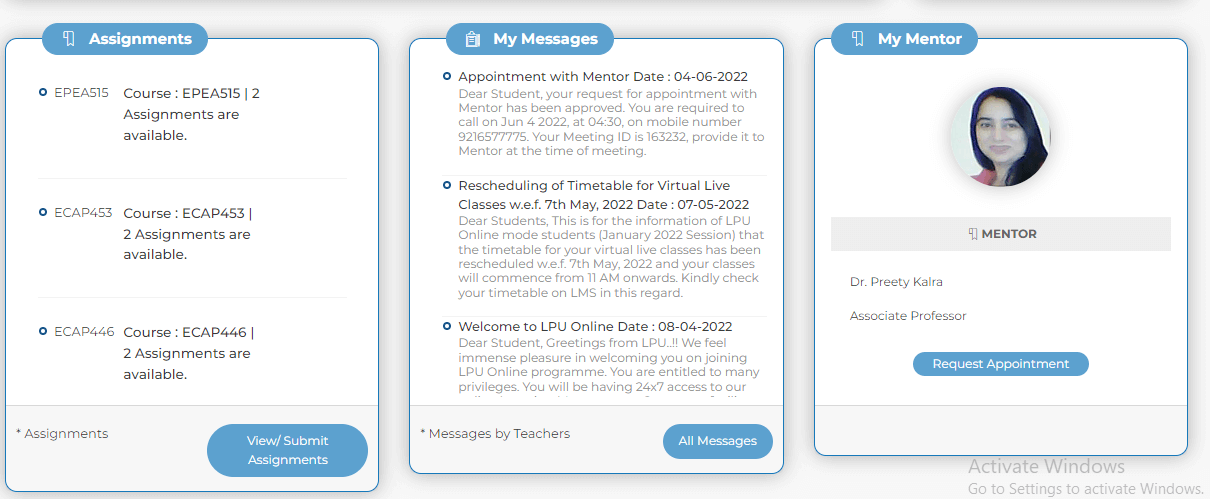 Everyday important links include virtual class links, the link to chats, discussion forums, online assignments, and exams.

Even though the course you pursue is in the online mode, a university tries to provide an environment as similar as possible to offline college. So, the universities usually conduct events, webinars, etc. the announcements and links to such events are present on the LMS so that the students can easily access it.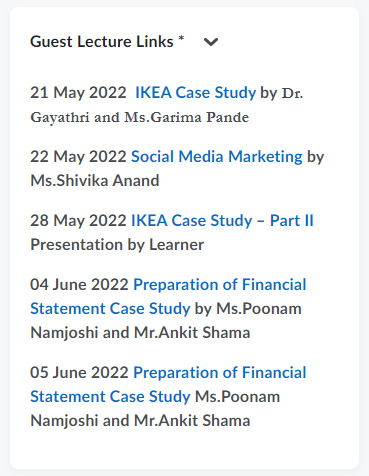 Types Of LMS or Learning Management System
There are many kinds of learning management systems from which individuals and organizations can easily select their desired one. Here is the list:
Free vs. Commercial
Individual vs. Enterprise
Licensed Product vs. SaaS
On-Premise vs. Cloud-based Services
The Need For A Learning Management System
Earlier in India, the concept of online education was not very prevalent and hence, the use of LMS was negligible. However, as already mentioned, the global pandemic of 2020 led to an immediate necessity of virtual learning platforms. The existing platforms were not capable enough to replace traditional classroom learning.
As a result, primary as well as higher education was affected badly. Not all schools or colleges were able to impart education during this time. The huge number of students across India suffered from lack of education for a span of almost a year.
This is where an urgent need for robust and multitasking online Learning Management System emerged.
An LMS saves a lot of time and money by providing a user-friendly interface for all administrators and students. With the advancement in technology and science, it came to be said that LMS is dead by many people but the fact is far from this opinion. As per the latest report of the Association of Talent Development or ATD, 73% of the people said that LMS is increasing day by day, especially in the past few years. This put an end to the notion that LMS is dead or decreased permanently.
Since there are various benefits of online education, the importance of LMS has increased in the days of online teaching and learning programs, especially in higher education.
The importance of LMS has increased in these days of online teaching and learning programs, especially in higher education. Now, the administrators can conveniently deliver or track their training courses and their associated resources. Several names come to the mind of individuals and organizations indulged in learning systems. Some of the quickly-popping names are Learning Experience Platform or LXP, Learning Activity Management System etc.
The LMS software is developed to make life easy and convenient especially for those engaged in development and training procedures. For example; identifying and accessing a candidate along with the organization, or the individuals learning goals. The software helps the users to evaluate progress towards meeting several goals and presentation of learning data. It offers user-oriented courses and modules through a compatible platform.
Also Read | Career Objective On Resume
Difference Between LMS and LCMS
Sometimes, it is confusing to consider the best one between LMS and LCMS. On the one hand, LMS or Learning Management System deals with tracking, reporting, delivery, and automation of training programs, education resources, etc., while the latter deals with the management of learning content and author. In some instances, these two seem complementary but not the same.
Benefits Of Learning Management System
There are several benefits of LMS and its usage. If you are wondering about the usage and advantages of LMS, then there is no need to worry as we are here to provide you with details about the same.
Consistency of Learning and Training: Learning, training, and content delivery through a particular channel of LMS is proved consistent since it is centralized. It provides consistent training and learning quality to all the employees and users by supplying a single source for content, instructions, and course material.
Convenient and Quick Tracking of Learner's Performance and Progress: The Learning Management System enables corporate firms to quickly and conveniently organize and generate learning and training reports based on the overall performance of the student or the particular user. With an LMS, the organization and utilization of e-learning courses and online training become easy and user-friendly. Users can easily track and manage their progress reports, knowledge advantages, ROI and so on.
Cost Savings: LMS minimizes several costs and expenditures incurred over several things of the teaching-learning process. It reduces many things like employee travel, instructors fee, and other resources. It cuts out lots of expenditure and facility costing.
Managing and Working Towards Meeting Regulatory Compliance: Most corporate companies might need to train, evaluate and fetch relevant reports for compliance goals. LMS helps the administrators and users to satisfy several norms and regulatory requirements for learning systems. Now, we can say that the learning management system or LMS has several advantages and capabilities than the listed above. However, these are the most appreciated selling points and identifiers regarding the usage and easy accessibility of LMS and its resources.
Benefits in Terms of Investment: The number never lies as one can easily believe the fact that there are lots of benefits of having LMS software in the teaching-learning system, especially in higher education. To know the benefits of LMS and its low-costing, you can read this example.
Suppose a company sends a group of two hundred salesmen for a one-day training program. Then, the expected cost would be as mentioned below:
Rs. 25,00 as course development fee
Rs. 5000 for equipment
Rs. 3,00,000 for the wages of two hundred people
Rs. 50,000 as trainer cost
Overall, the company will spend about Rs. 4,00,00!!
If the company used LMS, and e-learning resources, then the same training will be finished in about half a day with the estimated cost saving as per the following details:
The trainee cost will be reduced to Rs. 40,,000
The equipment cost will be Rs. 0
The expected course development fee will be about Rs. 10,000
The cost incurred for trainers will also be Rs. 0.
Here, the company needs to spend only Rs. 50,000. In this way, LMS helped the respective company to save about R. 3,50,000 or about 70% on average.
Also Read | How to Stay Focused In Study?
Salient Features And Software Supported By LMS
The Learning Management system gains lots of appreciation and popularity from others or an organization engaged in the teaching-learning process through this channel. The salient features of LMS are as under:
LMS is a powerful and intuitive Learning Management System that frames the assigned task with efficiency and intuitively.
It helps students, teachers, and administrators to achieve the goal they are working for.
The integrated tools and resources help lots of time and money that increase efficiency.
The Learning Management System provides learning-based solutions and resources developed to assist medium and large enterprises to effectively manage the digital learning programs and also Instructor-guided-trainings.
It helps the users in digitalizing the content, reporting, and tracking its several resources in a systemized way and compatible platform.
LMS also offers the teachers and guides a class-based and results in oriented progress system.
There are a lot of Software Developed and Supported by LMS. Some of the renowned are:
Learn
Spayed
ClassTrack
Violet LMS
Canvas
ISpring Learn
Also Read | Education System In India Explained
Conclusion
LMS or Learning Management System is renowned software that offers a unique and best platform to manage learning resources and contents. It helps the organization, teachers, and students to collaborate, and handle all the resources used in the learning process. It helps them to create, deliver and track several training contents, whether it is a document or video.
Some said that LMS is dead or stagnant, but the reality is different from this; as per the research of ATD (The Association of Talent Development), LMS is increasing with time with extreme popularity, especially in higher education and corporate learning.
One of the compliments of LMS is LCMS. LCMS deals in content management and processing services. The LMS has several advantages like quick and smooth progress tracking and performance reporting. It is developed to make life easier for every individual and organization who has taken the charge of quality training and learning developments, learning goals, and meeting demands to complete the assigned task in time.
LMS has many capabilities to enable you to find your goal in no time with a large list of e-learning and teaching content.
If you are looking to study in an online college that has an LMS facility, then you can find it on College Vidya. Here at College Vidya, you will find 50+ online universities which you can even compare in just two minutes using the "Compare" feature based on characteristics including LMS, fee, govt approvals, placement, etc. You can even apply directly to the university using the "Proceed To University" feature and save yourself from fake university websites. OR if you just want to verify if your university has the right government approvals, then you can do so at College Vidya Verify and verify any offline, online, or distance university at the same portal.