LPU Online M com is a 2-year postgraduation degree course for aspirants who want to build their career into accounting, banking, investment, financial services, investment, marketing, e-commerce, and other economics and monetary flow of the industry.
Here at this blog, you will get to know the LPU's online MCom course details, their eligibility criteria, curriculum, admission procedure, and much more. After the compilation of the M Com degree from LPU Online, a student can work or settle their respective career into any field from teaching to corporate or work in a government department as well. Online M com is a versatile course study that gives your immense career opportunities. Students can go for higher education in the commerce field to pursue a PhD or M.Phil in their respective M.Com field.
LPU Online MCom Overview
LPU online is a prestigious university that provides a quality of education with advanced technologies and the methods to use its own LMS and LPU Application. The below-mentioned table gives you an overview of the Online MCom course details provided by the LPU Online.
| | |
| --- | --- |
| KEY FEATURES | DETAILS |
| Course | MCom (Master of Commerce) |
| Course Level | Postgraduation |
| Mode of Education | Online |
| Approvals | UGC, AIU, AICTE, NIRF |
| Eligibility | Graduation/ Any working Professional |
| Duration | 2 years (4 semesters) |
| System Methods | LMS, Mobile Application, Live Classes, Video Conferencing, Online Study Material, Guest Lectures, Experienced Faculty, Recorded Content. |
M.Com is high in demand because it teaches the financial aspect and skills that are best to open their own venture of marketing in the industry. The 2-year course provides an in-depth knowledge that is needed for the managerial cadre of the business and corporate sector. The course study of commerce improves the logical, analytical, communicative, marginal, statistical, financial, business, management, and other leadership skills to the forefront of their subordinates in their business. Below is the detailed description of the Online MCom at LPU Online University.
Read: Online Career Counselling

About LPU Online University
Number one choice of many students LPU Online is being ranked amongst India's top 100 Universities. Students at LPU online experience advanced learning due to its use of technological tools that can be remotely active through online mode. LPU online university caters to the educational needs of many students from India and Abroad. It provides quality education and prepares students in becoming the best versions of themselves and achieving all their goals in many ways.

Why LPU Online Degree?
Since 2005 LPU online offers the recognized, trusted, and quality of education to its students through the online mode of learning.

All the courses and the specializations such as Management, Science, Computer Applications, Arts and Commerce are AICTE approved.

LPU Online degree is duly recognized by the University Grants Commission and other statutory bodies of the Government of India under section 2(f) of the UGC Act.

University Degree in the online mode of LPU is treated at par with the regular degree. This will be eligible for the state, central government jobs, corporate, private jobs, or even valued for the higher education like Ph.D. Education or abroad studies or jobs.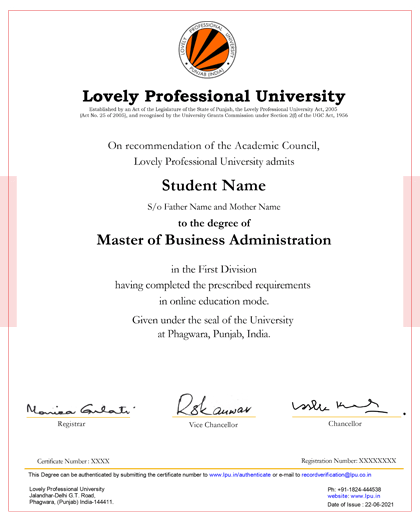 Key Features of LPU Online M com
LPU is at the top-ranked amongst India's top 100 Universities in the NIRF Rankings of the Government of India for the last two years.

It is also ranked in the 1000-1200 band among the world's Top universities of the Times Higher Education World University Rankings of the year 2023.

Placement Enhancement Program (PEP) is offered by the Placement drive of LPU which prepares students in aptitude, reasoning, interviewing, and other related skills.

The degrees offered by the LPU Online are accepted all over

The course study of MCom opens branches of career opportunities into the field of finance, economics, taxation, statistics, marketing, and other commerce-related sectors.

The medium of learning is English medium apart from Hindi Elective/Core subjects in UG or PG level of study.

Learning is fun and interactive at LPU Online through their LPU e-connect where a student can attend classes at flexible timings from the experienced and professionals.

LPU e-connect has an updated feature related to teaching, education, classes, submissions, lectures, or other things where a student takes the features or classes at flexible schedules or timings.

Students can easily access their e-learning material, video lectures, presentations, audio lectures, etc.
Read: Best Course for Commerce Students After 12th
LPU Online MCom Course Eligibility
Students must have a bachelor's degree in these respective courses such as commerce, management, economics, accounts, maths/economics as one of the subjects or courses in their bachelor or equivalent.
LPU Online MCom Curriculum
The curriculum of the MCom is designed in such a way that a student can get to know about the economy, financial flow, trade, accounting at the master's level of education. The course studies give you an immense knowledge of the commerce sector that you can look out the ins and outs of the financial industry.
Semester 1

Managerial Economics
Organisational Behaviour and Human Resource Dynamics
Financial Reporting, Statements and Analysis
Fundamental of Research

Fundamentals of Information Technology

–

–

–

Semester 2

Corporate Tax Structure and Planning
Research Methodology
International Business Environment
Marketing Management

Generic Elective I

–

–

–

Semester 3

Corporate Strategy and Entrepreneurship
Forensic Accounting and Fraud Examination
International Banking and Forex Management
International Accounting

Generic Elective II

Project

or

2 Courses of other areas from The GE Basket 1 & 2 which Is not chosen as Generic Elective (GE)

–

–

Semester 4

Management Science
International Financial Management
Generic Elective III
Generic Elective IV

Term Paper

or

1 Course from the GE Basket 3 of the same area from which is Courses chosen in Project As GE

–

–

–
Note: All the elective subjects could be changed as per the respective courses of undergraduate or postgraduate level. The medium of instruction of writing examinations, submitting assignments, etc. is offered in English medium only. Expect a few Hindi core/ elective courses at the undergraduate or postgraduate level.
Fees Structure of LPU Online MCom Course
Details
Semester Fee
Lumpsum Amount

LPU Online Fee for Indian & International Applications (Sri Lanka, Nepal, Bhutan, and Bangladesh)

INR 24,000

Programme fee: 20,000

Examination fee: 4,000 (per sem)

Total fee: INR 96,000 (all semesters)

INR 88,000 (which comes out to be INR 22,000 per sems)
The above fee is exclusive of the Initial Registration Fee of ₹ 500/- (non-refundable).
LPU Online Mode Fee –

International Applicants (Other Countries)

Semester Fee
Total Fee, (in Lumpsum)

Fee

US$ 1150

Programme Fee: US$ 1000, Exam Fee: US$ 150 (per sem.)

Total Fee: US$ 4600 (all sems.)

US$ 4200

(which comes out to be US$ 1050 per sem.)
The above fee is exclusive of the Initial Registration Fee of US$ 10 (non-refundable).
Read: Salary for Investment Banker In India
Admission Procedure at LPU Online MCom
In just four simple steps you can confirm your admission to the MCom course. All you need to do is follow these below-mentioned admission procedures at the web portal of MCom admission.
Step 1: Registration
In order to enrol in LPU online MCom course one needs to register himself with basic details asked over registration web page or box. Once the information is filled then candidates will have to pay the registration fees. The registration fee is 500 rs which can be paid by netbanking or debit/credit card.
Step 2: Online Application Form
Once the registration form is filled students will be required to fill in personal details along with educational documents. Documents like mark sheets, provisional certificates, photographs, and signatures will be uploaded in a prescribed format that would be mentioned on the web portal of the B.com admission application form.
Step 3: Document Verification By University
All the documents are verified by the university so it is important the applicants submit and fill out the right information. Only after the documents are verified and approved students will receive confirmation via email, SMS, or phone call.
Step 4: Student Registration and LMS Activation
Once the application of the student gets verified and approved, they receive their LMS credentials over email or SMS. These credentials are the required ID and Password to log in to the LPU e-connect application.LPU e-connect is the medium through which students attend their sessions, workshops, etc.
Read: What Is IAS Salary?
Payment Mode of Online MCom Course at LPU Online
Aspirants can submit their respective academic course fee through online mode of transaction such as Debit Card, Credit Card, UPI, Wallets, Net Banking or etc.

Candidates can pay the fees of their particular MCom fee only when they have completed their form with basic or educational details.

Students could be ensured and keep more care that the payments of a particular course and their specialization are not made to any unauthorized persons or on any unwanted/unauthorized website or link. The university and the admission portal of LPU Online could not be responsible for any of the lapses in this matter.
Placement Assistance of LPU Online University
Another key feature of LPU online university is its placement assistance which prepares students by giving them a head start.
PEP:

Through different activities and professional help students' skills are enhanced.

Mock Interviews:

Mock interviews were conducted to prepare students for Hr round.
Job Profile and Average Salary After Online MCom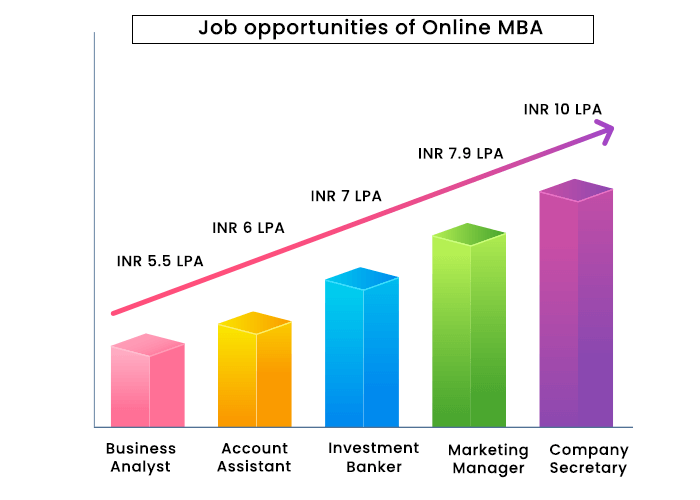 | | | |
| --- | --- | --- |
| Job Profile | Average Salary | Number Job Openings |
| Internal Auditor | INR 3 to 6 LPA | 2,000+ |
| Investment Analyst / Investment Advisor | INR 6 to 10 LPA | 3,200+ |
| Company Secretary | INR 3 to 6 LPA | 18,700+ |
| Equity Analyst | INR 5 to 10 LPA | 7,000+ |
| Financial Auditor | INR 3 to 6 LPA | 700+ |
| Terminal Manager | INR 7 to 10 LPA | 3,000+ |
LPU Online MCom Top Recruiters
| | | | |
| --- | --- | --- | --- |
| Accenture | HCL | Yes Bank | Intel |
| DHL | MAX Life Insurance | Amazon | Tech Mahindra |
| Wipro | Pepsi | Myntra | – |

LPU Online University Reviews
Several big brands of the industry have visited the LPU online culture during academic sessions. Students are also provided with on-job training, industrial exposures inculcating in them modern management skills.

#LPU believes in delivering quality, for the same, it has hired faculty from reputed institutes like IITs, NITs. The syllabus is vetted by the company officials of Cognizant, Microsoft etc. To provide an updated curriculum.
LPU Online M Com Prospectus
LPU has all its information penned down in the form of a prospectus so that students get all the required information before taking admission in their specific program. To download the LPU's online MCom prospectus click here.
Read: Lovely Professional University Distance Education
Similar Online MCom Universities
| | | |
| --- | --- | --- |
| Universities | Year of Establishment: | Approval |
| IGNOU MCom | 1985 | UGC, DEB, NAAC |
| Manipal Online MCom | 1953 | UGC, AICTE, NIRF |
| UPES Online MCom | 2007 | UGC-DEB, NAAC A, NIRF |
| Chandigarh Online MCom | 2012 | UGC, NAAC A+ |
| Amity Online MCom | 2005 | UGC-DEB, AICTE, NAAC A+ |