Manipal Online Masters of Commerce (M.Com) is a two-year post-graduation degree course that is divided into four different semesters. Online M com is a field where students can seek the best career options for themselves in banking, finance, insurance, accounting, and other commerce-related fields.
Manipal Online MCom Overview
This overview table will give you the basic information about the Manipal Online M Com programme provided by the Manipal Online University.
KEY FEATURES
DETAILS

Course

Online M Com (Masters of Commerce)

Course Level

Postgraduation

Mode of Education

Online

Approvals

UGC, ACU, NAAC (A+), WES, ICES AICTE, IQAS

Online MCom Job Profiles

Assistant Accountant.

Accountant.

Senior Account Executive.

Cashier.

Personal Finance Consultant.

Business Consultant.

Teachers/Lecturer.

Executive Assistant, etc

Eligibility

Graduation degree

in Computer Applications/ Computer Science/ Informational Technology, equivalent qualification.

Duration

2 years (4 Semesters)

Average Salary

INR 5 lakh to 15 lakh and above
The course study of online M Com imparts a deeper knowledge of the functioning concepts of economy, capital, revenue, taxes, trade, etc. It's a versatile programme that allows the students to opt and build their careers into various fields of the monetary sector. After completion of the Master of Commerce programme, a student can aspire to become a teacher/lecturer or even researcher. They can apply in all the organizations from private, corporate, and government as well.
The whole blog consists of a detailed description of the online M com programme, their eligibility criteria, admission procedure, career scope, and much more at Manipal Online University. Scroll down to know about the course elucidation.

Why Online M Com from Manipal Online University
The online MCom course offered by the Online Manipal University to upskill their career and understand the work culture of their selected and respective field of commerce, taxation, finance, insurance, banking, etc. Through the Online MCom programme, a student will get will learn in-depth knowledge of accounting, financial strategies, economics, and marketing.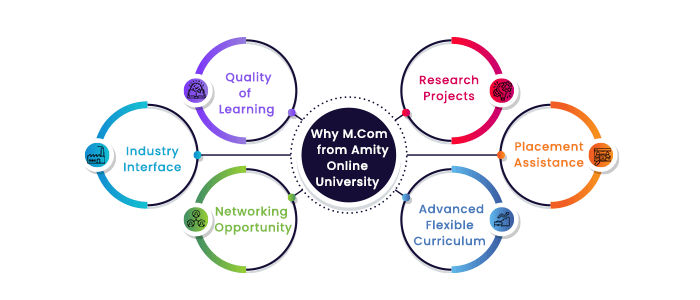 Is Manipal Online MCom Degree Valid?
Yes, the Online Manipal MCom degree is valid or duly accepted by all the private, corporate, to government sectors as well. If a student wants to study for higher education in India or abroad, this online Mcom degree is valid or accepted to other higher education institutions. The online Mcom degree is signed by the higher statutory bodies of the education council or committee such as UGC, AICTE or so forth. Students will receive the Online MCom degree at the time of completion of their respective Mcom course.

Key Features of Manipal Online M com
The course curriculum of M.Com helps a student to build their these below-mentioned skills and abilities such as:

Logical reasoning,

Ability to remember facts and figures,

Strong analytical skills,

ability to handle pressure (of course as well as work),

Strength in Mathematics,

Strong verbal and communication skills,

Leadership qualities,

Knowledge of banking and finance.

The Online MCom programme leads you to walk on the right path and field such as accounting, money & banking systems, economic theory, knowledge about business, micro & macroeconomics, management, etc.

Online Manipal University programmes are acclaimed to teach the best education with experienced professional lecturers/ professors.

The digital education platform built a comprehensive learning experience with the expertise learning methods.

The Manipal Online group of education serves the quality of education in providing the best education through online learning. Leveraging this experience along with cutting-edge digital tools and advanced technologies.
Read: What Is the Full form of M.Com
Scholarship Offered by Manipal Online University
Students can also be offered or take admission through these mentioned scholarships. Manipal opens all the doors for each and every person to continue their studies. Students who are applying through the scholarships, all should carry their respected certificates in the prescribed format.
| | | |
| --- | --- | --- |
| Scholarship Category | Documents Required | Scholarship Discount |
| Divyang (for persons with disabilities) | Divyang Certificate | 20% |
| Defence Personnel | Personnel/ Services/IC number | 20% |
| Government Employees | Identity Card | 10% |
| Merit (80% & above in class 12, 10+3, Diploma exams) | Marksheets | 10% |
Manipal Online M Com Eligibility
Candidates must have a 10+2 and graduation degree in commerce or any equivalent qualification from a recognized university and institution by the AIU (Association of Indian Universities) approved

Candidates must have a minimum of 50% aggregate marks in their graduation.

Candidates who belong from reserved categories for the 45% aggregate marks in their graduation are required to take admission in the MCom course.
Manipal Online M Com Eligibility for International Students
Candidates must have completed their graduation degree of equivalence from the AIU approved universities, which is required from students with foreign education to apply to any university in India.
Students or Professionals will hold NRE, PIO status, residing outside India to pursue MUJ's online degree programmes.
Students and professionals will be billed an international fee for respective degrees & may need to submit documents mentioned but not be limited to CV, address proof, valid VISA, PR card & passport copy as a part of the application process.
Candidates who did not study mathematics as a subject in their 10+2 or their bachelor's course need to take an additional course in their first semester.
Students can pay their course academic fees in instalment semester-wise. They can also explore easy financing ways to submit their academic fees like zero-cost EMIs.
Read: Best Colleges for Distance M Com Courses
Manipal Online M Com Curriculum
| | |
| --- | --- |
| First Semester | Second Semester |
| Management Concepts and Organisational Behaviour | Research Methodology and Statistical Analysis |
| Managerial Economics | Management Accounting |
| Financial Management | Marketing Management |
| Cost Analysis and Control | Business Environment |
| Business and Economic Laws | Project Planning, Appraisal and Control |
| Financial Accounting and Analysis | Management of Financial Institutions, Market and Service |
| Third Semester | Fourth Semester |
| Strategic Management | Advanced Corporate Accounting |
| eCommerce | Audit and Assurance |
| International Business | Risk Management |
| Corporate Tax Laws and Planning | Business Ethics and Corporate Governance |
| Security Analysis and Portfolio Management | Indirect Taxes – GST |
| Management Information System | Project report |
Note:
All the courses carry 4 credits each.

Students can pay their academic course fee in the instalment semester-wise also they can explore easy financing ways like zero-cost EMIs.
Manipal Online M com Fees & Duration
Particulars
Description
Course

Online M Com

Fees

Total Fees: INR 1,50,000 (all-inclusive)

INR 37,500 per semester (includes an examination fee of INR 5,000)

Duration

Minimum 2 years (divided into four semesters) Maximum Duration 4 years

Roles and Duties in MCom

Accountant

Senior Account Executive

Cashier

Personal Finance Consultant

Business Consultant

Teachers/Lecturer

Executive Assistant

Financial Analyst

Business Analyst

Corporate Analyst

Average Starting Salary

INR 6 LPA
Manipal Online M Com Admission Procedure
Below is mentioned the application admission procedure of the MCom course. It is recommendable for the freshers that a student will carefully fill or submit their academic course form with focus.
Application Process
Applicants who are interested and want to take admission to Manipal Online University need to submit their online applications at www.onlinemanipal.com.

Candidates are required to pay an online application fee of Rs 500/- as registration charges. (the paid fees will be adjusted in the first-semester fee)
Selection Process and Admission Criteria
Candidates will be notified about their admission to Manipal Online University within five working days of submitting their application for the respective selected course.

For All the submitted applications for online degree courses, students will be notified and if requires further clarification, the candidate will be intimated via email, SMS, or even a phone call.
Documents Required
Identity Proofs: Adhar card, Passport, Voter's ID, PAN Card with Current Photograph, any other Govt- issued identity card.

Address Proofs: Aadhar Card, Passport, Voter's ID, Gas Bill, Bank, Statement, Post-Paid Mobile Statement.

Class 10th Marksheet

Class 12th Marksheet

Graduation Marksheet (for MBA, MCA, M.Com, MA JMC)
Other Documents
CAT/GMAT/MAT valid score for MBA programme

Work-related experience certificate

Graduation degree certificate

Scholarship Documents

Defence Service Certificate

Divyaang Scholarship

Reserved Category Certificate
Read: What Is M Com Distance Education?
Manipal Online M Com Academic
E-learning material will be available for Manipal Online University students. The study material and live lectures will be communicated through the LMS portal (Learning Management System). LMS includes an alloy of these e-learning features such as;
| | |
| --- | --- |
| Video Lectures | Discussion Forums |
| Virtual Classroom | e-Text Material |
| E-Text Materials | Interactive study material |
| Virtual Simulation Interactive Material | |
Mode of Delivery
The medium of instructions of all the lectures, study material, assignments, paperwork and other submitting projects should be commanded in the English language only.

Students must score at least 40% aggregate marks in their course semester exams or final year examinations.

Examinations to assignments of all the programs are submitted fully online.
Read: What Is Career Counselling?
Manipal Online M Com Placement Assistance
The placement drive works as a bridge through that a student will receive good and immense career opportunities as per their selected field. Manipal Online University's placement drive regulates in developing the student's personality which could be very helpful at the time of the interview or in the real world as well. Placement drive works in building the whole personality through personality development sessions, activities, or methods. Placement drive also works to build up the soft skills of a candidate that includes, communication skills, cognitive skills, reasoning skills, logical thinking, and much more.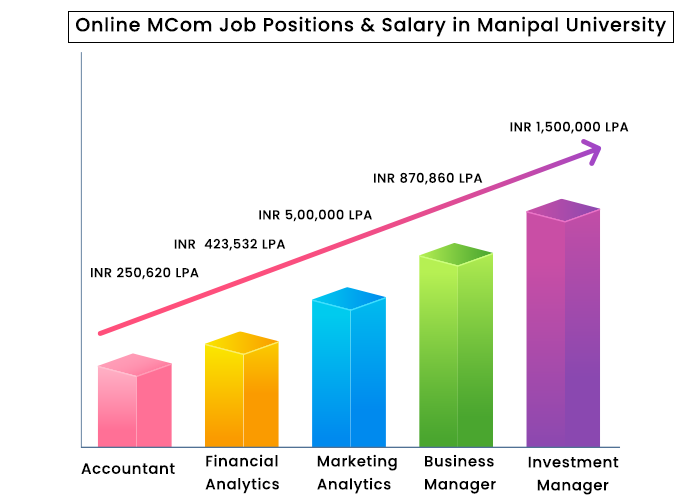 Top Recruiters of Manipal Online University
These are the top hiring partners of the MCom course that not only offers job opportunities but also provides internship or other project work programs that a student will experience in the real-world working environment.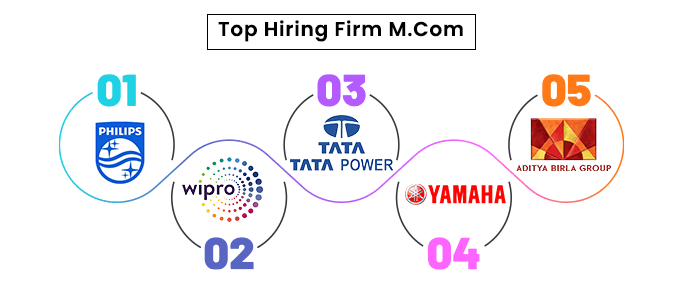 | | | | |
| --- | --- | --- | --- |
| Utopia Labs | EazyDiner | ValueLabs | Mahindra & Mahindra |
| Synopsys | Microsoft | Tata Power | National Instruments |
Online M Com Manipal University Reviews
The college promotes students to do internships in their final semester as per their selected course and in which they want to step into the industry. There are plenty of companies visiting campus to hire students for internships, projects, research work as per their selected field.

Companies that visit the campus to recruit the students are, Microsoft, Infosys, TCS, Tech Mahindra, DirectI, Flipkart, Byju's, HCL, etc.
Read: Job Oriented Courses After Graduation
Similar Online MCom Universities
| | | |
| --- | --- | --- |
| Universities | Year of Establishment | Approvals |
| Amity Online University | 2005 | UGC-DEB, AICTE, NAAC A+ |
| NMIMS | 1981 | UGC-DEB, NAAC A+ |
| Lovely Professional University Online | 2005 | UGC, AICTE, NIRF |
| Chandigarh Online University | 2012 | UGC, NAAC A+ |
| UPES | 2007 | UGC-DEB, NAAC A, NIRF |