Manipal Online BBA (Bachelor of Business Administration) is one of the most renowned courses among young minds after clearing their class 12. It is considered an open gateway for those students who are seeking and want to pursue their careers in the world of business, management, administration, etc. Generally, this comprises various such sectors as, sales, finance, banking, and marketing.
Online Bachelor of Business Administration or BBA at Manipal Online University Jaipur is a 3-year professional undergraduate course that is split into 6- different semesters. The course is open to all the aspirants from science, arts, or commerce who are interested in the finance, or business sector.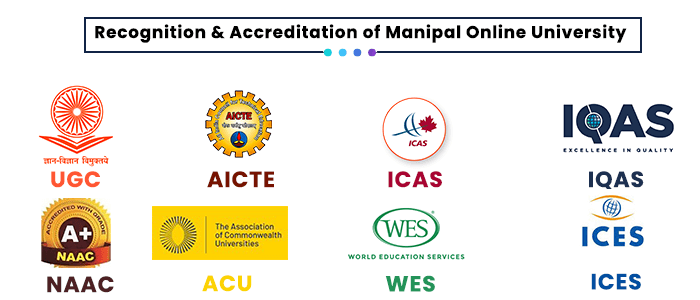 Manipal Online BBA Overview
Online BBA has its own value of the course and has excellent career opportunities right after you complete graduation from Manipal Online University. Through this tabulate you can get a rough overview of the Online BBA programme that is offered by the Online Manipal University.
KEY FEATURES
DETAILS

Course

BBA (Bachelor of Business Administration)

Course Level

Undergradaution

Mode of Education

Online

Approvals

UGC, ACU, NAAC (A+), WES, ICES AICTE, IQAS

Online BBA Job Profiles

Marketing Executive

Sales Executive

Business Development Executive

Market Research Analyst

Management Trainee, etc.

Eligibility

10+2 (any field)

Duration

3 years (6 Semesters)

Average Salary

INR 2 lakh to 5 lakh and above
The Online BBA programme in Manipal Online University is attuned with the latest pedagogies and it prepares a student to build their set of skills and knowledge of the professional world. The university makes to provides and allowing to get an opportunity to learn and attend live lectures, recorded classes, at your own comfort or wherever you are.
With the multi-channel student help desk at Manipal Online University, they allow a student to reach convenience from the most reputed faculty and write their assignments to attend online classes and give online examinations from their home or other places. The Online BBA programme imparts entrepreneurial as well as managerial skills to their students through their designed curriculum and subjects they have in their course study.
Online BBA syllabus is mapped out in a way that a student will have adequate business administration skills such as principles of management, macroeconomics, human behaviour & ethics of business, workplace, business strategies leadership, management, accounting, banking, insurance, and much more. Online BBA course opens various job opportunities in Finance, Marketing, HR Management, so forth.
Why Online BBA Courses from Online Manipal Jaipur
Every year thousands of students take online BBA courses offered by the Online Manipal University to upskill their career and understand the work culture of their selected and respective field in all areas of business such as Marketing, Sales, Finance, Operations, HR, Information Technology, etc. Through, this Online BBA course working candidates can easily manage their studies with respective jobs and it helps to build up leadership, business, strategic, and other management skills as well. The course curriculum is mapped out with the aim to provide contemporary jobs, projects in corporate, finance, and private firms. Course study or placement drive of Online BBA programme is designed in a way that it thrives a student to guide their skills in such fields, Conversation & Communication Skills, Management, Problem-Fixing Skills, Analytical, Creativity, etc.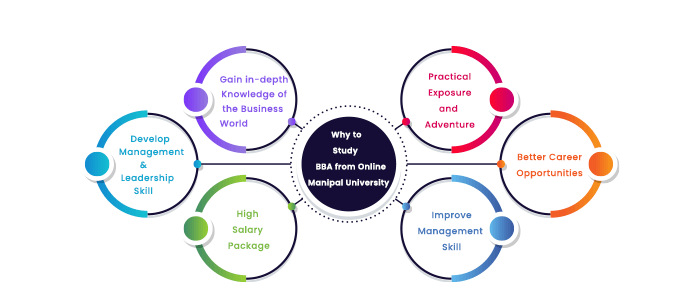 Is Online BBA Manipal Degree Valid?
Yes, the online BBA Manipal degree is valid. The online degree of the BBA course is duly signed or approved by the higher statutory bodies such as UGC (University Grant Commission), AICTE All India Council for Technical Education, or other educational committees. Online BBA degree is universally accepted by all the departments, corporate, private, government sectors, higher education in India or abroad as well.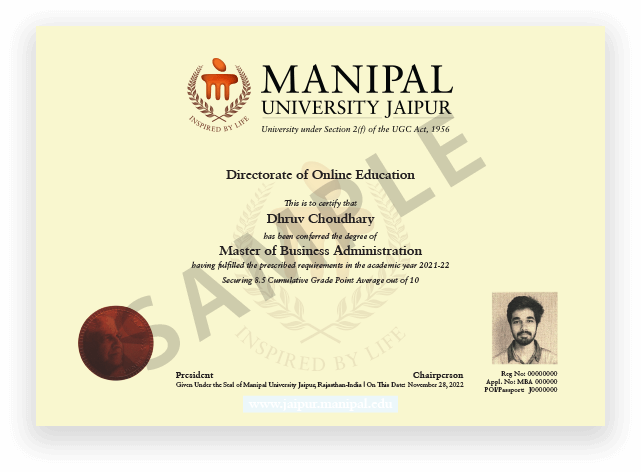 Key Features of Online Manipal BBA
Online BBA (Bachelors of Business Administration) is designed in such a way that a student will learn and adapt a new set of skills, knowledge related to the BBA field.
Through this course, students will open hundred of career options for themselves and will develop ample skills from hard to soft capabilities.
One should strengthen their decision-making power, communicative and analytical skills. students can also get a chance to explore sales, finance, marketing, and other operational fields to gain much knowledge of their selected BBA field.
The Online BBA programme leads you to walk on the right path and sectors such as Banking, Marketing Organizations, Educational Institutes, Business Consultancies, Multinational Companies, Financial Organizations, Export Companies, etc.
Read: Best Colleges for BBA Distance Education
Scholarship Offered by Manipal Online University
Students who are applying to Manipal Online University through these below-mentioned scholarship categories. For them, they should carry all the required certificates in the prescribed format to appreciate the benefits of provided scholarships.
| | | |
| --- | --- | --- |
| Scholarship Category | Documents Required | Scholarship Discount |
| Divyang (for persons with disabilities) | Divyang Certificate | 20% |
| Defence Personnel | Personnel/ Services/IC number | 20% |
| Government Employees | Identity Card | 10% |
| Merit (80% & above in class 12, 10+3, Diploma exams) | Marksheets | 10% |
Online BBA Eligibility Criteria at Manipal Online
Students must have completed their 10+2 from a recognized national or state board.

10+3 diploma students from a recognized or authorised national or state institute.

Students at least 50% aggregate marks in their 10+2/ diploma course are required.

For students who belong to a reserved category, their eligibility percentage is 45% of aggregate marks are required.
Online BBA Eligibility Criteria for International Students
Students must have 10+2 / intermediate / senior secondary from a recognized Board, or have an equivalent qualification by the AIU (Association of Indian Universities) recognized in any discipline with at least 50% aggregate marks.

Students & professionals who are holding NRE, PIO status, residing outside India, and/or students & professionals who are not Indian citizens are considered 'international students' and are ELIGIBLE to pursue MUJ's online degree programmes. All such students & professionals will be billed an international fee for respective degrees & may need to submit documents mentioned but not limited to CV, address proof, valid VISA, PR card & passport copy as part of the application process.
Online BBA Curriculum Offered by Manipal Online
| | |
| --- | --- |
| First Semester | Second Semester |
| Communication Skills and Personality Development | Business Communication |
| Organisational Behaviour | Financial Accounting |
| Business Environment | Human Resource Management |
| Marketing Management | Quality Management |
| Computer Fundamentals | Retail Management |
| – | Term paper |
| Third Semester | Fourth Semester |
| Legal and Regulatory Framework | Business Strategy |
| Quantitative Techniques for Management | Management Information System |
| Quantitative Techniques for Management | Management Accounting |
| Financial Management | Environmental Science |
| Research Methodology | International Marketing |
| Financial Management | Rural Marketing |
| Advertising and Sales | – |
| Project | – |
| Fifth Semester | Six Semester |
| Consumer Behaviour | Customer Relationship Management |
| Business Analytics | Digital Marketing |
| Elective – General Management | Elective – General Management |
| Elective – Retail Management | Elective – Retail Management |
Students can choose BBA Elective subjects from these below-mentioned specializations
| | | |
| --- | --- | --- |
| Elective | Fifth Semester | Sixth Semester |
| General Management | Operation and Production Management, Economic Planning, eCommerce, Entrepreneurship, Small Business Management | Technology Management, Management Development and Skills, Role of International Financial Management |
| Retail Management | Store Operations and Job Knowledge, Logistics Management, Buying, Visual Merchandising, Warehouse Management | Modern Retail Management Process and Retail Services, Retail Project Property Management and Case Studies in Retail, Merchandising and Supply Chain Management |
Note:
Retail Management, Term paper (Second semester), Quantitative Techniques for Management, and Research Methodology carry 2 credits each.

The project carries 16 credits

All other courses (including subjects in areas of specialization) carry 4 credits each

In the final year (last two semesters), the student can specialize in one of two groups: General Management or Retail Management

Each specialisation has nine courses each, including one project

Every student shall undertake project work either at their place of work or elsewhere, in the chosen area of elective to complete the programme. The project work will commence from the fifth semester and must be completed by the end of the sixth semester.
Students can pay their respective course fees in the instalment semester-wise. Students can either enjoy flexible payment options or be able to finance their course fees into zero-cost EMIs.
Online BBA Fees at Online Manipal Jaipur
Particulars
Description
Course

BBA

Fees

Total Fees: INR 1,50,000 (all-inclusive)

INR 37,500 per semester (includes an examination fee of INR 5,000)

Duration

Minimum 3 years (divided into four semesters) Maximum Duration 6 years

Roles and Duties in BBA

Finance Manager

Business Administration Researcher

Human Resource Manager

Research and Development Manager

Business Consultant

Information Systems Manager

Marketing Manager, etc.

Average Salary

INR 4.5 LPA
Online BBA Admission Procedure at Manipal Online University
The admissions process at Manipal Online Universities for Online BBA courses is basic and clear. To validate the application's admission, keep following and submitting your admission application and keep checking these given steps.
Application Process
Applicants who are interested and want to take admission to Manipal Online University need to submit their online applications and check their official website www. manipalonline.com
Candidates are required to pay an online application fee of Rs 500/- as registration charges. (the paid fees will be adjustable in the first-semester fee)
Selection Process and Admission Criteria
Candidates will be notified about their admission to Manipal Online University within five working days of submitting their application for the respective selected course.
For All the submitted applications for online degree courses, students will be notified and if requires further clarification, the candidate will be intimated via email, SMS, or even a phone call.
Documents Required
Identity Proofs: Adhar card, Passport, Voter's ID, PAN Card with Current Photograph, any other Govt- issued identity card.
Address Proofs: Aadhar Card, Passport, Voter's ID, Gas Bill, Bank, Statement, Post-Paid Mobile Statement.
Class 10th Marksheet
Class 12th Marksheet
Other Documents
Scholarship Documents
Defence Service Certificate
Divyaang Scholarship
Reserved Category Certificate
Read: What Is the Full Form of BBA
Online BBA Academics at Manipal Online University
The e-learning material at Manipal Online University will be instructed or provided through the LMS portal (Learning Management System). LMS includes these below-mentioned features:
| | |
| --- | --- |
| Video lectures | Webinars |
| Live classes | Panel discussion |
| Online study material | Virtual Stimulation |
| Interactive Sessions | Digital library |
| Guest lectures | E-textbooks |
Mode of Delivery
The lectures, virtual classes, assignments, research work, or other assigned work should be instructed only in the English medium.
Students can receive their login LMS credentials at the time of confirmation of admission. through these login details, students can regulate or attend live lectures, webinars, seminars, guest lectures, quizzes, digital library, study material and more features that are available on the Manipal Online LMS.

Students need to score around 40% aggregate marks in their semester or final year examinations.

All the semester examinations are being conducted through online mode only.
Read: Which Is Better BBA or B.com
Placement Assistance at Manipal Online University
The placement assistance drive of Manipal Online University's BBA programme works in an effective way that a student will get different job opportunities of higher positions with average smart salary packages. The duty of the placement is to provide definite job opportunities or BBA fields related to the private, corporate sectors. The placement drive of the BBA Manipal Online University also prepares the students to develop their personality, persona, and the skills which are being required at the time of the interview or for the respective job in every field.
Placement drive works to construct the soft skills of candidates that help to build up their confidence level with the communication, cognitive, reasoning, logical, analytical skills through different activities. It is one of the key responsibilities of the BBA course is to train or instruct their students for the real world in setting up the management techniques, problem-solving skills with a verbal and non-verbal approach.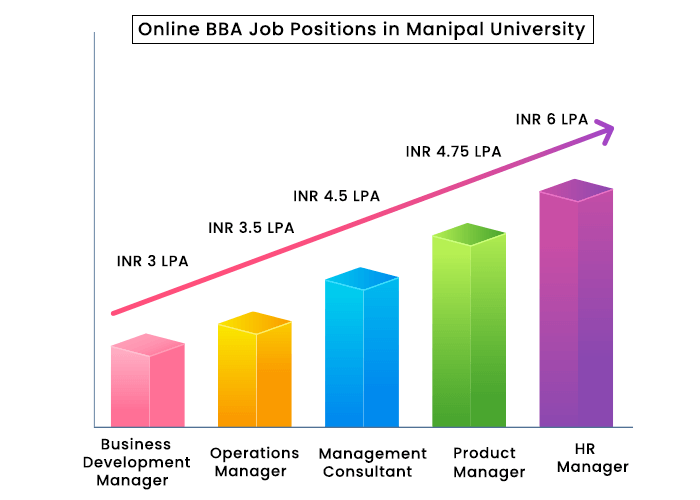 Read: NMIMS Distance BBA Admission
Top Recruiters of Manipal Online University for Online BBA
These hiring partners not only offers job opportunities but also provides internship or other project work programs that a student will experience in the real-world working environment. Here are some of the top hiring companies of Manipal Online University.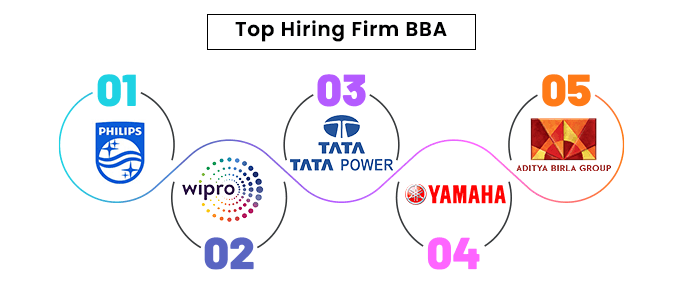 | | | | |
| --- | --- | --- | --- |
| Utopia Labs | EazyDiner | ValueLabs | Mahindra & Mahindra |
| Synopsys | Microsoft | Tata Power | National Instruments |
Online Manipal BBA Reviews
The teaching staff is highly experienced, professional and superior in their respective field.

Manipal Online University uses the best advanced LMS (Learning Management System) to give its students a clear and in-depth education through an online portal.
Online Manipal BBA Prospectus
The Online Manipal University has its own full detailed course prospectus from where a student will get all the university and offered courses details, eligibility criteria, curriculum, campus, faculty, and much more.
Read: Best Career Options after BBA
Similar Online BBA Universities
| | | |
| --- | --- | --- |
| Universities | Year of Establishment | Approvals |
| Amity Online University | 2005 | UGC-DEB, AICTE, NAAC A+ |
| NMIMS | 1981 | UGC-DEB, NAAC A+ |
| Lovely Professional University Online | 2005 | UGC, AICTE, NIRF |
| Chandigarh Online University | 2012 | UGC, NAAC A+ |
| UPES | 2007 | UGC-DEB, NAAC A, NIRF |