Better technology and the most recent global pandemic are driving an increase in the popularity of online education. Online MBA programs are currently offered by a lot of reputable universities and businesses. Indian students can earn this crucial degree while remaining in their country of origin. Due to the flexibility of these programs, working professionals can also enroll.
However, you must be determined and accountable to succeed in online learning. Before you begin, you should be aware of this. To ensure you receive a quality education, investigate the institutions and certifications of the various online MBA programs because some of them are better than others.
It's critical to comprehend what an online MBA is really like as we approach it.
This blog will examine the benefits and drawbacks of online MBA programs to assist you in making an educated choice regarding your academic and professional goals.
Pros of Online MBA Courses
Here are some of the best advantages of pursuing the Online MBA as compared traditional MBA increases the rate of admission in this mode

Flexibility: Flexibility is a major benefit of an online MBA. You can continue working or fulfilling other obligations while pursuing your degree. You may tailor your study schedule due to this flexibility, which makes it simpler for working professionals, housewives, etc.
Affordable fees Costs: Compared to their on-campus equivalents, online MBA programs frequently have cheaper tuition costs. Additionally, you save money on accommodation, food, and transportation costs, making it a more cost-effective choice.
Diverse Classrooms: Students from all over the world enroll in online MBA programs. This variety may offer distinctive viewpoints and networking possibilities, enhancing your educational experience.
Self-Paced Learning: Online MBA programs often include self-paced learning, letting you go at your own pace as you master the subject. This adaptability allows for various learning methods and guarantees that you understand the material completely before moving on.
No Geographic Restrictions: Regardless of where you are in the globe, you may select from a variety of institutions. This offers opportunities to prestigious universities and niche programs that would not otherwise be available.
Access to Resources: Online students frequently have equal access to on-campus students' research databases, libraries, and career services.
Placement Assistance: Online students also have access to their virtual placement assistance cells that helps them in getting hired by prestigious companies after completing the course.
Reality of Online MBA in Nowadays
You should carefully consider your situation and professional goals before deciding whether an online MBA is worth it. The flexibility of online MBA programs makes them a good option for working professionals looking to further their studies or change careers. They will provide you with useful information and references to enhance your resume.
However, the value of an online MBA varies depending on the quality of the program, level of commitment, and industry. If you're considering such training, consider whether the program fits with your career goals and whether the potential for pay increases are worth the effort. Also check the reputation and accreditation of the institution to ensure that the degree is valuable in your chosen field. At the end of the day, the value of an online MBA is optional and varies from person to person. But due to providing the Online MBA from various prestigious colleges the demands of Online MBA increases.
Who can apply for Online MBA
Commonly, there is a perception that online degrees primarily center on working professionals. While they indeed serve this demographic well, online education is not limited to those with prior work experience; it is accessible to students who prefer to study from the comfort of their homes for various reasons.
In certain postgraduate programs, universities may require applicants to possess some prior experience, although the specific prerequisites can differ from one institution to another. In essence, online degrees are open to a broad spectrum of individuals, including but not limited to the categories mentioned.
Housewife's

Working Professionals

Teachers

Doctors

UPSC Aspirants

Person who want growth in career by the higher education

Students

Person want to upgrades their skills
Myths regarding Online MBA
There are many myths regarding the Online MBA course but here we discuss some of them and find the reality of the myths, whether it is real or fake and how they stopping your career growth:
Online MBA has less Credibility as compare to On-Campus MBA:A list of numerous datasets are used by prestigious business schools to illustrate the distinctive features of their MBA programs. Class profiles, placement rates, typical GMAT scores, alumni accomplishments, and rankings in well-known magazines are all included in this data. Nevertheless, finding the ideal program frequently depends on how well the student and the program mesh.
Online MBA programs are becoming increasingly popular as a result of the desire for distinction in the educational industry. The same courses are covered in these programs, and the same faculty is teaching them. For decades, prestigious business schools have worked to provide online learning opportunities that closely mimic those found on-campus.
Geographical restrictions have been removed by remote learning options made possible by technological breakthroughs. Along with a 48% acceptance rate, this program has grown extremely exclusive.High-quality online MBA programs are proliferating,and this marks a growing trend as traditional MBA programs look for new ways to draw applicants in an environment where recruiting is becoming more and more competitive.
Online MBA is not Worth you money: It displays an ongoing discussion in the field of higher education. It's important to take a variety of things into account while investigating this claim. Online MBA programs can provide flexibility, enabling students to match their educational goals with employment and family responsibilities.
However, the worth of an online MBA might differ significantly based on the program,reputation, accreditation, and student, professional objectives. certain contend that the tuition for certain online MBA programs may not always be worth it, particularly if the program lacks repute or doesn't offer the networking opportunities and practical training that traditional on-campus programs do. It's important to evaluate the return on investment because it relies on things like the program's reputation, how the industry views online degrees, and the individual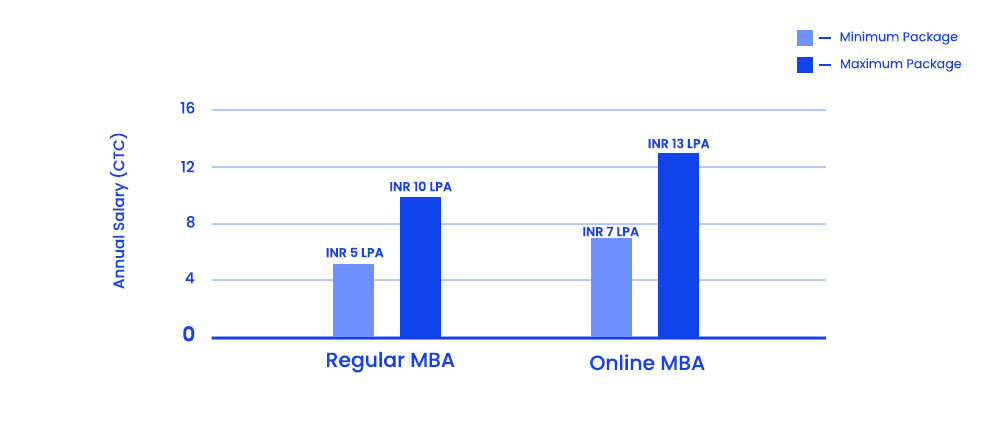 Recruiters doesn't give equal importance to Online MBA : It focuses on the importance of online learning. Even while online degrees are becoming accepted, there may still be discrimination in some professions or businesses. Some businesses may give preference to applicants with traditional on-campus degrees because they believe they have a more well-rounded educational background while others may have different attitudes towards candidates with online MBAs. It's important to remember that this attitude is slowly shifting as more respected schools offer.
online MBA programs and as graduates of these programs continue to prove their competency and skill in the industry. Recruiters increasingly regard approved online MBA programs, especially when they are offered by reputable universities, and they frequently evaluate candidates based on their qualifications, achievements, and record of accomplishments rather than the type of degree they have. The value of an online MBA in the eyes of recruiters ultimately relies on the particular situation, sector, and employer preferences.
So, these are some of the most prominent myth that comes to the mind of peoples who want to pursue Online MBA.
Fee Structure for Online MBA
MBA is a highly sought-after education in India, where many individuals aspire to enroll. However, the cost of an MBA might vary depending on the institution, the program, and the location of the program. In India, enrolling in an online MBA program is frequently less expensive than visiting on-campus. However, if you select a reputable college, it may still be fairly pricey.
You should also consider other expenses like buying books, upgrading your technology, and occasionally whether you need to travel or stay someplace else for the program. These additional costs quickly pile up. Be at ease, though! There are ways to reduce the cost. You might seek financial aid, scholarships, or even request assistance from your employment.This way, people from different backgrounds can afford to get an education.
Here are some of the colleges that offers Online MBA course in less budget as compare to traditional programs:
| | | |
| --- | --- | --- |
| University Name | Total Fees (Online Mode) | Total Fees (Offline Mode) |
| Chandigarh University | INR 2,00,000/- | INR 5,00,000/- |
| Narsee Monjee Institute of Management Studies (NMIMS) | INR 1,44,000/- | INR 11,95,000/- |
| Lovely Professional University (LPU) | INR 1,56,000/- | INR 3,80,000/- |
| UPES | INR 1,45,000/- | INR 13,34,000/- |
| Amity University | INR 1,56,000/- | INR 10,60,000/- |
As we compare the fee structure of online MBA and traditional MBA from different universities, we will discuss the pros and cons of Online MBA in India.
Cons of Online MBA Courses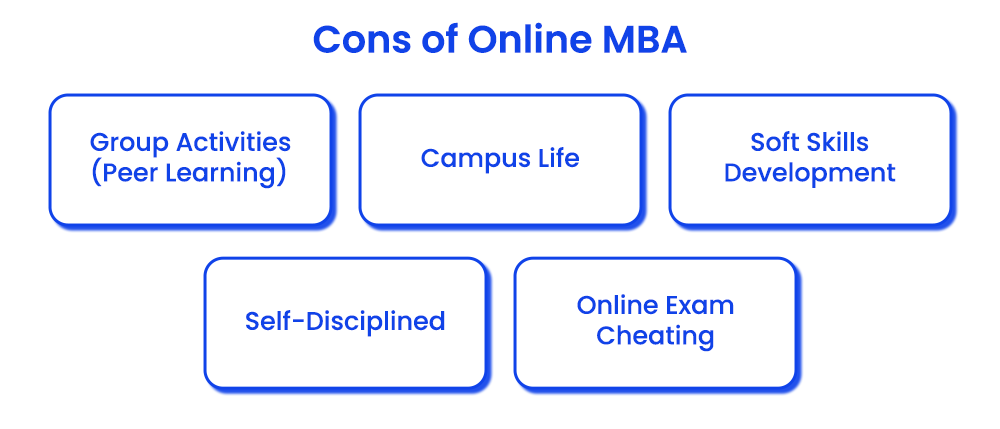 Lack of In-Person Interaction: Unlike traditional MBA programs, online MBA programs do not offer in-person encounters. Networking opportunities and the improvement of interpersonal skills may be hampered by this absence.
Potential for Isolation: Online learning has the potential to be lonely because you'll be working individually for a sizable portion of the day. Feelings of loneliness and disconnection from the academic community may result from this isolation.
Required Self Discipline: Strong self-discipline and drive are necessary to succeed in an online MBA program. Some students might find it difficult to maintain their focus without the typical class format.
Limited Practical Experience: While online programs might give theoretical information, they sometimes lack the practical experiences that traditional programs offer, such as internships, hands-on projects, and in-person case discussions.S
Perceived Credibility: Even today, some companies could still view online degrees as less reliable than traditional ones. It's critical to take into account how prospective employers evaluate online MBAs in your profession, even though this bias is waning.
Technology Challenges:Technology is significantly used in online learning. Your learning experience can suffer if you run into technical problems or don't have the right tools and a strong internet connection.
Summary
For many students, the possibility of earning an MBA online in 2023 is an attractive choice, but it also has drawbacks. Your choice to register in an online MBA program should be in keeping with your educational preferences, professional aspirations, and capacity for adjustment to a more independent learning environment.
Online MBA programs provide convenience, financial savings, and access to a wide range of candidates. However, they might not engage with people in person, need a lot of self-control, and deal with residual doubts about their reliability.
The ability to maximize an online MBA program's benefits while minimizing its drawbacks is ultimately what determines its success. Make sure to thoroughly investigate several programs, talk to alumni and current students, and consider your own situation and goals before choosing one. An online MBA can help you advance your career in 2023 and beyond if you approach it the proper way.