In the past few years, the evolution of online education has been tremendous, and with the pandemic acting as a catalyst to this whole evolution process. There were not many courses earlier that were available in the online mode. Although, now as technology has advanced, it has become possible to pursue professional degree courses in completely online mode.
However, not each and every course can be studied in online mode. There are certain technical courses that are still not approved by the government to be taught in online mode. This blog is a guide to all the UGC-approved online degree courses.
UGC-Approved Online Degree Courses
UGC has approved more than 50 online universities in India to offer full-fledged online courses for the first time. Of these universities, there are several deemed to be universities, 3 central universities, state universities, and private universities. These are those universities that comply with the requirements of NAAC or NIRF ranking as per UGC guide. Also Read | Online Degree Course from Top University In India
When it comes to professional degree courses, these universities will be allowed to offer undergraduate and postgraduate degree courses. Apart from these professional degree courses, these universities also offer Diploma Courses (10 months-15 months) and certificate courses (3 months-12 months).
Given below is a list of all the online degree courses.
Undergraduate Online Courses

Online BA- Bachelor of Arts – Course Specialisations

Global Affairs

Journalism & Mass Communication

History

Political Science

Sociology

Hindi

English

Economics

Punjabi

Tamil

French

Urdu

Social Science

Online B.Com- Bachelor of Commerce (General/Honours) – Course Specialisations

Finance

E-Commerce, E-Accountancy & Tally

Fintech

Banking & Finance

Management

Hospital & Health System Management

Travel & Tourism

Aviation

Logistics & Supply Chain

Marketing Management

Event Management

Human Resource Management

Investment Banking

Retail Management

Finance and Accounts

E-Business

Digital Marketing

Online BCA- Bachelor of Computer Applications

Data Science

Database Systems

Online B.Sc- Bachelor of Science – Course Specialisations

–

Postgraduate Online Courses

Online MA- Master of Arts

Sociology

English

Public Administration

Economics

Political Science

Hindi

History

Urdu

Education

Human Rights

Islamic Studies

Sanskrit

Public Policy

Mass Communication

Journalism & Mass Communication

Multimedia

Animation

Graphic Design

International Relations & Politics

Business Economics

Kannada

History & Archaeology

Tribal Studies

Liberal Arts

Tamil

Gandhian Thoughts

Philosophy

Communication

Anthropology

Theology

Online M.Com- Master of Commerce

Financial Management/Financial Technology

Finance

Human Resource Management

Digital Marketing

Entrepreneurship

Data Science

Logistics & Supply Chain

Energy Management

Management

Marketing

Hospital Administration

General Management

Supply Chain Management

Operations

International Business

Retail Management

Event Management

Big Data Analytics

Business Analytics

Tourism

Information Technology (IT)

M.Sc- Master of Science
Also Read | Complete Guide to Online Data Science Course Online
Online Degree Course Minimum Eligibility Criteria
The eligibility criteria for the online degree courses are almost similar to that of the offline degree courses. There are only a few differences. Since the aim of the online/distance degree courses is to bridge the gap between the marginalised and education, hence, there are a few relaxations in the eligibility criteria.
In the case of undergraduate courses, the minimum eligibility criteria are that the applicant must have completed their 10+2 or equivalent from a recognised board of education from any stream with at least 45-50% aggregate marks or an equivalent grade. However, there might be a few courses that need prior knowledge of the subject like courses in the Science stream. For such courses, you must have completed 10+2 in the same stream as the degree program.
In the case of postgraduate courses, the minimum eligibility criteria are that the applicant must have a bachelor's degree or a professional diploma in a stream that is relevant to the postgraduate online program you are taking admission in. you must have completed your undergraduate degree from a recognized higher education institution with at least 45-50% aggregate marks or an equivalent grade.
In the case of offline courses, usually, the minimum percentage requirement is more than what is needed for the online degree courses. This minimum percentage varies for different colleges. You might be required to have at least 60% for some courses and at least 75% for others. While for online degree courses, as mentioned above, you need only 45-50% marks.
Also Read | 5 Things to Look Before Selecting An Online University
Online Degree Course Advantages
Online Degree Courses have their own advantages. There has been a lot of buzz about whether online degree courses are valid or not which has instilled fear in most students. However, there is no need to worry because the online degree courses are as valid as the regular offline courses.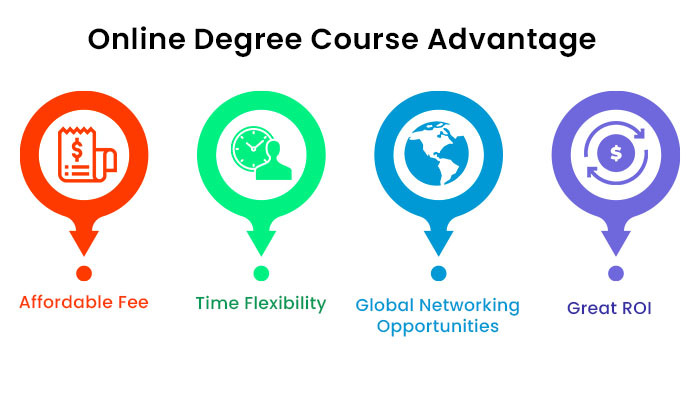 There may be a few shortcomings in the online mode of study but in other respects, online degree courses prove more beneficial than the regular offline degree courses. Some of these advantages are:
The fee structure is extremely low in comparison to the regular courses. Courses like MBA, BCA, MCA, etc are mad expensive in the offline mode and hence can not be pursued by the marginalised or by people with financial difficulties. Therefore, online degree courses are a boon for such people.
The time flexibility is a big advantage of the online degree courses as you are able to save a lot of time which you can use for other productive purposes. It is a big advantage to the working professionals as they do not have to leave their jobs. Online degree also gives you the opportunity to pursue another course at the same time to upskill yourselves to get an edge over other students.
The networking opportunities are also great when it comes to online education. This is because you are able to connect to not just your peers but also to industry experts and alumni from across the world through webinars and virtual meetings and events.
The ROI of the online degree courses is great because the fee structure is quite less but you are able to get good jobs with the online degree in hand and with the help of placement support offered by the university.
Top 10 Colleges Offering Online Degree Courses
There are more than 50 online colleges in India that have been recognised by UGC and Distance Education Bureau (UGC-DEB) to offer online degree courses. In the table below we have listed the 10 best out of all of them.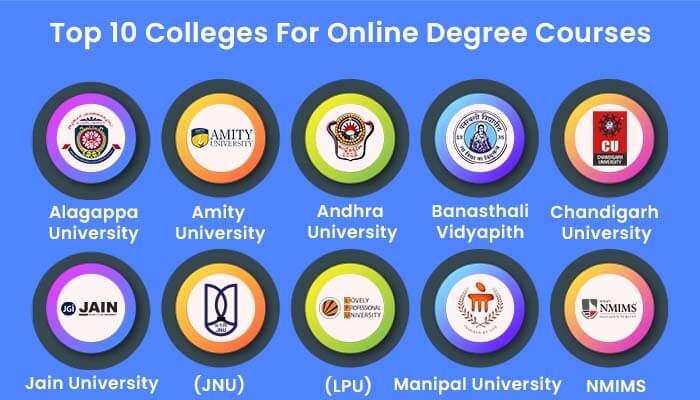 These 10 are the best, based on several factors such as the total fee, the faculty, teaching faculty, LMS (Learning Management System) facilities, placement support services, and other facilities. We have mentioned at least one from each category of Central University, State University, Private University, and Deemed to be University.