Even before you get your 12th results you start worrying about what next? The life ahead seems difficult yet exciting. The first step to entering the adulting world is to select your graduation course. One thing is clear if you want to pursue Online BBA, why? The reason can be anything, maybe you are looking for a high salary and benefits or maybe you are just interested in learning everything about the business world.
UPES Distance BBA is a 3 years undergraduate course that is divided into 6 semesters. Every semester deals with different topics. These topics are about the basics and in-depth secrets of the business administration world.
UPES Distance BBA Overview 2023
Key Features
Details

Course

Bachelor of Business Administration

( BBA )

Course Level

Undergraduate

Mode of Education

Distance

Approvals

UGC-DEB, AIU, NAAC A

Career aspects

– Marketing




– Real Estate Business




– Sales Executive




– Advertising




– Aviation




– Human Resource Manager




– Information & Systems Manager

Eligibility

50% or more in 10+2

Duration

3 years

Average Salary

3lPA
UPES Distance BBA is mapped in such a way that it offers students different subjects, it prepares students to take on different roles in future in different fields. BBA graduates can work in any field from HR to Finance.
With the help of highly trained and educated professors and industry experts students are taught the insights and different concepts of their specialisation. BBA is one of the courses that open up opportunities in varied sectors which gives students a choice to select their most preferred sector for working. The demand for graduates with BBA is in every field and sector which makes it a highly demanded and popular course.
Read: What Is the Full form of BBA?
Distance BBA in Aviation from UPES
One of the specialisations of distance BBA is BBA in Aviation. BBA distance in Aviation is specially designed for those aspirants who like to fly high and wish to gain knowledge on air transport, airport operations, financial accounting, passenger forecasting and airport planning.

Online BBA in Aviation is the number one choice of many students after 12th due to the ever happening boom in the aviation industry.
Why Distance BBA from UPES?
The question that arises now is if BBA is such a demanded and popular course then why should one do it from UPES? The question is perfectly valid and so is its answer. UPES is one of the universities that believe in offering quality education to its students. UPES has secured its position as one of the top universities in North India.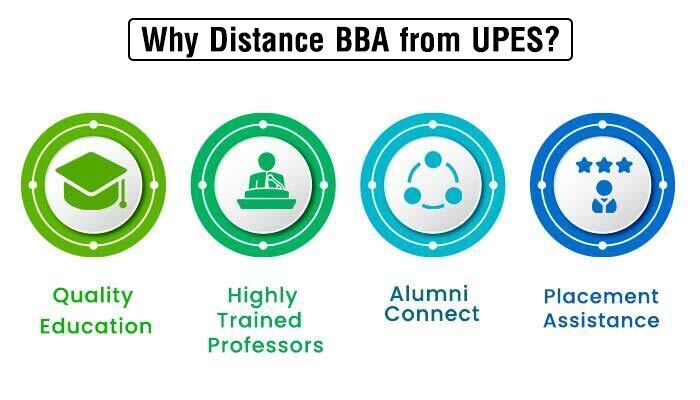 3 years is a long time, these 3 years impact a lot on a student's life and play a major role in all the coming years of their life, which is why it is important that students think many times before taking admitted in any university. UPES understands the importance of the role that a university plays on the young minds; this is why they make sure to provide students with quality education, a friendly and peaceful environment, trained professors, advanced and easy to access LMS and much more.
Read: What Is BBA Distance Education?
Is Distance BBA from UPES Degree Valid?
Any degree is only accepted when it is valid, so how to know if the degree is valid? Any degree is considered valid only when the university providing that degree has the needed approvals and certificates. UPES possesses all the required approvals and government certificates which makes any degree provided by UPES valid and accepted all over. Students completing their distance and distance BBA from UPES can secure jobs in both the government and private sector.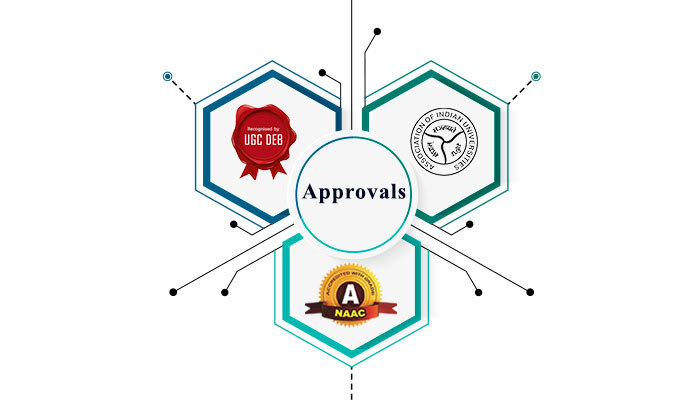 Key Feature of Distance UPES BBA in Aviation
The undergraduate program of 3 years

6 semesters dealing with various trends of the industry

Offers quality education on various topics

Lectures from trained faculty and industry experts

24*7 Access to LMS

Recorded lectures and external links

Valid degree

Upskilling and reskilling training programs

Placement assistance
Distance UPES BBA in Aviation Eligibility Criteria & Admission 2023
It is crucial part that students fit the eligibility criteria in order to take admitted in the distance BBA program of UPES. The eligibility criteria for distance UPES is mentioned below :
Candidates must have 50% or more in their 10+2.

Applicants must have a strong hold on English.

Students with diplomas after 10 can also apply.

5% relaxation is given to those with 2 years of experience.
Read: Best Distance BBA Colleges In India
Distance BBA in Aviation curriculum for UPES 2023
To give an insight into the curriculum mentioned below are the subjects and topics that students will get to learn in the time period of 3 years.
| | |
| --- | --- |
| Semester 1 | Semester 2 |
| Business Organisation | Organisational Behaviour |
| Business Mathematics | Business Economics I |
| Business Accounting | Business Communications II |
| Business Communication I | Principles of Marketing |
| Business Computing | Financial Management |
| Introduction to Aviation Industry | Airport Customer Services |
| Semester 3 | Semester 4 |
| Cargo Handling | Research Methodology & Report Writing |
| Business Economics II | Consumer Behaviour & Market Research |
| Business Law | International Business |
| Aviation Marketing | Travel Agency & Tour Operation |
| Marketing Communication | Human Resource Management |
| Customer Relationship Management | Tourism Enterprise Management |
| Semester 5 | Semester 6 |
| Dissertation | Internship |
UPES Distance BBA Fees Structure 2023
Particulars
Description

Course

Distance BBA in Aviation

Fees

1,80,000

Duration

3 years

Roles

– Assistant manager




– Airport manager




– Safety




– Maintenance Manager




– Ground Staff Manager




– Cargo Manager

Average Salary

3-6 LPA
UPES Distance BBA in Aviation Admission Procedure 2023
Students who wish to take admission to Online BBA need to go through the admission procedure for the same. The admission procedure is very easy and user-friendly so that students don't face any issues while applying for their desired course. There are 4 steps which need to be followed in order to enroll yourself in the Online BBA in Aviation program. The steps to be followed are mentioned below: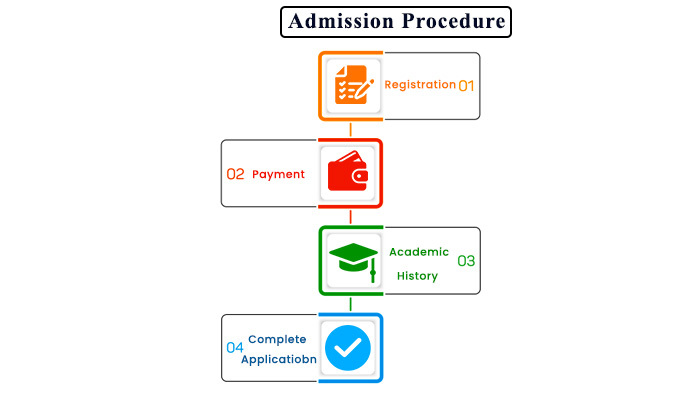 1. Registration
The primary step in order to take admission is the registration process. This process requires students to fill in the required information like name, educational background, number, email, DOB, etc. this process is crucial as this information is used later too so it is important that students fill in the details carefully.
2. Payment
The next step includes the payment procedure in which students are required to pay the registration fee. The university being an online university provides the option of paying the registration via netbanking, debit card, and credit card.
3. Academic History
Once the payment for the registration is done, students get redirected to the next step which is uploading their documents like marksheets, certificates, provisional certificates etc. These documents are required to verify the student's academic history and see if they are eligible.
4. Complete Application
Once the formalities are done students get redirected to the final step. This final step asks the students to fill in a few more basic details and once the students are done with filling the required detail they are done with their part.
5. Payment Mode of Distance BBA UPES
What's the point of an online university if every step can not be done in the same mode, right? This is why everything from the registration process to payment method can be done online. Students can pay their registration and course fee by netbanking or Debit/Credit card. The payment for course fees can be done either semester wise or in a single go, this decision totally depends on the candidate itself.
Placement Assistance at UPES
You completed your graduation but now what? Searching for internships and looking for good opportunities can be tough. UPES understands the major problem after graduating is for looking for good opportunities and to grab them correctly which is why they provide the facility of placement assistance to its students.
The placement assistance of UPES includes placement drives, mock interviews, tips and tricks to crack interviews etc. the aim of the placement assistance is to prepare students in such a way that they crack any interview with their skills. Not only does the placement assistance prepare students but it also gives them a head start with their placement drives.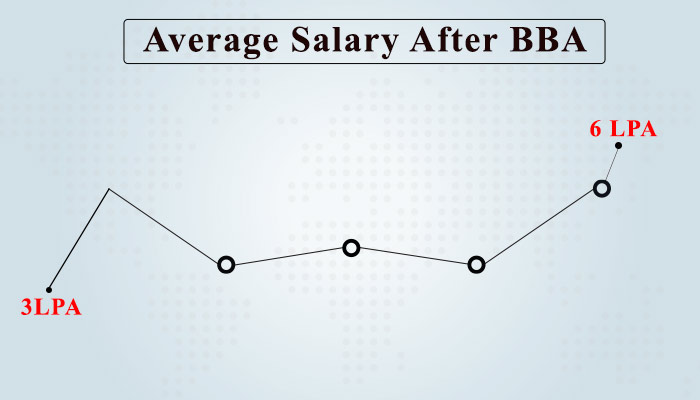 Job Profile and Average Salary after Distance BBA
Distance BBA is one of the courses that opens ample opportunities in different fields in different roles. Few of the job roles after BBA are:
Business Analyst

Executives/Managers

Trader

Analyst

DM Executives/Managers

Executives/Asst Managers

Production Executives/Mgrs

Sales Executive

Store Incharges

Marketing Executives

Asst. Manager/Logistic Manager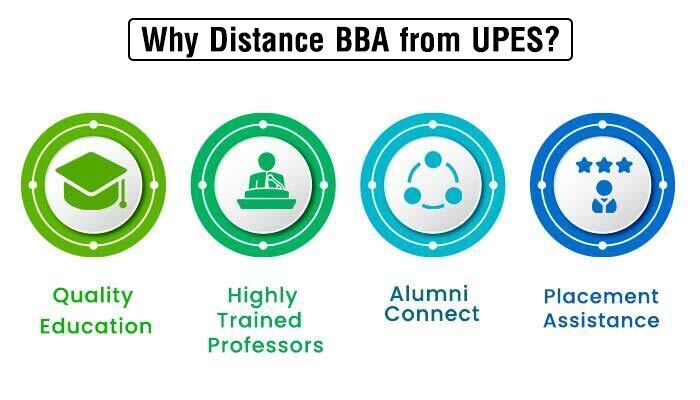 After completing their graduation in BBA, one can expect their average salary to start from 3LPA. The average salary can be more or less than the number mentioned as it depends on the organisation, student and interview but it will be somewhere around the given number.
Read: Best Career After BBA
Job Profile after Distance BBA in Aviation
The students who chose BBA in the aviation industry as their specialisation can work in the airline industry in different roles. Few of the job roles students can take over after completing their BBA in Aviation are as follows:
Airline Contracting Manager

Airport Operations Manager

Assistant Airport Manager

Credit Control Manager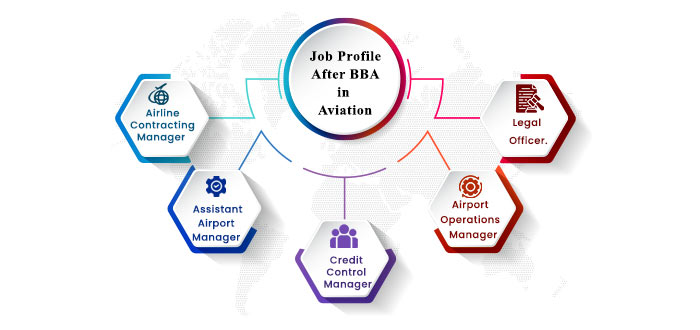 Top Recruiters of Distance BBA UPES
Big and small organisations are always looking for students with BBA to take on serious and professional roles. To name a few big players mentioned below is a list of top companies who are the top recruiters for BBA graduates.
EY

ICICI Bank

Microsoft

Bajaj

Deloitte

Nokia

Sony

Wipro

Airtel

Goldman Sachs
Distance BBA UPES Reviews 2023
Affordable: One of the best things about UPES is that it is very affordable and does not put a lot of load on the financial status of students. It offers a quality education at a reasonable price.
Placement assistance: Placement assistance is a must for any university, the placement assistance of UPES is inclusive of all, it not only gives placement drives but also prepares for everything from mock interviews to how to dress confidently.