The world we're living in currently has become technology-driven, highly dynamic, and fast-paced. This means that you need to be dynamic and quick as well to stay in pace with the world around you. It is an advantage if you have more than one skill up your sleeves as it gives you an edge over others who are still stuck with a single skill.
You can achieve this by opting for skill development courses. It is even more beneficial to opt for online skill development courses as they save your time and money both and hence help you enhance efficiency. We'll discuss in detail how online skill development courses help you move forward in your career!
What is Skill Development?
You already know what skill development is but here we are talking about skill development in respect to your career. When you work at a particular position, there is not just one skill based on which you are recruited. The employers look for a candidate with as many skills as possible.
Hence, it has become really important to learn additional skills apart from the ones you already know. If you constantly learn new things and new skills, it helps you in the holistic development of not just your Curriculum Vitae (CV) but also your personality.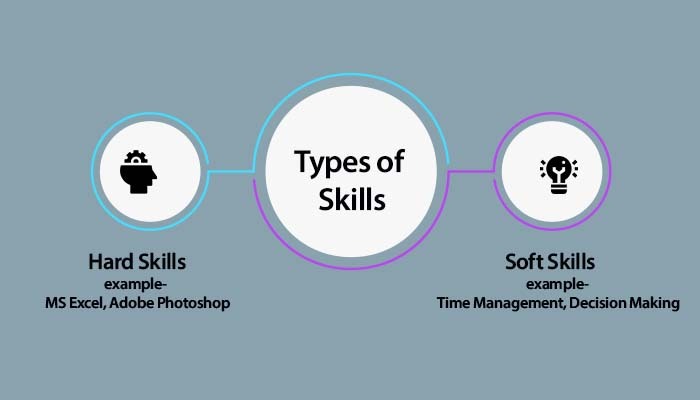 So, skill development is simply you learning new skills that are relevant to your growth, both in your career and your persona.
Also Read | List of All Professional Courses After 12th In All streams
There are two broad categories in which Skill Development can be classified
Hard skills are task-specific. You can think of hard skills as technical skills needed for a specific task or within a particular subject. Hard skills need proper education, training, and practice. For example, knowledge and practice of MS Excel or Adobe Photoshop count as hard skills. These are the skills that you need to learn from expert mentors.
Soft skills are personality-specific. You can think of soft skills as behavioural skills or your personality traits. These are the skills that you do not learn from outside but develop over time with experience. For instance, skills like time management, collaboration, problem-solving, decision making, ability to work in a team, working under pressure, proficiency in communication, etc are some of the soft skills.
Also Read | Top 10 Online Learning Platforms Offer Online Courses
Importance of Skill Development
Skill development is one of the most important aspects of a successful career. Each and every industry is constantly growing and evolving. Hence, it is very vital to keep up with the latest trends and technologies. This is where skill development comes to the rescue. If you continuously develop new and relevant skills, your value increases as well.
Skill development is also important as it makes you aware of your existing skills versus what skills you lack. It is a process that lets you know of your knowledge gaps and hence you get to know the path you need to follow to enhance your career.
India is the second largest population and similarly large is the unemployment rate in the country. There are several candidates for a single job position. Therefore, recruiters and employers look for candidates with the most varied skill sets. This is why skill development is really crucial to outshine others in the crowd.
Also Read | How to Choose the Best Online Courses?
Types/Levels of Skill Development Courses
There are several levels at which Skill Development courses can be pursued. There are certain eligibility criteria for each level. Following are these levels.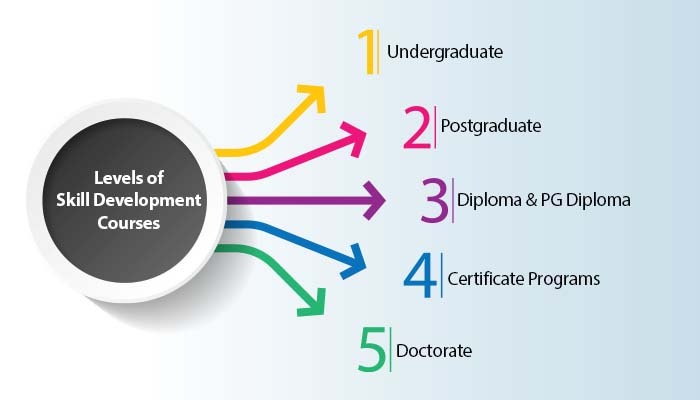 Undergraduate
To pursue undergraduate skill development courses, you must have passed class 12th from a recognised board of education.
The course duration is either 3 years or 4 years.
Some streams of skill development courses are- Bachelor of Vocational Education, Bachelor of Design, Bachelor of Fine Arts, etc.
Postgraduate
To pursue postgraduate skill development courses, you must have a bachelor's degree in a relevant stream/course from a recognised university.
The course duration is 2 years.
Some streams of skill development courses are- Master of Vocational Education, MFA, MPA, etc.
Diploma & PG Diploma
To pursue Diploma & PG Diploma skill development courses, you must have passed class 12th from a recognised board of education.
The course duration is 6 months to 1 year.
Some courses are- Diploma in Computer Hardware, Diploma in Fashion and Textile Design, etc.
Certificate Programs
To pursue Diploma & PG Diploma skill development courses, you must have passed class 12th from a recognised board of education.
The course duration varies from a few hours to a few months.
Some courses are- Certificate in Machine Learning, marketing, copywriting, Google Analytics, etc.
Doctorate
To pursue Doctorate courses, you must have completed your master's degree in a relevant stream/course from a recognised higher education institution.
The course duration varies from 3-5 years.
Some popular Doctorate courses are- Ph.D in Economics, Banking, Finance, etc.
Online Skill Development Courses
The National Skill Development Corporation (NSDC) encourages the initiative of Made in India as well as Skill India. For this, it offers a wide range of online skill development courses. Apart from NSDC, there are various other online learning platforms that offer various skill development courses. Some of these courses are free of cost, while some others are paid.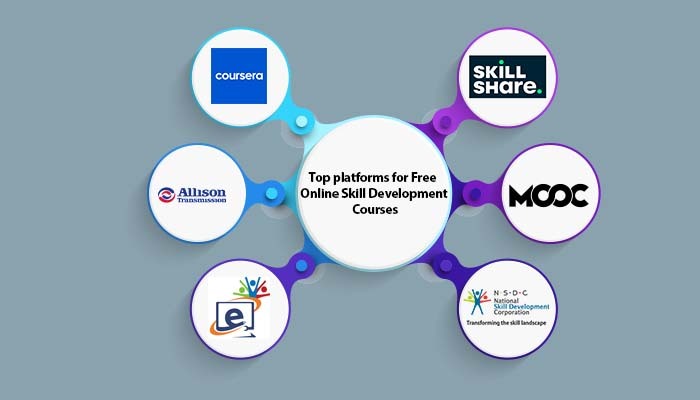 Following are these top learning platforms:
Massive Open Online Courses (MOOCs)
MOOC is a global online learning platform that offers 3000+ online courses for free thereby providing an affordable as well as a flexible option for people to learn and develop new skills. These courses are usually certificated courses in a wide variety of subjects and electives. They also offer degree courses with an affordable fee structure with the help of tie-ups with prestigious institutions across the globe.
Coursera is one of the top platforms for offering online courses worldwide. The platform has tie-ups with the best universities in the world like IVY League to provide online degree, diploma, and certificate courses and also with big corporate brands like Google to offer professional skill development courses. The platform consists of both paid and unpaid courses.
SWAYAM is a government portal launched by the Govt. of India with an aim to provide accessibility of education to students from diverse backgrounds who lack the access to quality education. It is a reliable portal to access online educational course contents and resources for free. Students can also opt for certificate courses which are paid (but are pocket-friendly). You can find courses at school, graduate, and postgraduate level from prestigious bodies and higher education institutions like UGC, AICTE, NCERT, IIM Bangalore, IGNOU, and more.
Udemy is another big brand in the domain of online learning courses. The USP of the platform is that it offers specific skill development courses in various domains like IT, Business, Design, Software, etc. The courses are specific to a particular skill or subject which is otherwise not available in the regular mode. There are again both paid and unpaid courses.
LinkedIn Learning which was formerly known as Lynda is an online learning platform which is currently one of the best professional social media creative online learning platforms. This platform is mostly popular for being a platform for people to form professional networks and contacts to find jobs. Now, the platform has extended its services into offering professional online courses. The courses are paid with a 1 month free trial period.
Skillshare is one of the best platforms for skill development courses. The courses offered by this online platform are not necessarily professional or academic. There are more vocational courses so that people can develop and enhance their skills in their areas of interest and passion. For instance, most of the courses are related to areas like design, animation, illustration, writing, film and photography, business, etc.
edX is another brand name in the field of online learning platforms. This platform offers online degree and certificate courses with the help of prestigious higher education institutions. There are courses from diverse streams. Students can avail both paid and unpaid courses. However, certificates will be provided only for the paid courses.
Masterclass is a unique online learning platform that offers vocational courses to the students. The USP of this platform is that they work with celebrity figures to teach these courses. The courses are usually in the areas of writing, entertainment, arts, science & tech, food, etc. The students have the chance to directly learn from professionals who have made it big in their respective careers and industries.
Unacademy mostly offers courses in the professional academic domain. It is one of the most popular online learning that has emerged to fame at a rapid pace in India in the past few years. The platform provides both paid and unpaid training courses. Apart from these courses, they also offer online coaching for several entrance exams like CAT, Bank PO, RBI, etc.
Following are some of the most popular skill development courses offered by these platforms:
Google UX Designing Certificate by Coursera
Go Digital by NSDC
Pradhan Mantri Aarogya Mitra by eSkill India
Stanford University Machine Learning by Coursera
Top 10 Skill Development Courses in India
10 of the most trending and important skill development courses in India are:
| | |
| --- | --- |
| Digital Marketing | Copywriting |
| Graphic Designing | Academic and Business Writing |
| Public Speaking | Photo/video Editing |
| Computer Programming | Business and Management |
| Machine Learning | Film Making, Creative Arts and Design |
Digital Marketing
If you are interested in the field of marketing, social media, etc or if you are already working in that field, then you must definitely look towards building your skill set in Digital Marketing. The internet has taken over all our digital assets and marketing especially has taken a huge jump into Digital Marketing. Today, Digital Marketing is one of the most important parts of any business or even public organisation.
Reaching out to maximum people has become easy through Digital Marketing. Therefore, if you are in the field of Marketing, then you can not miss out on the various skills within the field of Digital Marketing like Search Engine Optimisation (SEO) techniques, Business Analytics, content writing, copywriting, paid marketing, and so much more. Social Media is also a very important part of Digital Marketing practices these days and also a very good skill to add to your kitty. Also
Graphic Designing
Graphic Designing is again a result of the growing usage of digital assets and the internet. Graphic designing is an important part of digital as well as social media marketing. All the multimedia content that goes on the web is specially designed with the purpose to attract and engage as wide an audience as possible.
Graphic designing is a great and popular skill that will help you build a great career in the digital marketing field. However, there are several other fields of opportunities for graphic designers as well. You can venture into the field of Animation and VFX, which is also another great field to explore as it is rapidly growing with the popularity of webtoons in India as well.
Public Speaking
Speaking in general and speaking in public both have a lot of differences. In the case of public speaking, there are certain techniques and skills involved so that you properly articulate yourself to a big and diverse audience and most importantly, grab their attention. The public speaking course will make you confident and an eloquent public speaker. You will learn to structure your content in a manner which is not just informative but also convincing.
Computer Programming
The word today is highly technical and revolves around computer science and information technology. There are a lot of job opportunities and career scopes in both these domains provided that a candidate has at least some basic knowledge of programming. If you are a part of the Computer Science/IT industry or are planning for it then the knowledge of at least one high-level language (programming language) is a must for better opportunities. Some of the popular and in-demand programming languages are Python, Java, C++, C, HTML, etc.
Also Read | Basic Computer Courses List with Fees Details
Machine Learning
You must have definitely heard of Artificial Intelligence (AI) and how it is impacting and almost taking over our day-to-day lives. You wouldn't even realise how heavily dependent you are on artificial intelligence. However, do you know how it works? Well, one of the most important aspects of AI is Machine Learning (ML). Machine Learning helps your AI device to be more accurate in predicting outcomes and hence helping in making better decisions.
The industry of AI is huge and hence there is immense scope of a great future career if you know the skill of machine learning. Not just AI, machine learning is also one of the key domains in the Data Science field. Both AI and Data Science are huge industries that offer high-paying jobs. Therefore, Machine Learning is surely a skill that will help you make it big!
Copywriting
If you have seen those attractive advertisement headlines or those quirky social media posts by big brands, then you have already been exposed to what copywriting is. Copywriting is the process of writing content for the purpose of advertising and marketing a brand or product.
These days, a lot of big brands focus on copywriting as it helps them increase their brand awareness and get more engagement on the internet and social media. Copywriting comes under the field of marketing as you are writing in order to persuade people to take a particular action. Copywriters today have a great scope in terms of career as they are an important asset to a Digital Marketing team in any organisation.
Academic and Business Writing
Simply writing content is quite different from writing content for academics and business purposes. There are a lot of rules and regulations while writing academic and business content. Therefore, academic and business writing is a skill that needs to be learnt from experts. If you wish to be a content writer, then an additional skill of academic and business writing will be a great addition to your resume.
Photo/Video Editing
Just like Graphic Designing, photo and video editing is also a skill that is quite in demand today. The content that we consume is now more in the form of multimedia (photos, videos, gifs, etc). Hence, the demand for skilled professionals in the field of Photo/Video editing has been a lot more. With the skill of photo/video editing, you can venture into the field of Digital Marketing, professional photography and videography industry, and filmmaking as well.
Business and Management
Business administration and Management studies are two of the skills that are most in-demand irrespective of the industry you work in. Any business big or small, organisation, or firm in any sector, be it schools, colleges, hospitals, IT, banks, etc, have dedicated teams for the management of the organisation. A course in Business and Management covers major subjects like Human Resource (HR), Finance, Accounting, Marketing, Operations, etc. This skill development course aims at helping you develop leadership and management qualities.
Film Making, Creative Arts, and Design
If you have a knack for creative work, then these skill enhancement courses are something you would not want to miss! Creativity is not something to learn, however, there are still some rules and techniques that only the experts can expose you to. The aim of these skill development courses is to enhance and hone your already existing skills.
Some of the courses within the domain of the creative arts are:
Music (vocals and instrumentation)
Dance
Theatre and Drama studies
Fashion Designing
Fine arts and crafts
Industrial and non-industrial design
Interior design
Also Read | Career Objective for Fresher Resume with Examples
Career Scope & Job Options After Skill Development Courses
We have already emphasised on the importance of skill development and its impact on the advancement of one's life and career. You have better chances at job opportunities if you possess more skills than required for that job. Every employer looks for an employee that is multitasking and can prove to be a useful asset to the organisation.
For instance, if you go for the job of a graphic designer, then along with graphic designing, you are also skilled in video editing and animation, then you already outshine the rest of the candidates who are there only with the skill of graphic designing.
Also Read | How to stay Focused In Studies.
A human being is a greedy animal and always asks for more. So, to an employer, you are more valuable than the rest.
In another case, if you are already a working professional, then you can upscale your career by developing new skills and getting promotions at work. It is always best to constantly learn new skills in order to stay up to date with the latest trends relevant to the industry you're working in. Keeping up with the times is the best way to broaden the scope of your career for a better and secure future.
So, clearly with more skills you possess, your career scope becomes better and better. Following are some of the top job options after pursuing the skill development courses mentioned in this blog.
| | |
| --- | --- |
| Digital Marketing Manager | Academic Writer |
| Brand Manager | Business Writer |
| Advertisement Manager | Photo/Video Editor |
| Graphic Designer | Video Animator |
| Content Creator | Film Maker |
| Software Programmer | Cinematographer |
| Web Developer | Musician |
| Machine Learning Engineer | Choreographer |
| Data Scientist | Theatre Artist |
| Copywriter | Painter |
| Interior designer | Fashion designer |
| Industrial and non-industrial designer | |
Also Read | Best Short Term Course for Job In India