With the demand for online learning courses increasing by the day, there are an enormous number of such courses available at the click of a button. But choosing the online course best suited for you is not a child's play. Here we tell you some of the top factors to look out for to choose the online course that is best for you.

What is Online Education?
Online education is a modern age development in the field of education that taps on the technological advances and the massive network that is the internet. Online education uses these technological features and delivers education to students through the use of the internet. Online courses refer to the programmes (degree/ diploma/certification/ school-level) in which the course content is delivered to students through the use of
Lectures

Videos

audio-video content etc. virtually.
Learning materials are also shared with students in the digital format, i.e. in the form of PDFs, e-books, PPT presentations, open source journals and articles available on the internet etc.
So the major distinguishing factor of an online course from a regular offline course is the mode of delivery; where offline courses involve physical classrooms and printed learning materials and online courses provide the same support but through the use of an online platform and an electronic device for delivery.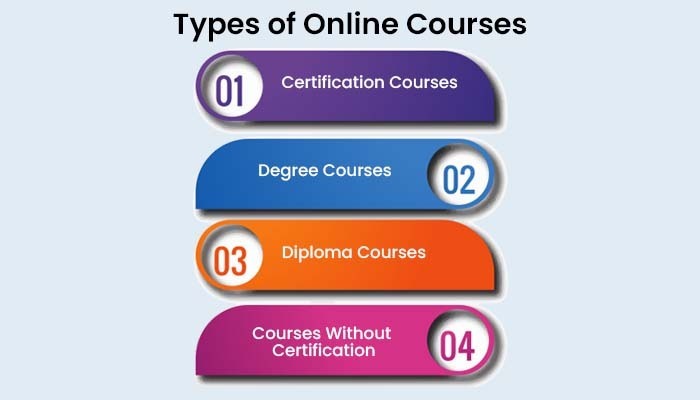 With that being clarified about online education, online courses can be offered to students in a wide variety of formats:
Online courses can be short-term (e.g of a few weeks or a few months duration) or long-term (ranging from a few months to a few years).

Online courses can be offered at the school level of education, at the undergraduate level, postgraduate level and even at the doctoral level to students.

The credential obtained after course completion can be a degree, a diploma or a certificate.
So, while choosing an online course for higher education, you need to make a careful evaluation of a number of key factors. In this blog, we have provided you a detailed account of the most important factors you need to consider while choosing the best online courses for you.
How to Choose the Best Online Course? Top 10 Factors to Consider.
With the advent of the internet, there are an enormous number of online courses available to a student at the click of a button. With so many options to choose from, confusion is bound to loom.

At the same time, it is important to ensure that the online course you choose is the best one for your needs since pursuing a course is an irreversible investment of your time and efforts.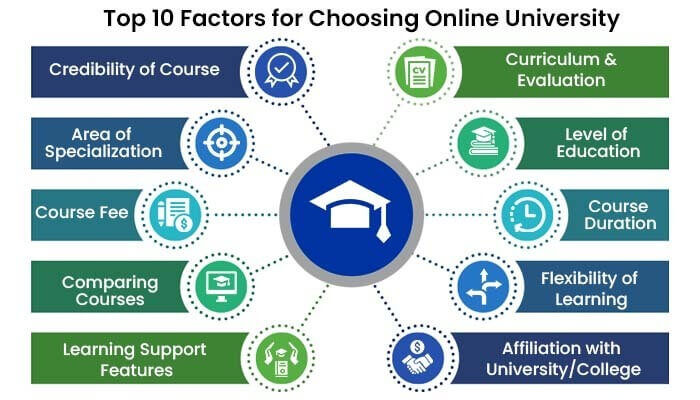 So, if you are a student looking to pursue an online course, here we have listed the top 10 factors to consider when choosing an online course. Use the tips given below to arrive at an informed and balanced decision to choose an online course for yourself !!
#1 Credibility of the Course
The top factor to consider before everything else is to ensure that the online course you pursue is credible and useful for your future. With many websites and institutions claiming to provide a number of online courses, it is really important to choose your course carefully. If you don't carefully evaluate the course credibility, then you can end up with a fake degree.
Some of the important factors to check out for while ensuring the credibility of an online course include:
In case of an online degree course offered by a university or educational institute, ensure that it is a well-accredited organization. Some of the important accreditations and approvals in India include UGC-DEB, AICTE (in case of professional skills), NAAC, AIU etc.

In case of an educational website offering the online course, check the faculty delivering the course along with their educational credentials to ensure that the course is a credible one and not a scam.

Be wary of websites or domain names that seem to be copying the names of very famous educational institutions or universities since these websites can be fake or fraudulent.
Some of the common, trusted and credible educational platforms that offer online courses include:
Google Digital Garage: Excellent Open Access Platform for Free and Paid Online Courses
LinkedIn Learning: The Online Learning Platform by the well-known professional social media platform LinkedIn
Swayam Portal: An Initiative by the Indian Government to Provide Online Learning Courses to Students at the Undergraduate, Postgraduate and School Levels.
Udemy Academy: Online Platform for Educational Courses Conducted by Teachers and Experts
Coursera: One of the Most Renowned Online Platforms for Pursuing a Large Number of Online Courses
edX: Another Well-Known Platform allowing Students to Pursue courses; Has affiliations with a Number of Universities.
Unacademy: A Recently Emerged Platform Offering a Large Number of Courses inOnline Learning and Entrance Exam Training
#2 Affiliation with University/ College/ Educational Institution
Another factor to consider is whether the online course you are choosing is provided by a university, a college or a website. In some cases, universities and colleges create their very own online learning branches that offer a number of courses to students in the online mode of learning.
Also Read | 6 Things to Research When Choosing an Online University In India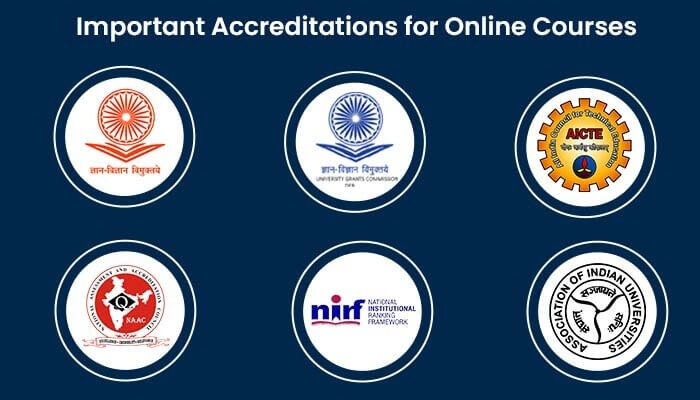 For such online universities and colleges, you should check the accreditations like UGC, UGC-DEB, AICTE, AIU, NAAC, NIRF etc. to ensure that they are credible and valid sources of online education. Some common and well-accredited universities and institutes that offer online courses to students include:
In some other cases, universities, or faculties of various colleges/ institutes also provide online learning courses through MOOC platforms such as Coursera, edX, Udemy, Unacademcy etc. If you choose a course from such a platform make sure that you check the credentials and educational qualifications of the professor/teacher providing the course, and ensure that the professor delivering the course has the relevant experience to effectively teach the course. Also Read | Checklist to Choosing Right Online University
#3 Area of Specialization
Another important aspect to take into account while choosing the right online course for you is to decide the right area of specialization that you want to pursue. You should choose the specialization area for the course by taking some factors into account.
Choose an area of specialization that is in sync with or related to the one that you have pursued earlier (e.g. Commerce, Humanities or Sciences)

Some courses may be open to students with a particular stream only. For such courses, one needs to check the eligibility of the course before applying. Some other courses are offered to students irrespective of their educational stream. You can apply to such courses based on your interests and if you want to develop your career in that direction.

Another important consideration to make is to assess your own interest and aptitude in the domain. It is advisable to not choose a course if you feel you aren't interested in it or lack an aptitude for it as understanding and keeping up with such a course may get difficult for you.

One must also consider if the course actually has some utility to your needs, whether in terms of professional scope, upskilling yourself, or in terms of your passions or interests. You should not randomly start pursuing any online course but carefully choose one based on your needs and goals in the future.
So a student should choose the online course specialization carefully based on their interests, aptitude and utility.
#4 Level of Education
A common mistake made by students while choosing an online course is choosing the wrong or unsuitable level of course. While choosing the online course, you should see if the course level matches your current educational level, otherwise, the materials taught to you may be tough to follow or comprehend for your level of understanding.
Here we have given some basic criteria to remember while choosing the online course for yourself:
Certification courses are available on online platforms and universities for a variety of levels including those that can be taken up after class 10th, after class 12th, graduation or post-graduation. Many certification courses can also be pursued by working professionals for skill enhancement. Details of the eligibility criteria should be checked before applying for these online courses.

Diploma courses are best for those who have completed their class 12 level education, i.e. till higher secondary level. Some diploma courses can also be suitable for those having completed their class 10th-level education, but most diploma courses are offered at an undergraduate or postgraduate level.

There are online degree programmes that are offered as graduation level or postgraduate level courses and students can check the detailed eligibility of such courses before applying to them.

Work-Integrated Learning Programmes (WILP) are a recent type of course that are offered specifically to working professionals in the online mode. These courses have interactive learning facilities, offered after business hours or on weekends and allow great flexibility to those pursuing them to complete the course.
Keeping the following factors in mind, you can choose an online course that is suited to your educational and comprehension level.
#5 Fee/ Value for Money
This is one of the most crucial factors affecting the educational choices made by people, whether for choosing an online or offline course. Students mainly prefer online courses because they are much more cost-effective and provide students a chance to obtain a quality education without bearing very huge expenses. Online courses are more affordable than regular offline courses because of the primary services being offered through the internet.
Taking these concerns into account, it is a useful practice to check the fee rate of the course. You should be wary of those courses which charge a very heavy price for course completion in comparison with other comparable online and offline courses.
You can evaluate if the course is cost-effective for you or not by assessing
The duration of the course

The level of the course (undergraduate, school-level, postgraduate, WILP)

The type of course (diploma vs certification vs degree course)

The Learning support provided
Based on all such factors, courses which are longer in duration, at a higher level of education, are degree courses, are professional courses and have a detailed and comprehensive learning support features tend to be more expensive.
However, being online courses, some of them are also available for students to pursue free of cost or at very nominal rates. The added benefit is that students get a certificate or credential for such courses too, which makes the course useful for any professional and academic endeavour in the future.
In the case of online universities and educational institutions, students can get some additional benefits such as:
Merit Scholarships

Fee Concessions in Special Cases

Discounts based on Early Admissions
Based on all these factors, you can check the overall affordability of an online course and choose the one which is best suitable for your budget.
#6 Course Curriculum and Evaluation Policy
It is not only essential to carefully select the specialization and the level of the course but also to check the subjects and topics covered in the course. This is important because:
Firstly, there can be considerable difference between a regular offline and an online course on the same topic. So a comparison is needed to check if the online course offers similar training and modules as an offline course.

Secondly, students may enroll in a course with certain expectations to explore a particular domain and checking if that subject domain is covered in the course can be helpful.

Lastly, based on the type of course, the detailed course content needs to be assessed. If you are opting for a certification online course in an area, then you can expect the course to cover all the important areas in that domain briefly. An online diploma course is comparatively more detailed. But if you are opting for degree courses online, then the course should be much more comprehensive and detailed with not only covering all important topics but also exploring them in sufficient detail.
So, it is important to check the course content and syllabus carefully to ensure it is a suitable course for your educational or professional needs.
Also Read | Best Job-Oriented Short Term Courses Which are In-Demand
Another aspect to check at this point is the evaluation method of the course, as some courses may not involve any rigorous assessment and evaluation strategies whereas other courses may have assignments, projects, presentations, dissertations etc. as part of the evaluation policy. So you should consider the curriculum and the evaluation policy of the online course while choosing too.
#7 Duration of the Course
Online courses can be of variable durations. While some courses can be of a few hours (consisting of a few short modules), others can be covered over a few weeks or months. Then there are full-time online courses which are completed over a period of 2 to 3 years. The duration of an online course depends on the level and type of course and affects the level of comprehensiveness of the course.
Short-term courses and certain certification courses tend to be a few hours long, with a select few courses.

Most certification courses tend to be a few weeks long, with a number of courses and a basic evaluation after course completion.

Diploma courses are generally 1 to 2 years long. They often involve a systematic process of assessment of evaluation of student learning.

Degree courses, whether at the undergraduate and postgraduate courses, tend to be the longest courses, usually lasting between 2 to 4 years. These have a rigorous assessment system, with a number of assignments, projects, group discussions, dissertations as well as end-term examinations.
Carefully checking the duration of the course is very important because you should match the duration of the online course with your short-term and long-term educational and professional goals. So you should choose a short-term course if you want a basic skill upgrade and knowledge and a diploma or degree course if you want to gain in-depth knowledge and a qualification that will enhance your professional worth.
You should also assess the number of hours you can devote to studying and completing the course every week and choose accordingly.
#8 Learning Support and LMS
Online courses are very different from offline courses in terms of the delivery of education. A good online course should preserve the elements of good education and offline learning through the digital mode.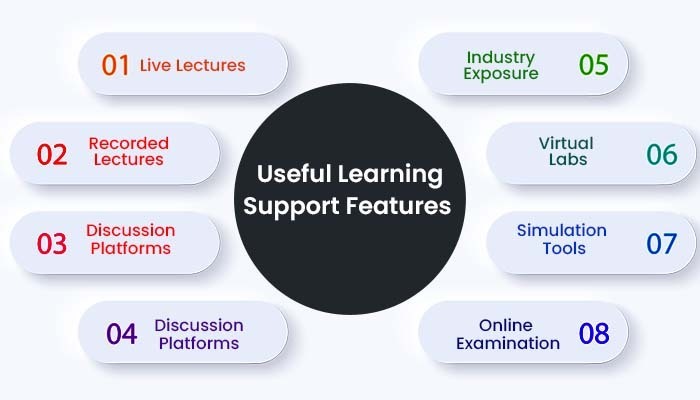 The various technological advancements today have made this possible. An online course should provide students with facilities to interact with the faculty, with peers, allow them to learn at their own pace, refer to lectures later on and appear for exams/ tests easily through the remote mode.
Online courses provide this through the use of Learning Management Systems (LMS) which are specially designed softwares to provide educational support to students.
Some of the key features of a good LMS which ensure a good learning support to students are:
Live Lecture Facilities

Availability of Recorded Lectures

Discussion Platforms for Peer and Faculty Interaction

Portal for Submitting Online Assignments and Projects

Industry Exposure

Virtual Labs and Simulation Tools (Better in case of Professional & Practical Courses)

Online Examination Facilities
Apart from this, in the case of many online courses offered by universities and colleges, professional training and placement support is also offered to students that allows them to get placed in well-reputed organizations and firms after completing their virtual course.
So, you should carefully check if the learning support available for the course is comprehensive and multimodal, and then select the online course accordingly.
#9 Flexibility of Learning
This is by far one of the top reasons why students are turning to online learning courses today. Online courses provide much more flexibility of learning to students, which makes these courses suitable for a much larger number of people. Online courses allow students to attend live classes without any compulsion for minimum attendance. This allows students to attend the live classes when they can and refer to the recorded lectures at later points based on their convenience.
So, online courses foster the practice of self-paced learning and allow students to pursue other prospects while continuing the course. This makes online courses suitable for working professionals, and students already enrolled in other full-time endeavours.
An additional effort made by many universities or online learning platforms is to provide the choice of examination days to students. For this, the university sets a time limit for the examinations within which the students can choose the most suitable days for them. Examinations for online courses are also much more convenient as they allow students to appear from their homes through online proctored modes.
So while choosing the online course, it is important to ensure that the course allows sufficient flexibility along with the structure to students. Also Read | Best Study Tips: How to Stay Focused
#10 Compare Similar Online Courses
This is a concluding tip from us to you: don't only search for the right online course for yourself, but also look for other similar courses so that you can compare it with. Do this comparison based on the various factors listed above, i.e. course credibility, faculty delivering the course, course fee, learning support features for the course and so on. This helps you to find the best course offered in your chosen field as well as locate the right anchor against which you can compare the course.
The "Compare Universities" feature available on the college vidya website, www.collegevidya.com/ makes this task easier for you, as you can compare a number of well-accredited and approved online universities as well as courses on a number of factors such as validations, accreditations, course specializations and course fees.
So, analyze the competitive alternatives for your suitable course and find out if it stands out from the herd or there are better alternatives for you to opt for!!
Top 10 Trending Online Courses
Some subjects and areas of specialization are very popular among students in the online mode. Online courses related to the fields of management, data analytics etc. have gained more popularity due to their growing professional value and demand. Here, for your ease, we have listed the top 10 trending courses sought by students in the online mode:
Top 10 Trending Online Courses in India

Data Science Programs

Business Analytics

Cybersecurity Programs

Computer Applications

Business Administration (MBA, BBA)

Marketing (Digital Marketing, Social Media Marketing etc.)

Artificial Intelligence and Machine Learning

Animation

Graphic Designing

Foreign Language Courses
Why Choose an Online Course over a Regular Course?
You may be wondering, why choose an online course at all? Why not go for a regular course? Well, the reasons for choosing an online learning course over a regular offline course can be many.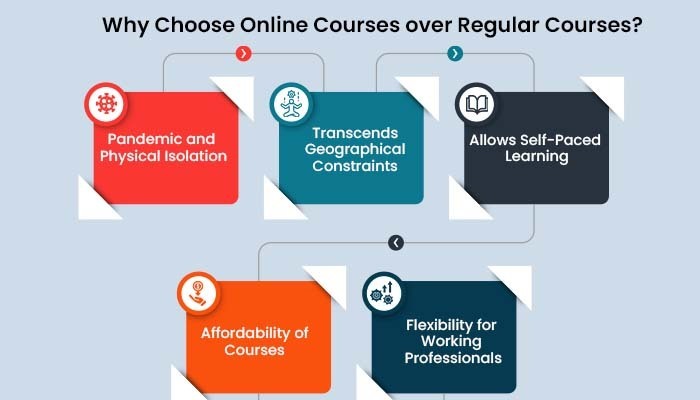 Recent Pandemic and Physical Isolation
Firstly, students these days are turning to online education because of the recent developments of the coronavirus pandemic and the consequent lockdowns. With the physical isolation practices, it dawned upon us to turn over to the virtual platform which can be used effectively for educational purposes as well. More and more students got to know about online education more and recognized its many benefits during the past couple of years owing to the worldwide pandemic.
Transcends Geographical Constraints
Another major reason to choose an online course is simply because many students cannot afford to go physically to an institute to attain education. Reasons for this can be many, and online courses offer a useful alternative for this. With an online course, the students can choose a course of their interest and pursue it conveniently without having to relocate or travel for education. With an online course, you can study from any location with an electronic device that has a stable internet connection. So today, with an online course, you can pursue courses from international universities as well.
Enables Self-Paced Learning
Many students can have their own reservations or concerns against formal offline education. Online courses offer the same educational support to students, but in the online mode which allows much more flexibility. For instance, online courses encourage self-paced learning, giving students the flexibility to learn at their own speed and comprehension and grasp concepts better through increased attention.
Cost-Effectiveness of Online Courses
Another very important factor that distinguishes an online course from a regular offline course is the greater affordability of these courses. Online courses are typically lower in cost than offline regular courses, allowing a larger section of the society to access these courses. Additionally, there are many online courses which are provided to students completely free of course, which is rarely the case with an offline course. So, students get good value for money in an online course, along with the benefit of getting the same amount of attention and quality of education as the regular offline course.
Flexibility of Learning for Working Professionals
A major reason why online courses are thriving today is because it is a very convenient option for continuing education for working professionals. Since online courses offer ample flexibility of learning to students, these courses are becoming valuable for students who wish to attain higher education while continuing to work.
So, all in all, there are a number of reasons which can make an online education course much better suited for your education than a regular offline course.
Also Read | Career Objective for Fresher Resume with Examples
Conclusion
So, we hope the blog was helpful to you to get an idea about selecting the right online course for yourself. Keep these factors in mind the next time you are looking for a good online course and find out the online course best-suited for your educational and professional goals.