Online Education is something that everybody today is aware of. Earlier there were only a few degree courses that could be pursued in online mode. Today, almost all courses whether undergraduate or postgraduate can be pursued in online mode. The technology is advanced enough and there are various online learning platforms with which you can complete your graduation while comfortably sitting at home.

However, there still are a few technical degree courses that can not be pursued in online mode. Let us see what these courses are and why you can't pursue them online.
Are Online Technical Degree Courses Valid?
By technical degree courses, the meaning is those courses that need practical education apart from theoretical academic knowledge. In short, the courses are skill-based. For instance, a course like B.Tech is more about putting the theoretical knowledge into practice and hone the skill set because in the end, practical skills matter more for such courses.
Therefore, the curriculum of these technical courses consists of laboratory classes that train you with specific technical skills and tools that can be taught in-person only. If you wish to pursue civil engineering then you can not do so by sitting at home. You can not learn to build roads, buildings, or bridges virtually.
Similarly, B.Tech in Computer Science can not be pursued completely in the online mode as you need to learn various technical skills like programming, database management, machine learning, cloud computing, neural networks, etc. However, people think since it is COMPUTER Science, it can be done remotely on one's computers which is absolutely not the case.
One needs guidance and expert mentoring while learning technologically advanced skills like programming languages and digital tools. So, to answer the question if online technical degree courses are valid or not?
NO, there are some technical courses that can not be pursued in online mode. The Govt. of India does not approve of these courses in online mode.
Even when the government does not allow these courses, there still are some fraud institutions that promise online degrees for such technical courses. You must beware of such fake institutions. This is because the degrees that they give you will be invalid. Such degrees will not be considered by any public or private firm or organisation for employment.
HOWEVER, there still are a few technical courses that are offered in the online and blended mode by some colleges but ONLY FOR THE WORKING PROFESSIONALS.
But let us first see what these technical courses are and then we can discuss the online courses for the working professionals and the rules, regulations, and government guidelines regarding them.
Technical Courses That Are Not Valid Online
Technical courses in fields such as Engineering, Medicine, Architecture, Pharmacy, Hotel Management, etc are the ones that can not be pursued online.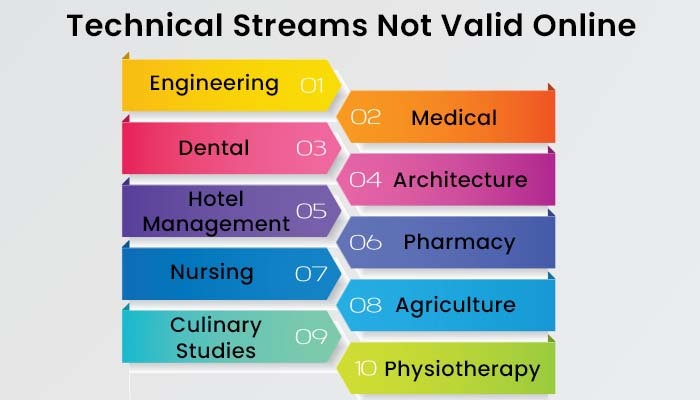 Given below is the domain-wise list of technical courses that are not valid in the online mode.
Stream
Courses
Engineering

Bachelor of Technology (B.Tech)
Master of Technology (M.Tech)
Bachelor of Engineering (BE)
Diploma in Engineering (Polytechnic)

Medical

Bachelor of Medicine, Bachelor of Surgery (MBBS)
Bachelor of Ayurvedic Medicine and Surgery (BAMS)
Bachelor of Homoeopathic Medicine and Surgery (BHMS)
Diploma in Homoeopathic Medicine and Surgery (DHMS)
Bachelor of Naturopathy and Yogic Sciences (BNYS)
Bachelor of Unani Medicine (BUMS)

Dental

Bachelor of Dental Surgery (BDS)
Diploma in Dental Hygienist
Master of Dental Surgery (MDS)

Architecture

Bachelor of Architecture (B.Arch)
Diploma in Architecture
Master of Architecture (M.Arch)

Hotel Management

Bachelor of Hotel Management & Catering Technology (BHMCT)
BBA in Hotel Management
B.Sc in Hotel Management & Hospital Administration (B.Sc HHA)
B.Voc in Hotel Management
PGDM in Hotel Management
Master of Tourism and Hospitality Management (MTHM)
Master of Hotel Management (MHM)
MBA in Hotel Management
M.Sc in Tourism & Hospitality Management

Pharmacy

Bachelor of Pharmacy (B.Pharm)
Diploma in Pharmacy (D.Pharm)
Master of Pharmacy (M.Pharma)
Doctor of Pharmacy (PharmD)

Nursing

B.Sc Nursing
M.Sc Nursing
General Nursing & Midwifery (GNM)
Auxiliary Nursing & Midwifery (ANM)

Agriculture

M.Sc Agriculture
B.Sc Agriculture
M.Sc Sericulture

Culinary Studies

B.Sc Culinary Arts
BA Culinary Arts
PGDM Culinary Arts
Bachelor of Catering Technology & Culinary Arts (BCTCA)

Physiotherapy

Diploma in Physiotherapy
Bachelor of Physiotherapy
Master of Physiotherapy
Valid Online Technical Courses For Working Professionals
As said before, some of the technical courses are offered in the online mode as well as hybrid (online+offline) mode. However, these courses are strictly for working professionals.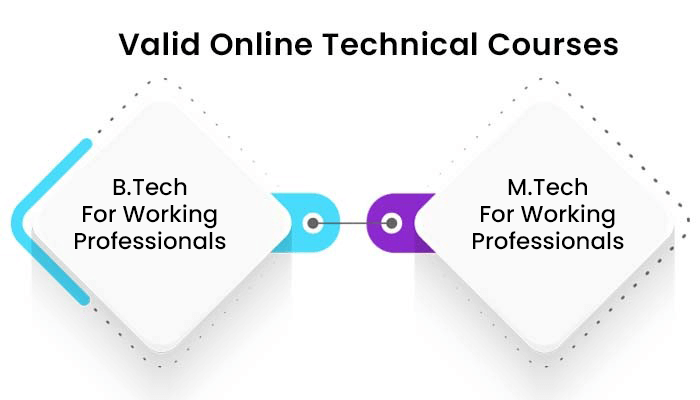 The Govt. of India has allowed these technical programs to be offered in online mode under the scheme of Work Integrated Learning Program (WILP). The aim of the scheme is to enable working professionals an opportunity to upscale themselves in technical skills without having to leave their job.
What is WILP?
The Work Integrated Learning Program (WILP) is an initiative only for working professionals. WILP programs will be in a completely online mode. From classes, to assignments, quizzes, projects, laboratories (virtual), and even examinations are in completely online mode. However, you must not forget that WILP is only and only for the working professionals.
There are a few courses where some hardware tools are required for practical training. For such courses, there are remote labs in various different centres where the online learners can go and continue their practical training.
Working professionals can continue their jobs and simultaneously pursue these courses. The curriculum of these WILP courses is specifically designed carefully to cater to the needs of the working professionals in a way that academics do not coincide with their jobs.
Why is WILP Allowed?
The WILP program is only designed for the working professionals who are working in a similar field as the degree they wish to pursue. There is an eligibility criteria, according to which a working professional in a relevant field can apply for the degree program.
For instance, if you are working in an IT field and have the required academic qualifications (bachelor's or diploma), then you are eligible to apply for the online B.Tech or online M.Tech program for WILP.
This is because since the applicant is already working in the field, they already have relevant technical and practical skills, all they need is a little more knowledge of the modern academic content to keep up with the evolving requirements of the workplace.
For example, if you are working in the IT department at a company, then you must already be proficient in programming languages like Java, C++, Python, etc. Now you need the new and modern technologies that have evolved over time. Since you already know the basics, you do not actually need much practical training. Hence, completely online education is allowed even in the case of technical courses for working professionals.
Given below are some of the courses that are valid according to the WILP:
Online Technical Degree Courses for Working Professionals
Course
Specialisation
Bachelor of Technology (B.Tech)

Computer Science engineering
Mechanical Engineering
Civil Engineering
Electronics Engineering
Electrical Engineering
Mechanical & Automobile Engineering

Master of Technology (M.Tech)

Computer Science
Civil Structure
Civil Construction
Electronics & Communication
Civil Engineering
Mechanical Design
Mechanical Engineering
Electrical Power System
Mechanical Production
Environmental Engineering
Electronics VLSI
Civil Highway
Electrical Control System
Electrical Power Electronic
What are the Online Colleges that offer Technical Courses for Working Professionals?
Mentioned below are 3 of the best colleges that offer the above 2 technical courses i.e. B.Tech for Working Professionals and M.Tech for Working Professionals are:
Online Colleges for Technical Courses for Working Professionals
College Name
Learning Mode
Course
Eligibility
Total Fee
Birla Institute of Technology and Science (BITS) Pilani (WILP)
Online Mode

(online classes, online assignments, virtual labs, online exams)

*Exams can be given in the offline mode as well at designated centres*

There are various remote labs as well for students to access hardware tools remotely.

-B.Tech Engineering Technology

-B.Tech Process Engineering

– Working professionals with Diploma in Engineering or a B.Sc degree in relevant specialisation (with minimum 60% marks).

– Work experience of minimum 2 years.

₹4,41,500/-
– M.Tech Software Systems

– M.Tech Software Engineering

– M.Tech Computing Systems and Infrastructure

– Integrated M.Tech Software Systems

– M.Tech Embedded Systems

– M.Tech Microelectronics

– M.Tech Digital Manufacturing

– M.Tech Design Engineering

– M.Tech Automotive Engineering

– M.Tech Automotive Electronics

– M.Tech Manufacturing Management

– M.Tech Quality Management

– M.Tech Pharmaceutical Operations & Management

– M.Tech Environmental Engineering

– M.Tech Sanitation Science, Technology, & Management

– Working professionals with B.Tech, BE, M.Sc, MCA or other equivalent degree in relevant specialisation (with minimum 60% marks).

– Work experience of minimum 1 year.

₹4,41,500/-
Sri Venkateswara University (SVU WILP)
Hybrid Mode

(Mix of online classes and offline classes that are conducted on the campus in evenings and on weekends and holidays; recorded lectures, 24*7 virtual labs, online assignments, online examinations)

There are various remote labs as well for students to access hardware tools remotely.

– B.Tech Computer Science & Engineering

– B.Tech Civil Engineering

– B.Tech Electronics & Communication Engineering

– B.Tech Electrical Engineering

– B.Tech Mechanical Engineering

– Working professionals with Diploma in Engineering or in relevant specialisation.

– Full-time Work experience of minimum 2 years

₹2,24,200/-
– M.Tech Computer Science & Engineering

– M.Tech Structural Engineering

– M.Tech Highway Engineering

– M.Tech Electronics & Communication Engineering

– M.Tech VLSI

– M.Tech Power System

– M.Tech Power Electronics

– M.Tech Mechanical Engineering

– M.Tech Production Engineering

– M.Tech Thermal Engineering

– Working professionals with Degree in Engineering or in relevant specialisation.

– Full-time Work experience of minimum 2 years

₹2,24,200/-
Lingaya's Vidyapeeth
Offline Mode

(Offline Campus classes are held on weekends and holidays during the day time, offline assignments, practical labs, offline exams)

– B.Tech Civil Engineering

– B.Tech Mechanical Engineering

– B.Tech Computer Science Engineering

– B.Tech Electronics & Communication Engineering

– B.Tech Mechanical & Automobile Engineering

Only Lateral entry allowed for students with any of the following qualifications (with at least 50% marks):

– Diploma in Polytechnic

– 12th+B.Sc (relevant stream)

– 12th+BCA (relevant stream)

₹2,57,500/-
– M.Tech Civil Engineering

– M.Tech Mechanical Engineering

– M.Tech Computer Science Engineering

– M.Tech ECE Engineering

Students are eligible with any of the following qualifications (with at least 50% marks):

– B.Tech/BE

– B.Sc + M.Sc (relevant stream)

– BCA + MCA (relevant stream)

₹1,63,500/-