Lingaya's Vidyapeeth is a UGC and AICTE-approved university that offers a Work-Integrated Learning Programme (WILP) in the area of technical education, especially designed for working professionals. It offers B.Tech and M.Tech courses through a blended pedagogy of offline and online lectures.
Read the detailed review given below to learn more about Lingaya's Vidyapeeth and find out if it is the right choice for your higher education.
About Lingaya's Vidyapeeth WILP
Lingaya's Vidyapeeth started in 1998, is a reputed institution of higher education, well-known for providing courses in the area of management, technology, architecture, law, etc. the university has been accredited by UGC, AICTE, and NAAC. It now offers WILP courses to extend its educational support to individuals already pursuing their careers, to enhance their skill levels as well give a boost to their careers. The WILP courses by Lingaya's have been designed especially to suit the needs of working professionals and are conducted in a blended mode, so as to provide the enrolled students with a balance of offline, in-campus experience, and online learning facilities.
Key Factors to Choose the Right WILP University
If you are a working professional who already has worked for some years in your relevant domain and are looking for educational courses to boost your skills and career further, then a work-integrated learning programme may be the right choice for you. A WILP course is a higher educational degree course that is designed specially for the working population to enable them to continue pursuing educational courses without compromising their career. The main aim is to extend educational services in a manner such that it does not require the students to take a break from their jobs.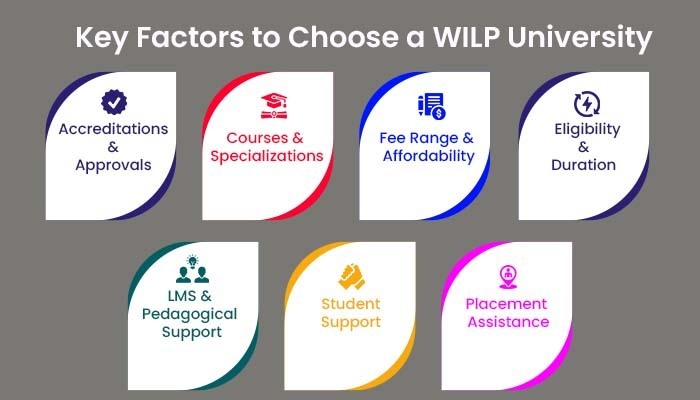 Today many universities offer WILP courses and it is important for you to choose the one that suits your career goals best as well as is a meaningful investment of your time, efforts, and money. So given below are some of the key factors you should take into account while choosing the most suitable WILP university for yourself, along with a review of Lingaya's Vidyapeeth based on these factors.
Read the detailed review below to find out if it is indeed a good choice for you to pursue a WILP course from.
#1 Accreditations and Approvals of the University
The foremost factor to consider before choosing any university is to check if it is even a credible source to impart higher education to students. For it to be so, it needs to have the mandatory accreditations and approvals from authorizing bodies of India. Only then will a degree/diploma/certificate from that university be deemed valid in India or other nations. So, it is important to ensure that the university you choose is well-accredited.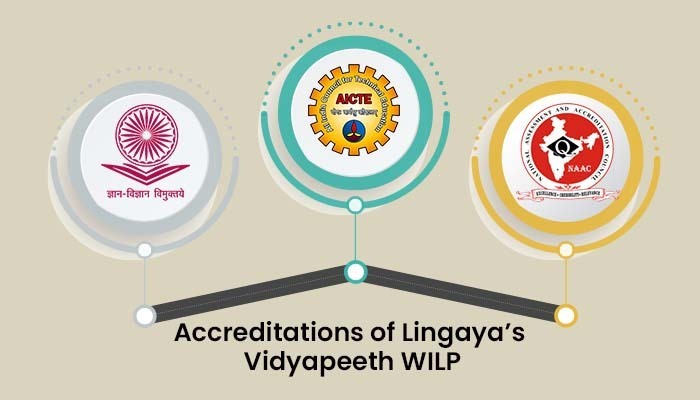 Started in 1998, Lingaya's Vidyapeeth has received approvals and accreditations from major bodies of India, making it a valid source for providing higher education.
The university has received approvals from the following bodies:
University Grants Commission (UGC)
All India Council of Technical Education (AICTE)
National Assessment & Accreditation Council (NAAC)
With such accreditations, over the years Lingaya's Vidyapeeth has achieved a reputation for providing higher education to students, now broadening the same avenue to blended online-offline education for working individuals. So, the degrees obtained from a WILP course at Lingaya's Vidyapeeth is a valid credential and can be a good addition to your educational qualifications, which will be accepted in India and other nations.
#2 Courses & Specializations Offered by the University
WILP courses are normally offered by universities for areas such as management, technical education, etc. So it may be useful for you to check if the university you are considering offers the course that you wish to pursue. The next step is to check the specializations offered by the university for that course, and match it with your educational and professional course. Then one can consider if they want to pursue that course from the particular university or not.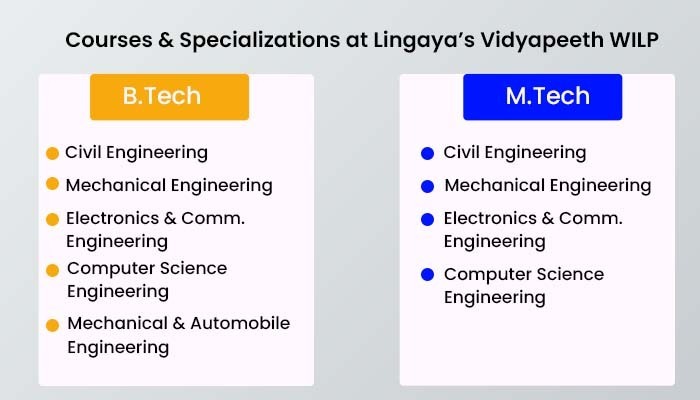 Lingaya's Vidyapeeth has the courses B.Tech and M.Tech in the WILP format. These courses are offered as full-time degree courses. There are a number of demanded specializations also available under each course. So, you can evaluate if the course you wish to pursue is available with the specialization and if Linagay's Vidyapeeth is the appropriate choice for your educational journey.
The course details for Linagays' Vidyapeeth WILP have been listed below:
Courses Offered at Lingaya's Vidyapeeth WILP
Course Level
Course
Specializations Offered
Graduate Level Course
B.Tech
Civil Engineering
Mechanical Engineering
Computer Science Engineering
Electronics & Communication Engineering
Mechanical & Automobile Engineering
Post Graduate Level Course
M.Tech
Civil Engineering
Mechanical Engineering
Computer Science Engineering
Electronics & Communication Engineering
#3 Course Fees and Affordability
Another important factor to take into consideration is whether the course that you wish to pursue is offered by the university at an affordable and reasonable fee range. It is one of the most common factors to check when applying for any course irrespective of the level and the type of course. Designed for working professionals, WILP courses are set within reasonable fee ranges, with provisions to pay the fees in installments, which allows greater affordability to students. Moreover, being part-time courses, they are usually more cost-effective than the regular full-time courses offered in the offline mode for the same specializations.
At Lingaya's Vidyapeeth, the B.Tech and M.Tech courses are offered to students within a fee range affordable by various working professionals, and to make this payment easier on the students, semester-wise payment options are also made available so that students can pay the fee in small, easy amounts. When paired with the advantage students get to continue working alongside, it confers easy access to higher education to students from diverse backgrounds.
The fee details for the courses at Lingaya's Vidyapeeth have been given below:
Course Fees at Lingaya's Vidyapeeth
Course
Total Course Fee
Installment Details
B.Tech
INR 2,57,500

Tuition Fee: INR 40,000 per Semester
Exam Fee: INR 2500 per Semester
Admission Fee: INR 2500 One-Time Payment

M.Tech
INR 1,72,500

Tuition Fee: INR 40,000 per Semester
Exam Fee: INR 2500 per Semester
Admission Fee: INR 2500 One-Time Payment
So, the courses offered at Lingaya's Vidyapeeth are in a reasonable fee range, and in comparison with other WILP universities, it can indeed be a good choice for continuing education alongside your career.
#4 Course Eligibility & Duration
This is important in the case of a WILP course because different universities may have different requirements in terms of the educational qualifications and years of experience required for being eligible to apply to the course. So, before applying, it is important to check if one is eligible to apply to the courses.
Another related concern is the course duration, which is important to check because a student in a WILP course attends a course alongside their professional endeavours. For this, it is important to check that the course duration is in-sync with one's future career goals, since it is an irreversible investment of time. So make sure that you enquire about the eligibility criteria and the course duration too along with other details while choosing your WILP university.
At Lingaya's Vidyapeeth, the criteria to apply to a WILP course are minimalistic. The criteria for being eligible for the B.Tech course are given below:
The applicant should have completed their HSC-level education
The applicant should possess either a polytechnic diploma/ B.E./ B.Sc/B.Tech/BCA in the relevant specialization
The applicant should have qualified for the above-mentioned courses with a minimum of 50% aggregate marks/grade.
The eligibility criteria for the M.Tech courses are given below:
The candidate should have either a B.E or B.Tech OR
The candidate should have either of the following:

B.Sc+M.Sc (Computer Science)
BCA+MCA

Lastly, the candidate should have scored a minimum of 50% marks or an equivalent grade point in these qualifications.
So, the eligibility criteria of Lingaya's Vidyapeeth is quite inclusive, allowing applicants with diverse years of experience (from very few months to years) to apply to the programmes. To make the courses more accessible to a variety of working professionals, the university has removed any age barrier for application to the courses.
The B.Tech course is of a duration of 3 years (i.e. 6 Semesters), and the M.Tech course is of a duration of 2 years (4 Semesters), both of which are similar to the regular courses' durations. So students can evaluate if this meets their future career plans and choose the relevant course accordingly.
#5 Learning Methodology and Mode of Teaching
The mode of teaching offered for a WILP course can be online, offline, or a blended mode of both. The mode decides whether it is actually convenient for you to pursue the course from that university. Universities usually offer the courses in the blended or online mode to ensure that students can pursue the courses irrespective of location. So, it is important for you to check the mode of delivery of education for the course while considering the university.
At Lingaya's Vidyapeeth, the WILP courses are offered through an online-offline blended mode. The main features of the teaching methodology have been summarized below:
Offline, In-campus are held for students on the weekends and on holidays
Lab Sessions are arranged offline every Saturday.
All the learning materials and the lectures (recorded) are also available for the students through an LMS, which allows remote students to get access to all the course content.
So, it can be seen that students can access the course details from any location through online means, which have been designed carefully to ensure that all the main features of the course and of all-round learning are accessible to the students. Those residing near the campus also have the added leverage of being able to gain a holistic learning experience through both offline, in-campus and online learning means.
Teaching occurs through offline classes conducted over the weekend and through recorded online lectures available on the LMS of the university.
So the WILP courses at Lingaya's Vidyapeeth have been designed to extend an all-round educational experience to students so that they can pursue the course in an engaging manner while continuing their professional endeavours simultaneously. There are measures that help foster a more application-based orientation of thought through lab sessions and projects and develop important skills and competencies in students.
#6 LMS Features
Checking the features of the Learning Management System provided by the university is important because it is needed for self-paced learning (an important area for working professionals) and later reference in addition to offline lectures. An efficient LMS means the student has access to all resources for learning at a single stop-application.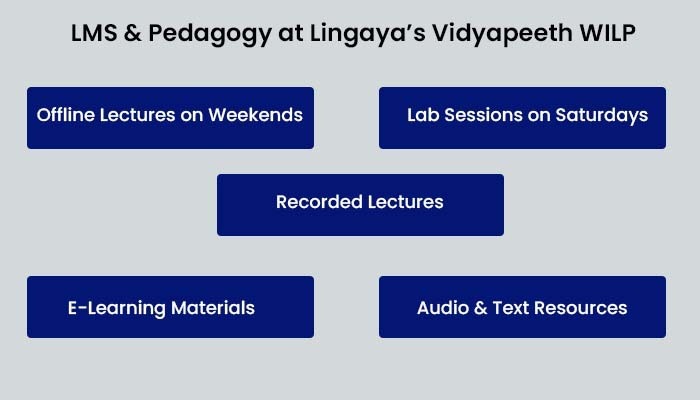 At Lingaya's Vidyapeeth, in addition to the offline support through lectures and lab sessions, there is an LMS support facility. This is to ensure that a student can efficiently continue to pursue their course through remote means irrespective of location and at their own pace and convenience.
The main features of the LMS at Lingaya's Vidyapeeth have been listed below:
LMS Support at Lingaya's Vidyapeeth WILP
Recorded Video Lectures
Audio Resources
Digital Learning Materials
Textual Learning Content
So, students are given access to all the important materials for learning including the recorded lectures as well as multimedia learning content that enhances understanding through many channels or senses. The aim is to make the learning experience an all-round one for the students so that they are better prepared for their further growth and progress in their careers.
#7 Student Support Features
A good student support framework ensures that the students can seek easy resolution and prompt redressal for their queries and concerns. This is important to ensure that the experience of course completion and learning is not marred by unnecessary hassles. So, you can also check for the student support services in place at the university.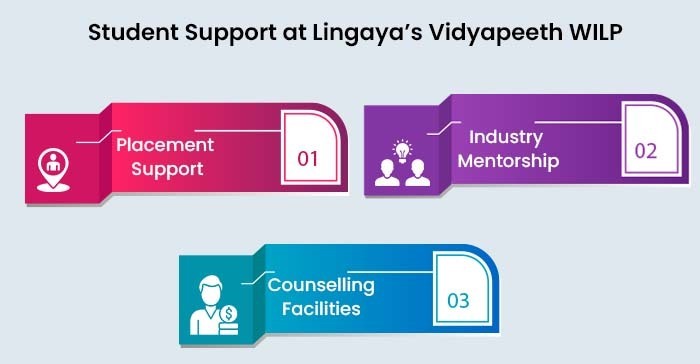 At Lingaya's Vidyapeeth WILP division, there are a number of initiatives taken up to ensure effective redressal and support to students during course completion. Some of the main student support features of the university have been listed below:
Student Support Features at Lingaya's Vidyapeeth WILP
Placement Support
Industry Mentorship
Counselling & Support Facility
Live & Recorded Educational Support
These are some of the few features of student support that are offered by Lingaya's Vidyapeeth to ensure a pleasant and insightful learning experience for the enrolled students.
#8 Placement Assistance and Professional Support
When working professionals pursue further education, they also look to upskill themselves and give a boost to their career so as to climb up the professional ladder. In such a case, the placement support from the university is very important to ensure that they find the right outlets to reach out to for further professional pursuits. Professional assistance and placement drives are useful for this. So you should also take into account if the university you are considering for pursuing a WILP course offers any form of professional and placement support.
At Lingaya's Vidyapeeth WILP, there is a professional assistance service provided to students which includes the following features:
Career Assistance in the form of Individual Guidance from an Industry Mentor
CV Building Guidance to enhance your Chances of Placement
Practice Job Interviews to Boost the Students' Skills and Confidence
Placement Drives to connect Students with Recruiters from Various Important Firms and Organizations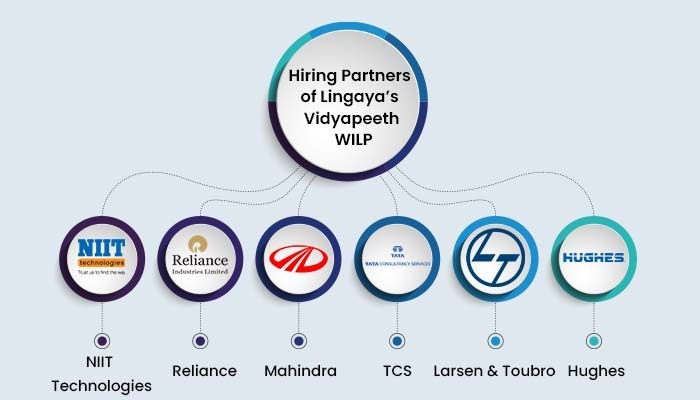 Some of the major hiring partners of Lingaya's Vidyapeeth WILP have been described below:
Hiring Partners of Lingaya's Vidyapeeth WILP
NIIT Technologies
Reliance
Tata Consultancy Services
Mahindra
Larsen & Toubro
Hughes
So, if you are looking for a WILP university that also extends placement support to the students, Lingaya's Vidyapeeth CAN be well-suited for you.
Conclusion: Is Linagay's Vidyapeeth WILP Good or Bad?
Upon taking all the important factors into account, it can be said that Linagaya's Vidyapeeth is a good option to pursue a WILP course from, with all its major accreditations, innovative learning measures, all-around approach to education and skill development of already working professionals.
Some of the key factors that make this university a viable alternative include:
UGC & AICTE-Approved Courses
Carefully Designed Courses for Convenient Learning by Professionals
Affordable Fee Range with Easy Installments
Both Offline & Online Learning Support
Efficient Student Support Facilities Available
Placement Support Available
So taking all such factors into account, taking up a WILP course from Lingaya's Vidyapeeth can prove to be a good step in your career.
Similar WILP Universities
Some other universities that also provide WILP courses in India that you can consider are listed below:
Universities in India Offering WILP Courses
University
Location
Accreditations
BITS Pilani WILP
Pilani, Rajasthan
UGC
Shri Venkateshwara University WILP
Gajraula, Uttar Pradesh
UGC, AICTE, PCI, BCI
Mangalayatan University Aligarh
Aligarh, Uttar Pradesh
UGC, AICTE, AIU, BCI, PCI, NCTE
Mewar University
Gangarar, Rajasthan
UGC, AICTE, AIU
Other Online University Reviews