Hindustan University-Centre for Open and Digital Education, also known as CODE, is an online and distance learning university in India that provides various management and technical courses to students. It is a recently started endeavour by the Hindustan Group of Institutions to dedicate a separate body to online and distance education to enable students to pursue these courses online/ through distance.

So if you are considering pursuing an online or distance course in higher education and Hindustan University is one of your choices, read the blog for a full review of the university.
About Hindustan Online University (CODE)
Hindustan CODE is a group of educational institutions that specializes in technological, scientific, management and other professional courses. Hindustan Institute of Technology and Science (HITS) is the main university of the Hindustan group and Hindustan University-Centre for Open and Digital Education (CODE) is the new venture of the group that was started to cater to the growing demands of the same degree courses but in distance and online mode in recent times. It has been accredited by prestigious accreditation bodies like UGC-DEB, NAAC, NIRF, AICTE etc.
Key Factors while Choosing an Online University
Before we start reviewing Hindustan-CODE, it is imperative that we understand how distance and online educational courses differ from the traditional physical courses offered in higher education.
Distance education is a mode of education where a student is given access to learning material and course content and is expected to self-study and appear for invigilated examinations at the exam centre. On the other hand, online educational courses offer full-time courses, with regular classes, lectures, live discussions and interactive sessions etc, just like a regular offline course, but in the online mode. Examinations are also mostly held online, though proctored. Also Read | What Is Online Career counselling?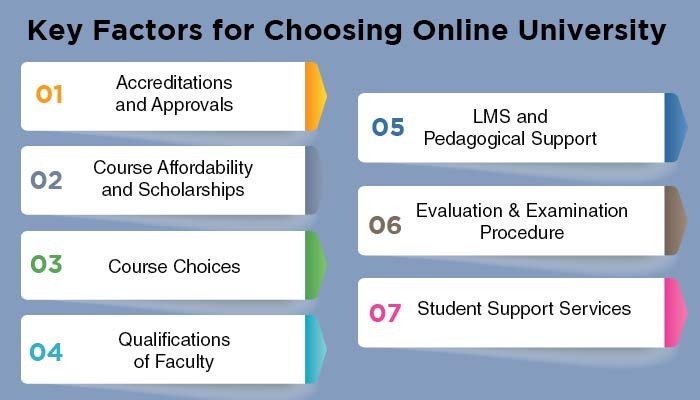 Many universities are now providing a third option to students, a blended mode of education, that combines the strengths of online and distance education. In this, learning materials are regularly made available to students, including recorded or live lectures, online reading materials, pdfs, physical copies of books etc. and the students report physically at centres to appear for examinations.
Now that we have cleared the basics of online and distance education, let's take a detailed view of Hindustan-CODE and whether it is a good option or not in your case.
#1 Accreditations and Recognitions of the University
While a wide plethora of online and distance universities and educational institutions may be available for technical and management courses, it is important to be wary of the university you select for your future. Many educational bodies may claim to be universities, but their educational degrees may not be credible and valid.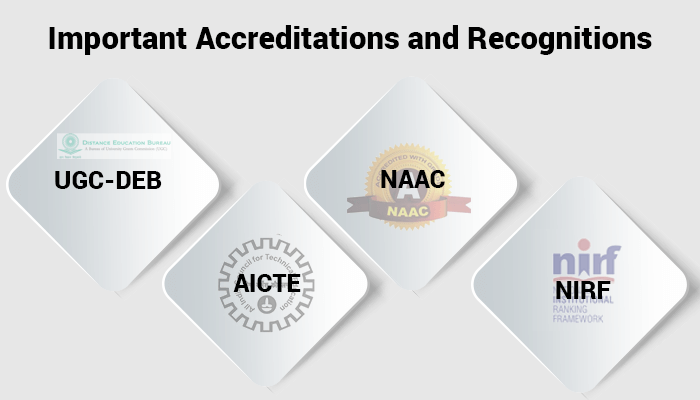 So it is very important to check and confirm the credibility of the university you select. Some of the key features to look out for is whether your chosen university is UGC-DEB approved, has been recognized by bodies like NAAC, NIRF, AICTE (very important for professional and technical courses), etc.
Hindustan University-CODE has accreditations from the following bodies in its favour
| | |
| --- | --- |
| Accreditation Body | Whether Approved or Not? |
| UGC-DEB | Approved |
| AICTE | Approved and Recognized Courses |
| NAAC | Graded A (Grade Point 3.3) |
| NIRF | Ranked Among Top 100 Universities |
Apart from this, the university has also received rankings and awards such as:
Ranked 3 in Overall Top Universities by Times Engineering Ranking

HITS Ranked 2 in Top Universities of Tamil Nadu by

Education World Magazine rankings survey 2021

HITS Ranked AIR 17 by India Today Rankings 2021

World Record for Highest Number of Online Lessons Completed
#2 Affordability of Course
Since one of the main aims of an online or distance course is to make education accessible to students from various backgrounds, it is essential that the offered courses are affordable and can be completed without burning a hole in one's pocket. So, before you choose a university, compare the fee structures of their offered courses and make sure that you choose a university that brings to your disposal quality education at reasonable costs.
Hindustan-CODE has a course structure which aims to make higher education easily accessible and affordable by all students, from a variety of backgrounds. Given below is an overall fee structure of the various courses that CODE offers:
Hindustan CODE Course
Fee Structure

BBA

Total INR 1,05,000 for Indian students

Total $4500 for SAARC Students

Total $6000 for Non-SAARC Students

BCA

Total INR 1,05,000 for Indian Students

Total $3000 for SAARC Students

Total $4500 for Non-SAARC Students

B.Com

Total INR 1,05,000 for Indian Students

Total $4500 for SAARC Students

Total $6000 for Non-SAARC students

MBA

Total INR 1,20,000 for Indian students

MA

Total INR 70,000 for Indian students

Total $2000 for SAARC students

Total $3000 for Non-SAARC Students

MCA

Total INR 90,000 for Indian Students
Apart from the fee, there are also provisions for fee waivers and scholarships for students in certain special cases like having COVID martyrs in one's family, belonging to a defence background, frontline healthcare background etc.
#3 Course Options and Faculty
While considering an online university, it is useful to evaluate the course options available at the university as a reliable university offers relevant and professionally useful courses. If the offered courses are popular and professionally valued, and are well-accredited, then in most cases going for that university will be a good choice for you.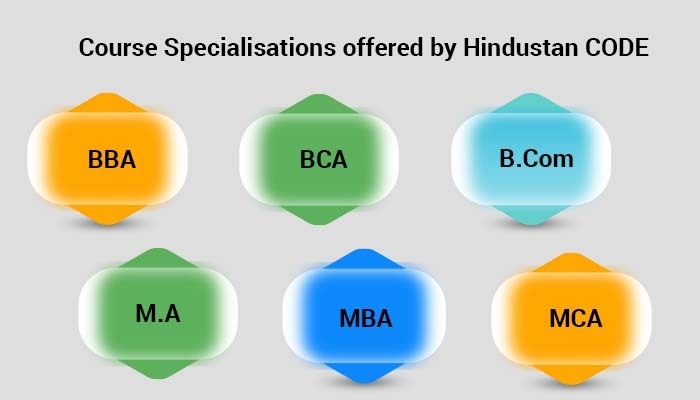 Moreover, one must also check the faculty of the course, their qualifications, faculty support, and experience in teaching and in professional domains. If the course is well-qualified, experienced in using the online modality of teaching, reachable and approachable for various concerns and queries, it is beneficial for the students, ensuring quick addressing of concerns and efficient student-teacher experiences.
At Hindustan-CODE, the courses available in online and distance mode include BBA, BCA, B.Com, MBA, MA, and M.Com.
| | |
| --- | --- |
| Hindustan CODE UG/PG Course | Mode of Education |
| Bachelor's of Business Administration (BBA) | Online |
| Bachelor's of Commerce (BCom) | Online |
| Bachelor's of Computer Application (BCA) | Online |
| Master's of Business Administration (MBA) | Online |
| Master's of Computer Application (MCA) | Online |
| Master's of Arts | Online |
The faculty is well-qualified, acquainted with online teaching and learning and is available to address student queries and concerns. Students in online and distance online modes can approach the faculty as well as interact with them about relevant academic concerns.
#4 Learning Pedagogy Offered to Students
Both for online and blended distance courses, the complete course completion as well as the entire learning experience is to be completed through virtual modes or through correspondence. So it becomes absolutely necessary to understand what is the learning pedagogy and the tools and applications provided by an online/open university to students.
If you are trying to make a choice about an online/open university, you must assess if the university has an efficient Learning Management System (LMS) and other academic support to students to ease the learning process online. You must also ensure that you are acquainted with the basics of online tools and applications commonly used for educational purposes.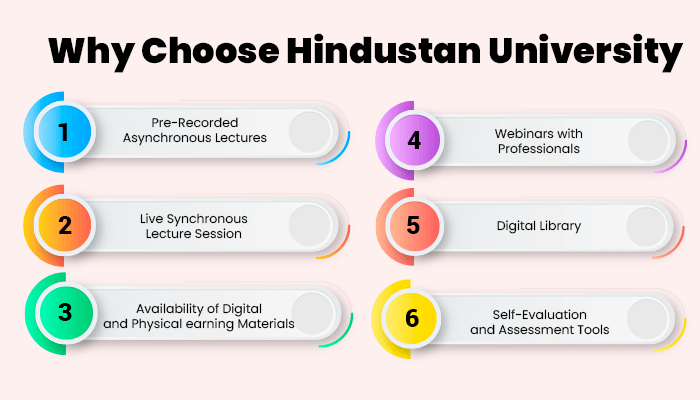 Hindustan University-CODE offers its own unique LMS that is specifically created to make course completion easier and more convenient for all students. It has an easy-to-follow and easy-to-use LMS that makes learning easy for all students, including those who may not be well aware of online learning practices. Some of the key features of this LMS and the learning pedagogy of the university include:
Pre-Recorded Asynchronous Lectures:

there are provisions for recorded lectures available on the LMS that allows students to access them at any time of their convenience so as to complete the course and learn at their own pace and comfort.
Live Synchronous Lecture Session:

live lecture sessions are provided by both faculty and experienced guest lecturers to enable students to have the experience of an offline regular course as well. Students can engage in meaningful interactions and clarification sessions with the faculty to gain greater nuances.
Availability of Digital and Physical Learning Materials:

students are given access to course learning material digitally, for both online and distance courses. In addition, for the ODL courses, students shall be provided with physical learning materials at their address if they need it and apply for it.
Webinars with Professionals:

the university also arranges interactive webinars with professionals and experts in the relevant fields regularly to ensure that students learn through both teaching and practical exposure.

Digital Library:

the university also gives access to the university's digital library to enrolled students, which allows them to access a large number of digital books, journals, articles and other academic content.

Self-Evaluation and Assessment Tools:

the LMS also offers tools and pedagogy to students to assess their learning and evaluate progress through online quizzes and assessments. The results from these measures are also used for student evaluation and assessments.
#5 Learning Support for Students
If you are opting for an online or open university, it is recommended that you check their learning support system, which is important to ensure that students have the required assistance at their disposal in addition to basic materials for learning.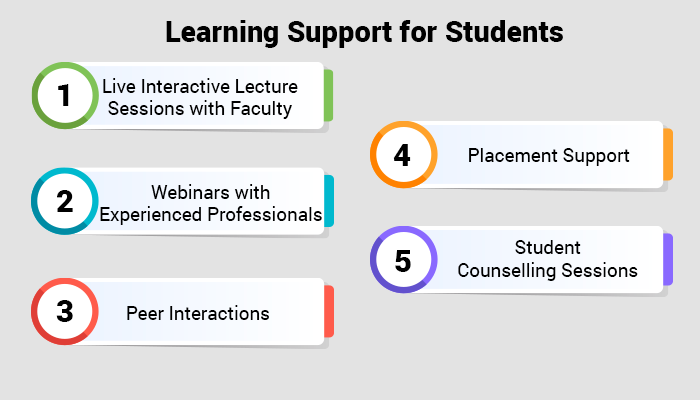 This becomes especially relevant in the context of an online or open university since the student can only communicate to them through correspondence or online emails. An active, functional, and responsive student support facility is especially important for this purpose.
Hindustan CODE has an active student support system that has the following features:
Live Interactive Lecture Sessions with Faculty:

there are live interactive lectures with the faculty that assist the students in getting direct support and clarifications from the university's faculty.

Webinars with Experienced Professionals:

there are also regularly held webinars with professionals as a measure to ensure that students can interact with industry experts and gain greater professional proficiency while pursuing their education degrees.

Peer Interactions:

there are group sessions held under the supervision of faculty or an expert where students can engage in peer interactions. This helps them in building rapport with their peers (since the course is mainly completed online) while allowing them to learn through diverse perspectives and dialogue.

Placement Support:

the university also trains students in professional skills, by guidance from professionals as well as tie-ups with various professional firms that help students get a variety of options for professional exploration.

Student Counseling Sessions:

the university also provides students with counselling sessions if they require help in their lives, and has a student counseling committee handled by professional counselors to ensure the well-being of the students.

Student Grievance Redressal by University
It is important to check the student redressal policies and provisions of the university to ensure that you have a functional and responsive body that effectively addresses your grievances and concerns in case of any emergencies/complaints/problems encountered while course completion. This is very important in the case of an open or online university since you cannot visit the campus physically to address the concerned authorities. So, make sure that your chosen university has a grievance committee that helps you to clarify your concerns easily and in a hassle-free manner.
At Hindustan-CODE, there is a well-formulated grievance redressal policy that functions in a neutral and bias-free manner. The rights and responsibilities of the learner, the professors, and the responsibilities of the university towards its students are well-documented.
Students can submit their concerns to the portal at: https://forms.gle/oKHVYEofFJ4idAk47
as well as reach out to the authorities for queries and clarifications through:
Also Read | How Universities Conduct Online Degree Exams In India
#6 Examination and Evaluation Procedure
This is a major area of concern for students who enrol in an online or distance learning course. Before finalizing the university of your choice, you should inquire a little about the examination and evaluation procedure as well.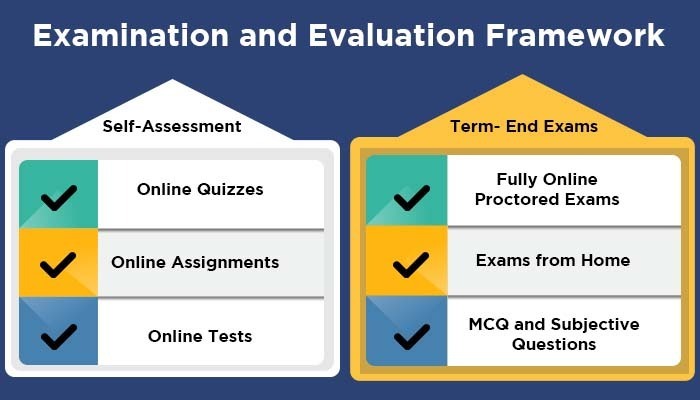 This is so because, in the case of an online-distance course, some universities may require the student to appear for the exams at designated centres. The candidate can then decide if they want to take admission in the course depending on their convenience of being able to take the examinations.
At Hindustan University CODE, the examination procedure is quite flexible and student-friendly:
The evaluation procedure involves two components: self-assessment which comprises the formative component of assessment and the term-end exams which comprise the summative assessment component.

Self-evaluation component includes online quizzes, assignments, assessments etc. which the students can access through the online learning portal of Hindustan University CODE.

The term-end examinations are conducted fully in the online mode by the university. The exams are proctored and students can take them from any location of their convenience.

The examinations involve two types of questions, subjective questions of (20 Marks) and Multiple Choice Questions (50 Marks).
So, Hindustan University CODE allows a quite efficient and student-oriented framework of evaluation and examination, which can be of much benefit to students enrolling for their courses.
#7 Placement Assistance and Professional Support
Another important aspect you would like to explore while searching for the best online and distance university is to see if the institute offers placement and professional support to students. Since many students would like to work or pursue a career right away after degree competition, it is a good idea to check if your university has some partnerships with reputed and well-known organizations that can help you land a good job opportunity after completion of your course.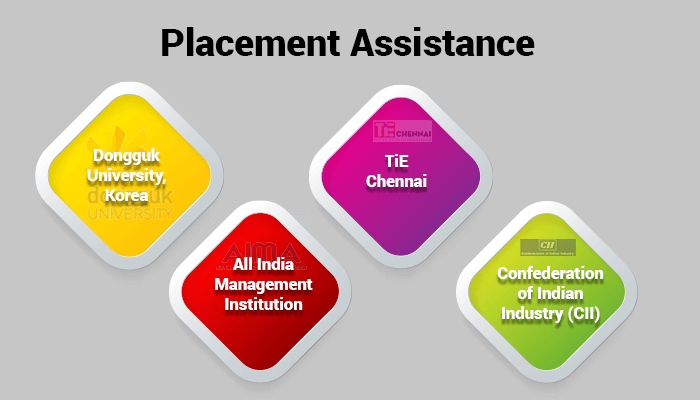 It is also important to check if there is some professional assistance in the form of professional training and skills training to the students, as it is a useful measure to start your career and be more competent in the employment world.
Hindustan-CODE offers placement support to the students. It offers great opportunities to students to land a well-paid job just after their graduation or post-graduation.
Some of the companies that Hindustan CODE has collaborated with are:
Dongguk University, Korea

All India Management Institution

TiE Chennai

Confederation of Indian Industry (CII)

MMA
Conclusion: Is Hindustan-CODE Good or Bad?
Considering all the parameters and the provisions and facilities offered by the university, we can say that Hindustan University is indeed a good choice for you if you are seeking a course in either an online or distance mode if you are searching for a good university for courses in management, computer studies, and commerce (BBA, MBA, BCA, MCA, B.Com, MA.).
The major strengths of this university are that it provides an efficient LMS that is helpful for students to easily learn virtually, its well-qualified faculty, and the professionally relevant management, commerce, and computer application courses. It is well-accredited, so you don't need to worry about the validity and recognition of your degree. One can easily apply to get admission to the courses through online mode. Moreover, being a part of the reputed Hindustan Institute of Technology and Sciences and Hindustan Group of Institutions, this online university is respected and can confer students with an advantage when going for professional ventures.
Other Online University Reviews