University of Petroleum and Energy Studies (UPES) Centre for Continuing Education (CCE) is an initiative to offer distance learning courses in the form of certification, diploma and degree courses in the areas of management, energy studies etc. at the UG and PG level. It is a UGC-approved university offering course in the online-distance blended mode.

Given below is a detailed review of the university with a consideration of a number of key factors. Read more to find out if UPES CCE is a suitable online learning university for you.
About UPES CCE
University of Petroleum and Energy Studies (UPES) is a renowned university offering courses specifically in the domain of energy, petroleum and aviation management in the form of professional and technical courses. Started in 2003, it has now extended the same educational finesse to working professionals through a distance (blended) framework. It has approvals and accreditations from bodies such as the UGC, AIU, QS etc. It offers courses over the weekends and through remote learning mode to enable professionals to continue their higher education.
Students can pursue certificate courses, diplomas and degrees from this university. There is an LMS-enabled academic system with provisions for self-paced learning for students. So, if you are considering UPES CCE for your higher educational pursuits, then read the blog below to find out a review of it based on a number of important factors.
What Factors to Consider While Choosing an Online University?
Many students wish to pursue courses distance or online mode but are overwhelmed by the vast number of choices available to them. However, in order to choose the best online university in India, students need to take into account some general factors which are very important for checking the credibility and facilities offered by the university. Thus, the viability of a remote university needs to be evaluated carefully before considering it for higher education.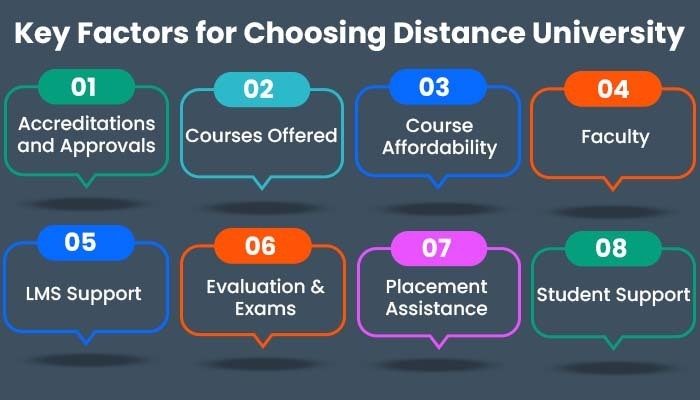 Based on such factors, UPES CCE has been evaluated below. Read the review below to find out if it is the right choice for your educational journey.
#1 Is the University Accredited/Approved?
The first thing to check before considering any other factor, it ensures that the university is not a fraudulent source and has the credibility to provide distance/online education to students. For any university to offer a full-time degree, diploma or certification course completely through correspondence (distance/online/blended), it needs to have the approval of some statutory and authorizing bodies of the nation, without which the certification from that university will be held invalid. So it is imperative to verify the credentials of the university at the very outset of the search for an online/distance university.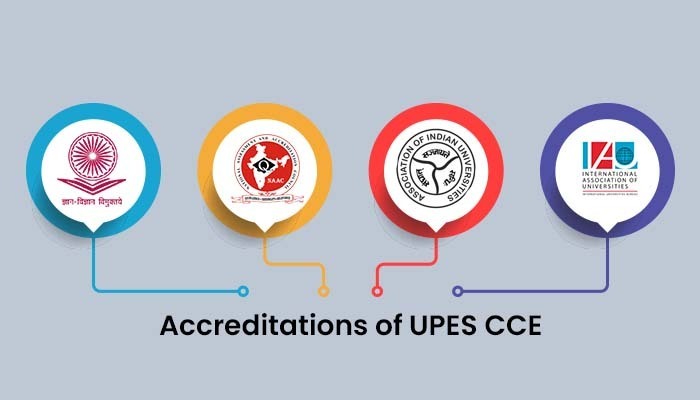 UPES CCE has been approved by a number of accrediting bodies of India and has grabbed numerous accolades as a pioneering educational institution in the field of energy studies. The major accreditations and approvals of UPES CCE have been listed below:
University Grants Commission-Distance Education Bureau –

UGC-DEB

Association of Indian Universities –

AIU

International Association of Universities –

IAU

National Assessment and Accreditation Council –

NAAC (Rated A)

QS Ranking –

Rated 5 Star for Employability
So, all the courses offered by UPES CCE are approved by major accrediting bodies and are completely credible and valid in India and abroad.
#2 What Courses are Offered by the University?
It is important to check that the university you are considering for further education offers the course of your choice. Specifically, if the course you are pursuing pertains to a specific area of study, then it is essential to look for a credible university that offers a well-designed course in that discipline.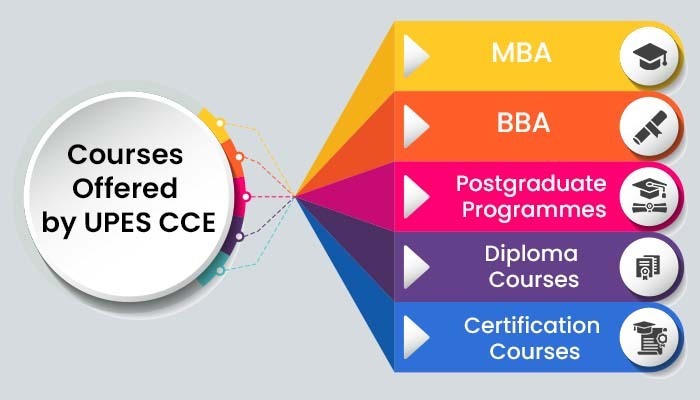 UPES CCE is a university that has excelled in providing quality degrees and courses to students in the domain of management, energy studies etc. It extends degree, certification and diploma courses across a wide variety of specializations to choose from, specially designed for working professionals so that one can continue working while conveniently also completing the course.
The courses offered by UPES CCE have been listed below:
Courses Offered by UPES CCE

Course Type
Course

Postgraduate Degree Course

MBA (Aviation Management)

MBA (Power Management)

MBA (International Business)

Postgraduate Programme Courses

Data Science

Renewable Energy

International Business

Oil & Gas

Power Management

Aviation Management

Logistics & Supply Chain

Diploma Courses

Diploma in Health Safety & Environment

Advanced Diploma in Health Safety & Environment

Diploma In Oil & Gas

Diploma in Power Management

Diploma in Aviation Management

Logistics & Supply Chain

Certification Courses

IT & Project Management

Happiness Programme
So it can be seen that UPES CCE is a good distance university that provides well-designed courses in a specific area-energy studies, management and information technology. It offers a number of specializations that allows the students or professionals interested in the area to effectively pursue these courses in the distance blended mode, with the learning support provided by the students.
#3 How Affordable are the Courses for Me?
Another factor that you may like to take into account is the affordability of the courses offered at the university since it is a valuable investment for your career and further education. The course fees for specific technical and professional courses tend to be higher than regular academic courses, however, the rates are still considerably more affordable in the case of online or distance courses as compared to offline full-time courses. So, you can have a look at the course fee ranges before opting for that distance university. Affordable and manageable semester-wise installment facilities are also offered by many online/distance universities in recent years.
At UPES CCE, the course fees have been set in consideration with the diverse financial backgrounds to which the students can belong, and accordingly they are in an affordable range. Moreover, semester-wise payment options are available for the degree and postgraduate programmes. All the course fees are approximately within the range of INR 50,000-INR 2,00,000.
The details of the various course fees have been given below:
Fees for Courses Offered at UPES CCE

Course
Course Fee

MBA

INR 1,35,000- INR 1,50,000

BBA

INR 1,80,000

Postgraduate Programmes

INR 69,000- INR 1,80,000 (Depending on Specialization)

Diploma Courses

INR 40,000

Certification Courses

INR 30,000
Additionally, students have the facility to pay the fee in instalments for the degree programmes and the postgraduate programmes, which means you can affordably continue your higher educational journey while pursuing your career simultaneously. Also Read | Online Career Guidance!
#4 Is the Faculty Well-Qualified?
It is important to check if the faculty of the university is well-qualified and has the important qualifications and experience to effectively deliver the course online. This becomes especially important for technical and professional courses in a specific domain. The faculty should also be responsive and reachable as all concerns and queries in a distance/online university are resolved remotely, through virtual means. Hence, you can check the faculty of the course while considering the university for your education.
At UPES CCE, there are over 450 faculty members who have gained years of experience in their areas of specializations and deliver the courses through live virtual lectures. They are available for discussions and clarifications of queries, in which students can reach out to them during discussion sessions. So the faculty support at UPES CCE is strong and efficient with experienced lecturers who help deliver the concepts in their specialization areas effectively.
#5 What is the LMS Support and Learning Pedagogy at the University?
The Learning Management System (LMS) is the software through which the university delivers its courses, takes examinations, assigns tasks to students, delivers the learning material etc. It is one of the most important aspects of the course offered by the university since it is the main means of educational exchange between the teachers and students. So, the LMS of the university must be efficient, having all the necessary features and tools as well as up-to-date with the latest technological advancements.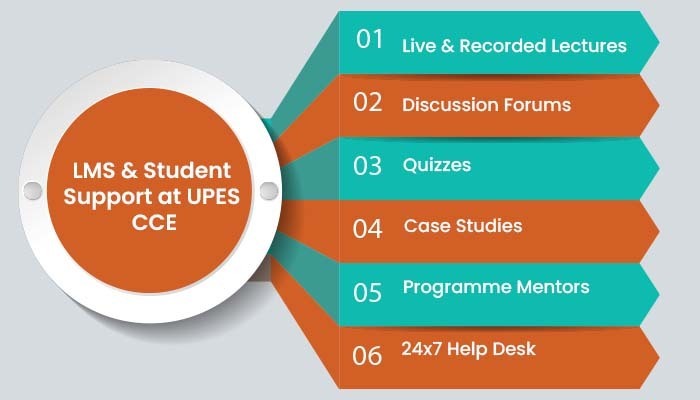 The university has its own LMS called 'Blackboard Learn' which provides students with all the major facilities of online learning such as attending live lectures conducted by the faculty on weekends (to enable smooth learning by working students), recordings of the lectures for later reference, exercises and quizzes, audio-visual as well as textual case studies, discussion forums etc.
It ensures that the students have the best-in-class learning experience and engagement with the faculty and peers. There is a focus on the all-round development and education of the students, through innovative technological support facilities. Moreover, with the industrial alliances formed by the university with firms such as IBM, Larsen & Toubro, Aditya Birla Group, Tata etc. there are opportunities for students to learn from industry giants to learn about the functioning of the professional world.
The main features of the LMS are listed below:
LMS-Blackboard Learn at UPES CCE

Digital Learning Materials

Live Lectures by Faculty Members

Recorded Lectures

Discussion Forums

Case Studies

Quizzes

Help-Desk Support

Industrial Webinars
So, there is a good academic and LMS support at UPES CCE which can be a good reason for you to consider this university as an option for higher education.
#6 What is the Examination and Evaluation Procedure?
Checking the facilities and mode of examinations for the exams and evaluation of academic performance is also important in case of a distance course.
The evaluation and examination procedure at UPES CCE is described below:
Evaluation Measure

Details

Internal Assessment

Assignment 1

Assignment 2

30% Academic Weightage

Summative Assessment

Term-End Exams

Online Proctored Exams

70% Academic Weightage

Grading System
The facility of online proctored exams is a convenient option for students.
#7 What Student Support Facilities are Available?
Student support facilities are needed in place to ensure that the students can easily contact a designated body virtually in case a query/grievance/complaint or any other issue arises during the course of their association with the university. These are important areas for students to enquire about before they enrol for a course in any distance/online university because students have little to no opportunity to actually visit the campus for the resolution of any of their problems.
UPES CCE lays emphasis on functional student support facilities to ensure that students' concerns are heard and resolved in a reasonable time period. For this, they have created a separate help desk exclusively for redressal of students' concerns. The main student support facilities have been described below:
24×7 Student Helpdesk:

students can contact the virtual helpdesk of the university at

https://helpdesk.upes.ac.in/

and they would get a response from an official within one working day, except on weekends
Programme Managers:

students are assigned a programme manager who can be reached out to in case of a query or problem related to their course as well as for feedback. A student can reach out to their respective Programme Manager through chat or email.
Connecting to Faculty Members:

Students can connect with the faculty for assistance or doubts clarification by booking a time slot with them on a working day after which they can connect virtually. However the booking of a time slot should be through the help desk or the programme manager only.
So, UPES CCE indeed offers a good student support with a unit of mentors dedicated solely for resolution of concerns and queries, which means you can easily reach out to them in case of any issue you face and expect a prompt resolution.
#8 Is Placement Support Available?
Placement Assistance is important for a distance/online students because they cannot visit the campus in person to form wide peer and professional networks. Moreover, for some courses, freshers may also not have an existing professional sphere which they can grow further. So, a robust placement support is very important to ensure that the gap between the students and professional endeavours is bridged.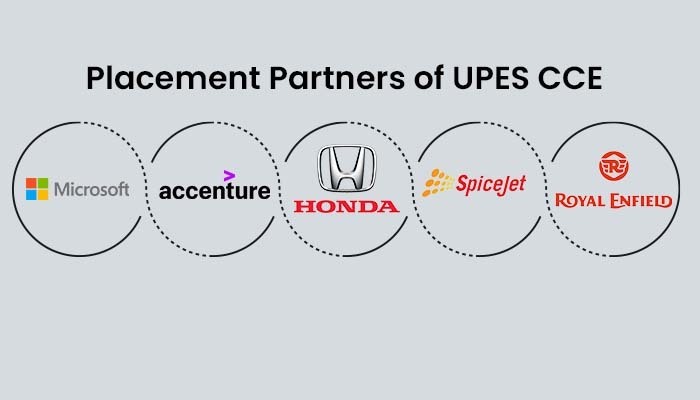 At UPES CCE, there is an active focus on providing placement assistance to the students through professional and practically-oriented courses and teaching along with the placement drives conducted for the distance students exclusively. Students after completion of courses from UPES CCE often get placed in reputed private and government organizations which have been listed below:
Placement Partners

NTPC

BHEL

Capgemini

Nestle

FedEx

Accenture

Blue Star

Flipkart

Microsoft

Honda Cars

Royal Enfield

Indigo

SpiceJet

Samsung

Adobe

Deloitte
So if you are considering pursuing a course from UPES CCE, then you have a good opportunity of getting placed at reputed firms or organizations.
Similar Accredited Distance & Online Universities in India
Some other top universities in India which are well-accredited include:
Accredited Distance/Online Universities of India

University
Location
Accreditations

NMIMS Global Access School for Continuing Education

Mumbai

UGC, NAAC, NIRF, AICTE

Amity Online University

Noida

UGC, NAAC, AIU, ACU, BCI, WES

LPU Online

Phagwara, Punjab

UGC-DEB, AICTE, NIRF, WES

Online Manipal

Jaipur

UGC, NAAC, AICTE, WES, ACU

ICFAI

Hyderabad

UGC, NAAC, NIRF, ACU

Dr. D. Y. Patil University-Centre for Online Learning

Pune

UGC-DEB, AICTE, AIU, ACU, ISO, WES
Conclusion: Is UPES CCE Good or Bad?
So, if you have read all the factors and carefully evaluated the university with us, it can be concluded that UPES CCE is a good choice for pursuing distance (blended) courses in the domain of management, information technology, energy and petroleum studies. It is a well-accredited university with all major facilities like an LMS, faculty support, student support facilities, placement assistance etc.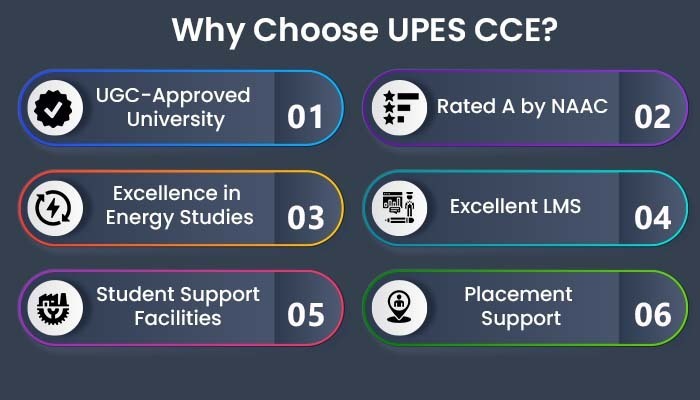 The key factors which make UPES CCE a distinguished university have been listed below:
UGC-Approved University

NAAC Rated 'A' University

Excellence in Providing Courses in Energy Studies

Well-Qualified Faculty

Affordable Courses

Excellent LMS

Student Support Available

Robust Placement Support
Other Online University Reviews