Amity University is a well-known name in educational circles for years of extending quality education from the foundational to professional levels to students. So if you are considering if it would be the right choice to pursue a degree from Amity Online University too, you are at the right place. Read the full review below to find out if Amity Online University is indeed a good choice for your higher education.
About Amity Online University
Amity Online University was started by the Amity Educational Group to extend the support of affordable higher education to students across the country and internationally, crossing the boundaries and limits of time and geography. Being one of the first UGC-approved universities to provide completely online degrees and courses, Amity Online has years of experience in delivering digital education effectively.
The Online university has accreditations and approvals from statutory bodies like the UGC, NAAC, AICTE, AIU among many others. The university has a comprehensive learning support framework including an LMS, collaborations with Ivy League Universities, all-around placement assistance, and mentorship facilities. There is a wide range of courses such as MBA, MCA, BBA, BCA, BA, MCom etc. offered by the university.
Read further to find out if Amity Online University is a good choice for you to pursue an online course.
Factors to Consider While Choosing an Online University
With rapidly growing technology and innovative measures, delivering education through the use of virtual platforms is on the rise. With many universities exclusively taking up the digital mode to deliver higher education, it might be tough to choose the online university that is the most appropriate for you and your career goals. However, there are some questions you must ask while researching the best online university for you.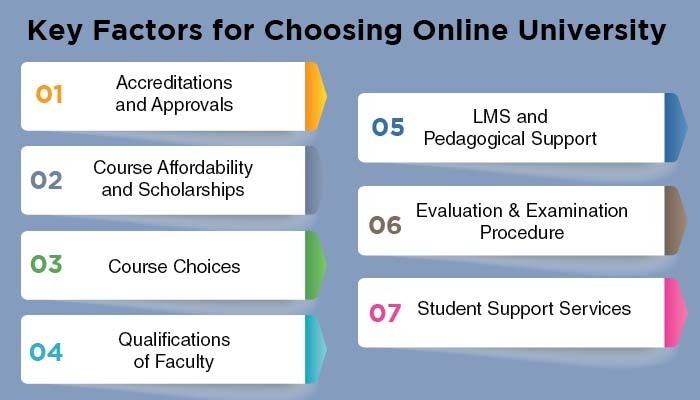 Some of these questions about Amity Online University have been answered for you below. Read more to find out if you should go with the university for continuing your educational journey.
#1 Is the University Well-Accredited?
This is one of the most important questions to ask before going to an online university. Many universities may not have the requisite approvals and accreditations from the major credit-granting bodies of India or statutory bodies. The essential accreditation a university MUST have for providing higher education in the online mode is from UGC or UGC-DEB. Additional important accreditations include NAAC, NIRF, AICTE (for technical courses) etc.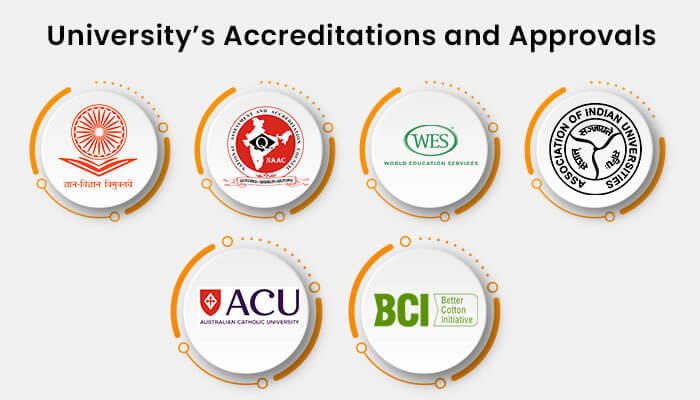 Amity Online University is the first university to receive the green signal from UGC to provide online educational courses. Today, it has multiple major accreditations and recognitions from the major statutory and accreditation bodies such as:
University-Grants Commission (UGC)
National Assessment and Accreditation Council (NAAC)
Association of Indian Universities (AIU)
World Education Services (WES)
Association of Commonwealth Universities (ACU)
Bar Council of India (BCI)
United Nations Development Programme
QS World University Rankings
Apart from these accreditations, the university also has various accolades and identifications, and approvals. So the degrees or diplomas completed from the university are completely valid and credible and can prove to be a valuable addition to your educational qualifications.
#2 Are the Courses Affordable for Me?
Another concern to be taken into account is whether the courses that the online university offers are affordable for you. Generally, online courses are comparatively more affordable as compared to the same courses when offered in full-time regular mode. So, if you are looking for an affordable alternative for pursuing your higher education, an online degree from a credible university may be the appropriate option for you.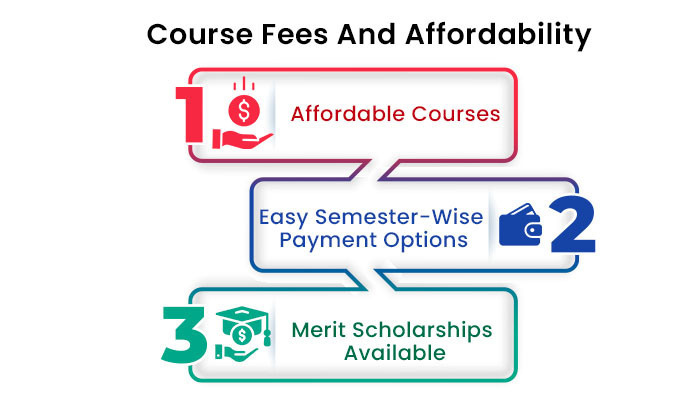 Amity Online University has a variety of courses in very affordable ranges as compared to many online universities in India. An added advantage of an online degree is that you can continue to pursue your professional engagements, which allows a great value for your money.
In addition to the affordability of the courses, the university also has a merit-based scholarship facility in which students scoring above 60% of marks are entitled to scholarships based on their scores.
The basic course fees for some of the major courses at Amity Online have been listed below:
Course Fee of Amity Online Major Courses
Online Course
Total Fee (For Semester-Wise Payments)
MBA
INR 2,53,000
MCA
INR 1,60,000
BBA
INR 1,80,000
BCA
INR 1,60,000
B.A
INR 85,000
Masters of Mass Communication
INR 1,60,000
M.Com
INR 1,10,000
#3 What are the Course Choices?
Another important concern is to check if the university you are considering for online education offers the right course choices for you. If the online university you are considering has the right course choices that you wish to pursue and is well-accredited, then that university might be the right choice for you.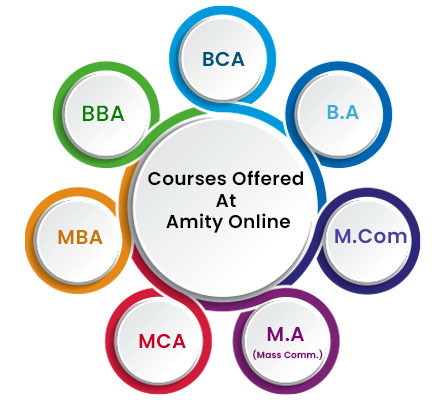 Amity Online University provides the students with a wide variety of disciplines and courses to choose from, allowing greater flexibility to students. So a candidate can choose the appropriate course for them at either the undergraduate and postgraduate level.
The major courses offered by the university have been listed below:
Course Type
Course
Undergraduate Degree Course
B.B.A
B.C.A
B.A
Postgraduate Degree Course
M.B.A
M.C.A
Masters in Mass Communication
M.Com
So, it can be seen that there are courses in the discipline of humanities, commerce, business management, computer sciences, etc. that students can select from to further their educational and professional goals.
#4 Is the Faculty Well-Qualified?
It is important to consider the qualifications of the faculty before opting for that course. It is helpful for students to choose an online university in which the faculty is well-qualified and has sufficient experience in effectively delivering higher education through the online mode as the pedagogy and the mode of delivery and student interaction is considerably different from a physical classroom set-up. Moreover, since the only point of contact for the students to the faculty is through virtual modes, it is important to select a university that has provisions for interactions and doubt clarification with the faculty, and that the faculty is responsive and cooperative.
At Amity Online University, the faculty is highly qualified, with the majority of the professors holding doctoral and other educational degrees.
The university also has collaborations with top renowned international universities including Ivy League universities and welcomes international guest lecturers, giving students the opportunity to interact with some of the top professors and experts in the world.
Moreover, being the very first university to get the approval of UGC for providing online education in India, the faculty here has years of experience in delivering online courses, making them adept at it.
#5 What is the Learning Pedagogy Offered by the University?
This is one of the most essential considerations to make for an online university. Being a fully online course, it is very important to assess the pedagogical tools and facilities that the university offers for course delivery and learning. A good and user-friendly Learning Management System(LMS) along with facilities for faculty interaction, peer interaction, clarification sessions, etc. are very important since the student can only reach out to the faculty through virtual modes.
One must also be able to handle the LMS themselves to ensure that the learning experience is engaging, interesting and fulfils the purpose of the course, i.e. enhancing one's conceptual understanding.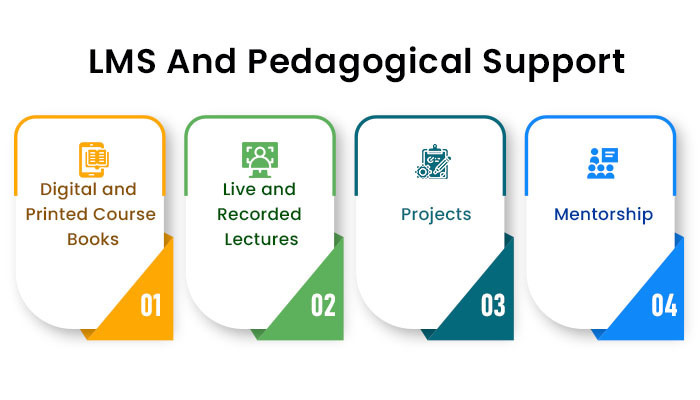 At Amity Online University, there is a carefully-designed LMS with an effective user interface that allows students to access their academic details, track their progress as well as refer to their academic calendars. Students can also access the recorded lectures at any time of their convenience, enabling them to learn at their own pace.
Some of the main features of the learning support offered by the university have been listed down below:
Learning Support Facilities
Dispatched as well as Digital Learning Materials and Books
Live Lecture Sessions
After-Lecture Quizzes for Better Learning
Recorded Lecture Sessions available on LMS
Practice Project and Assignments
Personalized Mentorship Facilities
#6 What is the Evaluation and examinations Framework at the University?
Many students are also worried about how the exams are conducted in an online educational mode. It is important to check the framework and pattern of examinations and evaluation as well.
At Amity Online, the evaluation consists of two parts:
Internal Assessment Component: This includes the online assignments for the course which must be submitted at time.
Term-End Exams: these exams are conducted in the online distance mode, i.e. ODL mode. Students can appear for these exams at the Amity exam centres, the slots for which are booked on a first come first serve basis.
The exams for all online courses of Amity Online University are conducted two times in a year, in the months of June and December.
So, the evaluation and examination procedure at Amity Online is very flexible and student-friendly.
#7 What Student Support does the University Offer?
Student support facilities such as admission counselling, orientations, complaint and grievance redressal bodies, placement support and assistance etc. are important services that the university must offer in order to ensure that the experience during the course completion is hassle-free and convenient for the students.
Moreover, since the students have very less scope of visiting the campus to resolve their concerns, a good online mechanism and framework is needed in place to ensure that the concerns can be clarified easily through virtual means.
Amity Online University offers students with facilities such as easy options to reach out to the university authorities in case of concerns and queries, personal mentorship, access to lectures and webinars with lecturers from international colleges including Ivy League colleges, placement support etc. All such facilities allow students to have a pleasant learning experience and effective query clarification without any hassles.
Also Read | What Is Online Career Counselling?
#8 Is there Placement Support Offered by the University?
Another important area that you should look out for, is a good placement cell that allows students to not only explore job opportunities but also one's own aptitude, areas of interest, and career aspirations, which is essential to develop the student's professional competency and grow their career along with their educational insights. Some students may also look to get a good placement right after course completion which also makes the placement support facility important to look for in an online university.
Amity Online University has a well-developed placement support facility and professional training framework that allows all-around support to students to grow their careers meaningfully as well as develop their professional skills and soft skills. It conducts virtual job fairs to enable students to interact with top industry recruiters and land their dream job.
Some of the main placement support facilities offered by the university include:
Placement Support Facilities
Virtual Job Fairs
Pre Placement Orientation
Personalized Mentorship
Resume Building Support
Webinars for Soft Skills Development
Some of the major job profiles in which students discovered jobs in the university's job fair include:
Business Associate
Digital Marketing Manager
LMS Executive
Business Analyst
Sales and Tech Role
Key Account Manager etc.
Some of the major hiring partners that Amity Online has collaborated with include:
Top Hirers of Amity Online University
Tata Consultancy Services
HCL
Concentrix
JIO
Byju's
Godrej
Lenskart.com
Accenture
HDFC Bank
Tech Mahindra
Amazon
Flipkart
Oxford University Press
Cognizant
The Indian Express
BBC
The Times of India
LinkedIn
Similar Online Universities in India
Some other credible and accredited universities in India that provide online higher education in India are:
| | | |
| --- | --- | --- |
| University | Location | Accreditations |
| Dr. D. Y. Patil University-Centre for Online Learning | Pune | UGC-DEB, AICTE, AIU, ACU, ISO, WES etc. |
| LPU Online | Phagwara, Punjab | UGC-DEB, AICTE, NIRF, WES etc. |
| Online Manipal | Jaipur | UGC, AICTE, NAAC, WES, ACU etc. |
| Chandigarh University | Chandigarh | UGC-DEB, NAAC |
| Hindustan University-Centre for Open and Digital Education (CODE) | Chennai | UGC-DEB, AICTE, NAAC, NIRF |
| NMIMS Global Access School for Continuing Education | Mumbai | UGC, NAAC, NIRF, AICTE |
| Jain University | Bangalore | UGC, AICTE, NIRF |
| UPES | Dehradun | UGC-DEB, NAAC A, NIRF |
| ICFAI | Hyderabad | UGC, NAAC, NIRF, ACU |
| Manav Rachna Online University | Mohali, Faridabad | UGC, NIRF, AICTE, WES, IQAS etc. |
Conclusion: Is Amity Online University Good or Bad?
So, taking into account various factors such as course fee, university's accreditations, course choices, LMS etc. it can be said that Amity Online University is indeed a good alternative for you if you wish to pursue an online course at the undergraduate or the postgraduate level.
Its years of experience in delivering online education and well-experienced and qualified faculty make the courses here a good choice for you to pursue. The degrees obtained are recognized in academic and professional circles and being an accredited and well-reputed university, a qualification from Amity Online is a prestigious addition to your educational journey.
Some of the key important features of the university have been listed down below: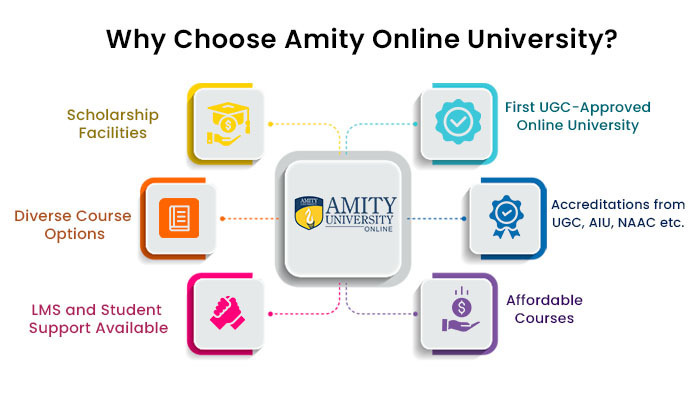 First Indian University to get UGC approval for providing Online Courses
Has Major Accreditations such as UGC, NAAC, NIRF, AIU, ACU, WES etc.
Affordable Courses with Scholarship Opportunities
Wide Variety of Courses Offered at both UG and PG levels
Well-Qualified Faculty along with International Guest Lecturers
Effective and User-Friendly LMS
Robust Student Support Facilities
All-Round Placement Support
Other Online University Reviews