Jain Online University, an extension of the Jain (Deemed-To-Be) University, is a UGC and AICTE- recognized university that specializes in providing online education to learners at both the undergraduate and postgraduate levels. It is a NAAC-rated A++ university which focuses on the overall development of the student with focus on expanding both their academic and professional scope.
About Jain Online University
Jain University was started over 30 years ago as a college in 1990, and has since established many milestones to establish itself as a university and extend quality higher education to students.
Today, Jain University has started its newest venture, Jain Online University in 2020, with the aim of maximizing the technological advancements to extend educational services to students remotely. Jain Online University has the recognition of UGC and AICTE and offers credible degree and certification courses in the virtual mode. With LMS features to deliver courses online, the university offers students an opportunity to pursue the course of their choice without going through the hassle and expenses of relocation.
So, if you are considering Jain Online University as an option for your higher education, read below to find an evaluative review of the university on various parameters.
Key Parameters for Choosing an Online University
Before you go in for an online university, with a myriad of options available on the internet, don't forget to carefully evaluate some important parameters that distinguish credible and viable university alternatives from unreliable ones. You should ideally consider a variety of factors based on a number of aspects before arriving at a decision, so that the choice is a well-informed one and to prevent any hassles later on while pursuing or obtaining a degree.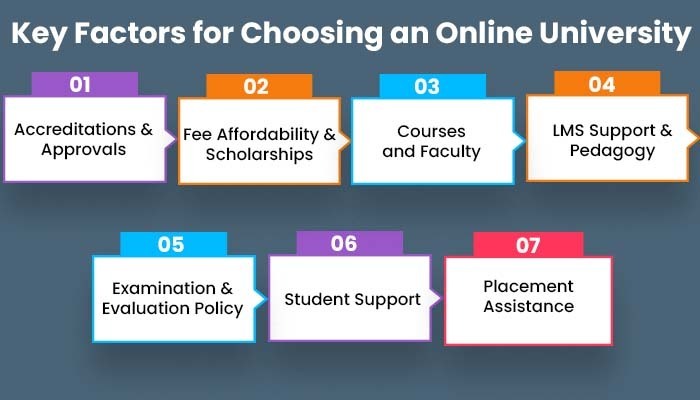 So, read more to find out the essential parameters to consider while choosing an online university and verify if Jain Online University is indeed the right alternative for your higher educational goals based on these factors.
#1 Accreditations and Approvals of University
This is the first factor to check before considering an online university because it ensures that the university is indeed a credible source for providing degrees and courses. Only an accredited university provides students with valid degrees/certificates which will be recognized.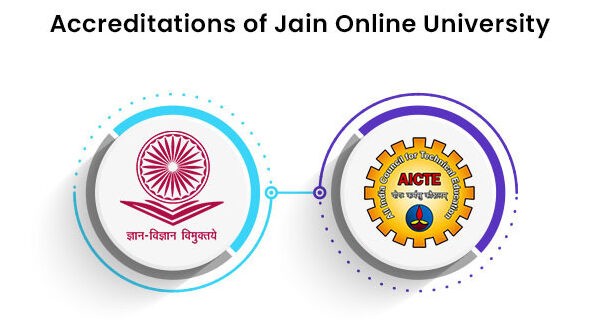 If the university has all the important approvals and recognitions, then one can be sure about the credibility of the degree obtained from the university.
Jain Online University is well accredited, with the approvals of:
University Grants Commission

(UGC)

All India Council of Technical Education

(AICTE)
It has also received approvals and recognitions by various other bodies such as:
The Chartered Institute of Marketing

(CIM)

Institute of Financial Markets

(IFM)

Institute of Analytics

(IOA)

The Institute of Management Accountants

(IMA)

etc.
So one can rest assured that the degrees and certificates from Jain Online University are well-accredited, credible, and valid for future academic and professional goals.
#2 Fee Structure and Affordability
This is another area of concern for many students since pursuing higher education comes with expenses and investments. So, it is important to check if the course of one's choice is affordable. Online educational courses are generally more cost-effective than regular degrees, and offer the additional advantage to students to pursue professional commitments simultaneously. So, when considering an online university for any course, one should also check if the course fee is reasonable and affordable for students.
At Jain Online University, the focus is on extending educational support to larger chunks of students, for which one of the key considerations was to offer courses at manageable and affordable rates. Accordingly, the fee structures for various courses at both the undergraduate and postgraduate levels have been set keeping in mind the financial concerns different students may have. Additionally, there is the facility of paying the course fee through easy installments in each semester. This removes the burden of heavy expenses from students.
The fee range for some of the courses offered at Jain Online University has been listed below:
Fee Range for Courses Offered at Jain Online University
Course
Course Fee

MBA Online

INR 1,20,000 to INR 2,00,000 (Depending on Specialization)

Online MCA

INR 2,00,000

M.Com Online

INR 80,000- INR 1,80,000 (Depending on Specialization)

Online M.A

INR 70,000

BBA Online

INR 1,50,000 to INR 2,40,00 (Depending on Specialization)

B.Com Online

INR 1,05,000

Certificate Courses Online

INR 12,000
Payments for all these courses, barring the certificate programmes, can be made in easy and affordable installments in each semester, which allows students to pursue the course without heavy expenditures.
In addition to this, there are facilities for scholarships for students in certain cases which have been listed below:
Students with Defence Background: Members and Immediate Family of Defence Personnel

Government-Sponsored Students: Those enrolled under the

Guyana Online Academy of Learning (GOAL).
Students can obtain further details about the scholarship amounts and eligibility by contacting the administrative department of the university through telephone or email:
So if you are looking for an online university with affordable rates, then Jain Online can be a good alternative for you.
#3 Courses Offered and Faculty at the University
Since all universities may not offer all types of courses, it is essential to check if the university under consideration indeed offers the course that the student wishes to pursue. An online university that offers students with a wide variety of courses ensures that the different academic needs of students are catered to.

At Jain Online University, courses are offered at both the undergraduate and postgraduate levels. There are also a variety of short-term certification courses offered to students. Students can choose from a variety of courses in the fields of business management, commerce, arts, information technology, etc. This helps students to find a course that matches their academic goals and interests.
The complete list of courses offered by Jain Online University is given below:
Courses Offered at Jain Online University
Course Level
Courses

Undergraduate Courses

B.Com

B.B.A

Postgraduate Courses

M.A

M.Com

M.C.A

M.B.A

Certificate Courses

Accounting and Finance for Non-Finance Professionals

Banking, Financial Services and Insurance

Business Intelligence and Applications

Digital Marketing and E-Commerce Fundamentals

Entrepreneurship Development

Essentials of Cyber Security

Investment Analysis and Portfolio Management

Logistics and Supply Chain Management

Python for Data Science

Spreadsheet Modelling

Statistical and Optimization Techniques for Data Science

Talent Acquisition and Management
Further, under each degree course, choices for specializations are offered to students. So, one can choose a course from the wide variety of degrees and certificate programmes offered in the online mode, based on the course duration, academic discipline, and other factors.
The faculty support of the university is also good, with well-qualified professors who are adept at delivering the courses through the virtual mode conveniently. They are supportive, reachable, and responsive to student queries and concerns through the LMS of the university.
#4 LMS and Academic Pedagogy
This is another important parameter to evaluate an online university against, considering the LMS (Learning Management System) is the main channel through which knowledge is dissipated and the course completed. In an online course, the examinations are also held virtually.
A student needs to acquaint themselves with various such tools and also evaluate if the online university has the necessary facilities to ensure smooth course delivery as well as meaningful learning. A good LMS should have all tools and components to ensure that students can attend live and recorded lectures and modules, clarify their doubts, track their academic progress, and so on.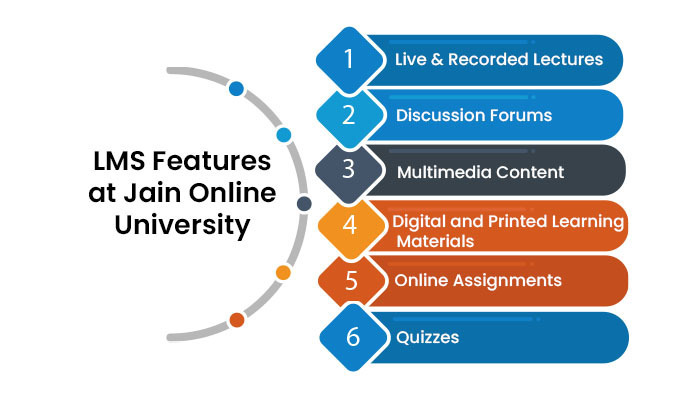 At Jain Online University, students once enrolled in the courses, are provided with unique login credentials which give them access to the Learning Management System (LMS). The LMS support of the university has many useful features that allow students to interact with the faculty and peers, learn through discussions, study at their own pace, assess and evaluate their learning, and gain many insights by practically applying the concepts in case studies and examples.
The main features of the LMS and learning pedagogy at Jain Online University are mentioned here
LMS Features of Jain Online University

Access to Live and Recorded Lectures

Discussion Forums

Multimedia Learning Content

Digital and Printed Learning Materials

Interactive Group Projects

Online Assignments

Quizzes

Tests
So, it can be seen that the university has many channels for the students to learn the concepts, including audio-visual as well as textual means. Additionally, there are facilities for students to interact with peers (through collaborative projects) and faculty through live lectures. So it can be said that the LMS at Jain Online University is efficient and enables effective course delivery.
#5 Examination and Evaluation Procedure
Many students are also worried about the mode and procedure of examinations for an online course. This concern is a very normal one and students should enquire about the method of evaluation for the course so as to see if the student is well-equipped to participate effectively in the procedure.
At Jain Online University, students are evaluated based on both the formative and summative aspects of assessment.
An emphasis is laid on self-evaluation. Students can check their comprehension and progress by using the LMS features of online quizzes, tests, case studies, essay and assignments etc.

The evaluation also includes online examinations. These examinations are fully proctored and enable the students to appear for them from any place of their convenience.
So Jain Online University has weaved sufficient flexibility into its evaluation and examination procedure. Students are given the convenience of appearing for final exams irrespective of location, just with access to a stable internet connection and smart electronic device.
#6 Student Support Facilities
Student support facilities such as helplines or committees to address the queries and concerns of students are essential to ensure that the students can get quick redressal and resolution of concerns through remote modes since there is rarely any scope for them to visit the university campus. So, a good online university should also have means for the students to reach out to concerned authorities virtually if the need arises.
At Jain Online University, the students can reach out to the helpline and student support body of the university through a toll-free number or via email.
The contact details for the same are:
So, the process of query resolution and redressal of student concerns is easy and hassle-free at Jain Online University.
Additionally, the university also offers placement assistance to students through placement drives.
#6 Placement Support
Placement Support is one of the most sought parameters that students look for in an online degree course. This is to ensure that one has a good opportunity to get placed in a reputed firm after completing their course. Most online universities today provide some or the other form of placement or professional support to students. It can be a good practice to check if the university has a functional placement support framework so that one has the chance of growing their professional prospects while pursuing academics.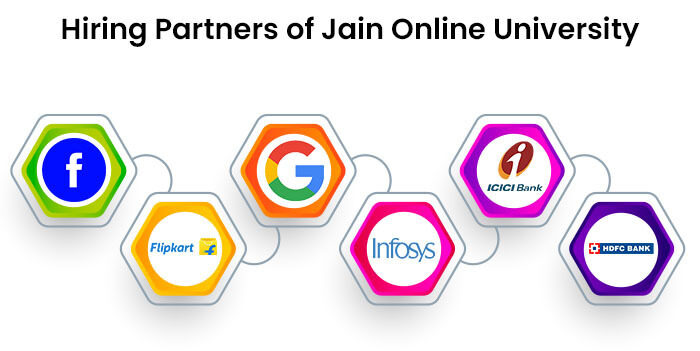 Jain Online University provides students with placement assistance, helping them find jobs in reputed and huge firms and companies. There are multiple other professional support facilities that are dedicated to making the students well-groomed, professionally well-equipped, and aware of the industrial and professional world and its requirements.
The main placement support features at Jain Online University are:
Placement and Professional Assistance Features

Online Mentoring

Guidance by Corporate Relations Team

Online Sessions for Professional Training and Grooming

CV and Social Media Profiling Guidance

Placement Drives

Mock Interview Sessions
The major companies that have partnered with Jain Online University to hire students include:
Major Hiring Partners of Jain Online University

Facebook

Google

HDFC Bank

Infosys

ICICI Bank

Kellogg's

Flipkart

Hitachi

MTR

KPMG
The placement support at Jain Online University is well-designed, with an all round focus of not only providing the students with the opportunity to land their dream job but also to prepare them in advance to be better groomed for them, thus giving a competitive edge over other competitors.
Similar Online Universities in India
Some other accredited online universities in India have been listed below along with their approvals:
Accredited Online Universities in India
University
Location
Approvals and Recognitions

NMIMS Global Access School for Continuing Education (NGASCE)

Mumbai

UGC, NAAC, NIRF, AICTE

Amity Online University

Noida

UGC, NAAC, AIU, ACU, BCI, WES

LPU Online University

Phagwara, Punjab

UGC-DEB, AICTE, NIRF, WES

UPES

Dehradun

UGC-DEB, NAAC A, NIRF

ICFAI

Hyderabad

UGC, NAAC, NIRF, ACU

Chandigarh University

Chandigarh

UGC-DEB, NAAC

Online Manipal

Jaipur

UGC, NAAC, AICTE, WES, ACU
Conclusion: Is Jain Online University Good or Bad?
So, taking into account the various factors, it can be said that the university is indeed a good choice for an online degree or certificate course. The variety of courses offered in a reasonable fee range, along with efficient LMS support and placement opportunities, distinguish the university from the various others that provide students with similar courses.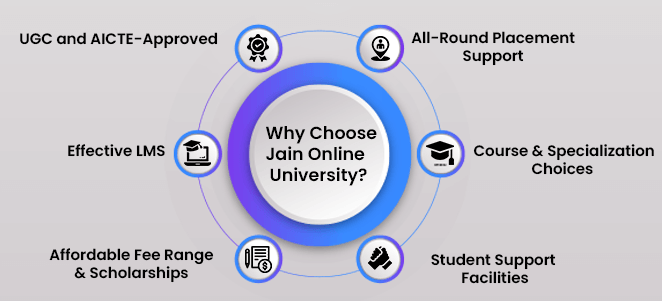 The best features of the Jain Online University that make it a good option to consider for higher education, have been listed below:
Approved by the UGC and AICTE (for MBA and MCA)

A large number of Degree and Certification Courses to Choose from

Affordable Fee Range

Scholarships for Defence Personnel and Government-Sponsored Learners

Effective LMS

Easy Student Support Opportunities

All-Round Placement Assistance
So, if you are considering Jain Online University for further education, then it can indeed be a good choice for you considering the various factors evaluated above.
Other Online University Reviews