NMIMS Global Access School for Continuing Education (NGASCE) is the distance and open education centre of the NMIMS University that provides a number of undergraduate, postgraduate and certification courses to students through correspondence. NGASCE has received major accreditations and recognitions from the major accreditation bodies of India and has provided higher education to over 1,00,000 students till date. So is investing in a distance educational cours from NMIMS Global worth the investment? Read further for a detailed review of the university.
About NMIMS Global University
NMIMS started in 1981, specializing in providing higher education to students at undergraduate, postgraduate, and doctoral levels across various disciplines. In 2003, it was granted the status of 'deemed to be university and since then has received numerous accreditations and recognitions.


The university started the Global Access School for Continuing Education (GASCE) as an initiative to provide distance and online courses to students, allowing greater access to higher education to a diverse section of the society. It has received accreditations and approvals from bodies such as the UGC-DEB, NAAC (A+), NIRF (Ranked in Top 100 Universities), AICTE etc. along with many accolades and awards.
The university has an online student support platform that has many facilities such as live learning sessions, recorded lectures, student support facilities and other online educational services in the form of mobile and desktop applications.
Important Factors for Choosing an Online/ Distance University
A large number of universities and educational institutions offer distance and online learning courses today and the task of choosing one university for pursuing the course of your choice can understandably be a tough choice considering it is an unalterable step in your career. However, to make an informed decision about whether to choose an online/distance university or not, there are some important factors to be taken into consideration to ensure that the university you choose to pursue your education from, is credible and provides a recognized degree after you complete the course.
NMIMS GASCE is one of the popular distance and online universities in India for a number of management courses, undergraduate and postgraduate degree and certification courses. So if you are considering pursuing a course from NMIMS Global, this review might help in deciding if it indeed is the perfect choice for you and if your investment in the course from this university is worth it.
So, listed below are a few of the key factors you need to consider before making the choice about a course from NMIMS GASCE.
#1 Accreditations and Accolades of University
For an online or distance degree to be recognized and credible, the accreditations and recognitions of the university from government accreditation bodies is very essential. This ensures that your degree or certificate from the university is recognized and credible, and is valid to appear for various jobs as well as government examinations.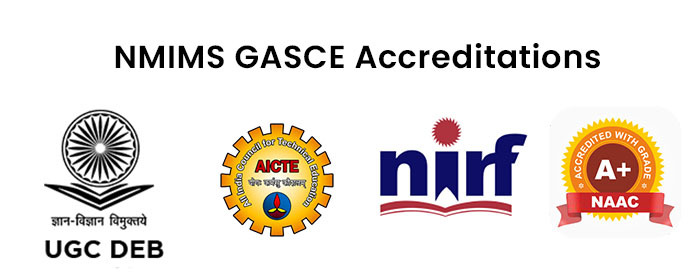 NMIMS has received the status of a 'Deemed-to-be' University by the UGC in the year 2003, and since then, has received various accreditations, recognition and accolades from prestigious bodies, making it a credible and prestigious university to obtain education from. The courses offered here are also identified by the AICTE.
Some of the major accreditations and accolades of NMIMS Global are:
University Grants Commission- Distance Education Bureau (

UGC-DEB)

All India Council of Technical Education

(AICTE)

National Institutional Ranking Framework

(NIRF): Ranked in Top 100 Universities in India

National Assessment and Accreditation Council

(NAAC): Rated A+
So, NMIMS GASCE is well-accredited by all major statutory bodies of the nation and provides students with completely accredited and valid degrees and certificates that are identified and valued in organizations, firms and educational bodies.
#2 Course Fee and Affordability
Pursuing distance and online educational courses is usually more affordable, with substantially lower fees than regular full time courses. This is mainly because the lectures and learning occur majorly through correspondence or virtual emans. This makes such courses more affordable to students from wider socioeconomic sections of the society. However, some universities still cost students more than others, and it is important to consider if the university provides value for education as the investment is an irreversible decision in your educational journey.
NMIMS Global offers affordable courses to students, with facilities for easy financial aid and loan options at affordable EMIs. Depending on the duration, level and type of course, the courses vary between a few thousands to a few lakhs of INR. Additionally it also offers the facility of around 20% fee concession to students who have a background in armed forces.
The basic fee details for a few of the major courses offered at the university are:
| | |
| --- | --- |
| Course | Course Fee |
| Distance MBA | INR 1,44,000 |
| Executive MBA | INR 4,00,000 |
| Bachelors Courses | INR 90,000-1,50,000 |
| Digital Marketing Programmes | INR 20,000- INR 1,00,000 (Depending on Course Duration and Stream) |
| Applied Finance Programmes | INR 1,80,000 |
| Diploma Programmes | INR 77,500 |
| Certification Programmes | INR 25,000 – INR 79,000 (Depending on Course Duration and Stream) |
| Wealth Management Courses | INR 60,000 |
So, the highly demanded courses such as MBA, Executive MBA, Finance programmes etc. are quite affordable, especially in comparison to regular courses and can be availed with easy financing options that allow the students to make payments in installments.
#3 Courses and Faculty
One of the most obvious and important factors to consider while choosing an online or distance university is whether the university offers the courses that you want to pursue. It is also important to check whether the course is provided as a degree course or a diploma or a certificate. These factors need to be taken into account before finalizing a university, as these affect the credential that you receive after completion of the course.
The course variety and the faculty teaching the course are important to be regarded. Faculty support, and cooperation along with their qualifications and experience levels are factors worth consideration since the only access point to the university and professors is through the virtual mode in which case the cooperation and support of the faculty becomes essential.
At NMIMS GASCE, a large number of courses at the undergraduate and postgraduate level along with certification courses and courses for executives and working professionals are available. The faculty is well-qualified and well experienced in providing higher education. Over 80 of the faculty members hold doctoral degrees and over 120 members have graduated from renowned and prestigious educational institutes of India such as IITs and IIMs. So they are well-experienced and equipped at providing quality higher education to students.
The courses provided by NGASCE have been listed below:
Course Type/ Level
Course

Postgraduate Degree

MBA Distance

Postgraduate Degree

Executive MBA

MSc in Applied Finance

Masters of Artificial Intelligence

Diploma Courses

(Postgraduate/ Undergraduate with Work Experience)

Professional Diploma in Data Science

Professional Diploma in Digital Marketing

Diploma in Business Management

Diploma in Operations Management

Diploma in Human Resource Management

Diploma in Financial Management

Diploma in Banking and Finance Management

Diploma in International Trade Management

Diploma in Marketing Management

Diploma in Supply Chain Management

Diploma in Retail Management

Professional Diploma In Wealth Management

Certification Course

Professional Certificate in Data Science

Professional Certificate Program in Digital Marketing

Certificate in Social Media and Content Marketing & Certificate in Digital Marketing Analytics

Certificate in Search Engine Marketing & Certificate in Social Media and Content Marketing

Certificate Program in Search Engine Marketing & Digital Marketing Analytics

Certificate in Social Media & Content Marketing

Certificate in Search Engine Marketing

Certificate in Digital Marketing Analytics

Certificate Program in IT Management

Professional Certificate Program in Digital Marketing

Certificate in Social Media and Content Marketing & Certificate in Digital Marketing Analytics

Certificate in Search Engine Marketing & Certificate in Social Media and Content Marketing

Certificate Program in Search Engine Marketing & Digital Marketing Analytics

Certificate in Social Media & Content Marketing

Certificate in Search Engine Marketing

Certificate in Digital Marketing Analytics

Certificate Program in Operations Management

Certificate Program in Project Management

Certificate Program in Corporate Communications

Certificate Program in Business Management

Undergraduate Degree Courses

Bachelor of Commerce (B.Com)

Bachelor in Business Administration (BBA) – Business Analytics

Bachelor in Business Administration
#4 Academic Pedagogy
The academic pedagogy, learning tools, and the learning management support provided by an online or distance educational institution must be assessed before going in for the university since the major course completion takes place virtually and through correspondence and the students have very limited scope to learn through physical classroom sessions (occasionally offered by distance universities and seldom by online universities).
So it is important to acquaint oneself with the learning support and pedagogy used by the university, to ensure that it is competent, easy to use and hassle-free at the same time. One must also consider if they can easily handle the learning tools and manage the LMS features themselves, especially if they are pursuing any education in the online format for the first time. A good user interface with multiple modalities of teaching and learning makes the academic pedagogy of a university efficient and useful for beneficial learning by students.
At NMIMS GASCE, students are offered with a number of online learning facilities and tools in addition to the course materials, to ensure that the learning experience of the students, whether in the purely online courses or the blended courses (online distance modes), have an insightful and beneficial learning experience during their course.
All the academic pedagogical tools at NGASCE have been designed to enable students to learn and understand concepts and courses at their own pace and at their convenience.

The university enables students to access the learning materials live as well as later through recorded and online learning content.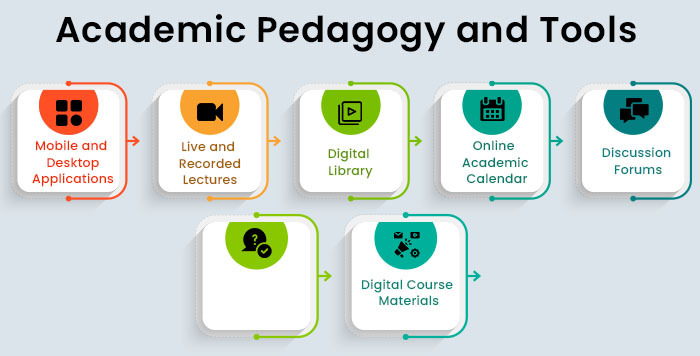 Some of the major LMS and learning support facilities that the university offers have been described below:
Feature
Details

Applications for Mobile and Desktop

Complete stop displaying all academic trackings, upcoming events, learning content etc.

Can be accessed through a mobile phone or a desktop

Live+Recorded Lecture Facilities

Facilities for students to access both online live and recorded lectures

Facilitates live interaction with faculty as well as self-paced learning when the student is unable to attend live lectures

Digital Library

Digital library facilities that provide students with access to a wide variety of course materials, academic readings, journals etc.

Online Academic Calendars

This helps the student track their full academic involvements including

Live Lecture Timings

Lectures Attended

Assignments Completed

Upcoming Events

Upcoming Deadlines etc

Discussion Platforms

A facility for the students to have interactions with the college faculty and their peers through discussions and debates on related topics

Query Platform

This is a unique venture by the university to allow students to enquire about their curriculums, clarify their doubts and other academic concerns with the faculty

This can be done through chat as well as through a toll-free number.

Digital Learning Materials

The university provides the learning materials and course content to students through the digital mode.

Students are given access to e-books, pdfs, case studies etc through the digital mode.
In addition to this, the Lite App of the university is the unique LMS of the university that allows the students to complete their course easily in the online mode.
So, the learning support and academic pedagogy is adept at delivering educational services in a user-friendly manner to students virtually.
#5 Examination Procedure and Evaluation
Different universities have different frameworks and policies for academic evaluation of students. This is very important in the case of an online university as well because the student should be well-aware of how their performance in the course will be evaluated before joining a course.
At NMIMS GASCE, the convenience of students is the foremost, in the case of academic evaluation and examinations as well.
The evaluation of the student includes three main components:

Assignments

Exams

Projects

The university takes online assignments in the form of case studies and application-based tasks.

The examination framework at NMIMS GASCE is very student-oriented, allowing them to choose the dates when they wish to appear for their examinations.

The students can appear for the term-end exams at the authorized NMIMS Regional Centres or the University Campus itself.
So, students can get the benefits of a flexible examination schedule in-sync with their other engagements.
#6 Student Support Services
Apart from academic pedagogy, a student also needs other support facilities such as for technical concerns, admission concerns, concerns related to fee payment, complaints and grievance redressal etc. Moreover, you should also consider if the university you choose to study from offers any professional training or placement assistance to students.
This comparison is very important as students in the online and distance education get comparatively less chances to visit the campus or form their professional and resource networks. So, the placement assistance from the end of the university is especially important to ensure that the student is well-prepared and groomed for professional ventures and receive support from the university in their search for a suitable career opportunity.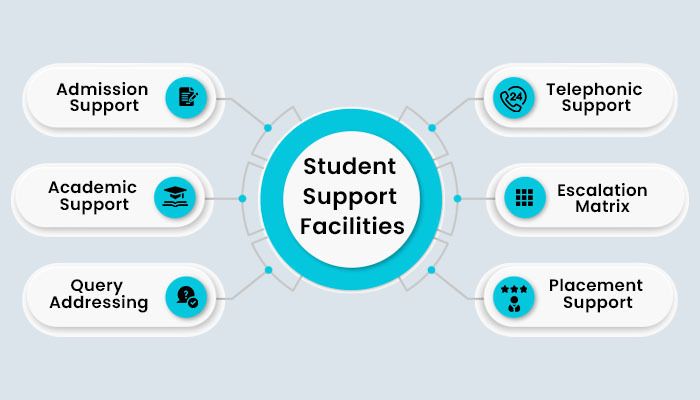 At NMIMS GASCE, student support facilities are given attention and importance and there are various provisions to address their concerns promptly. There are online, email-based as well as telephone facilities offered to students for addressing their concerns. Some of the major student support facilities at NMIMS GASCE are:
Student Support Facility
Details

Admission Support

Easy Online Admission Procedure

Admission Committee to Address Queries and Confirm Admission

Academic Support

LMS Support

Faculty Interaction Sessions

Online Query Redressal Forum for Doubts Clarification from the Faculty

Query Addressing

Students can clarify their queries from the 'Post My Query" platform that allows students to clarify their academic queries from the faculty virtually

The platform ensures direct contact and prompt responses from the faculty (usually within 1-2 days)

Students can also use this platform to clarify their doubts regarding technical issues and LMS-related queries.

Telephonic Support

Students have the added advantage of being able to reach out to the query addressing body of NGASCE through a toll-free number

The number is functional from Monday to Saturday from 9 AM to 7 PM

Escalation Matrix

This is a facility provided by the university to ensure transparency from their side in matters related to grievance redressal.

Through the escalation matrix, students can reach out to higher authorities and competent bodies regarding a complaint or query if the lower bodies do not satisfactorily clarify or solve the concern

Placement Support

Various career services including facilities like

Career Counseling

Mock Job Interviews

Job Search Support

CV Building Support

Placement Support through collaborations with major organizations and firms
#6 Placement Support for Students
Placement assistance is one of the most sought factors in a university by students, and many universities have carved their niche in educational circles because of their robust placement support facilities. It is an especially important component for an online and distance learning institute as students in such courses get comparatively less exposure to professional ventures or workshops etc. in the physical mode, leading to lesser opportunities for formation of peer groups as well as professional networks for students. In such a case, the placement assistance from the end of the university becomes especially essential.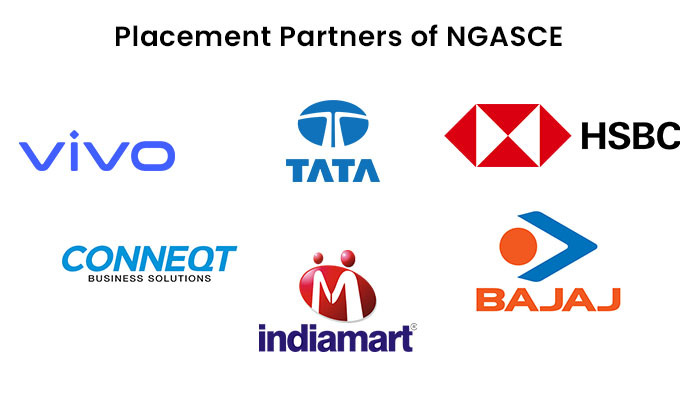 At NMIMS GASCE, there are a number of placement support facilities. In addition to providing placement assistance, the university also has a separate professional service unit that offers paid professional assistance to students, if they want to enroll for the same. Some of the main features of the career service programmes at NMIMS have been listed below:
Feature/ Service
Details

Career Forum

A platform consisting of 12 webinars to give a better idea to students about career and professional ventures related to their fields

Conducted in Collaboration with Career and Industry Experts

Learning Portal

This consists of online lectures and modules for soft skills development.

This is available for self-paved understanding and learning by the student.

Career Counseling

Career counseling provided to the student for them to make better informed career decisions as well as effectively evaluate their own career aspirations and short-term and long-term goals.

CV Building Support

Along with guidance from mentors, career counsellors and professional experts, students can build their CV as well as socials in a better and impressive manner that will allow better career growth and opportunities

Practice Job Interviews

This is a personalized job interview practice series of two sessions that will allow students to graph their career chart as well as get useful practice and feedback for their performance in the interview and areas of improvement.

Placement Support

This involves the general placement assistance and the job search support options

The university offers personalized hiring coaches to students who actively look for employment opportunities best suited for the student

The university also offers placement assistance to students to land jobs in well known firms and organizations after completion of their course.
There are 3 main career service programmes offered by NGASCE:
Career Service Programme
Cost
Services Offered

Career Development & Assistance

INR 12,999

Career Forum

Learning Portal

Career Counseling

Job Search Support

Mock Job Interviews

Career Assistance

INR 8999

Career Forum

Learning Portal

Job Search Support

Career Development

INR 6999

Career Forum

Learning Portal

Career Counseling

Mock Job Interviews
Some of the major companies and firms that NMIMS GASCE has collaborated with to provide placements to its students have been listed below:
| | | |
| --- | --- | --- |
| VIVO | Tata | Trans Asia Group |
| Bajaj Electricals | HSBC | RBS |
| IndiaMart | Lodestar | ShopX |
| Conneqt | Brimstone Creative | Aviva |
Similar Online and Distance Learning Universities
Some other distances and online learning universities that you may consider are:
| | | |
| --- | --- | --- |
| University | Location | Accreditations |
| Dr. D. Y. Patil University- Centre for Online Learning (DPU-COL) | Pune | UGC-DEB, AICTE, AIU, ACU, ISO, WES etc. |
| Chandigarh University | Chandigarh | UGC-DEB, NAAC |
| LPU Online | Phagwara, Punjab | UGC-DEB, AICTE, NIRF, WES etc. |
| Amity Online | Noida (Main Branch) | UGC, NAAC, AICTE, AIU, ACU etc. |
| Online Manipal | Jaipur | UGC, AICTE, NAAC, WES, ACU etc. |
| UPES | Dehradun | UGC-DEB, NAAC A, NIRF |
| Jain Online University | Bangalore | UGC, AICTE |
| Hindustan University Centre for Open and Digital Learning (CODE) | Chennai | UGC-DEB, AICTE, NAAC, NIRF |
Conclusion: Is NMIMS Global University Good or Bad for Online Education?
So, after considering all the important factors for choosing an online university, it can be said that NMIMS GASCE is a good option for you to pursue your online or distance course from. With its major accreditations and diverse range of academic and professional courses, is a credible source for quality higher education for students, freshers and working professionals.
There is excellent learning support, well-experienced faculty, easy financing options for students to be able to pay their tuition fee throughout the period of course completion. Students can choose examination dates flexibly based on their convenience. In addition there is a robust placement support along with active professional support by experienced career mentors and counselors.
So in conclusion, NMIMS GASCE is a good choice for students to pursue courses through correspondence without giving a break to their careers or going through the hassle of relocation for higher education.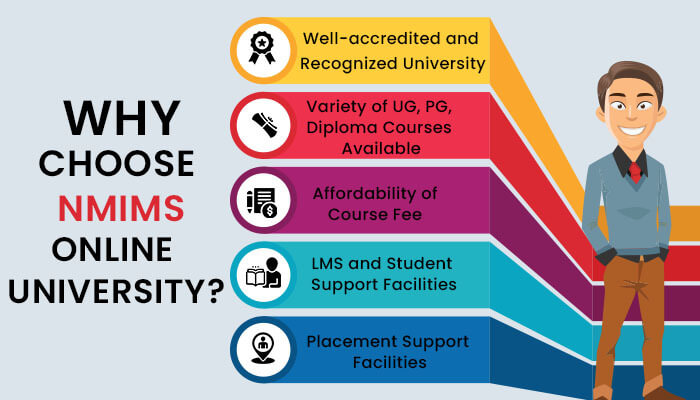 Some of the key features of the university have been mentioned below:
| | |
| --- | --- |
| Major Accreditations such as UGC-DEB, AICTE, NAAC (A+), NIRF (Top 100 Universities) etc. | Wide Range of Undergraduate, Postgraduate and Certificate, Diploma Courses |
| Affordable Course Fee & Easy Financing Options | Excellent LMS and Academic Pedagogy |
| Prompt Student Support Services | Active Placement Support |
Other Online University Reviews