Online Manipal is the division of Manipal University, Jaipur that offers courses in online mode to students at both the undergraduate and postgraduate levels. It is a UGC-approved university and offers degrees and certification programmes to students.
So, if you are considering pursuing an online course from Online Manipal, don't forget to read this detailed review to get an idea about the university and if it is the right online university for you.
About Online Manipal University
Manipal University, Jaipur was started in 2011 under the Manipal Academy of Higher Education (MAHE) as a private State university. Manipal University Jaipur has the experience of over a decade in providing higher education to students. The Online Manipal University is the branch of Manipal University Jaipur dedicated to providing similar UG and PG courses to students but through the support of technological means in the online mode. An extension of the MUJ, it has accreditations and recognitions from bodies such as the UGC, AICTE, BCI, etc.
It provides bachelor's and master's level courses in streams such as data science, management, information technology, commerce, etc. through the use of an LMS with live interaction with faculty and self-paced learning facilities. So before you enrol yourself in a course with the online university, read the review below to find out more about the university and evaluate whether you should opt for it.
Key Features to Consider While Choosing an Online University
Today, many well-reputed universities are taking up the online mode of education for the delivery of their courses, especially with the major changes in patterns and channels for delivering education during the global pandemic. However, it is important to make certain important considerations before you go in for an online university.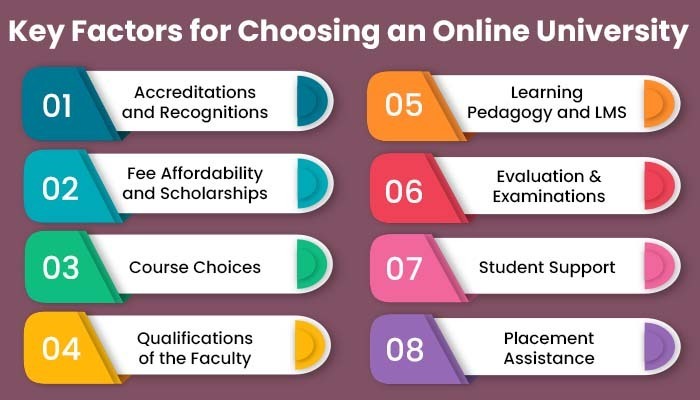 Consideration a number of factors to form a holistic evaluation about how well the university fits with your educational and career aspirations. Certain important factors that you must take into account while choosing the ideal university for yourself have been described below along with an evaluation of how well Online Manipal University stands with respect to the same. Read more to find out.
#1 University's Accreditations and Approvals
This is one of the prime features to check whenever you are looking for an online or distance university because the accreditations and approvals the university has from authorized bodies determine whether it is a credible institute or not for obtaining a degree/diploma/certificate.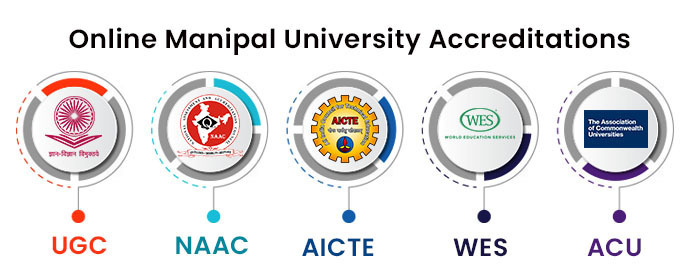 A university without the major accreditations and approvals is not a credible university and the degrees obtained from such a source would be unveiled and won't be accepted in educational and professional circles. So it is extremely essential to check the credentials of the university before enrolling yourself in the university.
Online Manipal University has received the approvals and has been accredited by the major authorizing bodies of the nation, which have been listed below:
University Grants Commission (UGC)

All India Council of Technical Education (AICTE)

World Education Services (WES)

National Assessment And Accreditation Council (NAAC)- Rated A+

Association of Commonwealth Universities (ACU)

Bar Council of India (BCI)

International Qualifications Assessment Service (IQAS)
So, Online Manipal has the major accreditations and the online degrees and certificates obtained from this university will be credible and valid, recognized nationally and internationally.
#2 Fee Affordability and Scholarship
Checking the affordability of the offered courses is also important to ensure that the university and the course you want to pursue fit your budget for financial plans for higher education. Online and distance courses are usually more affordable than regular offline courses, which are often more expensive. So you can choose an online course if you are looking for a more affordable option for higher education that offers you value for money.
The course fees offered by Online Manipal University have been set keeping in mind the affordability concerns of a wide section of the society and hence are very affordable as compared to other online or distance university courses. Additionally, there are facilities for semester-wise payment of the course fee, allowing students to pay the entire course fee through easy instalments without burning a hole in their pockets.
The course fee for some of the degrees and certificate programmes at Online Manipal have been listed below:
Course Fee Range at Online Manipal University
Course
Course Fee

BBA

INR 1,20,000

MBA

INR 1,50,000

MBA for Working Professionals (EMBA)

INR 2,60,000

BCA

INR 1,20,000

MCA

INR 1,50,000

B.Com

INR 80,000

M.Com

INR 1,00,000

MSc. in Data Science

INR 2,60,000

MSc. in Business Analytics

INR 2,60,000

PGCP in Business Analytics

INR 1,30,000

M.A JMC

INR 1,30,000

PGCP in Logistics and Supply Chain Management

INR 90,000

PGCP in Cloud Computing

INR 1,50,000
In addition to the affordable fee structure, the university also grants scholarships to students in certain cases, which have been listed below:
| | |
| --- | --- |
| Students with Defence Personnel Backgrounds | Government Employees |
| Differently-Abled Students | Merit Scholarships |
So, students can get quality higher education from Online Manipal University through affordable means, which makes the online courses here truly accessible to students from a wide variety of backgrounds and concerns.
#3 Courses Offered by University
While looking for an online university, a factor that matters is whether the university offers the course that you wish to pursue and if that particular course has been approved by the necessary accrediting bodies. An online university that offers a range of approved courses at both the undergraduate and postgraduate levels across a range of disciplines can be considered to be a good alternative for you to pursue the course of your choice.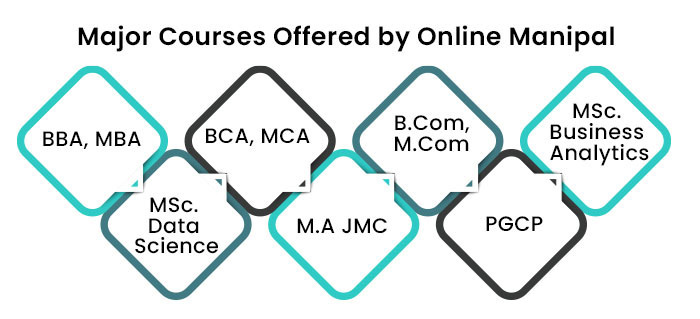 Online Manipal University offers a wide number of courses in the form of certificate as well as degree courses. These are offered to students at the undergraduate and postgraduate levels as well as for working professionals, in disciplines like humanities, mass communication, science, commerce, management and so on.
The courses offered by Online Manipal have been listed below:
Courses Offered at Online Manipal University

Discipline
Course

Management

BBA

MBA

MBA for Working Professionals

Information Technology

BCA

MCA

Commerce

B.Com

M.Com

Business Analytics

MSc in Business Analytics

Postgraduate Certificate Programme in Business Analytics (PGCP BA)

Data Science

MSc. in Data Science

Mass Communication

M.A in Journalism & Mass Communication (MA-JMC)

Supply Chain

PGCP in Logistics and Supply Chain Management

Cloud Computing

PGCP in Cloud Computing (PGCP-CC)
So, students can select the course best-suited for their career pursuits as well as pursue short-term certificate courses to upskill themselves.
#4 Faculty Qualifications
Checking the faculty of the university and the course of your choice can be a useful practice before going in for the university, as a supportive and interactive faculty that is reachable and responsive to the students' needs is absolutely necessary in the case of online education, where students can only interact with the faculty virtually. Moreover, it is important to know if the faculty is well-qualified in the domain to be taught and is well-experienced in delivering online education which is considerably different from offline teaching.
At Online Manipal, the faculty is well-educated and qualified in their specializations, with years of teaching experience (in online modes too) to ensure that students learn from the best-in-class experts in the field to gain useful insights about their course. The university boasts of a large faculty size of over 3000 members and over 50% of the faculty hold doctoral degrees. The faculty is dedicated to the overall personality development in addition to enhancing the academic and professional knowledge and skills of students. They are cooperative, supportive, and easily reachable by students in case of academic queries and other concerns.
#5 LMS and Learning Pedagogy
Since the mode of online education involves the use of technological applications, tools, and software, it is a useful practice to also check the university's academic pedagogical tools as well as the existing Learning Management System (LMS) that will allow the student to assess the learning facilities available during course completion. Moreover, it can also be helpful to assess if the student can handle and use the technology effectively.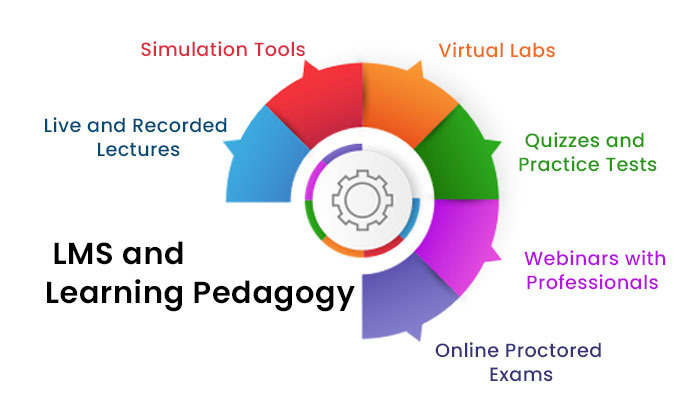 Online Manipal has designed an efficient LMS with an easy user interface that allows students to learn and complete courses even at lower internet bandwidths, access lives lectures as well as recorded lectures, and practice what one has learnt through quizzes and exercise, take online examinations etc.
The main LMS features and support features offered at Online Manipal have been listed below:
| | |
| --- | --- |
| Live Video Lectures | Recorded Video Lectures |
| Digital Course Materials | Online Simulation Tools |
| Online Quizzes | Practice Tests for Self-Evaluation |
| Peer Interaction Facilities | Online Proctored Exams |
| Webinars with Industry Experts | Virtual Lab Facilities |
So, if you are looking for an educational course that the LMS features at Online Manipal enable you to learn at your own pace and evaluate and assess your own educational progress.
#6 Online Exams and Evaluation
Checking the process of online examinations is also an important factor while reviewing an online university. The university should have an existing strong framework that allows students to conveniently appear for the exams without any complications.
At Online Manipal University, there is a flexible evaluation procedure, which has been shown below:
Evaluation Procedure

Details

Continuous Assessment

Online Assignments

Can be Accessed Through University LMS

Carries 30% Academic Weightage

Term-End Exams

Consisting of Objective and Subjective Questions

Computer-Based Exams

Online Proctored Mode
So, there is sufficient flexibility in the procedure of evaluation at Online Manipal University. The procedure is convenient for the students and they can appear for their exams from any location provided they have a stable internet connection and an electronic smart device.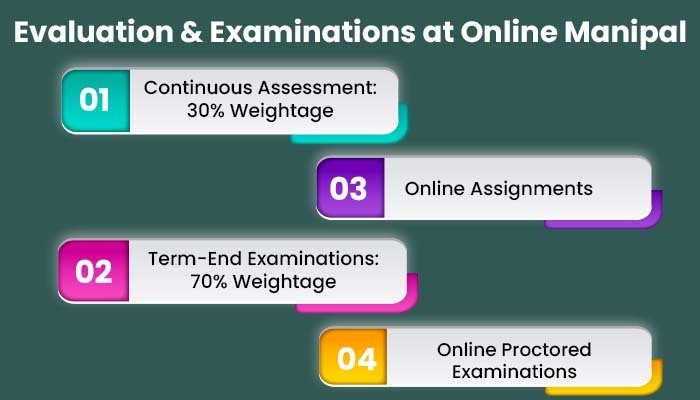 #7 Student Support Facilities
Student support facilities become especially important to assist the student to resolve any issues faced by them in a convenient and smooth manner through online means itself since students have no or very little scope for actually visiting the campus for query or concern resolution. So, it is convenient for the student to have access to the administrative department, technical department as well as faculty for resolution and redressal of any grievances faced by them during the course of the degree.
At Online Manipal University, students can contact the university easily to resolve any issues through mail, WhatsApp, or telephonic means.

The university also allows the students to have interactive sessions with the faculty to clarify their doubts or concerns.

Moreover, there is placement assistance provided to students along with facilities like career counselling.
#8 Placement Facilities and Support
Since only acquiring a degree or certification in a domain is not sufficient and students need to be groomed and aware of the professional nuances of a field before seeking placements, placement and professional assistance to students becomes of utmost importance. Professional grooming, exposure to industry experts, placement drives, etc. are some of the essential facilities in this direction, which help to guide students to efficiently boost and grow their career domains and professional skills and networks.
Also Read | How Universities Conduct Online Degree Exams In India
At Online Manipal University, emphasis is given to the professional development of the students too in addition to fulfilling educational goals effectively. For this, the university offers professional mentorship, career counseling services, professional training, virtual job fairs, etc.
The main aspects of the professional assistance and placement facilities provided by the university have been listed below:
| | |
| --- | --- |
| CV Building Sessions | Professional Mentorship |
| Interactions with Professionals and Industry Experts through Webinars | Interview Skills Development Sessions |
| Virtual Job Fairs | Career Counseling Facilities |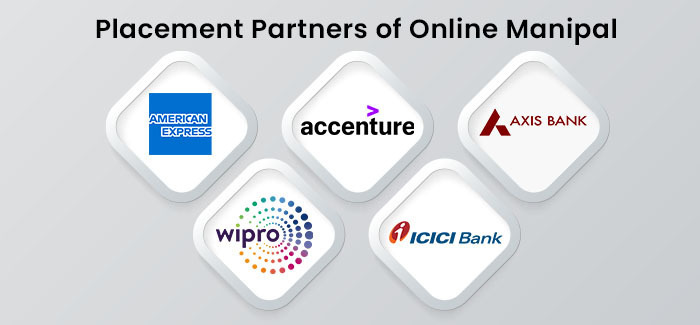 Online Manipal University has facilities for holding virtual job fairs for students to seek jobs after completion of their course. The job fair is also held in a few major cities across the nation. Some of the major recruitment partners of the university are:
| | |
| --- | --- |
| American Express | Accenture |
| Axis Bank | Dell |
| Bajaj Finserv | Phillips |
| WIPRO | ICICI Bank |
Similar Accredited Online Universities in India
Some other well-accredited and approved online universities in India are:
| | | |
| --- | --- | --- |
| University | Location | Accreditations |
| Hindustan University- Centre for Open and Digital Education (CODE) | Chennai | UGC-DEB, AICTE, NAAC, NIRF |
| NMIMS Global Access School for Continuing Education (NGASCE) | Mumbai | UGC, NAAC, NIRF, AICTE |
| Amity Online University | Noida | UGC, NAAC, AIU, ACU, BCI, WES |
| LPU Online University | Phagwara, Punjab | UGC-DEB, AICTE, NIRF, WES |
| Dr. D. Y. Patil University-Centre for Online Learning (COL) | Pune | UGC-DEB, AICTE, AIU, ACU, ISO, WES |
| Jain Online University | Bangalore | UGC, AICTE, NIRF |
| Chandigarh University | Chandigarh | UGC-DEB, NAAC |
| UPES | Dehradun | UGC-DEB, NAAC A, NIRF |
| ICFAI | Hyderabad | UGC, NAAC, NIRF, ACU |
| Manav Rachna University | Faridabad, Mohali | UGC, NIRF, AICTE, WES, IQAS |
Conclusion: Is Online Manipal University Good or Bad?
Based on all these factors, one can conclude that Online Manipal University is a notable alternative to pursuing higher education in online mode. It has all the major approvals and recognitions and provides a wide variety of undergraduate and postgraduate courses at affordable fee rates along with scholarship facilities.
It has an efficient LMS with a convenient and easy user interface and provides placement assistance to students as well. Considering all the factors, Online Manipal University is a recommended alternative among online universities in India.
Some of the key notable features of Online Manipal which make it a good choice to pursue your online course from are:
UGC, NAAC and AICTE approved Top Online University

Affordable Fee Structure with Easy Semester-Wise Payment Options

Scholarships and Fee Concession Facilities

Excellent LMS Facilities

Placement Drive and Professional Counseling

Well-Qualified Faculty
Other Online University Reviews