Manipal Online BCA (Bachelor of Computer Application) is a three-year undergraduate course that is divided into six semesters. The course curriculum helps to bring the latest developments in computer technology, creativity, and the concepts of computer application. The online programme includes the Google Cloud Computing Foundations that introduce you to the breadth of cloud technology.
Manipal Online BCA Courses (Overview)
Online BCA has its own value of the course and has excellent career opportunities right after you complete graduation from Manipal Online University. Through this tabulate you can get a rough overview of the Online BCA programme that is offered by the Online Manipal University.
KEY FEATURES
DETAILS

Course

BCA (Bachelor of Computer Application)

Course Level

Undergradaution

Mode of Education

Online

Approvals

UGC, ACU, NAAC (A+), WES, ICES AICTE, IQAS

Online BCA Job Profiles

Tax consultant

Auditor

Stock Broker

Banker

Accountant

Finance consultant, etc.

Eligibility

10+2 (any field)

Duration

3 years (6 Semesters)

Average Salary

INR 4 lakh to 6 lakh and above
The course is designed in such a way that a student builds their mindset according to the advanced and updated assessments, capstone, data, machine learning with the LMS features to attend live classes, online sessions, e-textbooks, study material, digital library, and much more.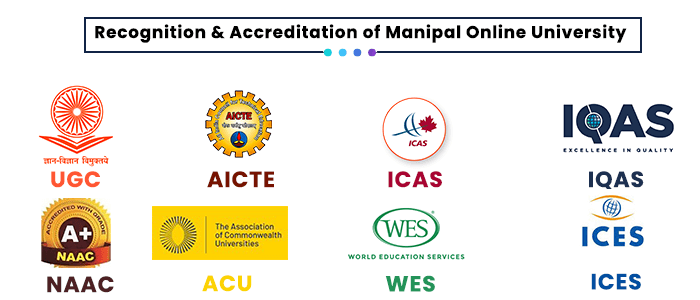 About Manipal Online BCA
Every year hundreds of students take admission in the BCA course that is offered by the Online Manipal University. Students who are keen and want to make their career into a respective field such as IT, Computer, Software, Management, Networking, etc. Through Online BCA programme at MOU will prepare you to become an effective skilled based candidate in this modern real world. Course study or placement drive of Online BCA programme is designed in a way that it thrives a student to upskill their skills, creativity, analytical thinking, etc.
Read: Is there any free online career counselling?

Is Manipal Online BCA Degree Valid?
Yes, Online Manipal BCA degree is valid to all the departments of private or government sectors or higher education as well. The mode of education is conveyed through online mode of learning. You must be wondering if the online bca course degrees are really worth it? Yes, online bca course degrees are as par as compared to regular degree progarmmes. The online degree is firmly signed by the UGC approvals or other statutory bodies of the educational committee. Below is attached one of the online degree samples, through that you can get an overview of the degree that you will receive at the time of completion of the online degree programme.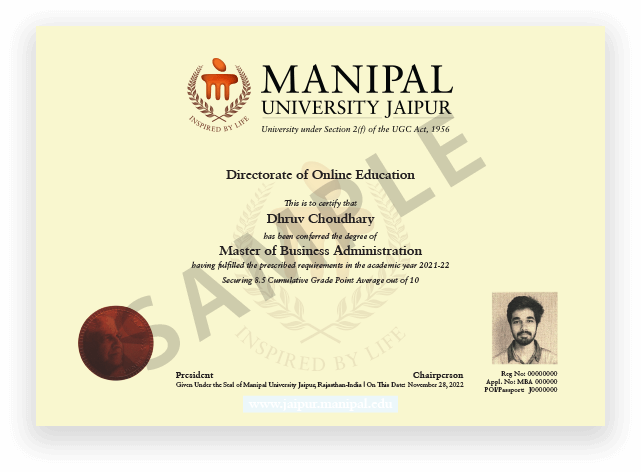 Key Features of Online Manipal BCA
Manipal Online University is best to offer the quality of education in the field of BCA (Bachelors of Computer Application) through the Online mode of education.
Bachelors of Computer Application from Manipal Online University helps students to build vast career opportunities into the IT, Computer or other Operating Fields.
It aims to develop and equips knowledge of computers and IT industry with the advanced technologies, methods, and curriculum.

Students can attend their respective course classes at their own schedule that can also be logged into your phone, laptop, screen, or desktop.

The digital education platform built a comprehensive learning experience with the expertise learning methods.

BCom course at Manipal online university allows the insights to create your own path of success with confidence and knowledge. The method of pedagogy introduces you to enhance and develop your analytical and critical thinking abilities.
Read: Highest Paying Jobs In India
Scholarship Offered by Manipal Online University
Students who are applying to Manipal Online University through these below-mentioned scholarship categories. For them, they should carry all the required certificates in the prescribed format to appreciate the benefits of provided scholarships.
| | | |
| --- | --- | --- |
| Scholarship Category | Documents Required | Scholarship Discount |
| Divyang (for persons with disabilities) | Divyang Certificate | 20% |
| Defence Personnel | Personnel/ Services/IC number | 20% |
| Government Employees | Identity Card | 10% |
| Merit (80% & above in class 12, 10+3, Diploma exams) | Marksheets | 10% |
Manipal Online BCA Eligibility for Indian Students
Students must have completed 10+2 from a recognized national or state board.

10+3 diploma students from recognized national or state institutes are eligible.

Students must have at least 50% aggregate marks in their 10+2 or Diploma programme.

For students who belong to the reserved categories, their total percentage is 45% of aggregate marks are required.
Manipal Online BCA Eligibility for International Students
Students must have 10+2 / intermediate / senior secondary or equivalent qualification from a recognized board by the AIU (Association of Indian Universities) approval.

Students from any stream or discipline with at least of 50% aggregate marks in their 10+2 or mentioned course study.

Students & Professionals who hold NRE, PIO status, residing outside India or students & Professionals who are not Indian citizens are considered "International Students" and are eligible to pursue MUJ's Online degree progarmmes.

All such students or professionals will be billed an international fee for their respective selected degrees & may need to submit their documents that are mentioned but not limited to CV, address proof, valid VISA, PR card & passport copy as a part of their application process.
Manipal Online BCA Curriculum
| | |
| --- | --- |
| First Semester | Second Semester |
| Fundamentals of IT and Programming | Operating Systems |
| Programming in C | Data Structures and Algorithms |
| Basic Mathematics | Object-Oriented Programming – C++ |
| Understanding PC and Troubleshooting | Digital Logic |
| Practical – Programming in C | Communication Skills and Personality Development |
| – | Practical – Data Structures and Algorithm Using C++ |
| | |
| --- | --- |
| Third Semester | Fourth Semester |
| Computer Oriented Numerical Methods | Java Programming |
| DBMS | System Software |
| Computer Organisation | Principles of Financial Accounting and Management |
| Basics of Data Communication | Practical – Java Programming |
| Practical – DBMS | Practical – System Software Programming |
| – | Computer Networking |
Students can pick the following elective subjects from below mentioned option table:
Fifth Semester

(Elective 1)

Sixth Semester

(Elective 2)

Sixth Semester

(Elective 3)

Elective (Choose one)

Compiler Design, Graphics and Multimedia, eCommerce

Advanced Web Design, Open Source Systems, Cloud Computing

Knowledge Management, Software Project Management, Supply Chain Management
Note:
Fundamentals of IT and Programming and all Practical courses carry 2 credits each

The project carries 10 credits

All other courses (including subjects in areas of specialisation) carry 4 credits each

Every student shall undertake project work either at their place of work or elsewhere, in the chosen area of elective to complete the programme. The project work will commence from the fifth semester and has to be completed by the end of the sixth semester.

The medium of instruction of the writing examination to submit assignments, research work, projects, dissertations, or other verbal or non-verbal communication would be instructed in the English language only.

Students can pay their respective course fees in the instalment semester-wise. Students can either enjoy flexible payment options or be able to finance their course fees into zero-cost EMIs.
Read: Short Term Courses After Graduation
Manipal Online BCA Fees and duration
Particulars
Description
Course

BCA

Fees

Total Fees: INR 1,50,000 (all-inclusive)

INR 37,500 per semester (includes an examination fee of INR 5,000)

Duration

Minimum 2 years (divided into four semesters) Maximum Duration 4 years
Admission Procedure at Manipal Online BCA Course
To take admission into the online BCA programme at the Manipal Online Unversity is mentioned below. Aspirants can follow and fill out the admission form step by step to avoid any error.
Application Process for Online Manipal BCA:
Candidates can visit at the official website of Manipal Online University and submit their respective documents only at www.onlinemanipal.com.

Candidates are required to pay or submit the registration fees of Rs 500/- as a registration charger of the first step. (the paid fees will be adjusted against the first-semester fee).

Candidates need to submit the required documents or details such as, personal details, academic details, ID proofs, eligibility, or other required documents.
Selection Process and Admission Criteria for Online Manipal BCA:
For all the submitted applications of online degree courses, students will be notified and if required further clarification or confirmation of the application form via email, SMS or call.

The counsellors of Manipal Online University will guide you throughout the admission procedure and even guide you on how to fill in the admission form or select your desired undergraduate or postgraduate level courses.

It is recommended that a student or applicant must submit the complete academic application form with updated or required documents within the due date, as mentioned on the official website of Manipal Online University.
Documents Required:
Identity Proofs: Adhar card, Passport, Voter's ID, PAN Card with Current Photograph, any other Govt- issued identity card.

Address Proofs: Aadhar Card, Passport, Voter's ID, Gas Bill, Bank, Statement, Post-Paid Mobile Statement.

Class 10th Marksheet

Class 12th Marksheet

Graduation Marksheet (for postgraduation programmes; MBA, MCA, M.Com, MA JMC)
Other Documents:
CAT/GMAT/MAT valid score for MBA programme

Work-related experience certificate

Graduation degree certificate

Scholarship Documents

Defence Service Certificate

Divyaang Scholarship

Reserved Category Certificate, etc.
Read: Best Distance MBA Colleges In India
Manipal Online BCA Academics
The e-learning material for the online Manipal BCA program will be instructed or provided through the LMS portal (Learning Management System). LMS includes these below-mentioned features:
| | |
| --- | --- |
| Video lectures | Webinars |
| Live classes | Panel discussion |
| Online study material | Virtual Stimulation |
| Interactive Sessions | Digital library |
| Guest lectures | E-textbooks |
Mode of Delivery
The medium of instruction of all the lectures, virtual classes, assignments, or other research work should be dictated in the English language only.

Students need to score around 40% aggregate marks in their semester or final year examinations.

Assignment, research work, or dissertation would be submitted on LMS just by enrolling their respective credentials (ID & Password).
Manipal Online BCA Placement Assistance
Placement will be the main cause and the definite reason while seeking and enrolling admission in regular or online universities. The role of a placement cell in a student's life is to provide good placements, job opportunities with smart salary packages in different firms. If a student would not able to place during campus interviews, then the placement cell works to builds the whole persona and helps students in the following areas:
Personality Development: Personality is the main crucial aspect that every candidate must evaluate in them. The placement cell of the online universities organizes personality development workshops, sessions, training, and other programs. These programs are highly designed to train the students to deal with the various possible scenarios that could help a student in the workplace.
Soft skills training: Soft skills are essential to work in any environment with their confidence. Soft skills training includes communication skills, cognitive skills, reasoning skills, logical thinking, and much more. It is one of the key responsibilities of a university's placement cell is to train their student for the real world in setting up the management techniques, problem-solving capabilities, with verbal and non-verbal reasoning.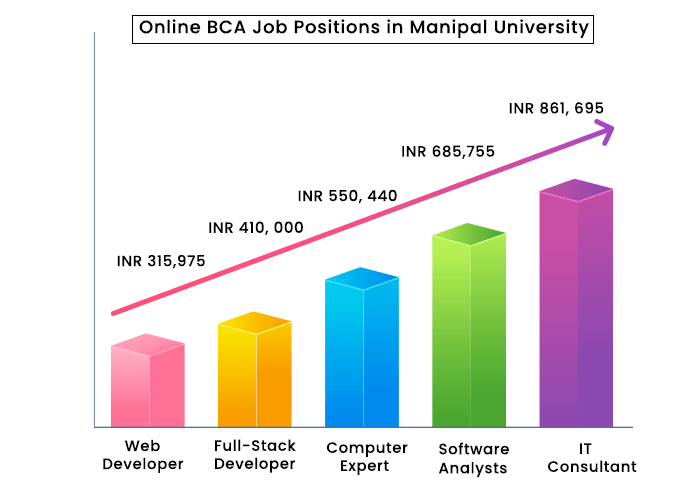 Read: BCA Full Form
Top Recruiters of Manipal Online BCA
Manipal online university has more than 100 plus top hiring companies that offer great job opportunities, smart salary packages with their respective perks, or respect that a candidate deserves. These hiring partners not only offers job opportunities but also provides internship or other project work programs that a student will experience in the real-world working environment. Here are some of the top hiring companies of Manipal Online BCA.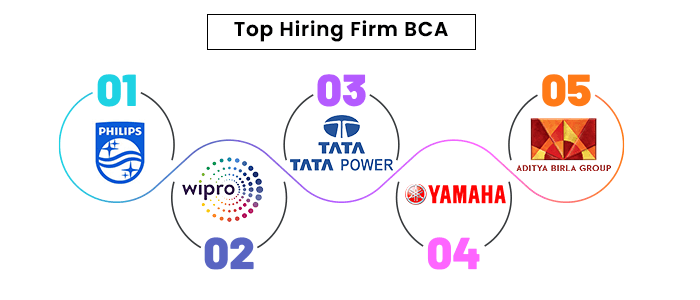 | | | | |
| --- | --- | --- | --- |
| Utopia Labs | EazyDiner | ValueLabs | Mahindra & Mahindra |
| Synopsys | Microsoft | Tata Power | National Instruments |
Online Manipal BCA Reviews
The college promotes students to do internships in their final semester as per their selected course and in which they want to step into the industry. There are plenty of companies visiting campus to hire students for internships, projects, research work as per their selected field.

Companies that visit the campus to recruit the students are Amazon, Microsoft, Infosys, TCS, Tech Mahindra, DirectI, Flipkart, Byju's, Dell, HCL, AKS Software, etc.
Online Manipal BCA Prospectus
The Online Manipal University has its own full detailed course prospectus from where a student will get all the university and offered courses details, eligibility criteria, curriculum, campus, faculty, and much more. Students can visit the official website to download the Manipal Online BCA course prospectus.
Read: What to Do After BA?
Similar Online BCA Universities
| | | |
| --- | --- | --- |
| Universities | Year of Establishment | Approvals |
| Amity Online University | 2005 | UGC-DEB, AICTE, NAAC A+ |
| NMIMS | 1981 | UGC-DEB, NAAC A+ |
| Lovely Professional University Online | 2005 | UGC, AICTE, NIRF |
| Chandigarh Online University | 2012 | UGC, NAAC A+ |
| UPES | 2007 | UGC-DEB, NAAC A, NIRF |