Manav Rachna University-Centre for Distance and Online Education (CDOE) is a UGC-DEB approved online and distance learning institution which provides education to students at the undergraduate and postgraduate levels. Started by the parent unit, Manav Rachna International Institute for Research and Studies, it provides both online and distance education.

It is a well-known educational institute and has become more accessible to students with the CDOE offering remote education to students. Read the review below to find out if it is a good university and the right choice for your academic goals.
About Manav Rachna Centre for Distance and Online Education (CDOE)
Manav Rachna Centre for Distance and Online Education (CDOE) is the extension of the Manav Rachna International Institute of Research and Studies, with the main mission to extend educational support to students by tapping on the technological advancements and preparing the students for the industrial needs of contemporary times.
The university has received accreditations from UGC, UGC-DEB, AICTE, WES, NIRF, NAAC (A+), has courses in the online and distance modes. The offered courses include courses such as MCA, BA, B.Com, MBA, M.Com etc. It offers the courses by using an LMS support system. Additionally, there is a placement support extended by the university exclusively for the students completing courses from CDOE.
So, if you are considering pursuing a course from Manav Rachna CDOE, a detailed review and evaluation of the facilities offered by Manav Rachna have been listed below. Read more to find how well-suited it is for you!
Important Factors for Choosing the Best Online University
Choosing the online university which best serves your academic and professional goals is an extremely important decision to make since it is an irreversible decision in your educational journey. So, while choosing the UGC approved online university for your further education, there are certain important factors you must consider to make a well-informed and right decision.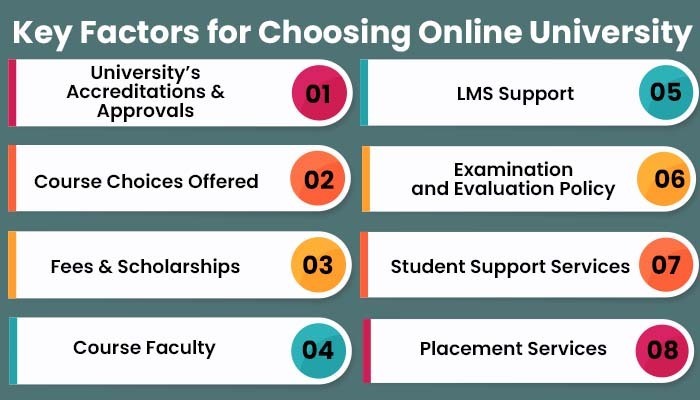 The following factors ensure that the online university you choose is credible and has all the important facilities and support frameworks that enable a pleasant and engaging learning experience.
Given below is a review of Manav Rachna CDOE based on these factors
#1 University's Accreditations and Approvals
Ensuring that the online university you choose for higher education is well-accredited and approved, is extremely important because it's an assurance of the credibility of the degree you obtain from the university after course completion. If the university does not have the needed accreditations to provide online/distance education, then the degree from such a university will be rendered invalid and won't be considered for any future professional or academic ventures.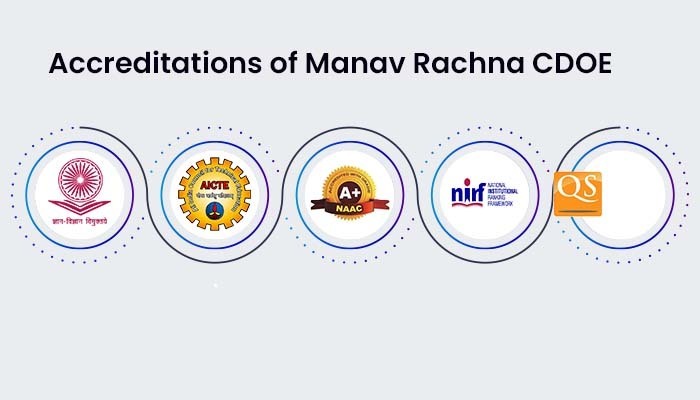 So, you must ensure that the university you choose to pursue a course from has accreditations and approvals of major statutory bodies of India such as UGC or UGC-DEB, AICTE if it offers technical courses, NAAC etc. If the online/distance university is recognized by these bodies, then your degree is credible, and valid in India and abroad.
At Manav Rachna CDOE, there is a list of prestigious accreditations and approvals that the university holds, some of which have been listed below:
University Grants Commission- Distance Education Bureau

(UGC-DEB)

All India Council of Technical Education

(AICTE)

National Assessment and Accreditation Council

(NAAC)- Rated A+ University

National Institutional Ranking Framework

(NIRF)
QS Rankings-

Rated 4 Star
These are some of the many accolades that Manav Rachna CDOE has received over the years due to its excellence in providing remote education through online and distance modes. These accreditations make the degree obtained from this university valid, credible and prestigious for your future academic and professional undertakings. The degree will be recognized nationally and internationally.
#2 Courses Offered by University
While choosing an online or distance educational institution, it is understandably one of the major factors to consider if the course you desire to pursue is offered by the university or not. Hence, after checking the credibility of the university, the next step is to check if the course of your choice is offered by that institute. If an online university offers a wide range of courses, then it is more likely that the student will indeed find the course of their choice at the university.
Manav Rachna CDOE offers courses in the domains of business management, computer application, economics and commerce. The list of the courses offered by the university has been given below:
Courses offered by Manav Rachna University-CDOE
Undergraduate Courses

BBA

B.Com

BCA

B.A Hons(Economics)

Postgraduate Courses

MBA

MCA

M.Com
Students can choose to pursue valuable theoretical or professional courses from Manav Rachna CDOE.
#3 Affordability of Courses
Affordability of the course is one of the major factors that students take into consideration while choosing a university is whether the course fee is indeed affordable for the student. It is important to make this consideration since higher education is a very important step in your career. Generally, online and distance courses are more affordable, with comparatively lower fee ranges than the corresponding regular, full-time courses.
An additional cost-efficient aspect of ugc approved online courses is the fact that they promote remote self-paced learning which cuts the expenses of relocation as well as allows you to work simultaneously while completing your degree course. A good online-distance university provides the courses at affordable rates, and in most cases with a semester-wise payment option which breaks the entire fee into manageable instalments, which are easier to afford for students.
At Manav Rachna CDOE, the courses are offered at very reasonable fee ranges, with all the undergraduate and postgraduate courses ranging below INR 2,00,000. There is the option of semester-wise payment of the fee, which enables the student to pay the fee in easy instalments as well as leaves them the freedom to drop the course in between without any obligations in case the needs arise.
The fee details for the various courses at Manav Rachna CDOE have been provided below:
Course Fee Details at Manav Rachna CDOE
Course
Original Course Fee
Installment Details

BBA

INR 1,80,000

INR 1,26,000 for Single Payment

INR 45,000 for Yearly Payment

INR 24,000 for Semester-Wise Payment

BCA

INR 1,95,000

INR 1,36,500 for Single Payment

INR 48,750 for Yearly Payment

INR 26,000 for Semester-Wise Payment

B.A (Economics Hons)

INR 1,50,000

INR 1,05,000 for Single Payment

INR 37,500 for Yearly Payment

INR 20,000 for Semester-Wise Payment

B.Com

INR 1,50,000

INR 1,26,000 for Single Payment

INR 45,000 for Yearly Payment

INR 24,000 for Semester-Wise Payment

MBA

INR 1,80,000

INR 1,26,000 for Single Payment

INR 67,500 for Yearly Payment

INR 36,000 for Semester-Wise Payment

MCA

INR 1,80,000

INR 1,26,000 for Single Payment

INR 67,500 for Yearly Payment

INR 36,000 for Semester-Wise Payment

M.Com

INR 1,00,000

INR 70,000 for Single Payment

INR 37,500 for Yearly Payment

INR 20,000 for Semester-Wise Payment
So, it can be seen that the university offers easy break-up options for fee payments that can be made on a yearly or semester basis. The fee ranges are also reasonable and cost-effective. So, Manav Rachna CDOE can be a good alternative for you if you are looking for an affordable degree course from a well-accredited university.
Additionally, the students can also apply for the scholarship facilities offered by the university, the details for which can be confirmed from the Manav Rachna platform.
#4 Faculty at the University
You can also enquire about the faculty of the university since it is one of the most important points of contact during the course of the degree duration. The faculty should be qualified and well–equipped to deliver education through online-distance modes, as well as supportive and responsive since you can only connect to them virtually.
At Manav Rachna CDOE, the faculty has ample experience in delivering online/distance education and is well-qualified and knowledgeable about their fields. Additionally, there are experienced and qualified international guest faculty that also give lectures to students. With the live interactive lecture sessions, students can also interact with the faculty directly and hence clarify their concerns, doubts etc.
#5 LMS and Academic Support
LMS (Learning Management System) is one of the most crucial factors of any online/distance university since it is the major channel of delivery of lectures and courses, with both the students and faculty using it as the medium for communication and teaching-learning. As a result, it is important that the LMS of the university offer a good LMS support, with major facilities such as live and recorded lectures, digital learning materials, query clarification forums etc.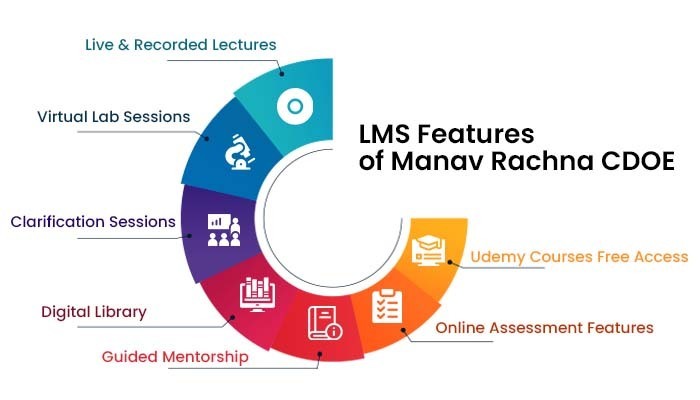 A good pedagogical support is extremely essential to ensure that students have similar levels of comprehensiveness and understanding of their course as a regular offline student.
At Manav Rachna CDOE, there are carefully designed pedagogical frameworks and an LMS support system to ensure experiential learning, comprehensive understanding and practical application of the concepts in the students.
The university follows a 4-Quadrant approach to learning with the quadrant areas being:
4-Quadrant Approach to Learning
Quadrant 1: Main Learning Period

Students provided with e-tutorials, classes, lectures and virtual lab sessions

Quadrant 2: Self-Paced Learning

Through learning materials, practice tests, case studies etc

Quadrant 3: Discussion

Discussions and Clarifications of Queries and Doubts Through Live Lecture Sessions

Quadrant 4: Evaluation and Assessment

Through weekly, monthly and term-wise examinations and assignments
The university has its own LMS along with lessons provided through Swayam Portal, which is a government initiative to extend MOOCs to students through an online platform accessible to all. So, with both these platforms, the courses are completed efficiently with a variety of facilities for students to learn effectively at their own pace, within a scheduled period.
Additionally, the university also grants students free access to Udemy courses, which helps them to boost their skills and educational qualifications further. The university also partners with industries and organizations to form industrial alliances and provide students with practical and professional training courses.
Some of the main features of the LMS of Manav Rachna CDOE are provided below:
LMS Features at Manav Rachna University CDOE

Live Lecture Facilities

Recorded Lectures Available on Swayam

Virtual Lab Sessions

Live Clarification Sessions

Digital Library

Guided Mentorship Facilities

Free Access to Udemy Courses

Online Assessment Features
So, with the all round educational support of the university, you can have an engaging and meaningful experience of learning, with multiple means to grow your domains of understanding.
#6 Online Examination and Evaluation Policy
The process and framework of examination is one of the important aspects students look for in an online-distance university. It is a good idea to confirm the evaluation and exam facilities offered by the online/distance university and match it with one's needs and convenience before enrolling in their university.
Manav Rachna CDOE provides students with online examination facilities.
There are continuous self-evaluation measures which can be accessed through the university's LMS.

The university also has facilities for fully online proctored examinations. Students can appear for the exams from a location of their examination.

For appearing for the online examinations, the students need access to an internet connection and an electronic device.
Overall, the Manav Rachna CDOE has a student-oriented framework for academic evaluation which is conducive for learning and comprehension.
#7 Student Support Features
Student support features become an important evaluation criteria for an online or distance university because they ensure that there are functional channels for the students to seek the resolution of their queries, concerns, complaints etc. when faced. Moreover, these need to be redressed virtually as students don't visit the campus regularly, which means that there needs to be a responsive and prompt system.
At Manav Rachna CDOE, students are provided with various support features, such as placement assistance, and industrial courses to boost their professional skills, along with easy grievance redressal.
For any queries, concerns, or clarifications, students can reach out to the university authorities through:
Contact Number: 8822665588

Email:

[email protected]

Students can also visit the campus of the university for further queries at: Manav Rachna Campus, Sector – 43, Delhi–Surajkund Road, Faridabad – 121004, Haryana, India
So, there is a good support system available for students to communicate in case they face any issues or concerns during the period of course completion.
#8 Placement Assistance
Students while pursuing higher education not only look for a good educational journey but also a good career development opportunity that would help to familiarize themselves with professional nuances as well as upskill themselves. For this, professional assistance by the university becomes very important as it helps to bridge the gap between the academically-oriented world of the student and the professional and industrial world.
Manav Rachna CDOE extends a 100% placement guarantee of placement support to all students. For an overall professional understanding of various domains, the university has formed industrial alliances to offer virtual sessions with industry experts.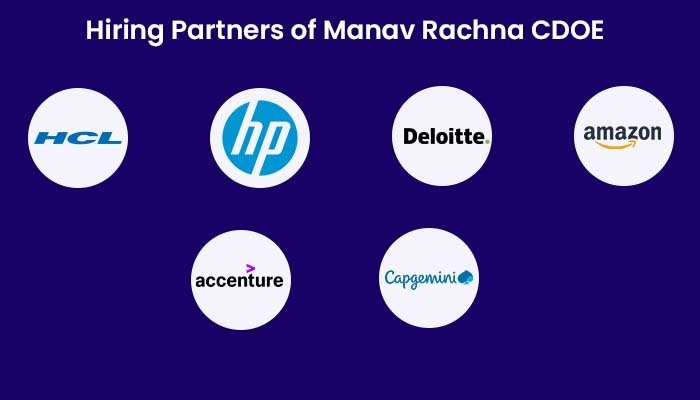 Additionally, the university also offers virtual placement assistance to students by collaborating with various renowned firms and organizations some of the recruiters of the Manav Rachna University are:
Hiring Partners of Manav Rachna CDOE

HCL

IBM

Deloitte

Hyatt

Amazon

Axis Bank

Radisson

LinkedIN

Accenture

Capgemini

NDTV

HP
So, if you want an online university with good placement opportunities, you can consider Manav Rachna CDOE as an option because of its renowned recruiters along with the highly useful industrial exposure sessions provided for students by the university.
Similar Online & ODL Universities of India
There are a number of other online and ODL universities in India which are well-accredited. Here we have listed down some of the top options for you.
Top Online Universities in India

University
Location
Approvals and Recognitions

MMU Maulana Online

Haryana

UGC-DEB, AICTE, NAAC A++, NIRF, AIU

Bharathiar University Distance Education

Tamil Nadu

UGC-DEB, NAAC (Rated 'A'), NIRF

Tamil Nadu Open University

Tamil Nadu

UGC-DEB, NCTE, RCI

Alagappa University Distance Education

Tamil Nadu

UGC-DEB, NAAC (Rated A+), NIRF

University of Mysore Online

Karnataka

UGC-DEB, AICTE, AIU, NAAC (Rated 'A', NIRF)

BITS Pilani WILP

Pilani

NAAC (A)

Jain Online University

Bangalore

UGC-DEB, AICTE, NAAC A+, NIRF

Online Manipal

Jaipur

UGC, NAAC (A+), ACU

LPU Online

Phagwara, Punjab

UGC, ACU, NIRF

Karnataka State Open University

Mysore

UGC-DEB

Annamalai University Distance Education

Tamil Nadu

Is it valid?

Andhra University Distance Education

Andhra Pradesh

UGC-DEB, AICTE, NAAC

Madurai Kamaraj University Distance Education

Tamil Nadu

UGC-DEB, NAAC

University of Mumbai Distance Education

Maharashtra

UGC-DEB, NAAC A

Kashmir University Distance Education

Jammu and Kashmir

UGC-DEB, NAAC

Vidyasagar University Distance Education

West Bengal

UGC-DEB, NAAC

Shivaji University Distance Education

Maharashtra

UGC-DEB, NAAC, NIRF

Subharti University Distance Education

Uttar Pradesh

UGC-DEB, NAAC A+, AICTE

Kerala University Distance Education

Kerala

UGC-DEB, NAAC A, AICTE

Mangalore University Distance Education

Karnataka

UGC-DEB, NAAC, AICTE

Madras University Distance Education

Tamil Nadu

UGC-DEB
Conclusion: Is Manav Rachna Online University Good or Bad?
Manav Rachna Centre for Distance and Online Education (CDOE) can indeed be a good choice for you if you are looking for a well-accredited university with affordable courses in the distance/online mode. It is a good alternative owing to the user-friendly LMS assistance, placement drives, student support and so on. With its reputation among educational institutions, a degree from Manav Rachna CDOE can be a valuable addition to your educational profile.
Here are some of the key factors which make this university a good choice for you:
Has Accreditations from UGC-DEB, AICTE, QS etc.

NAAC Rated A+ University

Affordable Courses

Scholarships Available

Experienced In-House and International Faculty

Efficient LMS

Placement Assistance
Making an overall consideration, it can be said that Manav Rachna University-CDOE is a good choice for an online or distance university.
Other Online University Reviews