Chandigarh University (CU), after providing a wide variety of distance educational courses to students through many years, has now started offering courses to students completely in the online mode. Online Chandigarh University (CU) has received accreditations from bodies such as UGC, UGC-DEB and NAAC. It is a NAAC rated A+ online university offering courses at Bachelor's and Master's levels.

If you are searching for a university offering online courses and are confused if Chandigarh University can be the right choice for you, then read more to find a review of the university for more details.
About Online Chandigarh University (CU)
Chandigarh Online University (CU) has years of experience in providing graduate and postgraduate level education to students and has now extended the same support to students through the online learning mode. Online CU is a UGC-DEB and NAAC accredited university and has received an A+ rating from the latter. It offers a number of full-time courses at the undergraduate and postgraduate levels to students by using an online LMS system. The university also collaborates with other well-reputed national and international universities to bring world-class education within students' reach irrespective of location or time.
If you are confused about whether Online Chandigarh University (CU) is the appropriate choice for you and for your educational pursuits, then find a detailed review of CU below on the basis of various evaluative factors. Read more to find out!
Important Factors for Choosing an Online University
When looking for an online university to pursue courses from, there can be a large number of alternatives available at one's disposal, owing to the growing rise of educational technology facilities. So, one must carefully choose the best university by taking a number of essential factors into account and reaching an informed conclusion. This becomes imperative since pursuing a full-time online course is a valuable investment of one's resources as well as time.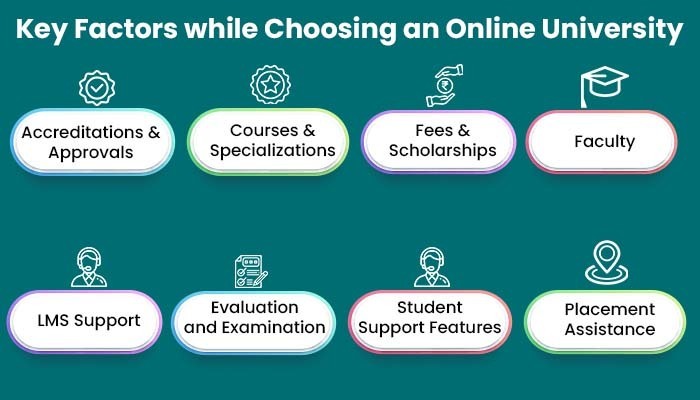 Given below are some of the most crucial factors that you should consider while choosing an online university as well as a comparison of Online CU based on these factors. Read the review of CU to find out if it is a good choice for your educational needs.
#1 Accreditations and Approvals of the University
To check the accreditations and approvals of an online university is to ensure that the university is indeed authorized by the appropriate bodies to provide courses in the online mode. If well-accredited, then the degree obtained from the university will be considered valid and credible in academic and professional spheres. So, it is important to check that the university has valid credentials to provide online educational courses to students.
Online CU was started as the exclusive online educational branch of Chandigarh University and has received accreditations from the following bodies:
University Grants Commission-Distance Education Bureau

(UGC-DEB)

National Assessment & Accreditation Council

(NAAC)

QS World University Rankings- Debuted as the Best University
Online Chandigarh University has been rated as an A+ online university by the NAAC and since it has also been approved by UGC-DEB, it is a well-reputed and completely credible university to pursue degree courses from. The degrees from Online CU are not only accredited but also valued and widely recognized.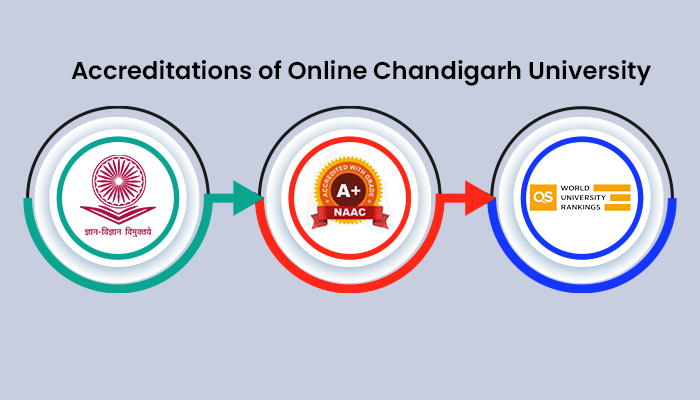 #2 Courses Offered by the University
The course choices that an online university offers are another important aspect to evaluate, as the greater, the number of choices, the more likely a student is to find the course of their choice being offered, which means greater accessibility for more students. So it is important that the online university offer useful and in-demand educational courses.
Online Chandigarh University offers a number of full-time degree courses in online mode to students. These courses are offered both at the undergraduate and postgraduate levels, in areas such as humanities, mass communication, business management, commerce, sciences, etc.
The full list of courses along with the offered specializations are listed below:
Courses & Specializations Offered at Online Chandigarh University

Course Level
Course
Specialization

Undergraduate Degree Course

BA

Journalism & Mass Communication

BBA

Marketing Management

International Business Management

Human Resource Management

Entrepreneurship

BBA (With ACCA)

–

BCA

–

Postgraduate Degree Course

M.A

Journalism & Mass Communication

M.Sc

Data Science

M.Com

–

M.Com (With ACCA)

–

M.Com (With CPA)

–

MBA

Marketing Management

International Business Management

Human Resource Management

Entrepreneurship
So the student has the choice to opt for a course of their interest from a large number of useful courses. Moreover, the specializations offered for the MBA and BBA courses have also been selected in accordance with utility and popular industrial demand. Students also have the choice of opting for dual courses such as by pairing BBA or M.Com with courses in chartered accounting (with ACCA) or with public accountancy (M.Com with CPA).
So there are ample choices of courses as well as the option for opting for dual courses at Online Chandigarh University, from which students can choose accordingly.
#3 Affordability and Course Fees
Fee affordability is another factor to assess while choosing an online university since pursuing a higher educational course is an investment of financial resources that can't be undone. So making the choice carefully is important. Online educational courses are usually less expensive and more cost-efficient than the full-time offline courses.
At Chandigarh University, the courses are offered at rates affordable by students, and there are financing options available for the students so as to make the courses more affordable. The payments can be made by students in the yearly or semester-wise mode.
The fee details for the courses offered at Online CU have been listed below:
Fee Range for Courses Offered at Online Chandigarh University

Course
Full Course Fee
Fee Breakdown

B.A (Journalism & Mass Communication)

INR 1,35,000

Yearly Payment: INR 45,000/Year

Semester-Wise Payment: INR 22,500/Sem

BCA

INR 1,65,000

Yearly Payment: INR 55,000/Year

Semester-Wise Payment: INR 27,500/Sem

BBA

INR 1,56,000

Yearly Payment: INR 52,000/Year

Semester-Wise Payment: INR 26,000/Sem

BBA (With ACCA)

INR 4,00,000

EMI Option Available

MA (Journalism & Mass Communication)

INR 1,00,000

Yearly Payment: INR 50,000/Year

Semester-Wise Payment: INR 25,000/Sem

MSc Data Science

INR 1,20,000

Yearly Payment: INR 60,000/Year

Semester-Wise Payment: INR 30,000/Sem

MBA

INR 2,00,000

Yearly Payment: INR 1,00,000/Year

Semester-Wise Payment: INR 50,000/Sem

M.Com

INR 1,30,000

Yearly Payment: INR 65,000/Year

Semester-Wise Payment: INR 32,500/Sem

M.Com (With ACCA)

INR 3,00,000

EMI Option Available

M.Com (With CPA)

INR 1,60,000

EMI Option Available
All the courses are offered with financing options that enable the students to pay the fee gradually over the course of the degree easily. In addition, there are scholarship opportunities available to the university, the details for which can be found out by contacting the university administration.
#4 Faculty
Students also check the faculty of the university to ensure that they are well-qualified, have sufficient experience to teach through online mode, and are reachable easily. Since students in online courses don't have the chance to interact with the faculty directly and must do so only through the virtual platforms, it can be useful to check if the course faculty is reachable and supportive, and responsive to students' needs, doubts, etc.
The faculty at Online Chandigarh University has a well-qualified faculty, with both professionals currently working in industrial fields as well as academicians with years of academic and teaching experience, bringing a blend of both foundational and professionally-oriented education to students. The faculty can be reached out to through the live lecture facilities, during which students can clarify their doubts and concerns.
The faculty at Online CU is responsive to students' needs and ensures that the students can get individualized attention and opportunity to learn through communication with a personal touch. Lectures by both industry professionals and faculty is also a useful measure to increase application-oriented thought in students.
#5 LMS Support Features and Pedagogy
Learning Management System is one of the most essential aspects of online learning, as it is the main channel of delivery of instruction. A good and efficient LMS ensures that the students can access all important learning materials and resources related to it through a single platform without any hassles. Moreover, since the mode of study is only through online means, it becomes important that the LMS not only provides students with all major facilities but is also receptive in nature, so students also have the opportunity to interact with their peers and faculty.
At Online Chandigarh University, the LMS has been designed keeping all such considerations in mind, with all major facilities and tools to make the learning experience enjoyable and interesting.
The LMS software of Online CU can be accessed through both an android device or a laptop/PC and has the following major features:
LMS Support at Online Chandigarh University

Academic Calendar

Customized E-Learning Materials

Live Lectures

Recordings of Lectures

Assignments & Tests

Full Student Details & Credentials
So, the LMS and learning support offered by Online Chandigarh University is efficient with multiple support features that allow holistic understanding of concepts and encourage self-paced learning in students.
#6 Evaluation and Examinations
Checking the evaluation system and examination procedure of the university is also an important aspect of choosing the right online university. An easy and convenient system of academic evaluation means students can take their exams in a hassle-free manner. Moreover, many students may not have access to the required paraphernalia for online exams. So it is better to confirm the details before enrolling in a particular university.
The evaluation policy of Online Chandigarh University follows a 10-point grade system. The evaluation procedure consists of
Internal Assessment Component:

This includes online assignments and quizzes. Students can access their assignments as well as submit their work through the LMS of the university. The quizzes can be taken online through remote means or at the campus. The Internal Assessment component of the course carries a weightage of 30%.

End-Term Examination:

the term-end examinations of CU Online are conducted through the online mode. These exams carry a weightage of 70%. The term-end exams are conducted by the university twice a year in the months of June and December.
So, the examinations as well as internal assessment follows an easy format. Students can easily appear for the exams from any convenient location. They only need their login credentials, access to the university LMS, a stable internet connection and an electronic device through which the student can take the exams.
#7 Student Support Facilities
Student support facilities are an equally important part of enrolling in a university as other factors such as learning support or course fee. This is so because students in an online course have only the virtual means for the resolution of any issues that may come up during course completion. As a result, a responsive and efficient framework to address such issues is needed to ensure effective administration.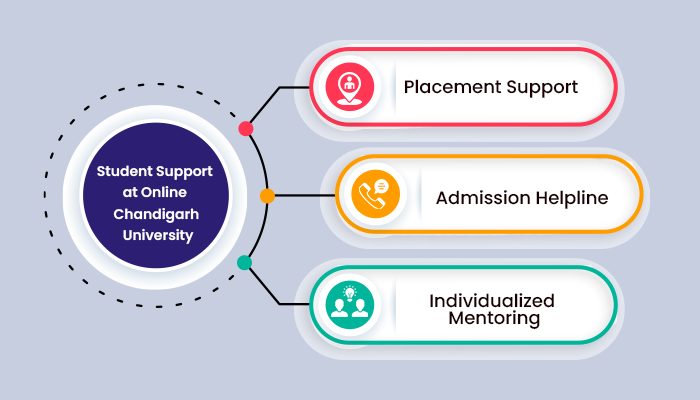 At Online Chandigarh University, there are a number of student support facilities offered to students to smoothen the process of learning. Along with basic learning support and placement assistance, the students are provided with the following student support features:
Query Clarification from Experts

: the students are provided with facilities to interact with professionals and experts to resolve their doubts, seek clarifications etc.

Admission Helpline Support

: Online CU also provides students with a helpline number through which they can contact the counsellors easily so as to enquire and receive effective support for the admission procedure. Students can contact through telephone (

1800 1213 88800) or through mail (

[email protected]

)

Student Mentorship

: the students are also provided with an individual student mentor to address all their queries, on a 24 hours basis.
So, there is an individual and common support system available to students to resolve their queries and concerns, making the process of course completion in the university easy and trouble-free.
#8 Placement Assistance & Professional Support
Placement is one of the most critical aspects of higher education since it helps students to connect to industrial firms and organizations to start their professional journey as well as for already working professionals to boost their career opportunities. So, students should also check if the university offers placement support to students.
At Online Chandigarh University, there are a number of facilities aimed at enhancing the professional skills and preparedness of students, so that they can effectively present and carry themselves in industrial domains. Along with providing placement assistance, there are a number of facilities for students to develop their skills, get grooming as well as expert guidance and mentorship about their CV, professional profiling etc.
Some of the main features of professional support extended by the university have been listed below:
Professional Support Features Offered by Online Chandigarh University

Aptitude Testing & Feedback

Access to University Job Portal

Career Guidance by Mentors

Soft Skills Training

Resume Building Activities

Sessions for Personality Development

Job Interview Training

Placement Support with Over 300+ Hiring Partners
Online Chandigarh University partners with a large number of top corporate companies and firms to provide the best placement support to students where they can explore a large number of job prospects and professional spheres for themselves. The packages at which students can get hired from Online Chandigarh University range anywhere between 4 to 5 Lakhs P.A to 15 to 30 Lakhs P.A.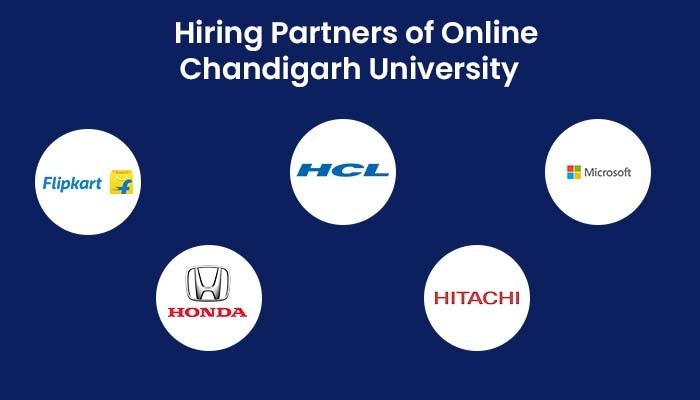 Some of the top hiring partners of Online Chandigarh University include:
Top Recruiters of Online Chandigarh University

Flipkart

HCL

Microsoft

Google

Dell

HP

Amazon

Godrej

JustDial

Tata AIG

Hitachi

Honda
Similar Accredited Online Universities in India
Some of the other well-accredited universities in India that you can consider pursuing a course from have been listed below:
Similar Accredited Online & Distance Learning Universities

University
Location
Accreditations

Online Manipal

Jaipur

UGC, NAAC, AICTE, WES, ACU

Amity Online University

Noida

UGC, NAAC, AIU, ACU, BCI, WES

Dr. D. Y. Patil University-Centre for Online Learning (COL)

Pune

UGC-DEB, AICTE, AIU, ACU, ISO, WES

NMIMS Global Access School for Continuing Education (NGASCE)

Mumbai

UGC, NAAC, NIRF, AICTE

UPES

Dehradun

UGC-DEB, NAAC A, NIRF

Jain University

Bangalore

UGC, AICTE

ICFAI

Hyderabad

UGC, NAAC, NIRF, ACU

Hindustan University- Centre for Open and Digital Education (CODE)

Chennai

UGC-DEB, AICTE, NAAC, NIRF
Conclusion: Is Online Chandigarh University Good or Bad?
So, considering all the important factors for choosing an online university and based on an evaluation of Online Chandigarh University on the basis of them, it can be concluded to be a good choice for pursuing online education from. Considering that it has the major accreditations, provides these courses with effective learning support, placement assistance and student support facilities, it provides an all-round learning experience to students, making their degree courses at par with regular degrees.
Some of the key distinguishing features of Online Chandigarh University that make it a good choice for pursuing higher education through the online mode are:
It is a UGC-DEB approved university

It has been rated as an A+ university by NAAC

It offers a wide variety of courses in mass communication, management, computer applications, sciences etc. for the students to choose from.

The university offers the support of quality higher education at very affordable rates, along with scholarships and financing alternatives available for fee payment.

There are a number of individualized student support features offered by the university to make the learning experience devoid of any hassles or trouble.

The university has an all-round placement support with many features and provisions to develop the professional skills and know-how of students.
Other Online University Reviews